How To Make A Green Smoothie: The Foolproof Guide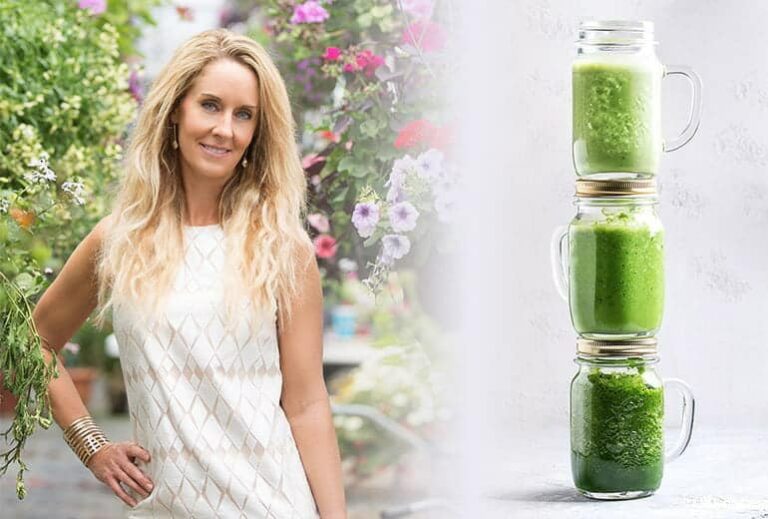 If you do just ONE thing to improve your health, make it a green smoothie! Making a daily green smoothie is a 10-minute habit that can have profound health benefits. 
In this article:
My foolproof green smoothie recipe is below, and I'll include the frequently asked questions I've gotten most often over the 20 years I've been teaching people to add a green smoothie to their daily diet.
What is a green smoothie made of?
Green smoothies are simply blended mixtures of whole foods that include greens (like spinach, kale, and collard) or other nutrient-dense veggies, and they may or may not contain other ingredients like fruit or nuts blended in. Don't let the name mislead you—green smoothies don't necessarily come out looking green! Some of my smoothies do have a rich green hue, but I'll often add frozen mixed berries to make them purple or other ingredients that turn the smoothie purple, pink, or orange. 
Are green smoothies really that healthy?
Green smoothies are very healthy, especially if the emphasis is on the greens! Green food is a powerhouse of enzymes, vitamins, minerals, and fiber. Drinking a quart of green smoothie a day addresses what I believe is the #1 deficit in the American diet: lack of leafy greens. A close second deficit is lack of overall plant fiber in the diet, but eating green smoothies addresses that, too.
One quart of green smoothie per day can be a major game-changer for your health. Based on my research poll of 175 adults for The Green Smoothies Diet, 95.4% of people who drank a daily quart of green smoothie for 30 days reported improved health or quality of life. Specifically, the quart-a-day health benefits respondents reported were:
more energy (85%)
improved digestion (79.5%)
fewer cravings for sweets and processed foods (65%)
more positive, stable mood (54%)
improvement in skin tone and clarity (50%)
weight loss (50%)
Green smoothies are "fast food" that actually leave you feeling energized. It's easy to make one for yourself before you go to bed, put it in a glass jar and refrigerate overnight before drinking it in the morning on your way out the door, which is a vast improvement over most quick options or skipping breakfast entirely.

How do I make a green smoothie? 
My easiest starter green smoothie recipe is still the most popular, because it's versatile and always works. It can even be a meal replacement! The basic ratio is 1:1:1 of liquids, greens, and fruit.

This recipe makes 6 cups of raw green smoothie, giving you your recommended full quart for the day, plus extra to snack on or share. Enjoy!
Step 1. Put 2 cups of water in your blender, then blend it with greens like spinach, kale, and collards until the pureed mixture reaches the 4-cup line. (A big handful of greens usually does the trick).
Step 2. Gradually add fresh or frozen fruit, blending between additions, until the blended mixture reaches the 6-cup line. (I usually use a banana, ¼ whole lemon including peel, an apple, and about 2 cups of frozen berries to hit the 6-cup mark.)
Step 3. Add optional ingredients to adjust taste and nutrients. Ideas include a scoop of protein powder, a tablespoon of sprouted flax for omegas, a handful of cashews for healthy fats, or a few drops of liquid stevia to make it sweeter. Blend until smooth.
Use this free printer-friendly version of the green smoothie recipe template to tape up in your cupboard, giving you the steps to follow to use whatever you already have in your fridge or pantry to make a yummy combination.
Check out a video demonstration of my green smoothie template recipe guide.
How long will a green smoothie keep in the fridge?
Green smoothies keep well 2 or 3 days in the fridge. They often begin to separate fairly quickly, but that is easily remedied by a quick shake or another spin in the blender. After the third day, though, you'll notice your green smoothie start to taste a little off.
Can green smoothies be frozen?
You can freeze green smoothies! I like to pour them into pint-size jars (leaving a half inch or so space for expansion) and store them in the freezer. When ready to use, allow to thaw at room temperature or in the fridge, then shake well (or reblend) before drinking. You can also freeze smoothies in ice cube trays to re-blend later.
What blender should I use to make a green smoothie?
You can make a smoothie with any blender, but for proper digestion and the best benefit, the ingredients need to be blended thoroughly.  Many blenders will give you "chunkies" to drink instead of smoothies, so I like a high-speed blender like Blendtec or Vitamix. 
I have a lot to say about the best blenders for making your green smoothies, but you can get a pretty good result with a cheaper blender if you don't use frozen fruits or veggies and make sure to blend in ingredients a bit at a time. Make sure the mixture is a smooth puree before adding in the next ingredient. Add a bit more water if you feel the smoothie is too thick.
I even have a reader who makes all her smoothies with her hand-held stick blender! It's great for making smoothies on the road, at work, and even at home.
Do green smoothies taste good?
The taste of green smoothies can certainly be an adjustment if you're used to processed foods, but luckily, you can tailor the ingredients to your liking. Many folks start with a lot of mixed berries and other fruits in their green smoothies so the final result is sweet. Some also add a few drops of liquid stevia or a tablespoon of honey to make it even sweeter. Over time, as your preferences evolve, you'll probably add more greens and still love the taste as much as ever.
What are the best greens for smoothies?
Pretty much any kind of edible leafy green can be thrown into your blender and whipped up into a tasty green smoothie. Spinach is very mild and a great green to start with (especially for kids' green smoothies). Other mild greens are kale, collards, and chard. Greens that are more savory or bitter can be added as you widen your repertoire, like beet greens, mustard greens, turnip greens, and arugula. There are even edible weeds you can use for smoothie greens, like dandelion and purslane.
How much does a green smoothie cost to make?
While the exact cost of a green smoothie will depend on your preferred ingredients, you'll spend about 12 cents per ounce of green smoothie if you make it with about half greens and half fruit. That makes a quart of green smoothie cost about $3.76.
Some cost variables include which ingredients you choose and whether you grow or forage ingredients, use in-season fruits and vegetables, or purchase organic produce. You may even be able to get some ingredients for free if you forage or know what to ask for at a farmer's market.
How many calories are in a green smoothie?
The exact number of calories in a green smoothie depends on what ingredients you use, but a quart of green smoothie with about half greens and half fruit will be around 250 calories. 250 nutrient-dense, delicious calories!
What should I put in a green smoothie?
With the wide variety of fruits, vegetables, seeds, legumes, and other nourishing foods available, your green smoothie ingredient options are practically endless. Here are just a few possibilities:
Liquid base: water, coconut milk, coconut water, almond milk, juice
Leafy greens: spinach, kale, chard, collard greens, beet greens, mustard greens, sprouts, bok choy
Vegetables: celery, beets, cucumbers, sweet peppers, sweet potato, broccoli, cauliflower, zucchini, purple cabbage, carrots
Fruit: bananas, mangos, berries, lemon, apricots, watermelon, pomegranate, oranges, apples, cantaloupe, peaches, grapes, pears, dates, limes, plums, pineapples
Healthy fats: avocado, nuts, nut butters, coconut oil, sprouted ground flax, flaxseed oil, sunflower seeds
Extras: cacao powder, cinnamon, bee pollen, parsley, maca, real maple syrup, honey, fennel, turmeric, basil, cilantro, aloe vera, protein powder, vanilla extract
Should I buy organic ingredients for green smoothies?
It's not necessary to buy all-organic produce for green smoothies, especially for foods that have thick outer shells or peels that are removed, like watermelon, bananas, oranges, lemons, limes, and pumpkins. But you may want to consider organic for other produce that is more difficult to wash herbicides and pesticides from, like leafy greens (spinach, kale, collards) and strawberries.
Check out our more complete discussion of what "organic" actually means, plus a list of which foods you should buy organic and which ones are okay to get conventionally.
More Of My Best Green Smoothie Recipes To Try
Check out some more of my most-requested recipes:
Tips and Hacks for Making Green Smoothies Even Healthier, Easier, and Tastier
Over the years, I've been sharing some of my favorite green smoothie ingredient add-ins, kitchen hacks, money-saving tips, and ways to get your kids and other loved ones on the green smoothie train with you:
Best Green Smoothie Recipes For Weight Loss And Health Issues
During my 6-year, 450-city lecture tour, I always spent an hour after each lecture to meet attendees who had questions for me.
I heard many heartbreaking stories of failing health, of years of fruitless doctor visits and pills and surgeries, of scary diagnoses. And I also saw hope, because those who came learned about food as medicine and green smoothies as the 10-minute habit that could help them regain their health.
Each of the following collections of green smoothie recipes addresses a health issue, its likely underlying causes, and ways to tweak your daily green smoothie (and other meals) to encourage recovery and healing.

Green Smoothie Testimonials And Stories 
Hundreds of readers have shared their green smoothie testimonials with me over the years, and some even made it into the news! Here are just a few stories that demonstrate the power of a 10-minute daily habit.
Up Next: Vibe Podcast Ep.04: Your ViQ and The Green Smoothie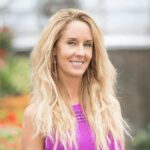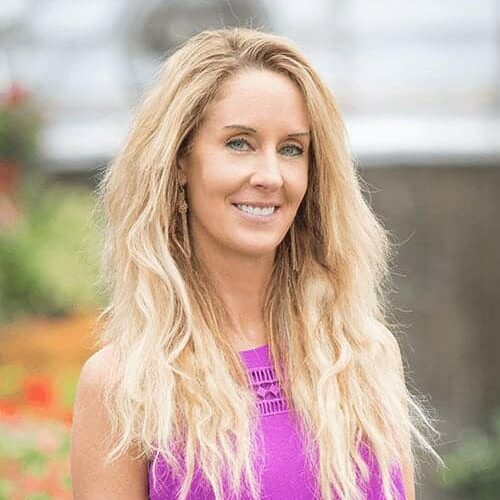 Robyn Openshaw, MSW, is the bestselling author of The Green Smoothies Diet, 12 Steps to Whole Foods, and 2017's #1 Amazon Bestseller and USA Today Bestseller, Vibe. Learn more about how to make the journey painless, from the nutrient-scarce Standard American Diet, to a whole-foods diet, in her free video masterclass 12 Steps to Whole Foods.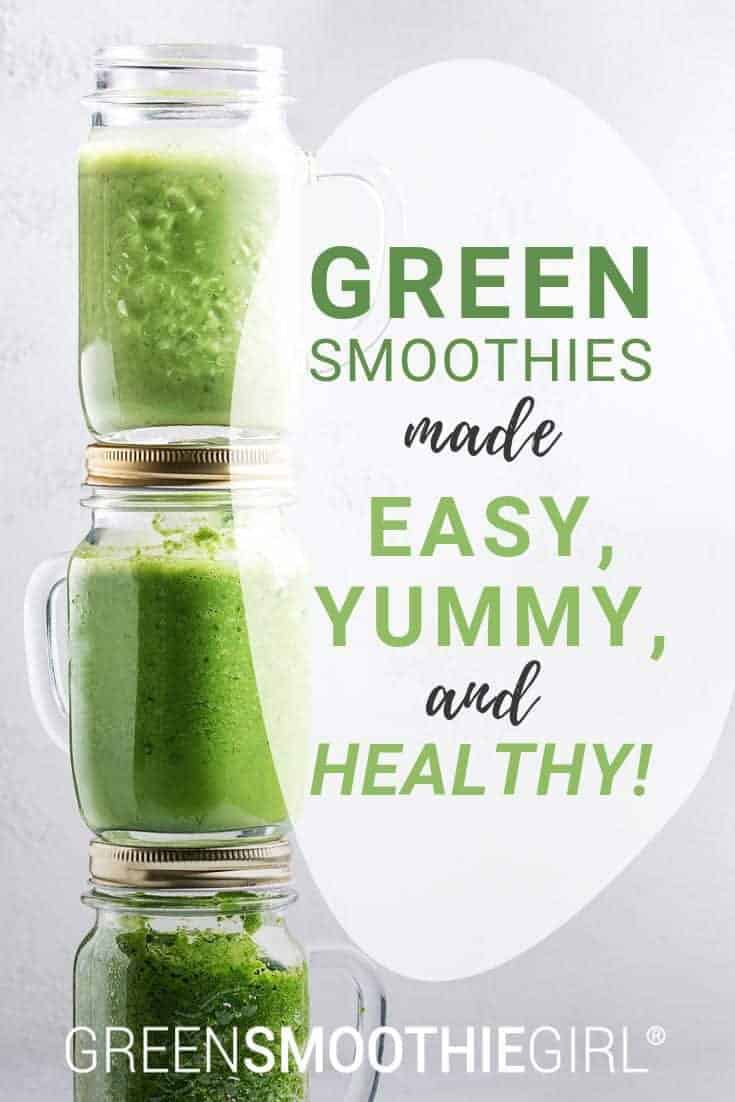 Disclosure: This post may contain affiliate links that help support the GSG mission without costing you extra. I recommend only companies and products that I use myself.
Posted in: 12 Steps To Whole Food, Detox, Green Smoothies, Health Concerns, High-Vibe Living, Holistic Care, Lifestyle, Natural Remedies, Preventive Care, Recipes, Whole Food
No comments found, but you can be our first!