How Many Calories Are In A Green Smoothie?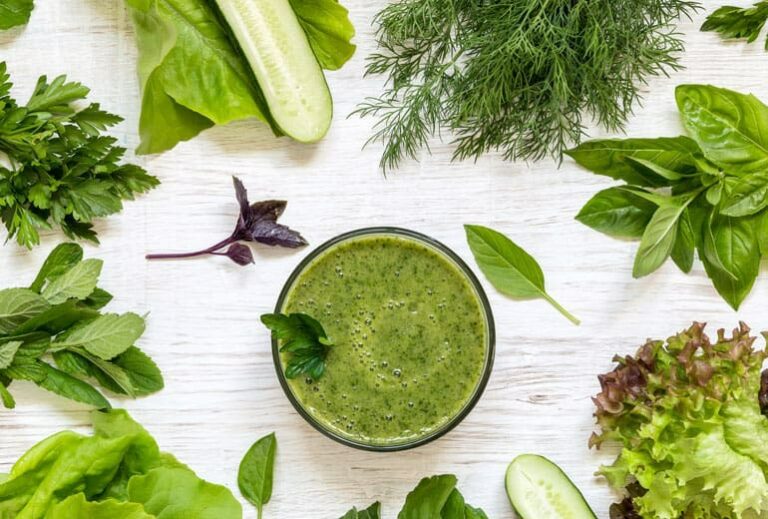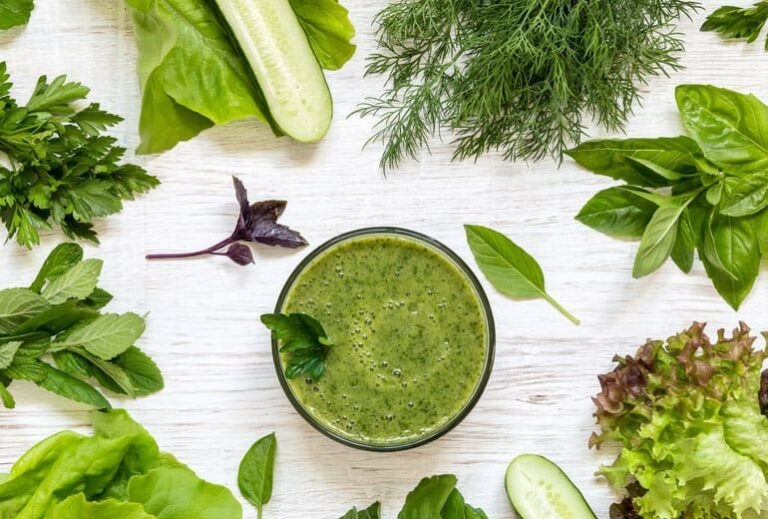 Whether you're trying to lose weight or just looking to stay healthy and prevent disease, you may be considering adding green smoothies to your diet. Green smoothies are an amazingly high-nutrition, low-calorie fuel for your body–the highest and best use of 10 minutes in your kitchen every day.
Food is Fuel
I'm not a calorie-counter myself. I don't need to count calories, since my diet is 60-80% raw, 95% whole foods. I focus on nutrition, and the calories take care of themselves.
But if you find it helpful to know how many calories are in a green smoothie (and many of my readers must, since I get this question surprisingly often), I'll break it down for you, to the quart and the ounce!
First, a note about calories vs. nutrition, so we're on the same page:
Calories quantify how much fuel you're getting; think of it like how many gallons of gas you put into your car. If you don't put in enough, your car will be okay for a little while, but then it will start to sputter until it stops and you wind up stranded on the side of the road. If you put in too much, the tank will overfill and spill over – kind of like a "muffin top" over the edge of your jeans when you've consistently eaten more than your body can use.
Nutrition is the quality of the fuel you're choosing – much like you choose your grade of gas. If you're looking to turn your body into a performance machine, you're going to have to put in premium fuel that helps keep it running in optimum condition.
Counting the Calories in a Green Smoothie
Of course, how many calories are in a green smoothie will depend upon the ingredients you're using to make it.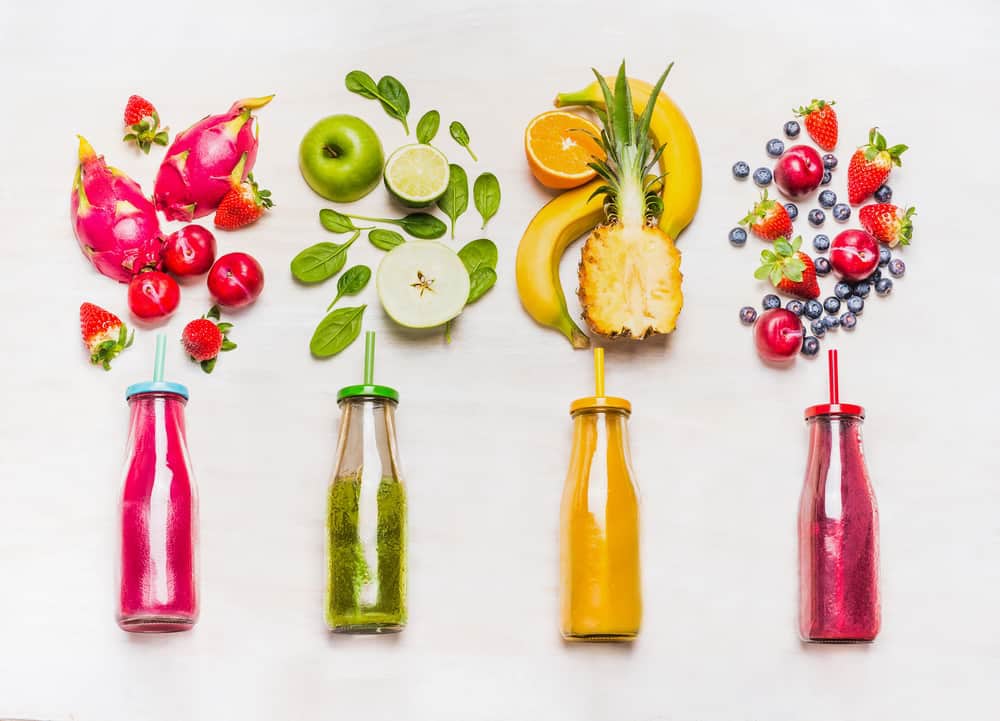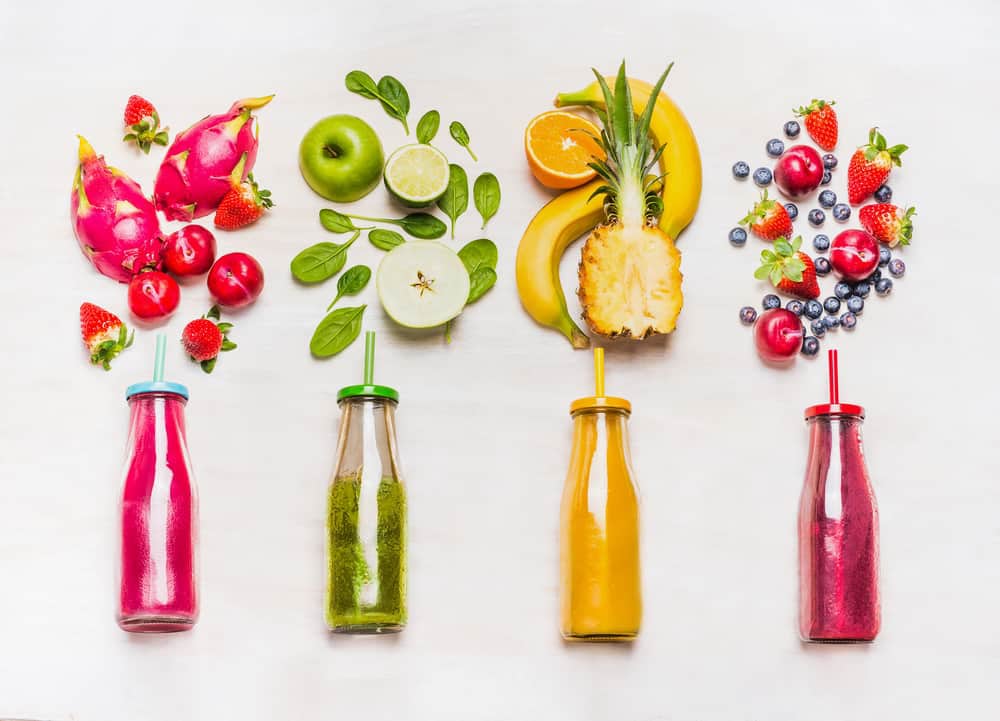 There are almost as many varieties of smoothies as there are people, but there are several core ingredients that you'll find in most green smoothies. To make a 72 ounce blender-full, this is one of my basic green smoothie recipes with approximate calorie counts for each ingredient:
2 ounces (1/3 of a bunch) of organic kale – 28 calories
3-4 ounces (1/3 of a bunch) of organic chard – 22 calories
8 ounces of organic spinach – 56 calories
2 cups of frozen organic mixed berries – 130 calories
2 whole medium oranges – 124 calories
2 medium organic bananas – 210 calories
6 drops organic liquid stevia – 0 calories
These seven ingredients add up to 570 calories for 72 ounces, which is equivalent to 8 calories per ounce of green smoothie. This means that your daily quart of green smoothie has about 256 calories.
Based on age and activity level, the USDA Dietary Guidelines1 recommend that adult males eat between 2000 and 2400 calories each day and adult females eat between 1600 and 2000 calories each day. Depending upon your goals, you may need more calories – say, if you're training for a marathon – or fewer calories – if, for example, you're trying to lose weight.
Nutritional Benefits of Green Smoothies
Counting how many calories are in a green smoothie only tells part of the story–remember that the most important details are in the quality of those calories!
Your stomach will be very full with a quart of green smoothie. Does a protein bar fill you up? No, and it has more calories and fat and lots of refined-food products and salt in it.
Simply put, there is no food you can eat that will give you higher micronutrients, for fewer calories, than a green smoothie. (Micronutrients meaning 100 or more vitamins, minerals, enzymes, and phytonutrients.)
Not only are green smoothies nutritious and delicious, but they can help you to look and feel better. In fact, when I wrote The Green Smoothies Diet, I  polled 175 regular smoothie drinkers who had at least one pint of smoothie four days a week, for at least 30 days. I found:
97% said green smoothies had improved their health or quality of life
85% experienced more energy
79% reported improved digestion
65% had fewer cravings
50% experienced weight loss (averaging 17 pounds!)
Some also reported getting sick less frequently, improvements in blood pressure and cholesterol readings, fewer migraines, reduced asthma and allergy symptoms, and other health improvements.
Incorporating Green Smoothies Into Your Diet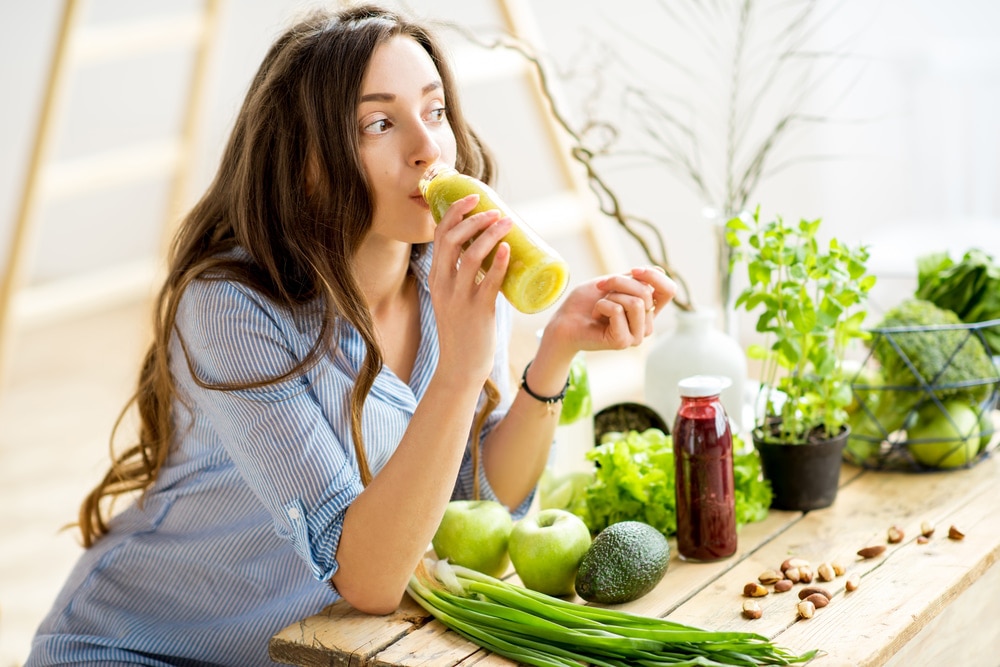 Since there are 256 calories in a quart of green smoothie, you can easily make this nutrient rockstar your daily breakfast or a satisfying lunch. You can even sip the quart throughout the day to give your energy levels a boost – and your taste buds a treat.
When you think about getting the best "bang for your buck" with your food choices, the fuel-quality calories in a green smoothie make it a million dollar option. Drinking a quart a day is the best recipe for excellent health, high energy, minimal disease risk, and ideal weight–all for just 256 calories (and less than $4.00)!
Raise your glass to green smoothies, and bottoms up!
Join the FREE 9-Day Green Smoothie Challenge! You'll get recipes, online support, and better health when you commit to adding a quart of green smoothie to your diet every day for 9 days. Get the details today!
–Robyn Openshaw, MSW, is the bestselling author of The Green Smoothies Diet, 12 Steps to Whole Foods, and 2017's #1 Amazon Bestseller and USA Today Bestseller, Vibe.
Learn more about how to make the journey painless, from the nutrient-scarce Standard American Diet, to a whole-foods diet, in her free video masterclass 12 Steps to Whole Foods.
Sources:
Dietary Guidelines 2015-2020 https://health.gov/dietaryguidelines/2015/guidelines/appendix-2/
Posted in: Green Smoothies