I'm a sucker for those quick little recipe videos that autoplay while I'm scrolling through my Facebook feed. I find myself stopping to watch part or all of them, nearly every time.
I think the quick format is genius, and easily sharable–but I've never found one yet that I would actually share. They tend to call for ingredients I would never use.
Still, I'm inspired by the idea of demonstrating that time in the kitchen doesn't have to be complicated or fussy. I want to add that it also doesn't have to rely on junk ingredients!
If you're going to spend 30-60 seconds watching a food video, it might as well be one that you know is healthy! And this one won't take you long to actually whip up in the kitchen.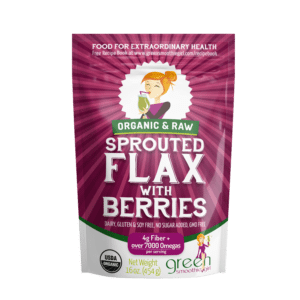 Want to supercharge this recipe? Head on over to greensmoothiegirl.com and get 40% off my Sprouted Berry Flax–a perfect superfood to add to any smoothie. We have a very limited supply so get yours while it lasts! I also like to use it to replace some of the whole-grain flour in baked goods or even to sprinkle on a salad.