So when I landed funky at tennis practice running out of bounds for a shot over my left shoulder, my ankle went so far sideways that, even in tennis shoes, the skin of my ankle scraped the ground.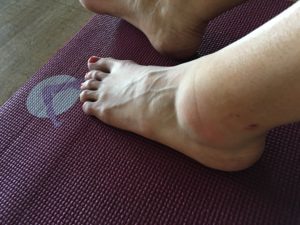 It swelled up instantly, as you can see. I sat on the ground, trying not to swear, and my team rushed over with ice, a golf cart to get me to the car, and of course…ibuprofen.
Ibuprofen, a non-steroidal anti-inflammatory drug (NSAID), is sold under brand names Advil and Motrin. It is taken by more Americans than any other drug.
Would you be interested to know how dangerous these drugs are, and what, from the natural world of medicinal plants, works just as well, with no toxic risks and side effects?
Other NSAID's are Celebrex, Aleve, Naprosyn and Torodol. The FDA has increased warnings about these drugs this year.
I certainly understand that it's tempting to want to get rid of a headache fast. And ibuprofen is pretty effective at that, for many people. But many people use it often, for chronic inflammation. And more evidence is revealing that, as an FDA spokesperson said recently, "there is no dose at which there is no risk."
It turns out that ibuprofen and other NSAID's are causing heart attacks and strokes, and it's the cause of 16,000 documented deaths annually, as well as 100,000 emergency room visits.
It causes low stomach acid, which leads to bleeding ulcers, which of course, your doctor prescribes another medication for—each with its own set of risks and side effects.
In my research on other drug topics, I've come to believe that in fact, risk and adverse event statistics tend to be lower than they should because of under-reporting.
One clear example is vaccine injuries. I personally have 3 friends whose child was severely injured or killed by a vaccine. One of my friend's babies died of SIDS 2 ½ days after her vaccine, and they never reported it, so it's not included in VAERS statistics. Plus, according to the VAERS reporting process, the baby has to die within 48 hours, so her death wouldn't have "counted" in the statistics, either. According to the former FDA Commissioner David Kessler in a 1993 article in the Journal of the American Medical Association, that less than 1 percent of all doctors report serious adverse reactions to prescription drugs which they prescribed.
When I was a kid, I had a life-threatening reaction to penicillin, and no one reported that, either.
It stands to reason that not everyone who had a severe reaction to a specific drug is diagnosed accurately, nor that someone made the connection to the drug, and went to the trouble of reporting it.
So, those statistics are probably far lower than the truth.
It's becoming clear that ibuprofen is dangerous—including the buildup of it in your organs and tissues. And many of us pop those pills like candy.
I don't even own ibuprofen, and I found a supplement years ago that is terrifically powerful as an anti-inflammatory. And it's a superfood combination of 4 natural anti-inflammatory ingredients. It's actually good for you!
A major study shows that the turmeric extract (curcumin) alone, one of the four ingredients, is as effective as an NSAID drug is!
This study discusses research on the effectiveness of Omega-3 essential fatty acids, pycnogenol (a pine bark), green tea, white willow bark, resveratrol, cat's claw, and capsaicin (chili pepper), in addition to the most powerful four ingredients found all in one supplement:
A naturopathic doctor told me years ago about a supplement containing curcumin (turmeric), boswellia (frankincense), ginger, and black pepper extract. He told me it was the most miraculous supplement he'd ever prescribed his patients.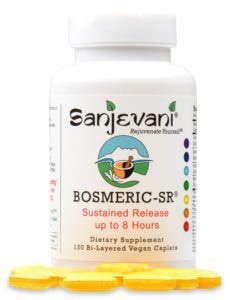 He gave me a sample, and I was blown away by the results. When I recently sprained my ankle playing tennis, I used this supplement, rather than toxic drugs. It's called Bosmeric-SR, and I want everyone to be able to get a bottle, so I set up some amazing deals for you! Here's what the company agreed to do for you:
Sign up to grab a coupon for 10% off Bosmeric-SR–PLUS they'll automatically send you a free 90-day supply of olive-oil-based Vitamin D3. (This is GREAT because everyone needs D3; it's your #1 strategy to decrease cancer risk, keeping your D3 levels optimal! And most D3 supplements are in a GMO corn or soy base, so you want to avoid those low-quality supplements. I like an oil-based Vitamin D for optimal absorption.) PLUS they've agreed to give you free shipping.
So grab your secret coupon code here to get all three: 10% off Bosmeric-SR, free Vitamin D3, AND free shipping.
Just tell me you want it and we'll send it to your Inbox!
I can't post the coupon openly, but I DO have permission to send it to your email if you ask me! I don't know how long they'll let me do this, so you'll want to grab some now, and take advantage of the discount and amazing freebies.
And, we're doing a random drawing for THREE people to receive Bosmeric-SR for FREE–so comment below on this post with your name and hometown to be entered to win! I'll enter you in the drawing and announce a winner on FB on Friday, September 16. You'll want to "like" Green Smoothie Girl on Facebook, because we will TAG you, when we announce the winners!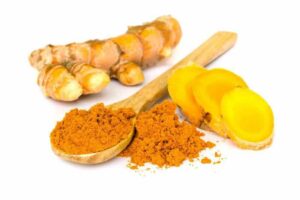 I felt no anxiety about taking Bosmeric-SR, because turmeric is an Indian spice, a superfood even, and people have used it safely for thousands of years. Curcumin is an extract of the spice, and it's the anti-inflammatory agent.
Because inflammation is at the root of all disease, and our cells function optimally when they are not inflamed, Bosmeric-SR is the most important supplement I've ever used, to get rid of inflammation and prevent it as well. I take it every day.
I am very picky about supplements because I think that the vast majority are a waste of money—made cheaply, skewing hormone and vitamin/mineral balance, and made mostly of synthetic ingredients the body doesn't use well.
And while you can feel a sprained ankle, and you can feel many inflammatory responses (like arthritis), often there is inflammation in your body that you can't feel. Many, if not most, of us have serious issues with inflammation, whether we know it or not.
The c-reactive protein, which you can ascertain in a blood test, is one of the clearest indicators of your disease level, and disease risk, in your body. And it tends to be high in folks who eat refined sugars, wheat, beer, dairy products, and soda.
Here's a study of how curcumin (from turmeric) helps with arthritis symptoms and underlying inflammation, and this study shows that turmeric is as effective as toxic NSAID drugs–and without the side effects and risks.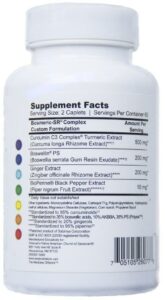 The reason I love THIS turmeric extract, though, is that it's much more than that. Ginger is powerfully anti-inflammatory as well, and boswellia (frankincense) and black-pepper extract top the list of other natural methods to reduce inflammation. This really special blend of all four is really proprietary and special.
It's not cheap, but it's a great thing to have on hand, and it's cheaper than buying all four separate supplements (and then having to open four bottles every day). It's best, and very safe, to take this daily. But at a minimum, keep it around for when you have a headache or any inflammation you want to get rid of quickly!
Remember, you can grab a discount coupon here where you'll get free shipping, 10% off, and a free 90-day supply of oil-based D3 supplement with your order.
This isn't something you can find anywhere on Amazon or elsewhere–normally only health-care practitioners carry it!
You'll also want to get rid of these foods, in your diet, if you suffer with any inflammatory condition:
Wheat / gluten (but especially wheat)
Dairy products
Refined sugar
Soda
Alcohol
You should see a quick, remarkable decrease in inflammation if you start drinking green juice or green smoothies, which are alkaline, oxygenating, nutrient-dense, and healing–plus get rid of those five foods, above.
I hope you enjoy my favorite, most efficacious supplement for inflammation, and try it first instead of a dangerous, toxic NSAID drug, when a headache or injury is causing you discomfort.