6 Healthy Summer Salads: Delicious Recipes for Potlucks, Parties, and Enjoying at Home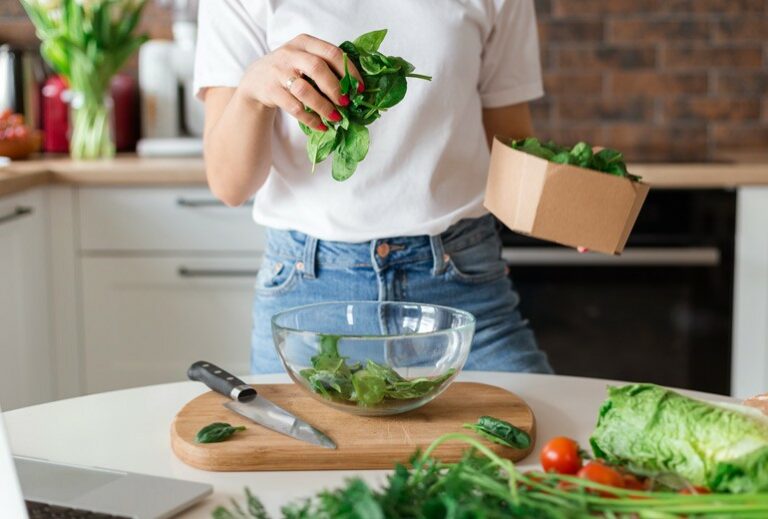 Want Healthy Summer Salads? I Have Recipes for You...
I can't believe how many types of salad there are. No, really! You could make a different type every day and still not repeat a recipe for months.
These refreshing salads I'm sharing today are colorful and an excellent way to pack in your fruits and veggies, to help keep you healthy and thriving all summer long.
This collection of a few of my favorite healthy summer salads is perfect for all kinds of warm-weather occasions—luncheons, parties, picnics, potlucks, or for serving to your family at home!
In this article:
7 Yum-Worthy Healthy Summer Salads to Delight You and Your Guests
Salads can be boring. Don't let yours be! You can create impressive salads that disappear quickly and have people asking you for the recipe.
1. Patty's Raw, Vegan Caprese Salad Recipe 
This savory dish is loaded with fresh tomatoes, olives, basil, and "Rawcotta" cheese to please any Italian-dish lover.
INGREDIENTS
10 tomatoes
3 cups fresh basil
3 cups Patty's Rawcotta cheese
1/2 cup Balsamic vinegar
2 cloves garlic
pinch salt
2 dates, pitted
1 tbsp rosemary
crushed black pepper
~13 favorite olives
Get the full summer salad recipe here.
2. Avocado Almond Salad Recipe
This Almond Avocado Salad complements any meal perfectly — and it's part of our comprehensive GreenSmoothieGirl Detox.
It's tangy, it's crunchy, and it's everything you could want in a healthy summer salad. Avocados, almonds, lemon, and more join together to make a perfectly fresh and healthful salad.
INGREDIENTS
6 medium chopped tomatoes
6 diced avocados
1 cup raw almonds soaked, drained, peeled, and chopped
1 cup finely chopped celery
1 chopped green onion
1/2 cup chopped cilantro
Dressing
2 tbsp fresh lemon juice
1 tsp raw honey
1/4 tsp sea salt
Optional: 1 tbsp nutritional yeast
Optional: 1/2 tsp cayenne pepper
Get the full summer salad here.
3. Waldorf Salad Recipe
Find simple-but-satisfying enjoyment in this healthful Waldorf Salad recipe! This crowd-pleaser is topped with fresh celery, raisins, apples, and honey for a slightly sweet, crisp bite. The crisp taste holds all the promises of a pleasant and enjoyable summer or fall!
INGREDIENTS
1 large celery root, peeled and cut into thin 3" sticks
10 oz spring green mix
2 large handfuls spinach
3 Jonathan or Gala apples, cut into thin 3" sticks
1/4 cup lemon juice
3/4 cup raisin
1 cup walnuts, chopped
Dressing
2 tbsp Dijon mustard
1/2 cup coconut yogurt
1 cup extra virgin olive oil
1/4 cup white wine vinegar
2 tbsp raw honey
1/4 tsp sea salt
Get the full summer salad recipe here.
4. Sprouted Quinoa Salad Recipe 
This Sprouted Quinoa Salad introduces you to the sprouting foods concept emphasized in my 12 Steps To Whole Foods online course. The course teaches you the 12 most important steps I took, to get my and my toddler son's health back, after some medical product injections destroyed both of our health, for his first 2 years of life. Changing our diet was the single most important and powerful thing we did.
This recipe uses high-protein grains, and is slightly sweetened with the grape and apple dressing. Because of this combination, the yummy Sprouted Quinoa Salad is perfect for you to serve cold at a picnic with friends and family.
INGREDIENTS
2 C sprouted quinoa (see instructions for how to sprout)
3 C sliced red grapes
6 stalks celery, diced
1 bunch cilantro, chopped
1/2 C basil leaves, chopped
3 green onions, sliced (include most of the green part)
2 C diced broccoli or 2 red bell peppers, diced
1 C raw cashews, chopped
Dressing
1 small apple (Pink Lady, Fuji, Jonagold)
juice from 3 small or 2 large limes
1 1/2 tsp. dried mint leaves, chopped (or 1/4 C fresh)
1/4 C extra virgin olive oil
1 1/2 tsp. sea salt
freshly ground black pepper to taste
Get the full summer salad recipe here.
5. Southwest Summer Salad Recipe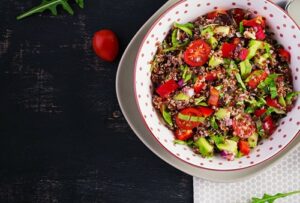 This salad is a favorite of participants in the comprehensive GreenSmoothieGirl Detox program. Southwestern food is known for its bold flavors, and this salad doesn't disappoint. It's simple, and yet delicious and filling. Take this healthy summer salad to a potluck or party and serve it cold, or warm it up.
INGREDIENTS
Salad:
1 C quinoa, rinsed well (soak for a few minutes, then drain in a fine strainer)
2 C water
1 can black beans, rinsed well (or ⅔ C dry beans rinsed well and then simmered in 2 C water for 2 hours)
2 medium tomatoes, diced
4 green onions, chopped (including most of the green part)
½ C chopped fresh cilantro
Dressing:
1 heaping Tbsp. grated lime zest
¼ C fresh lime juice
¼ C extra virgin olive oil
2 tsp. real maple syrup
1-2 tsp. of Himalayan salt
DIRECTIONS
Whisk together lime zest and juice, olive oil, maple syrup, and optional seasoning in a serving bowl.
Simmer the quinoa in water uncovered for about 10 min.
Turn off the heat, cover, and let stand for about 10 min.
Strain any excess water, then add the quinoa to the dressing and toss well.
Stir in the remaining ingredients (beans, tomatoes, scallions, cilantro).
Serve warm or chill in the fridge. Enjoy!
6. Spinach Strawberry Salad Recipe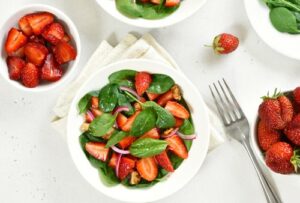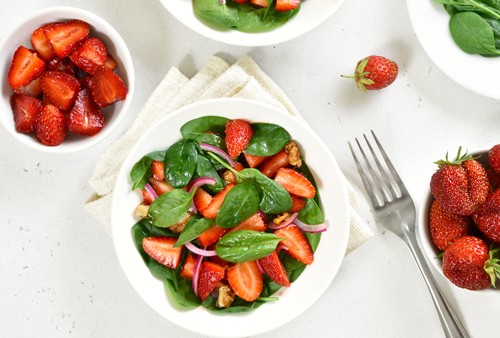 Besides being absolutely scrumptious, this healthy summer salad is packed with ingredients to keep you in your best state possible for festive summer activities.
Strawberries are packed with nutrients, like vitamin C, zinc, and potassium — making them powerful disease fighters.
And, black beans are a great source of energy and protein, and they have high levels of flavonoids, to help keep your body well.
INGREDIENTS
2 washed bags of spinach, torn into pieces
4 cups sliced strawberries
1⁄2 cup pecans
optional: 1⁄2 red onion, sliced finely
optional: 1 can black beans, rinsed well
Dressing
1⁄2 cup olive oil
1⁄2 cup white wine vinegar
1⁄4 cup honey
1⁄4 tsp. paprika
1 Tbsp. poppy seeds
optional: 2-3 Tbsp. pureed strawberries or
raspberries
optional: 1/4 tsp. basil
DIRECTIONS
Toss spinach, strawberries, and pecans.
Blend all dressing ingredients except poppy seeds briefly in a high-speed blender.
Add poppy seeds and pulse a couple of times.
Healthy Salads Can Power Your Summer!
I hope you and your family enjoy these healthy summer salads to bring fresh delight to the warm weather!
If you want more delicious salads, take a look at my Raw Salads and Salad Dressings Recipe Book!
READ NEXT: 10 Simple Summer Smoothies That Are Healthy and Delicious!
ALSO: 5 Easy Ways to Make Gorgeous and Delicious Complete-Meal Salads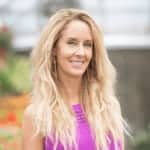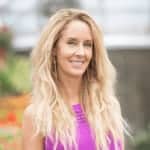 Robyn Openshaw, MSW, is the bestselling author of The Green Smoothies Diet, 12 Steps to Whole Foods, and 2017's #1 Amazon Bestseller and USA Today Bestseller, Vibe. Learn more about how to make the journey painless, from the nutrient-scarce Standard American Diet, to a whole-foods diet, in her free video masterclass 12 Steps to Whole Foods.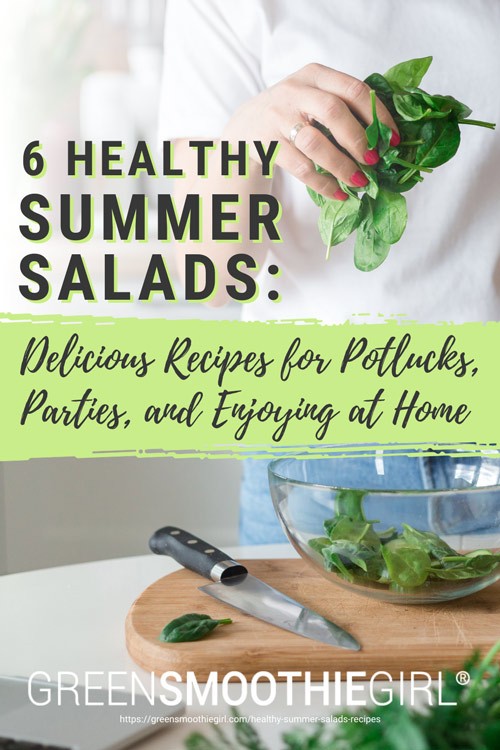 Disclosure: This post may contain affiliate links that help support the GSG mission without costing you extra. I recommend only companies and products that I use myself.
Posted in: Uncategorized