Patty's Caprese Salad | GreenSmoothieGirl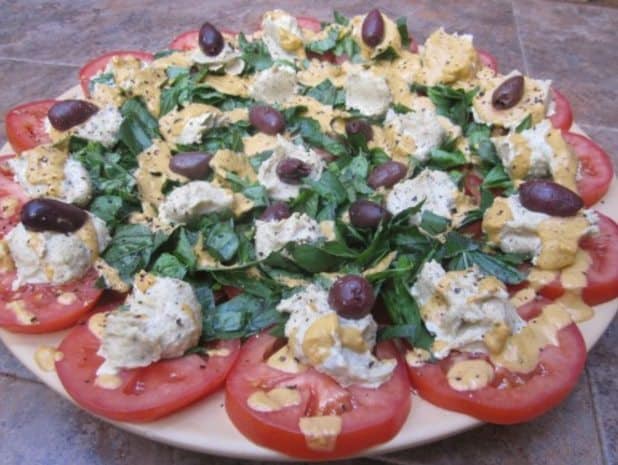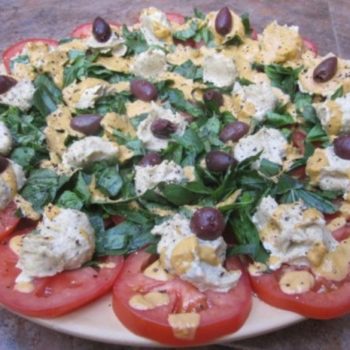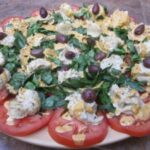 Patty's Caprese Salad
This savory dish is loaded with fresh tomatoes, olives, basil, and "Rawcotta" cheese to please any Italian-dish lover.
10

tomatoes

3

cups

fresh basil

3

cups

Patty's Rawcotta cheese

1/2

cup

Balsamic vinegar

2

cloves

garlic

pinch

salt

2

dates, pitted

1

tbsp

rosemary

crushed black pepper

~13

favorite olives
Slice tomatoes and arrange on a large plate or platter

Wash and chop basil and cover tomatoes with it, leaving a ring of about ¼ inch red tomatoes on the outside.

Mix 3 ¾ rawcotta cheese with rosemary.

Plop teaspoons full of rawcotta-rosemary cheese onto each tomato at the outside of the plate and then working into the center of the dish on some of the tomatoes forming a nice circle of tomatoes that have cheese on them (probably about 2/3 of the tomatoes will have cheese).

Make a simple dressing in your high-speed blender with garlic cloves, vinegar, ¼ cup of rawcotta cheese, pinch of salt and two pitted dates.

Drizzle the simple dressing over the dish.

Place olives on some of the tomatoes that have cheese.

Grind fresh pepper over top of dish, serve, and enjoy!
Here's the recipe for Patty's Rawcotta Cheese!.
Tags: basil, garlic, gluten free, italian, rosemary, sugar free, tomato
Categories: Dips & Starters, Salads, Sides