23 Simple Ways to Use Bone Broth Protein in Food and Beverages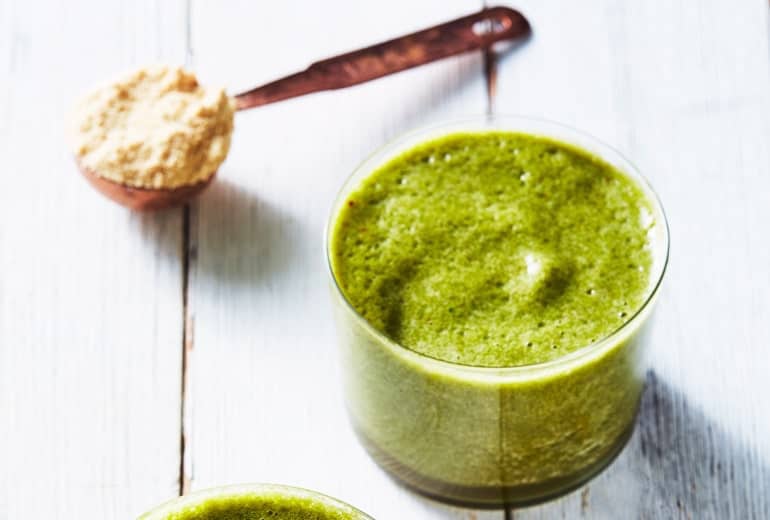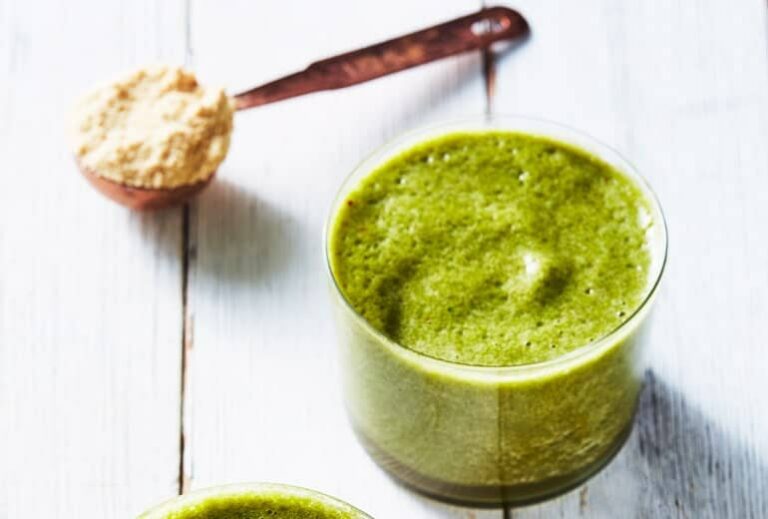 Although I recommend a mostly plant-based diet, sometimes select, very clean animal-based foods can be beneficial and therapeutic, delivering nutrients not available in plant foods.
In this article:
Clean, grass-fed bone broth is one of these foods, and I'm excited to offer our bone-broth protein to you in three delicious flavors!
Bone broth protein powder contains important, healing nutrients that promote the health of your skin, hair, nails, digestion, and more.
Grass-fed beef bones and connective tissue are simmered slowly to extract all of these health-supportive nutrients, then the liquid is dehydrated to make a powder that's not only portable, so you can get your protein boost on the go, but it's incredibly versatile as well.
When you think of "bone broth," you probably think of a savory taste, but GreenSmoothieGirl's Natural Bone Broth Protein is surprisingly neutral in taste. So while bone broth protein can certainly be used in savory applications, it can be used in many sweet ways, too.
Our flavorless Natural option, as well as our monkfruit-sweetened Chocolate and Vanilla Shake versions, can easily incorporate into your favorite recipes for an added protein boost.
Here are 23 awesomely simple ways you can use bone broth protein
1. Stirred into cold water. All our flavors blend easily into water to make a cool, refreshing drink, especially post-workout. You can also add a handful of ice and whip up a serving in the blender for a super-frothy, super-healthy shake; in fact, I named the flavors "Vanilla Shake" and "Chocolate Shake" because they taste exactly like that classic summer treat. It blew our taste-testers away, and even kids will ask for more!
2. Stirred into hot water. Use the Chocolate Shake powder to make an extra-healthy, bone-building, gut-healthy hot cocoa, or use the Vanilla Shake powder for a delicious "blonde" version.
3. As an elixir. Warm morning elixirs are a great way to start your day. You can blend bone broth protein into coffee with ghee or coconut oil for a hot beverage with a healthy protein and fats, or if you're the caffeine-free type, try blending the Chocolate Shake with hot water, almond milk, coconut oil, and cinnamon. Delicious!
4. Spiced up. When mixed with water hot or cold, try changing up the flavor with fresh ground spices. Need some inspiration? Try our Vanilla Shake with cardamom, nutmeg and cinnamon, or Chocolate Shake with vanilla extract and a pinch of cayenne pepper.
[Related recipe: Chai Green Smoothie]
5. Sweetening up a green smoothie. The Basic Green Smoothie will practically taste like a dessert when you add a scoop or two of Vanilla Shake. Make it even more special with a couple of drops of almond extract and a handful of frozen sweet cherries.
Or if you want the Chocolaty Breakfast Smoothie but don't have raw cacao powder, you can use a scoop of Chocolate Shake to get that rich flavor you love. You'll never know there's a hefty serving of greens in there!
6. In quick breads. Quick breads like loaves and muffins can get a protein enhancement by adding a tablespoon or two of bone broth protein to the batter. Chocolate and Vanilla Shake will both be great in sweeter breads, but save the Natural flavor for recipes like cornbread, soda bread, onion bread, etc.
7. In cookies. Just as you would with the quick breads, add in a couple tablespoons of bone broth protein to the recipe. Keep in mind that if you're adding dry ingredients, you may have to adjust the liquid content in the dough to make sure the cookies don't come out too dry.
8. Rolled into energy bites. Energy bites, protein balls—whatever you want to call them—are a fabulous way to pack a good amount of nutrients into a small bite-sized snack. For any recipe requiring protein powder, simply swap with the bone broth protein powder equally. Energy bite recipes tend to be pretty easy to experiment with, so if you find you've added too much powder and the mixture becomes too crumbly, simply add more maple syrup or coconut oil (or whatever ingredient is called for that allows the mixture to stick together), no measuring required.
9. Added to homemade granola. Like many other breakfast foods, granola is high in healthy, high-fiber carbs for quick morning energy. You can amp up the protein by stirring a scoop or two of Vanilla or Chocolate Shake protein powder into the oil and honey before you add the dry ingredients. You'll stay satisfied longer, with more stable blood sugar until lunch!
10. Blended into an anti-inflammatory smoothie. Because collagen, abundant in bone broth protein, is known for its joint health support, adding it to our yummy Anti-Inflammatory Smoothie will be even more healing for those who suffer from inflammatory conditions like arthritis, asthma, and autoimmune diseases.
11. Blended into green juice. While I absolutely love green juice for delivering a huge hit of nutrients, it definitely doesn't hurt to boost its nutritional properties a little more! Green juice tends to be a bit tart (that is, if you're making it without adding a ton of sugar-filled fruit juice), so blending it with Natural bone broth protein will be best.
12. In salad dressing. One or two teaspoons of Natural protein powder whisked into any salad dressing is a super-simple option, but you can even use a little bit of the Vanilla Shake version in something a little sweeter like Asian Ginger Dressing or Strawberry Poppy Seed Dressing. You'll find both of those and more in this free recipe collection of Complete-Meal Salads.
13. In a sauce. Our Natural bone broth protein is an easy addition to virtually any sauce (bechamel, alfredo or other white sauce, marinara, pesto, even barbecue!), but for some out-of-the-box ideas, you can also add a teaspoon of Chocolate Shake to a homemade mole sauce, or Vanilla Shake to a berry-based dessert sauce. Chocolate can be surprisingly delicious in savory dishes, but make sure to start small when substituting to get the right flavor; you can always add, but you can't subtract.
14. Stirred into soups, stews, and chilis. One-pot meals are a lifesaver when it comes to kitchen cleanup, aren't they? I also like them because it's easy to enhance their nutrient profile—just stir in some Natural bone broth protein. There are also plenty of spicy chili recipes out there calling for dark chocolate that you can stir a little Chocolate Shake into as well.
15. Added to our Raw Chocolate Hazelnut Spread. Who needs Nutella when you've got an absolutely delicious version right here that is actually good for you? Especially when you swap out some of the cacao powder with our Chocolate Shake bone broth protein, it's a spread you just can't pass up.
16. Scooped into pancake batter. Protein pancakes made easy! Turn your plain pancakes into fabulous flapjacks by adding a teaspoon of bone broth protein powder to the mix for every two 8-inch pancakes you plan to make. I'm partial to Chocolate Shake with some chopped bananas thrown in, or Vanilla Shake and blueberry!
17. Mixed into chia pudding or overnight oats. This is another super-simple way to up the protein content in your favorite morning meals. Oats and chia seeds are both great energy sources, but pre- or post-workout you might want some extra fuel to feel invigorated and satisfied. Go ahead and add a scoop of bone broth protein to a mason jar and shake it up with ¼ cup chia seeds and 1 ½ cups almond milk for chia pudding, or ½ cup oats and 1 cup almond milk for overnight oats. Don't forget to add nuts, seeds, and any spices you want to round out the meal! Both are best chilled in the fridge overnight (making them great meal prep options!).
18. Blended into dairy-free milk. I love making my own almond milk at home. I know where it comes from, and there are no preservatives or chemicals hiding in there. It's fun to experiment with flavors, too, by adding in various spices or blending it with dates, but it's even better to mix it with bone broth protein for a really rich and delicious version that you can't find at your local market!
19. As part of a detox. Since a whole-foods, high-fiber detox is often low in protein, you may feel better augmenting your detox with a clean source like bone broth protein. Add it to our Mean Green Detox Smoothie for an excellent way to get in a ton of amazing nutrients that help support your own detoxification systems. Because bone broth protein is clean and gut-healing, it's an approved addition to the GSG 26-day detox when you're really ready to "clean house."
20. Whipped into hummus. Adding Natural bone broth protein to your hummus is super easy, but "dessert hummus" recipes are trending these days, giving us an opportunity to make our own chocolate version! Simply blend one can of drained and rinsed chickpeas, one scoop of Chocolate Shake powder, ½ cup almond butter, ¼ cup maple syrup or honey, a pinch of salt, and one teaspoon vanilla in a food processor.
21. Mixed into brownies. Add Chocolate Shake to your favorite brownie batter, or pack even more of a protein punch by making Black Bean Brownies. Want to make your recipe taste like cheesecake brownies? Whisk a scoop of Vanilla Shake powder into the batter before swirling it into the pan.
22. Kneaded into flatbreads. Focaccia, tortillas, chickpea flatbread—whatever gluten-free recipe you decide on, knead a little bone broth protein into the dough before baking.
23. In your frosting. Yes, frosting! Who said you have to decorate your baked goods with refined sugar-laden glazes and icings? Deliver more nutrition at your next celebration by adding a couple tablespoons to a coconut milk frosting like the one in this free Healthy Treats recipe collection. Sign up to get it here, and you'll get it as a bonus along with my secrets for 6 Easy Swaps to make any treat recipe much healthier, just by having six easy ingredients on hand!
And one more BONUS way to use bone broth protein:
24. In a smoothie bowl. Smoothie bowls are a little more substantial than your average blended frozen beverage. In addition to all the nutritious foods you can fit into the blender, pour it into a bowl and you can add lots of flavor-boosting toppings like your homemade granola, fresh fruit, coconut flakes, chopped nuts, and more. Try our Acai Smoothie Bowl and add a scoop of bone broth protein for a filling meal that's as beautiful as it is delicious.
There are so many ways to use bone broth protein powders that make them real game-changers in your health and in your kitchen! Share your ideas in the comments!
Read next: Bone Broth Protein: Why Should You Try It? | 9 Healthy, Satisfying Bone Broth Beverages to Warm You Up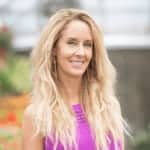 Robyn Openshaw, MSW, is the bestselling author of The Green Smoothies Diet, 12 Steps to Whole Foods, and 2017's #1 Amazon Bestseller and USA Today Bestseller, Vibe. Learn more about how to make the journey painless, from the nutrient-scarce Standard American Diet, to a whole-foods diet, in her free video masterclass 12 Steps to Whole Foods.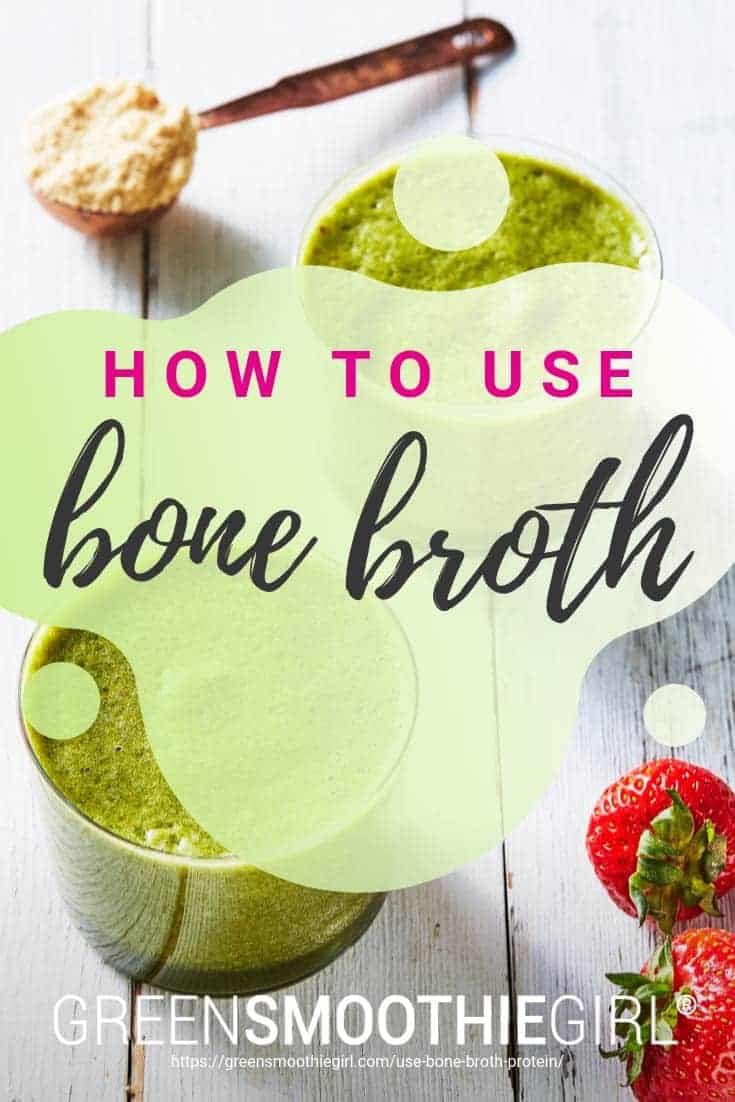 Disclosure: This post may contain affiliate links that help support the GSG mission without costing you extra. I recommend only companies and products that I use myself.
Posted in: Green Smoothies, Preparedness, Recipes, Supplements, Tools & Products, Whole Food