Mean Green Superfood Detox Smoothie Recipe | GreenSmoothieGirl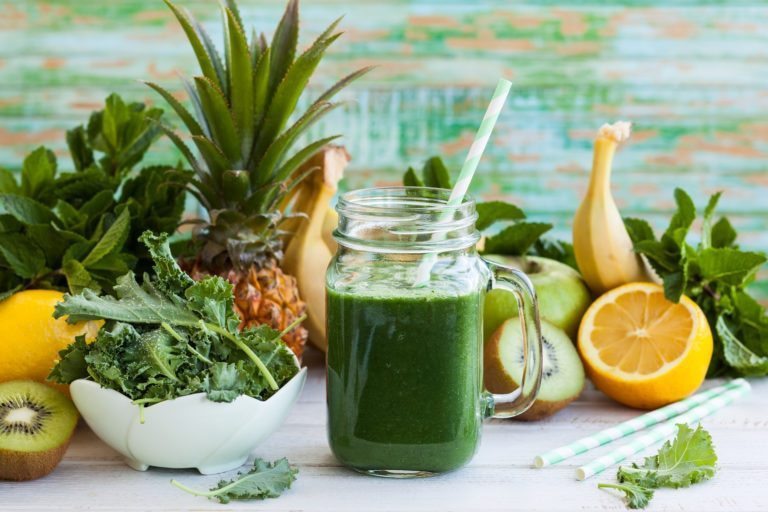 Have you done much cooking with spirulina? (Not that we're exactly "cooking" here, but you get the point.) Well, this Mean Green Detox Smoothie will change that!
You're probably familiar with the rest of the ingredients, but do you know exactly just how good they are for you? You might be surprised!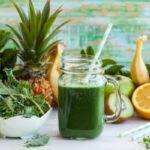 Mean Green Detox Smoothie
A healthy myriad of fruits and veggies combine to make this green detox smoothie.
1

cup

water

1/2

cup

ice

1

cup

almond milk

1

banana

2

stalks

celery, chopped

1/2

chopped English Cucumber

1 1/2

cups

(or 3 large handfuls) kale, rinsed and de-stemmed

1

small

organic lemon, quartered

1

cup

pineapple, fresh or frozen

1/2

tsp

spirulina or chlorella

2

tbsp

chia seeds, or GreenSmoothieGirl Sprouted Flax or Tri-Omega

1-2

serving

GreenSmoothieGirl protein powders
Place all ingredients into a high-powered blender, and mix until very smooth to enjoy.
Want to use Sprouted Flax or Sprouted Tri-Omega (flax, chia, and broccoli seeds) in your smoothies? These ingredients will help optimize your detox results. Find GreenSmoothieGirl high-quality protein powders here.
What is a "detox" anyway? I'll give you a little rundown here, and if you're interested in more you can take my FREE Detox Secrets Masterclass.
The benefits of detoxing are numerous. It clears any brain fog and may help alleviate depression, anxiety, and inflammation. It can cause you to lose weight, too! And these are just some benefits.
Detoxing is something our bodies do daily, hourly, by the minute and second, through our organs. Your liver, kidneys, colon, skin, and even your lungs are all working to clear you of the toxins you breathe, ingest, and touch every day. Wouldn't it be nice to help your body help you?

You can help your body out by drinking an easy-to-digest drink or smoothie, like our Mean Green Detox Smoothie. It's not only easier on the gut, but it's also packed with healing nutrients for each part of your body. Let's take a look at some of the ingredients:
Celery has important antioxidants that reduce inflammation, support digestion, and have an alkalizing effect on the body. Remember, an acidic environment is optimal for cancer and other diseases. Celery has a low glycemic index, is full of vitamins K, A, and C, folate, potassium, and lots of fiber to help the gut move things easily.
Spirulina is a thread-like green bacteria that can be dried and consumed, usually in a powder form. It is a powerful antioxidant with amazing anti-inflammatory properties. It can lower triglyceride levels (the fat in your blood that can cause heart disease) and may even have anti-cancer properties.1
Pineapple has lots of Vitamin C and fiber, just like celery. By eating pineapple in a detox, you're giving your systems a boost to work better and easier. It contains manganese, a trace mineral the body needs in small amounts for the normal functioning of the brain, nervous system, and enzyme systems. Your body can store this up, but it cannot make it. You need to get it from your diet. Enzymes are what help the body do things, like digest food. I have a PreZyme Pro supplement that helps digestion as well.
These are just some of the ingredients, too! Why not try out the Mean Green Detox Smoothie, and let us know how you feel in the comment section below?
[Related Recipe: Immune-Fuel Hot LemonAid]
[Related Article: 9 Detoxifying Drinks: What Works? What Doesn't?]
Sources:
Karkos, P D et al. "Spirulina in clinical practice: evidence-based human applications." Evidence-based complementary and alternative medicine : eCAM vol. 2011 (2011): 531053. doi:10.1093/ecam/nen058
Tags: 9 Day Challenge Recipe, almond milk, banana, chia, detox, gluten free, kale, lemon, pineapple, raw, remedy, spirulina, sugar free, vegan