9 Healthy, Satisfying Bone Broth Beverages to Warm You Up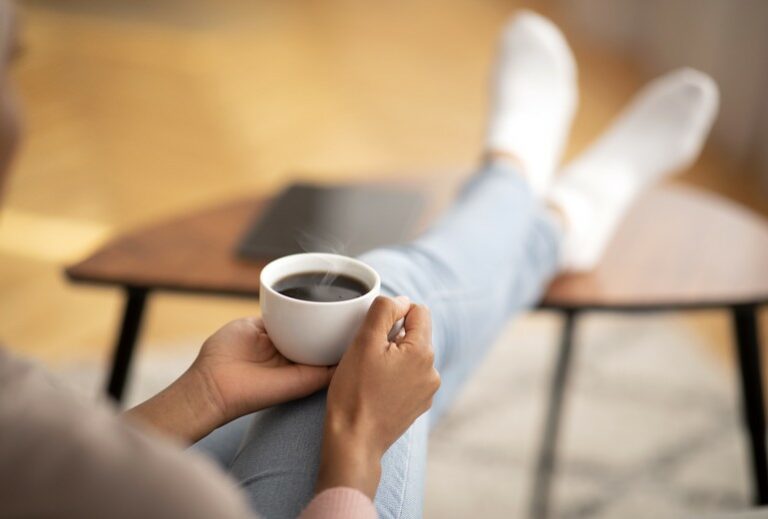 Warm beverages are soothing for the body and mind, especially when it's chilly outside.
I recommend and eat a mostly-plants diet (95%+) – but bone broth is one food that could be a missing link, giving you nutrients you might not get from plants.
Bone broth is especially healing for your gut, as well as your hair, skin, and teeth. And adding bone broth to beverages is a great way to get these benefits, and more.
Adding bone broth to your coffee or other warm beverages might not be something you've done before. But, in fact, it pairs deliciously, with the right bone broth.
The bone broth drinks in this article are perfect for cooler temperatures – and made more satisfying with the addition of bone broth protein.
In this article:
Bone Broth in Sweet Beverages?
The idea of stirring in a scoop of Chocolate or Vanilla Bone Broth, into hot water or a really low-acid, organic coffee is an idea I didn't come up with myself!
It's the breakfast of champions, literally! It's Kathleen Horvath, a GreenSmooothieGirl follower who attended our Swiss liver detox retreat a couple of years ago, who told me this is her breakfast she adores!
She remains, at the age of 55 now, the youngest-ever competitor at the U.S. Open! (She was 16 when she first competed at the highest level there is!)
A couple of other fun facts: she was the ONLY woman in the world to beat Martina Navratilova in 1983, AND one night, Kathleen was playing Trivial Pursuit with her husband and friends, and she pulled a card that said, "Who was the only woman to beat M. Navratilova in 1983?" Her husband thought she was pulling a prank, so she had to hand him the card, to prove it.
I've been laughing about that ever since she told me that story. So, why not take a tip from a super-athlete? (She has a son who is competing on the tennis circuit now.) Of course, I've never forgotten that story, since I still play tennis competitively, myself.
9 Delicious Bone Broth Drinks to Enjoy
Those little packets of hot cocoa you add to hot water? Forget them.
Boring, plain coffee. No more!
Coffee loaded with processed sweeteners and dairy. Just say no!
These bone-broth drinks are better for you, and I really think you'll enjoy them more, too!
The Best Bone Broth for Hot Beverages
GreenSmoothieGirl Grass Fed Bone Broth Protein powders are delicious, easy to use, mix and dissolve smoothly – and are great in warm beverages, like coffee and hot chocolate.
I love how easy they make it to get the benefits of bone broth, because making your own definitely isn't easy. There are three flavors to choose from:
The Vanilla Shake and Chocolate Shake varieties are sweetened only with all-natural monk fruit, which doesn't impact your blood sugar levels. These blends are so unbelievably yummy that we had to name them "shakes." They're also creamy, and sweet without adding sugar. A rich treat many who follow GreenSmoothieGirl have come to love, in many ways!
The Natural Bone Broth powder is unsweetened and has a neutral flavor. If you don't like the monk fruit in the options above, you could use the Natural flavor in the recipes instead. And then, you might want to add some liquid stevia to your coffee, as a healthier alternative to other sweeteners.
Why Lifeboost Coffee?
I love Lifeboost Coffee, which is featured in the recipes below!
Not only is it incredibly delicious, but it's also the cleanest, purest, and healthiest coffee I've experienced. And I feel amazing when I drink it. My digestive system LOVES it.
In addition to having low acidity, Lifeboost Coffee has ZERO of the junk that's swimming around in most coffees that aggravates your stomach. So, no pesticides, chemicals, GMOs, or mycotoxins.
I called the owner of the company, and he agreed to give YOU a huge discount on your first purchase, here!
5 Wonderfully Good Bone Broth Coffee Recipes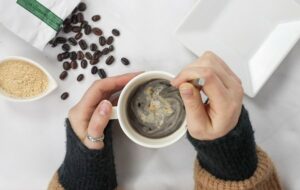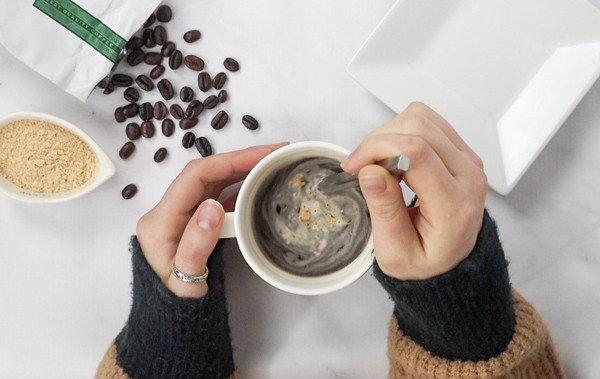 Start your day with a delicious dose of healthy protein and fats. This Bone Broth Coffee Elixir has a smooth and creamy taste and is wonderfully easy to make.
Adding coconut oil to your coffee:
Boosts your immune system
Speeds up metabolism
Increases energy
Coconut oil contains MCTs (medium-chain triglycerides). MCTs absorb quickly and are metabolized as fuel for immediate use by the body.
Coconut oil also contains lauric acid, which has potent antimicrobial and antiviral properties – so it can help keep you well.
Blend all ingredients in an immersion blender or a regular blender to combine fully, but don't over-blend.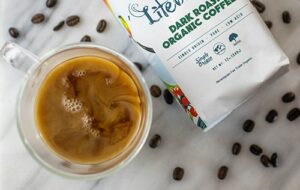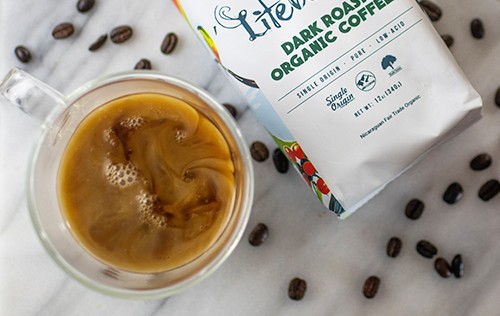 A creamy cup of coffee can be so relaxing, which we all need more of, with so much uncertainty in the world. This Bone Broth Coffee Latte will leave you feeling satisfied and ready to take on your day.
Adding a little fat and protein to your morning coffee can help you not feel "hangry" and keep you going until you have time for breakfast or lunch.
When you open up the can of coconut milk, you'll find the dense "coconut cream" floating at the top. It's thicker because it has the highest fat and protein content. This is the best part to use for the creamiest latte.
If you don't want your latte to be sweet, you could use GreenSmoothieGirl Bone Broth Protein in the Natural flavor.
Heat the coconut milk in a saucepan over medium, being careful not to boil. Blend all ingredients using an immersion or high-powered blender until smooth and creamy. Serve or enjoy in a large mug.
[Related Video: 3 Ways to Make Your Coffee Healthier]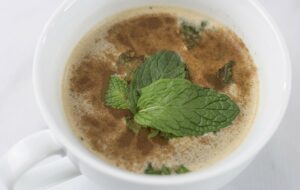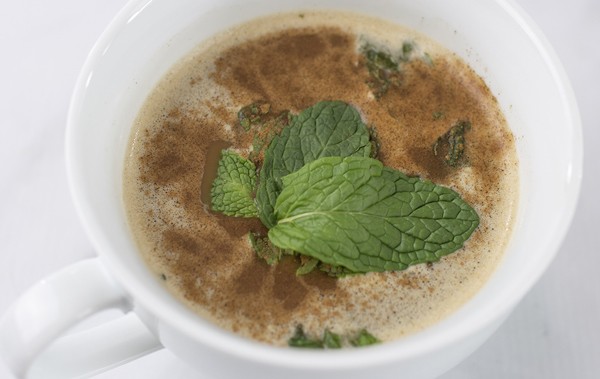 Better than the Starbucks' version – and much healthier and cheaper! – this easy recipe is perfect for holiday mornings, or anytime.
Coffee enhances the flavor of chocolate, and mint pairs well with chocolate. This beverage wakes you up and gives you a bounce in your step!
Warm the almond or oat milk on the stove, don't allow it to boil. Add all ingredients and blend until combined. Top with a dollop of coconut cream and a sprinkle of cinnamon, if desired, add to a large mug, and enjoy!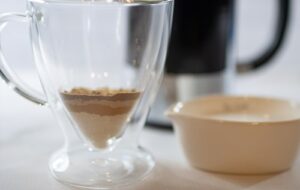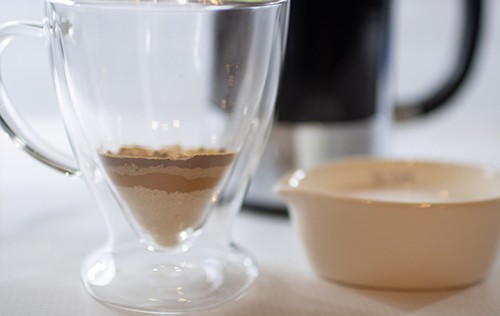 Golden milk, with its beautiful warm color, has been a health trend for a few years, yet it's based on an ancient Indian drink known for its health benefits.
The earthy taste of turmeric also pairs well with coffee in this High-Protein Turmeric Coffee Recipe. It's slightly spicy and warming, with a hint of heat from the ginger.
Turmeric is best known for its proven anti-inflammatory abilities. Ginger is also anti-inflammatory.
[Related: 5 Anti-Inflammatory Smoothie Recipes to Target Joint Pain And More]
These flavorful ingredients will also boost your immunity. In particular, the active compound in turmeric, curcumin, is both antiviral and antifungal.
When turmeric is combined with healthy fats, like coconut milk, and a famous extract of black pepper, you boost your body's intake of turmeric significantly. In fact, the "piperine" in black pepper has been found to increase the absorption of turmeric by as much as 2,000%! And you need only a dash.
Turmeric also works as a natural pain reliever.
The taste of this turmeric coffee is complex and delicious. A healthy, balanced breakfast in a mug.
Heat the coconut milk in a saucepan on medium, be sure not to boil. While heating, stir or whisk in the bone broth powder, turmeric, ginger, cinnamon, and black pepper. Blend together with the coffee for a foamy, blended beverage. Serve or enjoy in a large mug.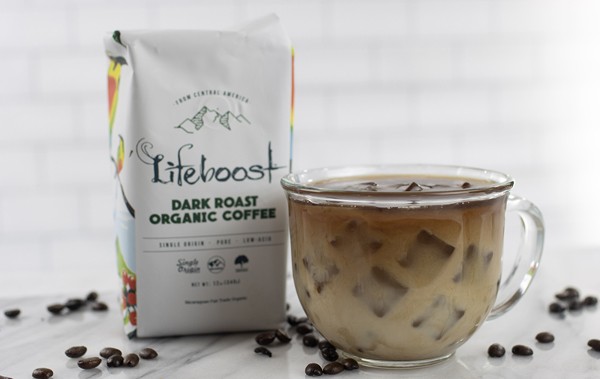 Want to have your coffee and avoid the energy crash? Is that too much to ask?
No! Adding powdered maca root to your coffee gives you lasting energy, in a balanced and nourishing way. Plus, it adds a creamy, nutty flavor (kind of like butterscotch or caramel) that really compliments the flavor of the coffee.
Haven't heard of maca? This hormone- and mood-balancing superfood is also anti-inflammatory and super nutrient-dense.
The combination of coconut oil and coconut milk gives you a rich and silky flavor – that also keeps you full for longer because of the healthy fats.
I think you'll love this delicious, creamy, luxurious beverage!
If you want, you can make your own almond milk – just leave out the dates from the recipe.
8 ounces brewed organic Lifeboost Coffee
1 scoop GreenSmoothieGirl Bone Broth Protein, Vanilla Shake
¼ cup unsweetened coconut milk, in a can, or unsweetened almond milk
1 Tbsp coconut oil
1 tsp maca powder
1 tsp vanilla extract
1 pinch ground cinnamon
1 pinch Himalayan salt
Place all ingredients in a high powered blender and blend until frothy. Serve or enjoy in a large mug.
4 Yummy Caffeine-Free Bone Broth Hot Beverages
Want to enjoy a warm bone broth beverage without caffeine? These four recipes are great for morning and night, and afternoon, too!
[Related: Want a bone broth smoothie? Try this Peanut Butter Pumpkin Pick Me Up with our Chocolate Shake Bone Broth Protein]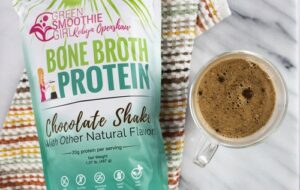 Warm-up with an easy, extra-healthy, bone-building, gut-soothing hot cocoa with the Chocolate Shake Bone Broth powder. Or use the Vanilla Shake Bone Broth powder for a delicious "blonde" version.
Enjoy this soothing, sweet beverage in the morning, or at night before bed. Kids will beg for it!
You have options, depending on what you have available. Mix ingredients with a spoon, froth with a hand-held milk frother, shake in a blender bottle, or blend in a blender until smooth. Easy and delicious!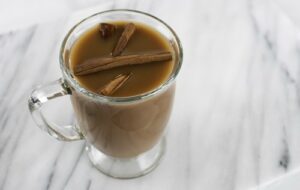 The healthy fats and delicious protein in this Morning Chocolate Elixir will help keep you full.
The addition of cinnamon helps balance your blood sugar, and has anti-inflammatory properties. And, this spice is one of the most potent sources of antioxidants.
If you want, you can make your own almond milk – just leave out the dates from the recipe. Oat milk is easy to make and offers some health benefits, in addition to being environmentally friendly.
Blend all ingredients in an immersion or regular blender. Heat using a saucepan on the stovetop, being careful not to boil it.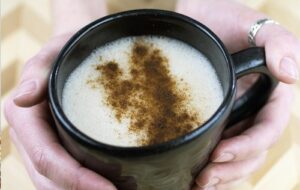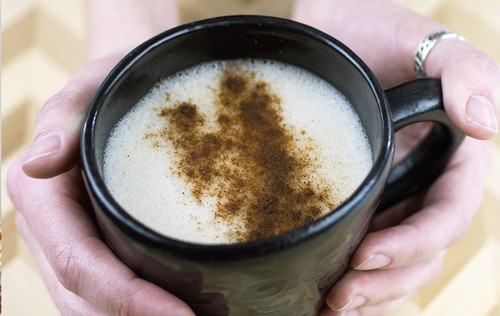 This warm and invigorating beverage is a flavorful balance of sweetness and spice.
Cardamom is rich in anti-inflammatory compounds. Nutmeg contains an abundance of health-protecting antioxidants, and also has anti-inflammatory properties.
Blend all ingredients until combined. You could also heat the water on the stovetop and whisk in the spices and bone broth protein.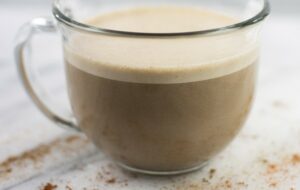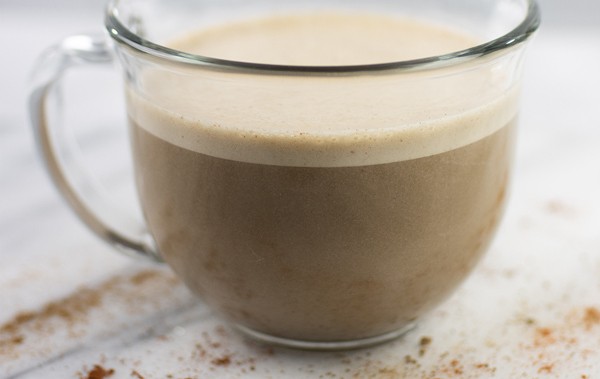 This Sweet & Spicy Chocolate Elixir is sure to warm you up from the inside, with the perfect touch of sweetness and spice.
The scent of vanilla has calming qualities, easing stress and anxiety. And, of course, a dose of chocolate is always a way to ease your mind.
If you want, you can make your own almond milk – just leave out the dates from the recipe.
8 oz unsweetened almond milk
½ cup unsweetened, full-fat coconut milk or coconut cream, in a can
1 scoop GreenSmoothieGirl Bone Broth Protein, Chocolate Shake
1 tsp cinnamon
½ tsp pure vanilla extract
⅛ tsp chili powder
⅛ tsp cayenne pepper, or less to taste
1 pinch Himalayan salt
Add the almond milk and coconut milk or coconut cream to a pan and heat on the stovetop, until hot. Whisk in all the spices. Add to a blender with the vanilla extract and Bone Broth Protein and blend until smooth.
Here's a bonus recipe you can enjoy along with your hot beverages – a super yummy (and delightfully crispy) biscotti. Perfect for dunking in your bone broth drink or hot chocolate.
Preheat the oven to 350℉. Combine coconut oil with organic coconut sugar in a large mixing bowl and whisk thoroughly to combine. Add pumpkin puree and vanilla extract and whisk until completely combined. Next add flour, cornmeal, chocolate protein powder, baking powder, salt, and orange zest. Stir until combined, but don't over-mix. Add almonds and stir gently to evenly disperse.
Use a knife or spatula to divide the dough into two even sections (amount as original recipe is written // adjust if altering batch size). Then using damp hands, form the two portions into long, semi-skinny logs. Try and make them as uniform in size and shape as possible so they bake evenly.
Bake the loaves for 25-30 minutes, or until just slightly brown on the edges. Let them cool slightly on the baking sheet, then use a serrated knife (or pizza cutter) to gently slice into 3/4-inch pieces. Be very gentle when slicing, especially where the almonds are, as they can crumble easily. Gently turn the biscotti on their sides and return to the oven to bake for another 20 minutes, gently flipping once at the halfway point (10 minutes), to ensure even baking.
Let cool briefly before enjoying. Place on a parchment-lined baking sheet to dry until set, or put them in the freezer to set more quickly. Store covered at room temperature for 3-4 days. Will keep well-sealed in the freezer for up to 1 month.
Recipe adapted from Minimalist Baker.
A Cup of Comfort
No matter which of these bone broth drinks you choose, there's something uniquely comforting about holding a warm mug in your hand and sipping it slowly, as the day's cares melt away.
Adding bone broth to your winter drinks makes them extra gut-soothing, with a satisfying dose of protein. Enjoy!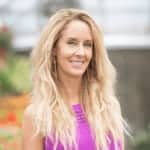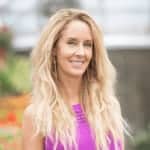 Robyn Openshaw, MSW, is the bestselling author of The Green Smoothies Diet, 12 Steps to Whole Foods, and 2017's #1 Amazon Bestseller and USA Today Bestseller, Vibe. Learn more about how to make the journey painless, from the nutrient-scarce Standard American Diet, to a whole-foods diet, in her free video masterclass 12 Steps to Whole Foods.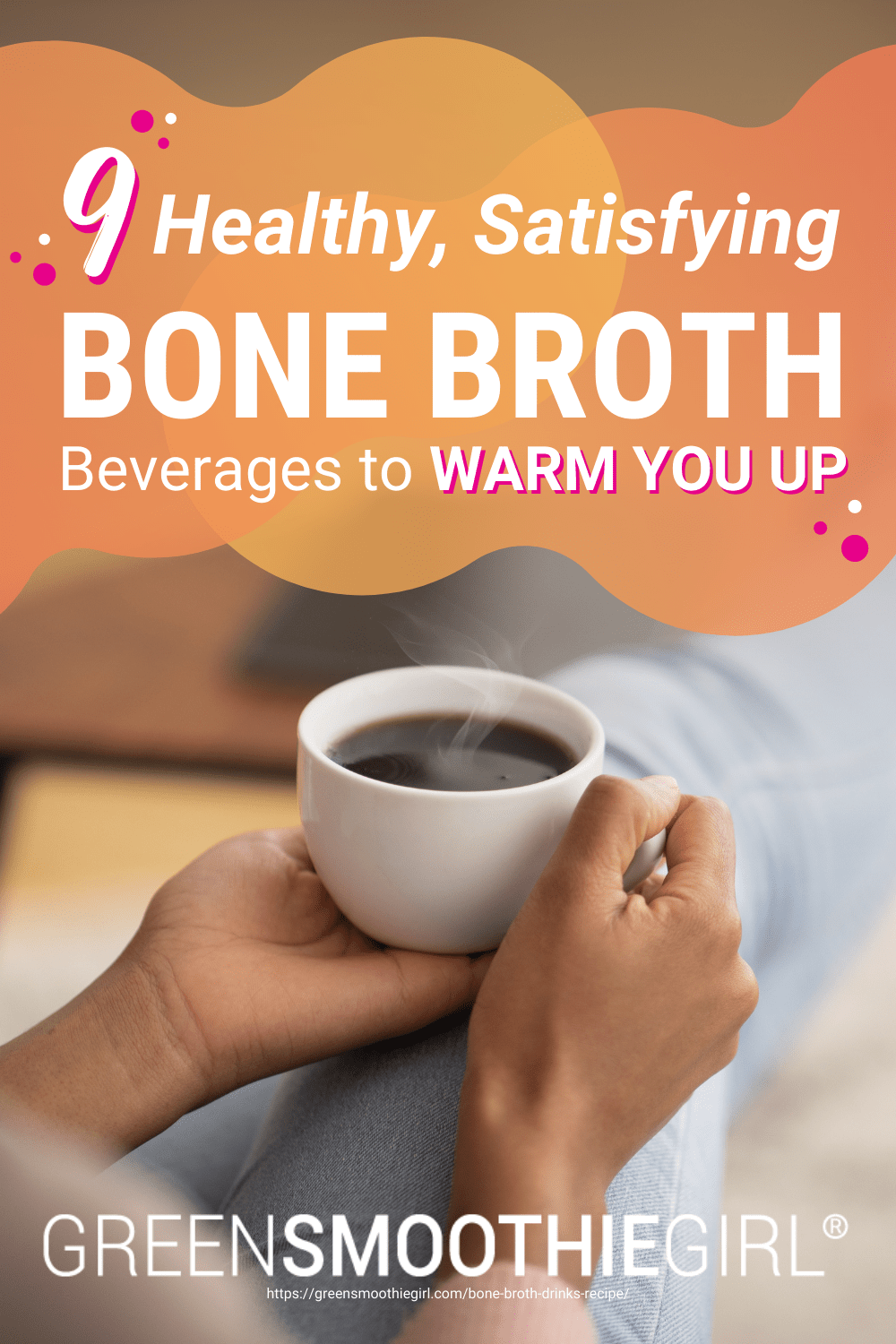 Disclosure: This post may contain affiliate links that help support the GSG mission without costing you extra. I recommend only companies and products that I use myself.
Posted in: Lifestyle, Natural Products, Natural Remedies, Preparedness, Recipes, Supplements, Tools & Products, Whole Food