Healthy Dark Chocolate Black Bean Brownies Recipe | GreenSmoothieGirl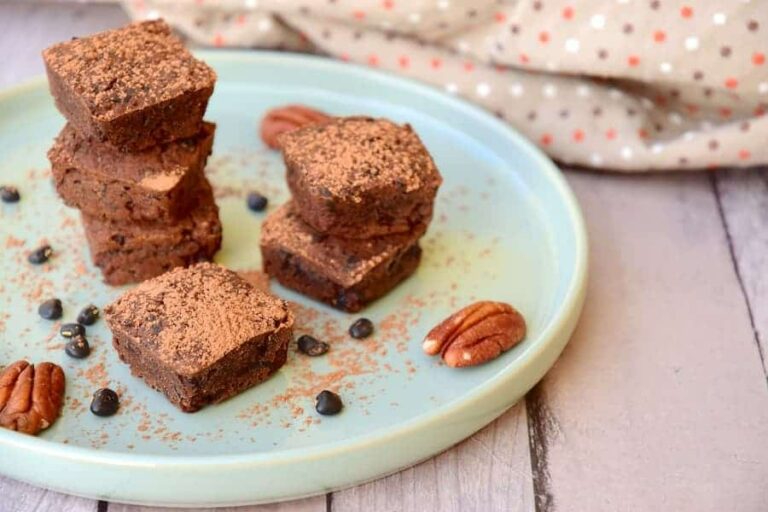 A healthy Dark Chocolate Black Bean Brownies recipe? Who knew you could make scrumptious deliciousness with black beans?
Just you wait, I'll tell you all about it. Then you can be the one to tell your friends, hopefully, while offering one of these incredibly satisfying treats! They're a hit with young and old, guilt-free and vegetarian. I've made them for my kids dozens of times—and yes, you can still lick the spoon!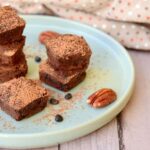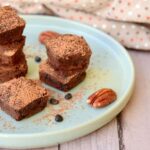 Dark Chocolate Black Bean Brownies
These chocolaty brownies are the perfect, guilt-free dessert or snack
3

organic eggs

(or 3 tbsp chia, soaked in 5 tbsp water)

1/2

cup

raw cacao powder

1

tbsp

vanilla

1/2

tsp

baking soda

3

tbsp

coconut oil

1

cup

raw honey

2

cups

black beans, drained and rinsed

1/4

tsp

sea salt

1/2

cup

dark chocolate chips

1/2

cup

raw walnuts

1/4

tsp

maple syrup extract

optional
Preheat oven to 325°F. Line an 11x13 inch baking pan with parchment paper.

Put all of the ingredients except the chocolate chips and ¼ C of the walnuts into a high powered blender. Blend until all ingredients are broken down into a smooth batter. (If your blender is not high powered try blending just the eggs, honey and black beans and then add the rest of the ingredients except the chocolate chips and ¼ C of the walnuts.)

Pour the mixture into the lined pan and sprinkle the remaining chocolate chips and walnuts on top. Bake until the middle has set, about 35-45 minutes. Let cool completely before cutting.

Unlike most brownies these taste best refrigerated. Enjoy cold.
Black beans are amazing at keeping your yummy batter together, and so much better for you than bleached, processed flour. In fact, while eating dessert, you can help maintain your strong bones, lower your blood pressure, and even fight off cancer.
Fight Cancer with Food!
This cancer-fighting ability is because black beans, part of the legume family, are one of the few foods that contain selenium. This is a mineral (think back to basic chemistry: element Se) that plays a role in the enzyme function of your liver, and helps your body detoxify some cancer-causing compounds. It may even decrease tumor growth rates.1
Walnuts also promote the fight against certain cancers! I bet any other brownie recipe can't boast or beat these stats. These cancers include breast, prostate, and colorectal. This is because walnuts are loaded with polyphenol ellagitannins, which do a lot for the anti-cancer cause.2 Your gut microbes convert the polyphenol ellagitannins into urolithins, compounds that have anti-inflammatory properties in your gut and may be the helping factor in preventing colorectal cancer. Those compounds also block hormone receptors in your body, which can reduce the risk of hormone-related cancers like breast and prostate cancer.
So next time you're looking for a treat, try my Dark Chocolate Black Bean Brownies recipe. The chocolate will make you happy on top of all those amazing health benefits. Relax, and know you're eating something truly good.
[Related Recipe: Debbie's Chocolate Bean Cake]
[Related Post: New video: Eat Cancer-Fighting Chocolate Mousse!]
Sources:
Chen, Yu-Chi et al. "Is selenium a potential treatment for cancer metastasis?." Nutrients vol. 5,4 1149-68. 8 Apr. 2013, doi:10.3390/nu5041149
Ismail, Tariq et al. "Ellagitannins in Cancer Chemoprevention and Therapy." Toxins vol. 8,5 151. 13 May. 2016, doi:10.3390/toxins8050151
Tags: cacao, cake, chocolate, cookie, dessert, gluten free, honey, legumes, walnut
Categories: Desserts