11 Delicious, High-Protein Smoothies to Fill You Up for Hours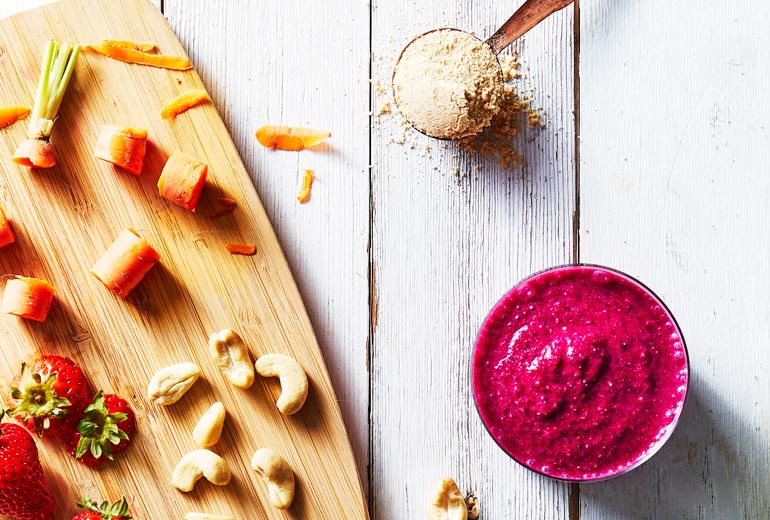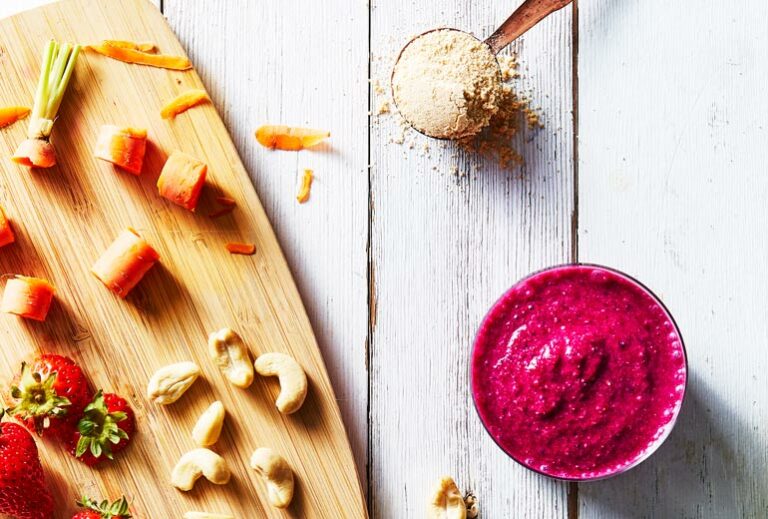 High-Protein Smoothies for Easy Snacks or Meals! 
Oh, protein. Our culture is obsessed with it. Too much, in fact. Overeating protein, like the Paleo diet, has saved us from exactly nothing.
And, virtually no one has a protein deficiency. The average American gets 1.5 times more than they need. So, I hope you'll let go of the idea that the thing we're chasing is more protein.
Protein at the 10% of the diet range is just about perfect. And, the real story of whether you're healthy or not has a lot more to do with (a) micronutrients, rather than macro ratios; and (b) the QUALITY of the fats, proteins, and carbs you eat.
But let's talk about protein ... because you do need it! For energy. For rebuilding and repairing muscles. And for helping you stay satiated longer — making a high-protein smoothie an excellent option for breakfast. Especially breakfast on the go.
I'll share some awesome high-protein smoothie recipes with you. But first, let's talk a bit about protein powder.
Healthy smoothie recipes in this article:
Why Use Protein Powders in Smoothies? 
While it's not necessary to use protein powders to make smoothies, many people feel better on a higher protein diet, and it's an easy option. Sometimes, you want something filling to last you hours. Or a high-protein smoothie is great before or after a workout.
Simply add a scoop, along with healthy fats — like our sprouted seed products — to your smoothie, and you've just created a filling, incredibly nutritious meal.
However, many of the protein powders you'll find aren't the best. Like whey protein, which is downright bad for you. It's a highly processed dairy byproduct. (To learn more, read my post about why whey isn't a healthy choice.)
Clean, Easy to Mix, Delicious Protein Powders
So many protein powders exist. And they're not regulated by the FDA, so, it's important to consider the ingredients and quality.
Our Grass Fed Bone Broth Proteins (Chocolate, Vanilla Shake, and Natural) are the cleanest — and most delicious — bone broth powders you'll find. They're independently tested, and we're transparent in all of our testing. I eat a 95% plant-based diet, but the science behind the health benefits of bone broth are undeniable.
These bone broth powders are gut-healing, and strengthen the immune system. They might also be a missing link in your diet, even if you eat mostly plants, with their natural collagen for anti-aging benefits for your skin and joints and the tissues of your whole body.
The Vanilla Shake and the Chocolate Shake are sweetened only with all-natural monk fruit. (They can be used in hot water, too, making them an excellent choice for a before-bedtime snack, or waking up in the morning.) Monk fruit has almost no impact on your blood sugar, doesn't add calories to your food, and is less processed and free of chemicals. (I studiously avoid Nutrasweet, saccharin, and the sugar alcohols!)
And, the Natural Bone Broth protein is neutral tasting, and has no sweetness. It mixes super easily in smoothies, and in anything you want to add some extra protein to, like baked goods. Fruit is good for you, but if you like to bake, balancing out the natural sugars in your baking with extra protein is a great idea.
Perfectly Yummy Plant Protein Powders 
GreenSmoothieGirl has an excellent plant-based protein powder, too!
Our Organic Superfood Plant Protein Meal (Chocolate, Vanilla Kiss, or Natural) gives you clean plant protein, high-nutrient greens, and superfoods—all in one.
Add it to green smoothies, or mix it with water for an easy snack or mini-meal when you're on the go or in a hurry.
11 High-Protein Smoothies Perfect for Breakfast, Or Before or After a Workout
1. Power Green Smoothie
This high-protein smoothie has a total of 26.05 grams of protein, in one drink!
And, that's only the protein content! There's much more goodness in the Power Green Smoothie, like abundant antioxidants, vitamin B-complex for stabilizing mood and energy, and omega-3 essential fatty acids.
INGREDIENTS
1 Scoop GreenSmoothieGirl Protein Powder (Chocolate or Vanilla) — Organic Plant Protein or Grass Fed Bone Broth
1 C coconut water
1 C unsweetened almond milk
1 C brewed green tea
1 packet frozen açai purée
1/2 C blueberries
1 tsp. turmeric
1/2 tsp. ginger powder
1/2 tsp. cinnamon
1 Tbsp. GreenSmoothieGirl Sprouted Flax
1 Tbsp. chia seeds
1 Tbsp. raw, organic pumpkin seeds
1 Tbsp. raw, organic sunflower seeds
Get the high-protein smoothie recipe here.
2. Wake Up! Coffee-Breakfast Green Smoothie
Waking up has never tasted so good. Everything you need in one smoothie. This bone broth smoothie is made with our clean and delicious GreenSmoothieGirl Grass Fed Bone Broth Protein — which is naturally sweetened with monk fruit (and tastes nothing like a bowl of bone broth!).
INGREDIENTS
Get the high-protein smoothie recipe here.
3. Super Hulk Green Smoothie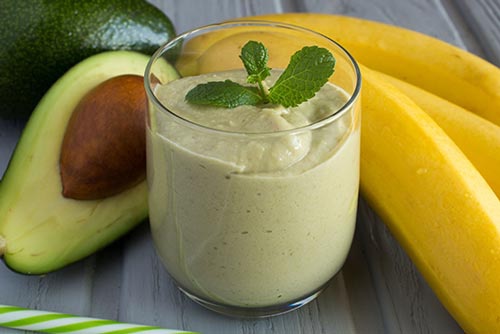 This is a great one for kids, because you can tell them it'll help them dominate on the field or the classroom, to be the Incredible Hulk!
Hidden in the Super Hulk Green Smoothie is more than enough fiber, protein, vitamins, nutrients, and healthy carbs and fats than you (or your favorite kid) get from any regular smoothie. In fact, the smoothie contains more than seven servings of raw greens, superfoods, and fruit per pint!
INGREDIENTS
Get the high-protein smoothie recipe here.
4. Velvety Chocolate Green Smoothie
Who else has noticed that just saying the word "chocolate" will get most kids' attention? Probably yours and mine too, let's be honest. And if you haven't noticed that phenomenon, try it out with my Velvety Chocolate Green Smoothie recipe. Announce that for the breakfast menu, and see how different the family feels about what you made, for them to start their day!
INGREDIENTS
2 cups chopped tomatoes
1 cup almond milk
½ cup ice
3 large chard leaves
1 beet
1 banana
1 cup frozen raspberries
4 pitted dates
2 scoops GreenSmoothieGirl Chocolate Protein Powder — Grass Fed Bone Broth or Superfood Plant Protein
Get the high-protein smoothie recipe here.
5. Oatmeal Breakfast Smoothie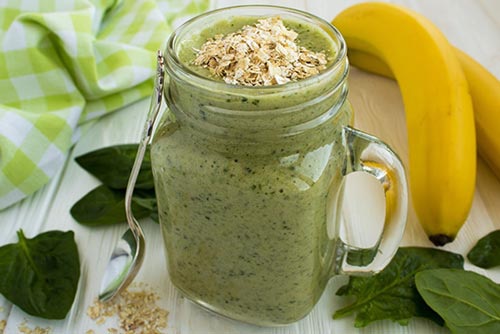 If your family is always rushed in the mornings, or maybe your children simply don't like to eat the most important meal of the day … this high-protein breakfast is an easy solution that's as nutritious as it is delicious.
Not only will your kids get a solid start toward their daily requirement of fruits and vegetables, they'll also get plenty of fiber and fuel from the oats. And, a healthy amount of protein from the almond milk, protein powder, and sprouted flax. Best of all, it's portable! So you or your kiddo has an easy breakfast-on-the-go.
INGREDIENTS
1 cup unsweetened almond milk
½ cup ice
3 large handfuls spinach or mixed greens
1 cup frozen blueberries
1 banana
1/4 cup oats
1 scoop GreenSmoothieGirl Protein Powder, any flavor
Get the high-protein smoothie recipe here.
6. Berry Nutty Smoothie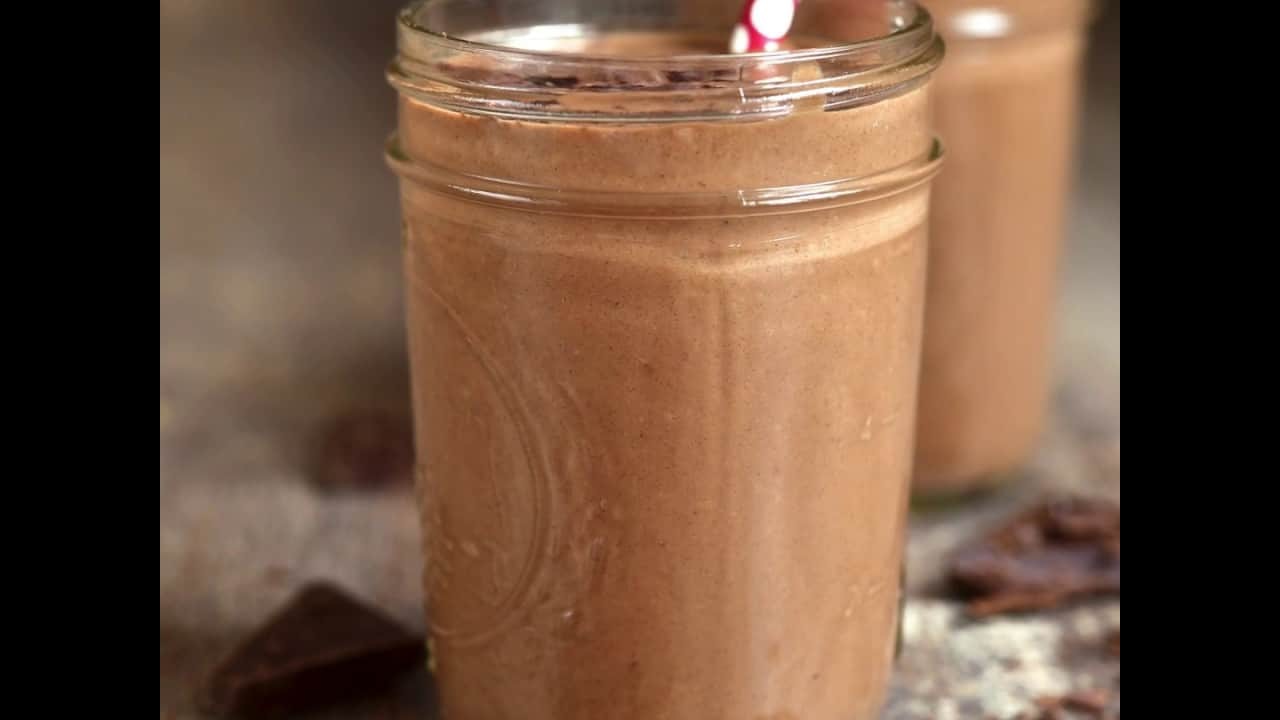 Want a crazy-yummy way to eat your greens? Blend up my Berry Nutty Smoothie! By blending in steps, you can get the smooth greens along with a fun crunch that keeps your mouth wanting more. And in fact, studies show that chewing your spinach smoothies to keep it in your mouth for longer is beneficial, too!
INGREDIENTS
1 cup unsweetened almond milk
3 large handfuls spinach or mixed greens
½ cup frozen blueberries
½ cup frozen strawberries
1 banana
¼ cup almonds
1 scoop GreenSmoothieGirl Protein Powder, any flavor
Get the high-protein smoothie recipe here.
7. Turning Green Smoothie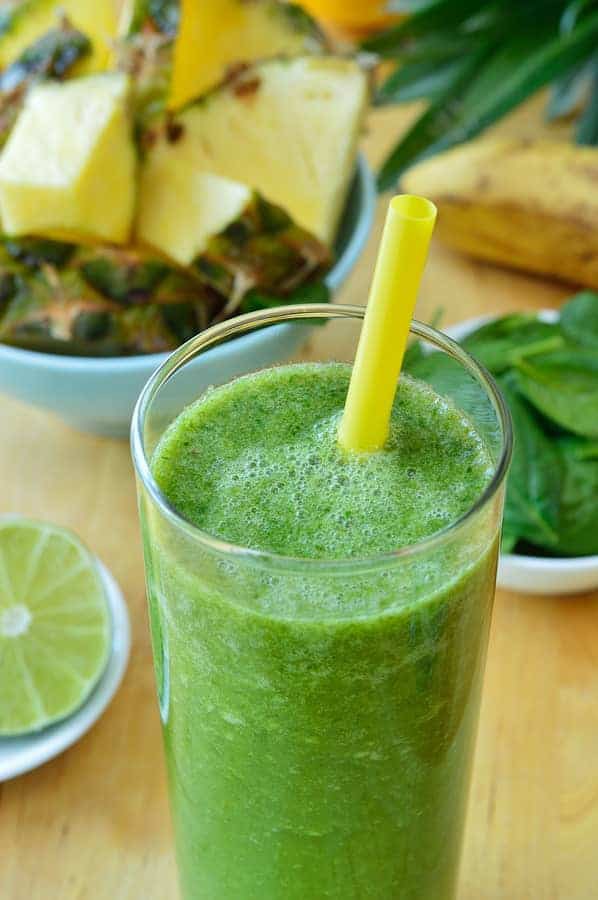 Taste and texture are often deal breakers for kids, but my Turning Green Smoothie overcomes both issues. The sweetness of the fruit will make this smoothie appealing to many kids, and the banana and pineapple help to give it a thicker texture, more along the lines of a milkshake rather than a basic green juice. With an added scoop of any protein powder, it gets even better.
INGREDIENTS
1 ½ cups water and ice
3 large handfuls spinach
2 large leaves kale with stems
1 cup green grapes
1 cup pineapple chunks
1 banana
1 scoop GreenSmoothieGirl Protein Powder, any flavor
Get the high-protein smoothie recipe here.
8. Beginner's Luck Green Smoothie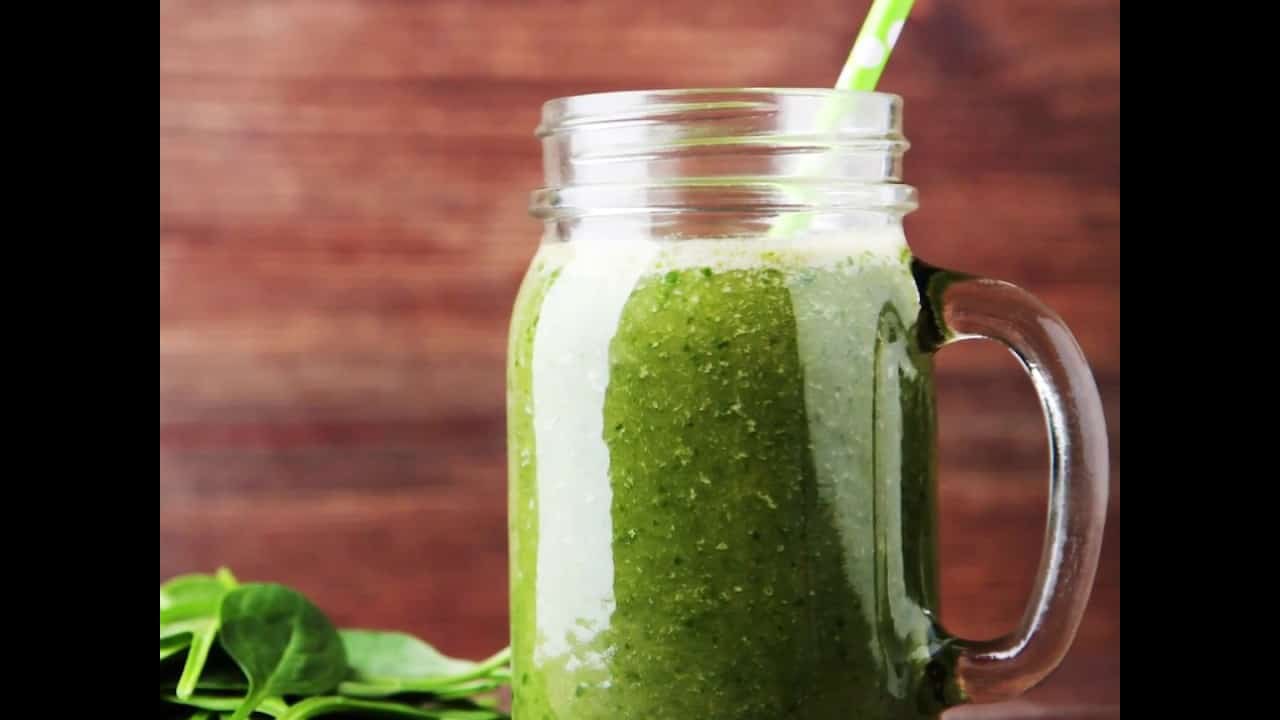 I have a lot of green smoothie recipes kids love (or anyone who wants a little more sweet fun in their breakfast and snack routine, really!), and this Beginner's Luck green smoothie is one that's always a hit.
I liked to let my kids drop the grapes into the small opening at the top of the blender while it was going, to see the splash. They're learning health habits for life, letting a toddler sit next to the blender and have some fun, helping make their meal. Sometimes there's a lot of fun to be had in making small messes, and with this recipe, you get to celebrate both fun and better health while making good memories.
INGREDIENTS
Get the high-protein smoothie recipe here.

9. Banana Split Smoothie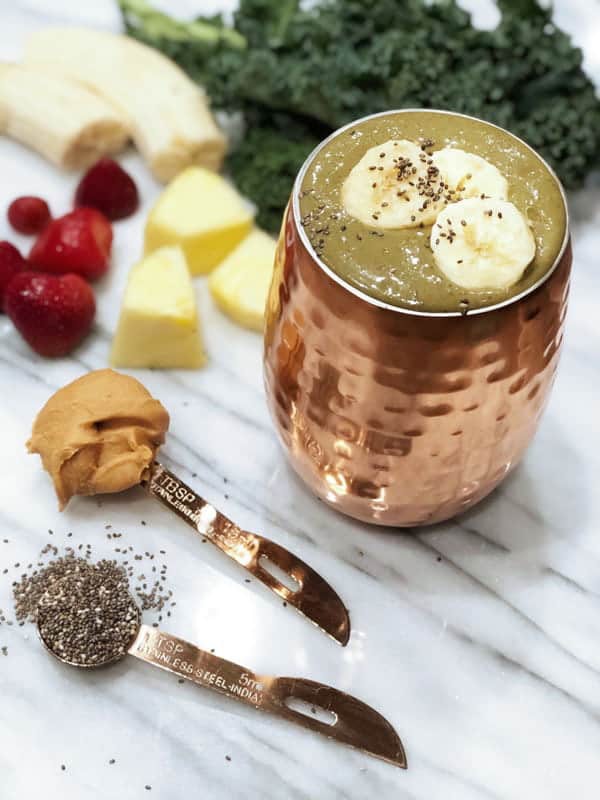 Make this Banana Split Smoothie as soon as you roll out of bed! (Bonus points if you're oil pulling while blending up the ingredients). You'll be energized well into the day, which is so much more than you could say if you had eaten some sugary cereal or toast. And you'll have peace of mind that you got in multiple servings of fruits, veggies, and healthy fiber at the same time.
INGREDIENTS
1 cup coconut kefir
1 bunch spinach
1 bunch kale
1 large spoonful natural peanut butter
1 spoonful cacao powder
2 frozen bananas
1 handful frozen strawberries
1/4 cup pineapple
1 tbsp chia seeds
1 shake powdered kelp, optional
Get the high-protein smoothie recipe here.
10. Peanut Butter Pumpkin Pick-Me-Up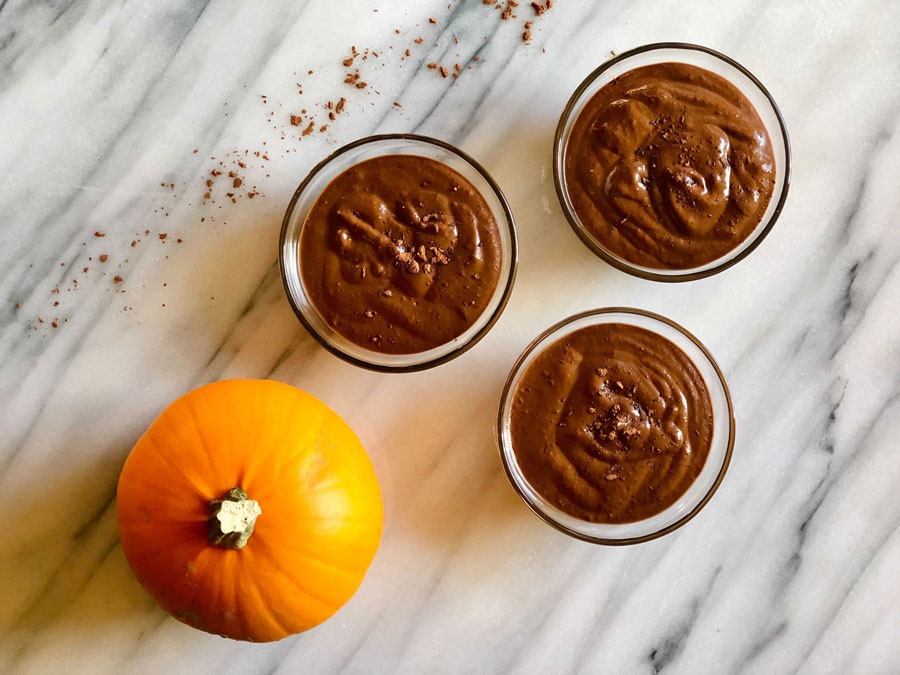 Who doesn't need go-to comfort food? I know I'm not faultless in finding comfort in food, when things go wrong. My Peanut Butter Pumpkin Pick-Me-Up Smoothie recipe is a treat without the guilt or the sugar crash.
INGREDIENTS
1/2 cup pumpkin purée
2 tbsp cacao powder
1 scoop Chocolate Protein Powder, Grass Fed Bone Broth or Superfood Plant Protein
1 tbsp hemp seeds
1-2 tbsp natural peanut butter
1 1/2 cups coconut water
hazelnut stevia to taste
Get the high-protein smoothie recipe here.
11. Broccoli Blitz Smoothie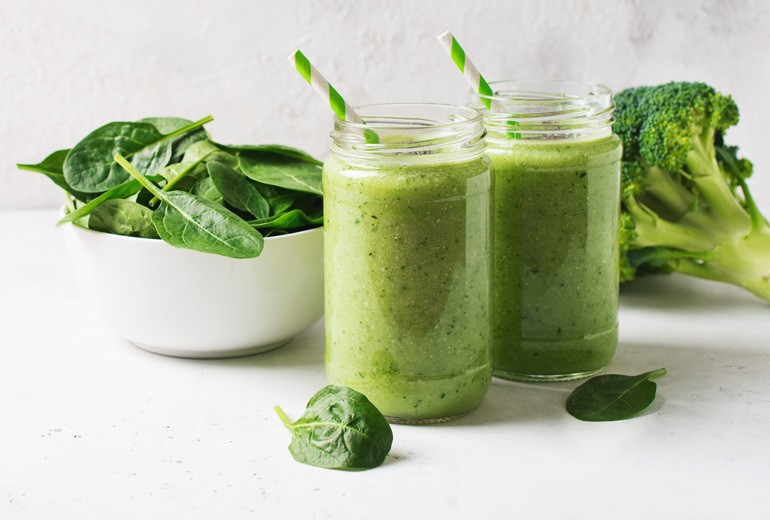 Broccoli in a smoothie? Who knew that could be a thing?! Well, try out my amazing Broccoli Blitz Smoothie, and experience for yourself just how yummy — and incredibly healthy (did someone say cancer-fighting?) — this vegetable can get.
INGREDIENTS
1 1/2 cups water/ice
2 tbsp raw, organic honey or maple syrup
1 cup (or less, for beginners) broccoli florets and/or stems
spinach, add until mixture reaches 2.5 cup line
1 peeled orange, quartered
1 cup pineapple, chopped
1 frozen banana in chunks
1 cup frozen mixed berries
Get the high-protein smoothie recipe here
I hope you and your family enjoy these high-protein smoothies to power you through the day!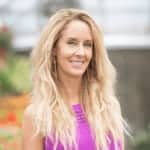 Robyn Openshaw, MSW, is the bestselling author of The Green Smoothies Diet, 12 Steps to Whole Foods, and 2017's #1 Amazon Bestseller and USA Today Bestseller, Vibe. Learn more about how to make the journey painless, from the nutrient-scarce Standard American Diet, to a whole-foods diet, in her free video masterclass 12 Steps to Whole Foods.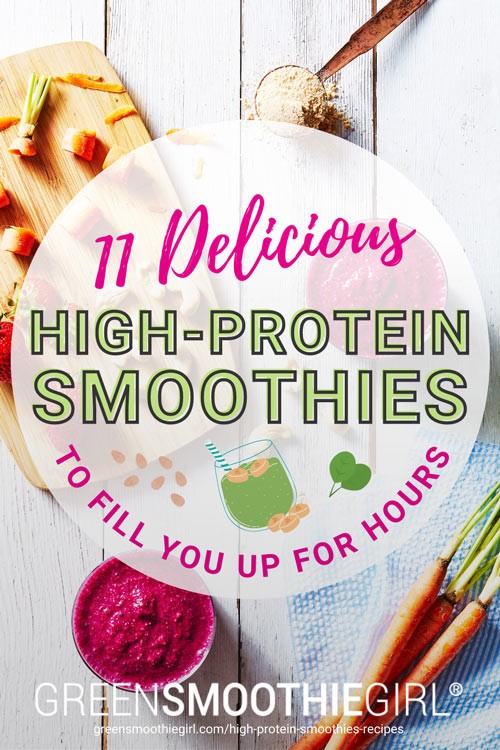 Disclosure: This post may contain affiliate links that help support the GSG mission without costing you extra. I recommend only companies and products that I use myself.
Posted in: Green Smoothies, Healthy Weight, High-Vibe Living, Lifestyle, Recipes, Supplements, Whole Food