Turning Green Smoothie | GreenSmoothieGirl

Taste and texture are often deal breakers for kids, but my Turning Green Smoothie overcomes both. A triple fruit punch of grapes, pineapple, and banana make it sweet, and the spinach flavor is mild. The sweetness of the fruit will make this smoothie appealing to many kids, and the banana and pineapple help to give it a thicker texture, more along the lines of a milkshake rather than a basic green juice. With an added scoop of any protein powder (like my bone broth protein or plant protein, both of which come in vanilla, chocolate, and natural flavors), it gets even better.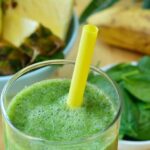 Turning Green
The sweetness of the fruit will make this smoothie appealing to many kids.
1 ½

cups

water and ice

3

large handfuls spinach

2

large leaves kale

with stems

1

cup

green grapes

1

cup

pineapple chunks

1

banana

1

scoop protein powder

any flavor
In high-speed blender, blend water, ice and greens for 30 seconds.

Add remaining ingredients and blend until smooth.
My plant protein blends are organic, vegan, Kosher certified, and free of GMOs, allergens, and gluten.
The natural flavor has 18g clean, whole-food protein per serving, and organic pea and quinoa proteins to support your muscle and heart health. The chocolate and vanilla flavors have 13g protein per serving, superfoods to support organ and digestive health, antioxidating nutrients, and B-vitamin complex for stabilizing mood and energy.
My bone broth blends are made of grass-fed bone broth, which is much more important than organic. The vanilla flavor has added monk fruit extract for sweetness, and the chocolate has cocoa powder as well.
None of them have fillers or junk ingredients, or added colors. Check your protein powders to see if they can say the same!
[Related Recipe: Banana Split Smoothie]
[Related Article: Bone Broth Protein: Why You Should Try It]
Tags: banana, green smoothie, kale, smoothie, spinach, vegan
Categories: Smoothies