Oatmeal Breakfast Smoothie | GreenSmoothieGirl

If your family is always rushed in the mornings or maybe your children simply don't like to eat the most important meal of the day… my Oatmeal Breakfast Smoothie is an easy solution that's as nutritious as it is delicious.
Not only will your kids get a solid start toward their daily requirement of fruits and vegetables, they'll also get plenty of fiber and fuel from the oats. And, a healthy amount of protein from the almond milk, protein powder, and sprouted flax. Best of all, it's portable! So your child always has an easy breakfast-on-the-go.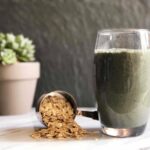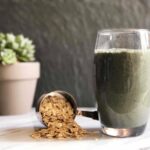 Oatmeal Breakfast Smoothie
The Oatmeal Breakfast Smoothie is an easy solution that's as nutritious as it is delicious for busy mornings that just don't have the time for a sit-down breakfast.
1

cup

unsweetened almond milk

½

cup

ice

3

large handfuls spinach or mixed greens

1

cup

frozen blueberries

1

banana

1/4

cup

oats

1

scoop protein powder

any flavor

2

TBS

sprouted ground flax (or TriOmega)
In high-speed blender, blend almond milk, ice and greens for 30 seconds.

Add remaining ingredients and blend until smooth.
Like all of my smoothies, the Oatmeal Breakfast Smoothie can be transported in a mason jar for easy consumption, wherever you might find yourself. Get the health benefits anywhere!
Oats are one of the healthiest grains in the world. Oatmeal has six grams of protein and four grams of fiber per cooked cup. We're just not cooking them here! They contain so many nutrients too: Manganese, Phosphorus, Magnesium, Copper, Iron, Zinc, Folate, and B Vitamins 1 and 5.
A note on oatmeal:
Make your Oatmeal Breakfast Smoothie the healthiest it can be! When you buy oats (or any oat product), try to keep it organic. Roundup (glyphosate) is sprayed on oats, wheat, cotton, and legumes twice before leaving the field. Organic products have not been sprayed with anything. Protect yourself and your family from the many possible health complications that can come from that chemical, glyphosate.
[Related Recipe: Breakfast Burritos]
[Related Article: The Best Breakfast Smoothie Recipes For Energy]
Tags: banana, blueberries, breakfast, gluten free, oats, organic, raw, smoothie, vegan
Categories: Breakfasts, Smoothies