Velvety Chocolate Green Smoothie | GreenSmoothieGirl

Who else has noticed that just saying the word "chocolate" will get most kids' attention? Probably most adults' too, let's be honest. And if you haven't noticed that phenomenon, try it out with my Velvety Chocolate Green Smoothie recipe. Announce that for the breakfast menu, and see how many heads turn!
And once they try it out, they won't even be phased when you tell them there's beets and chard in every sip! Although, they may find it a little hard to believe if they haven't enjoyed those veggies before this delicious smoothie.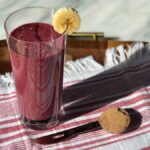 Velvety Chocolate Green Smoothie
Beets and raspberries give this smoothie a rich, decadent color, while the added chocolate protein powder turns your regular healthy green smoothie into a tantalizing sweet treat.
1

cup

almond milk

½

cup

ice

3

large chard leaves

1

beet

1

banana

1

cup

frozen raspberries

4

pitted dates

1

scoop chocolate protein powder
Combine the almond milk, ice, and chard in a blender, and blend until smooth.

Add the remaining ingredients and blend again. Serve cold.
Something that may surprise them though is the fact that drinking yummy beet smoothies can actually protect them from a sunburn!
Yes, you did hear me correctly.
Fruits and vegetables that are rich in beta carotene — like carrots, apricots, sweet potatoes, and yes, beets — act as a natural sunscreen.
You may have heard the word "Carotenoid" before (especially in the context of carrots). They're the plant pigment responsible for turning fruits and veggies orange, yellow, and bright red. But they're much more than just pigmentation; carotenoids filter UV rays! They protect the plant when it's in the sun, and in turn, the plant protects you. Those carotenoids also act as an antioxidant to neutralize free radicals in your body. Those are uncharged, highly reactive molecules that result from damage and stress to the body (like UV rays breaking your DNA bonds) and can harm cells and organs. Which is exactly what we don't want, right? Not to worry. This Velvety Chocolate Green Smoothie helps protect you!
Pigment and Cancer
If you've ever seen a picture of someone who drinks a lot of carrot juice, you'll know the pigments can even color your skin to mimic a tan! Drinking a "normal" amount won't turn you so orange as someone following the Gerson protocol, I assure you. (Although that protocol is so amazing at curing cancer that I wouldn't mind orange skin as a side effect.)
If you're serving the Velvety Chocolate Green Smoothie, I bet you they'll come for the chocolate but stay for the beet benefits. Getting your kids to eat their beets has never been easier – or more delicious!
Related Content
[Related Recipe: Chocolate Beet Cake and Frosting]
[Related Article: Sun Exposure, Sunburn Prevention, & 5 Effective Natural Sunburn Treatments]
Tags: beets, chocolate, natural sunscreen, smoothie
Categories: Smoothies