Peanut Butter Pumpkin Pick-Me-Up Smoothie Recipe | GreenSmoothieGirl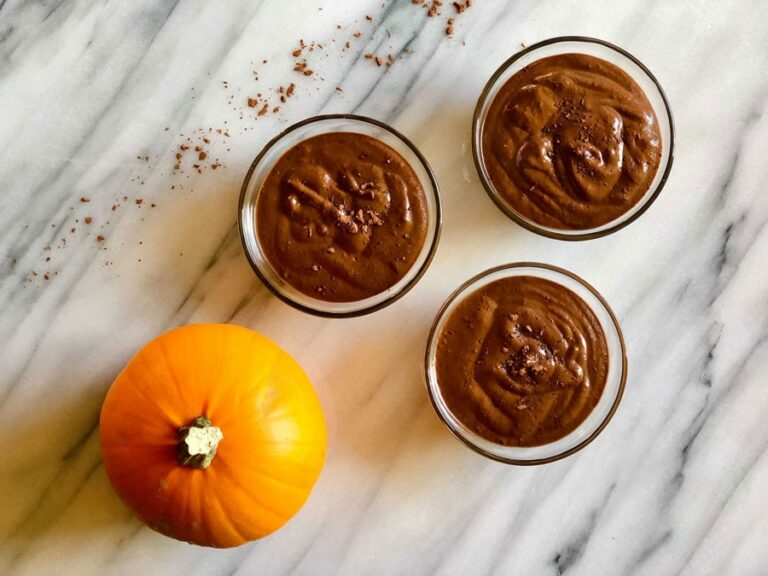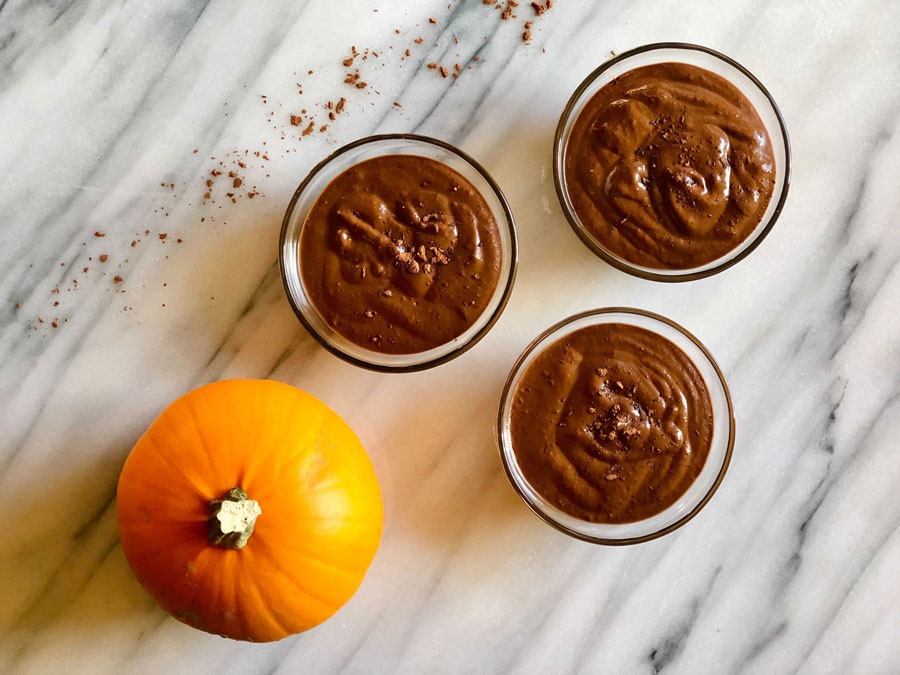 Who doesn't need go-to comfort food? I know I'm not faultless in finding comfort in food when things go wrong. My Peanut Butter Pumpkin Pick-Me-Up Smoothie recipe has served me well in times both happy and sad.
You see, the trick is to find one that you don't feel guilty about afterward. And maybe even find comfort in knowing you're doing something wonderful for your body, in addition to the needed mental soothing. How about trick-AND-treat?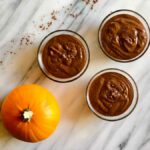 Peanut Butter Pumpkin Pick-Me-Up
Think of this as a dessert, or a cold or hot drink! You can make it a thick pudding by adding arrowroot powder, psyllium powder, or blended chia, then sticking in the fridge to chill.
1/2

cup

pumpkin purée

2

tbsp

cacao powder

1

scoop

chocolate protein powder

1

tbsp

hemp seeds

hazelnut Stevia

to taste

1-2

tbsp

natural peanut butter

1 1/2

cups

coconut water
Blend all and enjoy, hot or cold!
You can use any chocolate protein powder you want. We have two options that are pretty great, if we do say so ourselves: 
I love recipes that I can personalize to fit the occasion. I've transformed this into a Peanut Butter Pumpkin Pick-Me-Up Pudding on a few occasions, and the compliments I received felt almost too much for how simple it was. Not that I'm complaining! I always appreciate the kind words. The best compliments, though, were the licked-clean pudding cups.
(If you transform your own Peanut Butter Pumpkin Pick-Me-Up Smoothie into a pudding to share, make sure folks know there are peanuts in it!)
When I was asked what made up such a great pudding, I got to talk about just how good it really is. They're always surprised when I tell them there are hemp seeds and superfood protein powder in there!
Pumpkin is actually mostly water, so it's low in calories but high in fiber and nutrients. One cup has 245% of your recommended daily intake of Vitamin A, which is good for your immune system! And, it's cheap to get at the store if you don't have any access to that delicious orange winter squash, homegrown.
One recipe, two ways to enjoy it! So think about it the next time you're looking for a good pick-me-up. Enjoy!
[Related Recipe: Thai Sweet Potato Soup with Raw Honey to Fight Allergies]
[Related Video: Superfood Protein]
Tags: chocolate, fall, fall recipes, fall smoothies, gluten free, organic, peanut butter, protein powder, pudding, pumpkin, raw, smoothie, vegan