Super Hulk Green Smoothie

Do your kids have a hard time eating and drinking those healthy foods that are so good for them? Appeal to your kid's love of Marvel characters with this Super Hulk Green Smoothie! It will give them all the power they need to avenge evil or guard the galaxy daily. And it's all thanks to you, the Awesome Parent hero that you are. Make sure to watch my how-to video above!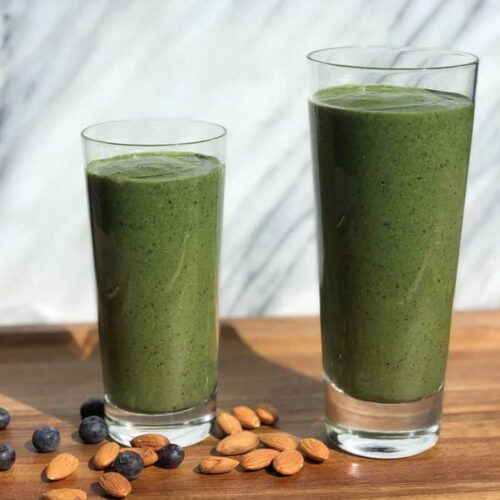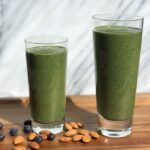 Super Hulk Green Smoothie
The avocado, banana, and almond butter help give this healthy green smoothie a thicker texture that's more filling, making it the perfect pre-practice pick-me-up or an after-soccer snack. It also has enough protein to give your kids the energy they'll need to tackle whatever the day happens to throw their way.
1

cup

almond milk

½

cup

ice

3

handfuls spinach

½

cup

mixed berries

1

banana

½

avocado

1

Tbsp

almond butter

1

scoop protein powder

1

Tbsp

sprouted flax powder

optional
Combine the almond milk, ice, and spinach in a blender, and blend until smooth. Add the remaining ingredients and blend again. Serve cold.
Hidden in the Super Hulk Green Smoothie is more than enough fiber, protein, vitamins, nutrients, and healthy carbs and fats than they'll get from any regular smoothie. In fact, the smoothie contains more than seven servings of raw greens, superfoods, and fruit per pint!
We know you want your kid to grow up healthy. And hopefully with habits to continue that health after they've left the home! I raised four kids in a green smoothie-drinking household, and believe me it was not easy in the beginning.
In fact, I found 11 pints of rotten green smoothies hidden in one of my daughter's closets while hunting for all my missing glassware. (Don't worry, she's off in college and still calls for tips for healthy food incorporation because she's realized she does better on a healthy diet eating greens, vegetables, fruits, legumes, whole grains, and nuts and seeds as the foundation of her diet.)
Teaching your kids correct principles when it comes to nutrition is something we both model and teach, and the benefits aren't always immediate.
I learned to supervise, and not send them off to school with them in a lunchbox. Completing the Super Hulk Green Smoothie challenge might involve you drinking it alongside them as an after-school snack — and really, is that so terrible?
[Related Recipe: Kids' Power Bars]
[Related Article: 10 Easy Green Smoothie Recipes Kids Of All Ages Will Love]
[Related Article: 9 Ways to Get Kids to Drink Healthy Green Smoothies]
Tags: banana, gluten free, hulk, organic, raw, smoothie, vegan
Categories: Smoothies