9 of the Best Spinach Smoothie Recipes — Easy, Delicious, and Healthy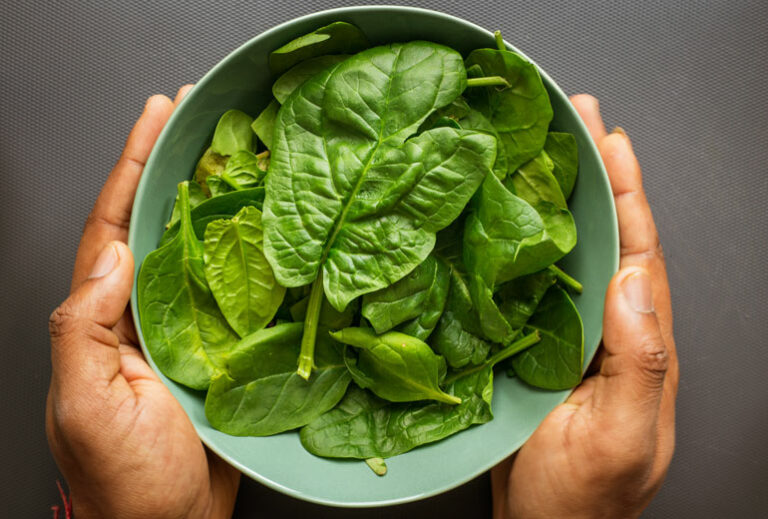 Spinach Smoothies Are Great Starter Smoothies — the Delicious Possibilities Are Endless!
Spinach is a leafy green superfood that Popeye loved. He used it to overcome the greatest of obstacles.
Is spinach healthy for you, too? Absolutely!
Spinach is nutrient-dense, which means it's a food you can eat in unlimited quantities, with ZERO fear of one single bad thing happening to you. It's got tons of fiber, a high vibrational frequency, and quite a bit of protein.
Plus, it's detoxifying, helps keep your eyes healthy, and supports strong bones, boosts immunity, among other benefits.
In fact, having a cup of leafy greens every day is one of the healthiest things you can do, for your body. And, also your mind. One serving of green leafy veggies per day slows mental decline, according to a report in Neurology.
These spinach smoothies give you a variety of options, from something fruity (Berry Nutty Smoothie) to an Oatmeal Breakfast Smoothie and a savory Blended Salad that's packed with veggies, and even Green Ice Cream (not exactly a smoothie but still fun to make and serve!).
I hope you enjoy the spinach recipes! But first, there's some confusion about whether it's safe or not to eat raw spinach. So, let's clear that up first.
[Go green for your health this Spring with our 9-Day Green Smoothie Challenge — starts Monday, April 17th. Join Today for Free! Because eating more greens is the best thing you can do for your health as the season shifts!]
In this article:
Is It Safe to Eat Spinach Raw? What About the Oxalates? 
Raw food is in its most natural state and most easily accepted by the body. It is both safe and good to eat spinach raw, which I have done every day for more than 15 years. Cooking, by any method, kills 100% of the greens' enzymes.
[Related: How Digestive Enzymes Work — And Why You're Probably Deficient]
A popular theory and opinion in nutrition is that greens (especially spinach) are high in oxalates and should be avoided because oxalates cause kidney stones or gallbladder problems and may interfere with absorption of calcium in the body.
Another popular opinion is that cooking spinach renders the oxalates harmless.
Here's the truth about oxalates in spinach:
Peer-reviewed research reveals that the ability of oxalates to lower calcium absorption is small and does not outweigh the ability of those foods to contribute significant calcium to the diet since spinach is rich in calcium.
A few rare health conditions require oxalate restriction: absorptive hypercalciuria type II, enteric hyperoxaluria, and primary hyperoxaluria. These are not the more common condition where kidney stones are formed.
And this: cooking has a small impact (about 10%) on the oxalate content of foods, with no statistically significant lowering of oxalates after blanching or boiling of greens.

10 Spinach Smoothies to Nourish You with Nutrients, and Delight Your Taste Buds At the Same Time! 
Even kids will drink a green smoothie with spinach in it. I consider it a "starter" smoothie ingredient because it's mild and slightly sweet, so you don't even know it's there.
And, it's cheap and easy to find in almost any grocery store. Please buy it organic, as it absorbs pesticides and herbicides easily.
1. Beginner's Luck Smoothie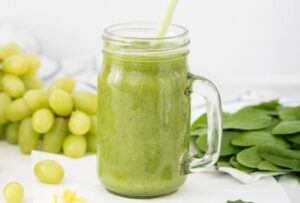 This tasty spinach smoothie is always a hit, even with kids, and it's wonderfully easy to make. With this recipe, you get to celebrate both fun and better health.
INGREDIENTS
Get the full spinach smoothie recipe here.
2. Berry Nutty Smoothie
Want a crazy-yummy way to "eat" your greens? If you do, blend up my Berry Nutty Smoothie! By blending in steps, you can get the smooth greens along with a fun crunch that keeps your mouth wanting more. You'll never again say that spinach smoothies aren't tasty!
INGREDIENTS
1 cup unsweetened almond milk
3 large handfuls spinach or mixed greens
½ cup frozen blueberries
½ cup frozen strawberries
1 banana
¼ cup almonds
1 scoop protein powder any flavor
1 Tbsp Sprouted Ground Flax (or TriOmega)
Get the full spinach smoothie recipe and how-to video here.
3. Super Hulk Green Smoothie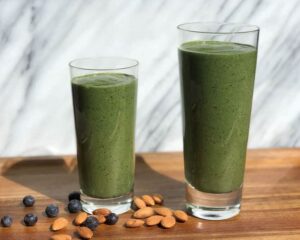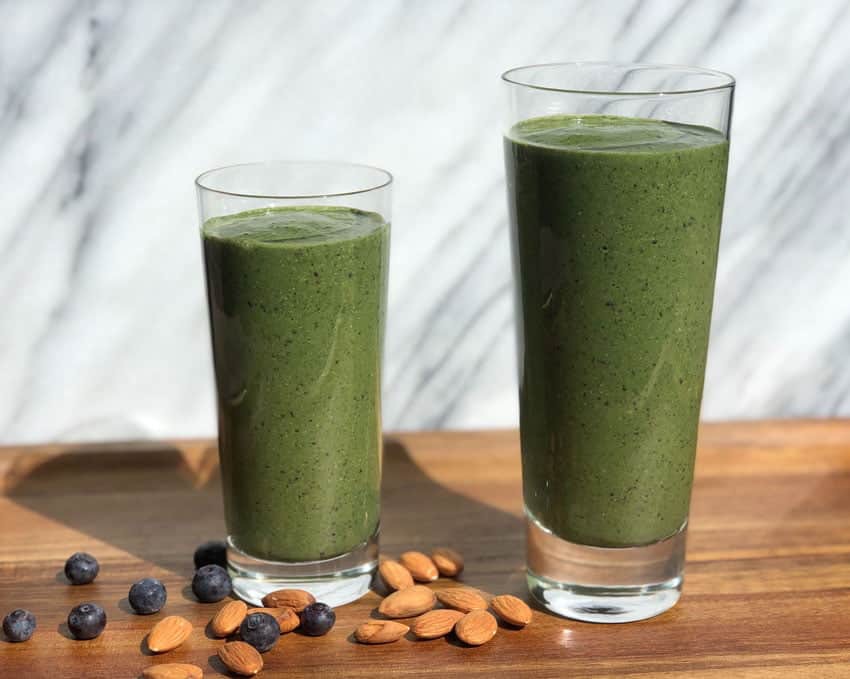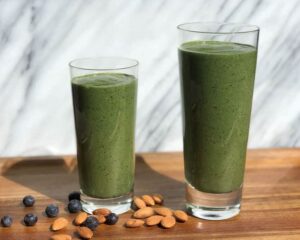 Hidden in the Super Hulk Green Smoothie is more than enough fiber, protein, vitamins, nutrients, and healthy carbs and fats than you'll get from any regular smoothie. In fact, this spinach smoothie contains more than seven servings of raw greens, superfoods, and fruit per pint!
INGREDIENTS
Get the full spinach smoothie recipe and how-to video here.
4. Broccoli Blitz Smoothie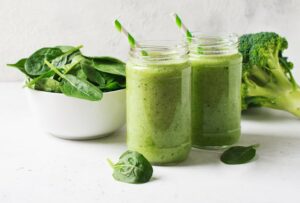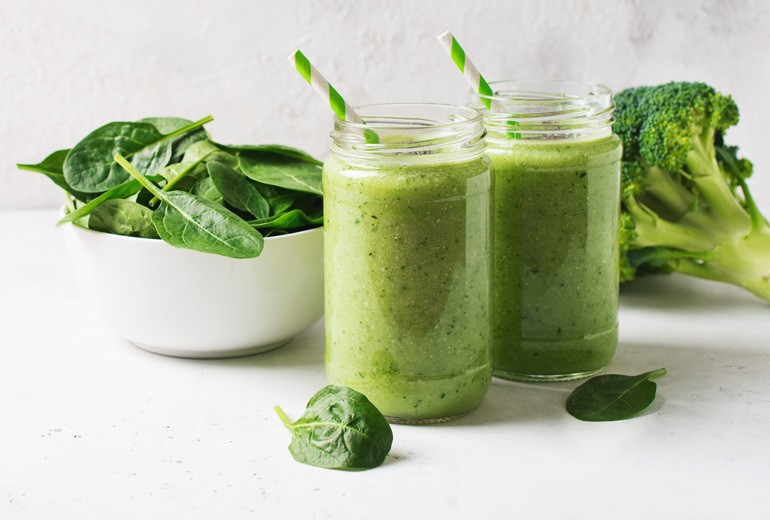 Though broccoli may be the feature in bright green smoothie, spinach makes an appearance, too. It's seriously yummy — and a perfect spinach recipe if your kids are having a hard time eating their greens.
INGREDIENTS
1 1/2 cups water/ice
2 tbsp raw, organic honey or maple syrup
1 cup broccoli florets and/or stems
spinach add until mixture reaches 2.5 cup line
1 peeled orange, quartered
1 cup pineapple, chopped
1 frozen banana in chunks
1 cup frozen mixed berries
Get the full spinach smoothie recipe here.
5. Chai Green Smoothie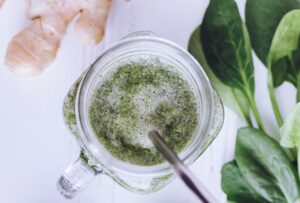 This tasty Chai Green Smoothie is a delicious treat you'll love having for breakfast. Hiding within the scrumptious flavor is an abundance of healthy nutrients!
INGREDIENTS
1 frozen banana in chunks
1/2 tsp ground ginger
1/4 tsp ground cinnamon
1/4 tsp ground cardamom
1/4 tsp ground nutmeg
1/2 tsp vanilla extract
2 cups baby spinach
1/4 cup almond butter
1 cup unsweetened almond milk
Get the full spinach smoothie recipe here.
6. Oatmeal Breakfast Smoothie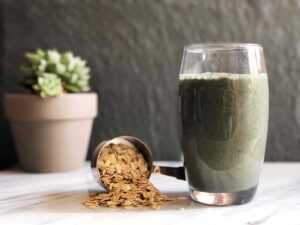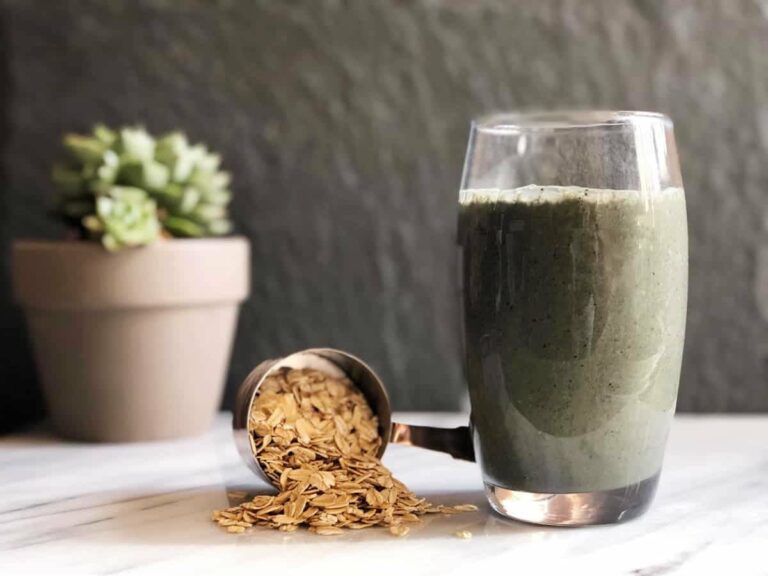 If your family is always rushed in the mornings or maybe your children simply don't like to eat the most important meal of the day… my Oatmeal Breakfast Smoothie is an easy solution that's as nutritious as it is delicious.
INGREDIENTS
Get the full spinach smoothie recipe and how-to video here.
7. Spinach Smoothie Bowl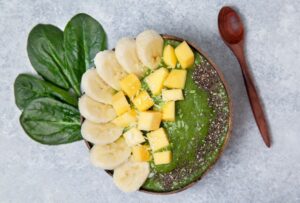 This is a fun way to enjoy spinach smoothies! This smooth and delectable Spinach Smoothie Bowl is perfect for a post-workout meal!
INGREDIENTS
Get the full spinach smoothie and how-to video recipe here.
8. Green Ice Cream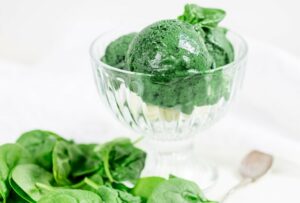 My Green Ice Cream is a hit with kids and adults alike. Serve it to your friends and family for a guilt-free healthy dessert. You could even have it for breakfast!
INGREDIENTS
Get the spinach smoothie recipe here.
9. Blended Salad
This delicious Blended Salad is perfect for an on-the-go salad. It's tasty and packed full of wonderful vegetable nutrients.
INGREDIENTS
1 very large handful spinach
1 tomato
1/8-1/4 red onion
1/2 avocado or 1 Tbsp. extra virgin olive oil
1/4 zucchini or yellow squash
A few sprigs cilantro optional
1 Tbsp. lemon juice
water to achieve desired consistency
1 pinch Himalayan sea salt
Freshly ground pepper to taste
Get the full spinach smoothie recipe here.
Let me know in the comments — which of these spinach smoothies is your favorite?

READ NEXT: 10 Easy Green Smoothie Recipes Kids Of All Ages Will Love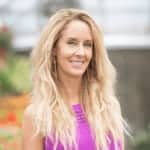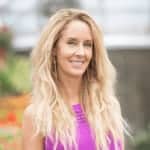 Robyn Openshaw, MSW, is the bestselling author of The Green Smoothies Diet, 12 Steps to Whole Foods, and 2017's #1 Amazon Bestseller and USA Today Bestseller, Vibe. Learn more about how to make the journey painless, from the nutrient-scarce Standard American Diet, to a whole-foods diet, in her free video masterclass 12 Steps to Whole Foods.
Disclosure: This post may contain affiliate links that help support the GSG mission without costing you extra. I recommend only companies and products that I use myself.
Posted in: 12 Steps To Whole Food, Green Smoothies, Recipes, Supplements, Whole Food