{VIDEO} 3 Ways To Make Your Coffee Healthier
Remember the Dolly Parton song, "9 to 5?"
I always thought the lyric "Pour myself a cup of ambition" was a clever phrase.
That little kick of courage is just ONE reason people love their coffee.
Is coffee good for you, or not?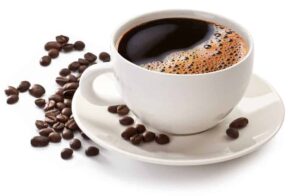 Two-thirds of Americans are drinking an average of almost two cups a day. And despite heavy marketing by the coffee industry about some benefits, you're better off relegating it to occasional use rather than daily ritual.
Coffee is, after all, among the most acid-producing substances you can ingest. Dr. Rashid Buttar, in his best-selling 9 Ways to Keep the Doctor Away, says there are 203 different acids in coffee.  And acidic environments are the perfect disease climates.
Non-organic coffee is also highly contaminated with herbicides and pesticide. It's one of the most-sprayed crops in the world.
And then lots of folks are further junking up their liquid ambition with awful creamers and sweeteners.
A healthier cup of joe
There's a better way! If you're going to be drinking coffee, let me show you how to get rid of all the additive toxins. Take a look at this video on THREE ways I make my own occasional coffee habit much healthier (in fact, there's a little fourth bonus tip–watch for it!).
Check out my video above if you love coffee.
This is my favorite coffee on Amazon because it's delicious, it's organic, and it has tons of great reviews. Then my favorite liquid stevia, in English Toffee flavor, can be purchased from Amazon as well!
And here's that link to the FREE Video Masterclass I mention in this clip. Where I've got SIX free video classes on how to eat healthy, super-cheap, in ways your family will love.
Posted in: 12 Steps To Whole Food
80 thoughts on "{VIDEO} 3 Ways To Make Your Coffee Healthier"
Leave a Comment