Who's Taking A Stand Against Roundup? (and Other Glyphosate Herbicides)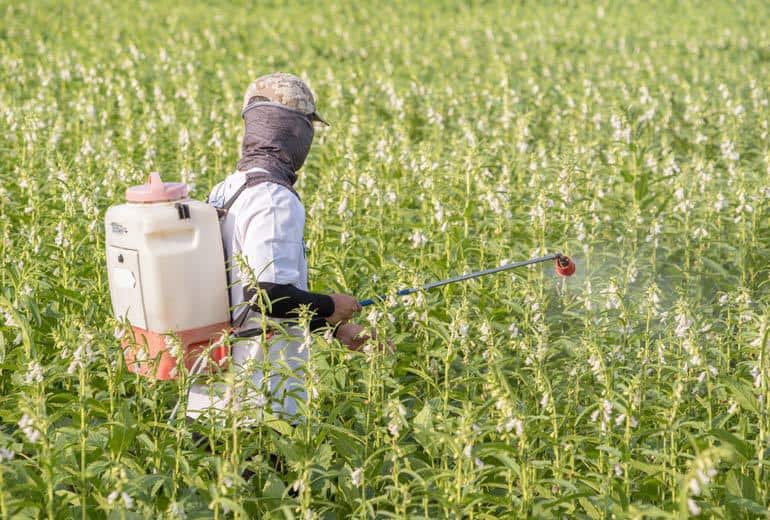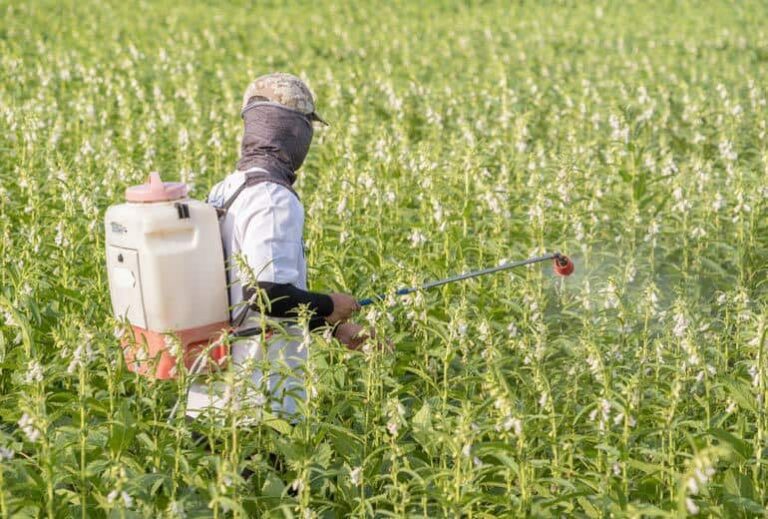 What do France, Costco, and the University of California have in common? They've all vowed to phase out glyphosate, the active ingredient found in Monsanto's weed killer known as Roundup. This toxic chemical can also be found in over 700 other herbicides.
In this article:
Why Is Roundup A Problem?
Roundup is currently the most widely-used weed killer in the history of chemical agriculture in the U.S. and across the globe.1 The problem with this once thought-to-be answer to farmer's ongoing weed invasions and, thus, their bottom line is this: it is linked to cancer and numerous other diseases including liver and kidney disease and a chronic inflammatory condition that results in many common ailments of Western civilization, such as diabetes, heart disease, gastrointestinal disorders, infertility, and Alzheimer's. 2,3,4  
The controversy over its use went viral in March of 2015, when the World Health Organization declared that the active ingredient in Roundup, which was once deemed "completely safe," probably causes cancer. [5]
[Related: Drink Wine, Drink Roundup: Why "Safe" Levels Aren't]
Lawsuits Against Monsanto
In August of 2018, a school groundskeeper by the name of Dewayne "Lee" Johnson alleged that Monsanto's glyphosate-based weed killers, including Roundup, had caused his cancer—non-Hodgkin's lymphoma. The jury awarded him $289 million in damages. 
In October, a San Francisco Superior Court Judge reduced the amount to $78 million, which Johnson accepted in the hopes of achieving "a final resolution within his lifetime." Of course, Monsanto, now owned by the pharmaceutical giant Bayer, has appealed.6

In 2019, Monsanto lost their third straight Roundup trial when a jury in Oakland, California ordered the company to pay a couple more than $2 billion in damages. Both have been diagnosed with non-Hodgkin's lymphoma, which they attribute to their decades use of Roundup on their Northern California property.7
The company now faces more than 13,000 additional lawsuits across the country.8
Which Countries Have Banned Glyphosate?
The red warning flag has been raised and now several organizations, companies, and even countries are banning the use of the once darling of the herbicide world.
Let's take a look at who's taking a stand against the massive biotech companies that produce Roundup and other glyphosate-based herbicides.
European Union Countries
Because of the regulatory pressure applied to Monsanto by the EU, the company changed the formula for Roundup. According to a report in Business Insider, the surfactants found in Roundup (chemicals that help glyphosate penetrate leaves and, unfortunately, help the toxic chemical penetrate human skin and cells where it ultimately damages our DNA) was made less toxic, making it at least 10 times safer than the product they produce in the United States.8
Despite this change, many European nations are opposed to its use.
Nine EU nations voted against the relicensing of glyphosate. Unfortunately, they were in the minority and the licensing of glyphosate was extended for five more years as of November 2017.9  Despite this setback, some countries are taking stock and standing firm against the pressures that such mega-biotech monopolies can amass.
France: In early 2019, French authorities banned the sale, distribution and use of Roundup 360. In May of 2019, the French Agriculture Minister announced that they would eliminate the use of glyphosate by 2021.10
Germany: This country is seeking an end-date for the use of glyphosate-based weed killers. Although currently seeking a ban in sensitive areas such as those near water, a complete ban cannot be imposed until 2023 when the EU approval runs out, say German officials.11
Luxembourg: This country has called for an exit plan for glyphosate. One of their largest supermarket chains, Cactus Supermarkets, has removed glyphosate-based herbicides from their shelves and developed the STOP Roundup campaign which allows customers to return Roundup products to their stores.12
Several other countries that attempted to ban Roundup have fallen under the weight of the tremendous pressure that companies like Monsanto can produce. In January of 2019, it was found that the EU members who narrowly voted to relicense glyphosate for five more years had based their decision on an assessment that was plagiarized by a group of pesticide companies which included, of course, Monsanto.9
The United States Doesn't Ban Glyphosate, But Some Cities Do
And what about the U.S.? While the Environmental Protection Agency (EPA) has declared that glyphosate is not likely to cause cancer in humans (which should make you wonder if our EPA is really looking out for the public's health interests), documents disclosed during litigation (now known as the Monsanto Papers) revealed collusion between Monsanto and the EPA.13
[Related: Could Toxicity Be Why I'm Sick? The 7 Types Of Toxins In Your Body And How To Eliminate Them]
According to Brent Wisner, an attorney for Roundup cancer victims, "We only exist, these lawsuits only exist, because the EPA has failed the American public for 45 years and Monsanto is allowed to get away with reckless conduct …"14
Even the current administration has vowed to back the use of glyphosates. A domestic policy adviser at the White House stated, "We have Monsanto's back on pesticide regulation."15
Despite the concerted effort by agencies and pesticide companies, states and universities are speaking out. In July of 2017, California added glyphosate to the state's Proposition 65 list of chemicals and substances known to cause cancer. In May of 2019, the University of California System, which includes 10 campuses, halted the use of glyphosate herbicides.
This decision was due, in part, to a student-led campaign called Herbicide-Free Cal UC. Started by two UC Berkeley students after they found out that herbicides were being used around the volleyball court they played on, they worked to establish herbicide-free practices at their school and then at all UC campuses.16
[Related Podcast: Environmental Toxicity With Jill Carnahan]
In addition, several cities in California have decided to go glyphosate-free or limit its use as a last resort. Just a few of these include Arcata, Belvedere, Berkeley, Burbank, Cambria, Carlsbad, Greenfield, Malibu, and Napa.
And, despite the EPA's so-called reassurance, the movement to limit or ban the use of Roundup and other glyphosate-based herbicides is spreading across the nation. A few of the many cities that are taking a stand include Boulder and Durango, Colorado; Miami and Fort Myers, Florida; Chicago and Evanston, Illinois; Wichita, Kansas; Portland, Maine; as well as cities across Massachusetts, Minnesota, New York, Washington, and the entire state of Hawaii.9
There are even some companies that have the backbone to take a stand against this cancer-causing herbicide.
Costco Bans Sales Of Roundup
In March of 2019, Monsanto lost its second multimillion-dollar lawsuit when a federal jury found that Roundup had contributed to a California man's non-Hodgkin's lymphoma and awarded him $80 million. Following the verdict, Costco became the first major retailer to stop selling Roundup at all locations and pulled the product from their shelves.17
Taking a Stand Against Glyphosate: What Can You Do?
As individuals, it may seem that standing up to giant pharmaceutical/biotech monopolies is akin to throwing a pebble in one of the world's great oceans—it accomplishes nothing. But as we know from tossing a rock in a calm pool, something does happen: waves ripple out in concentric circles.
As Margaret Mead said, "Never doubt that a small group of thoughtful committed citizens can change the world. Indeed, it is the only thing that ever has."
A Lesson From DDT
The first chemical pesticide that was put to widespread use was DDT. For 30 years, starting around 1945, approximately 1,350,000,000 pounds of DDT was used in the United States.
Then, in 1962, Rachel Carson's book Silent Spring raised the alarm regarding the disastrous consequences that could arise from the use of this chemical. Because of her testimony before Congress, the Environmental Protection Agency (EPA) was established, and in 1972, the EPA's ban on DDT went into effect.18
Would you like to guess who one of the manufacturers of DDT was?
If you guessed Monsanto, you're correct.
Vote With Your Wallet
While we may not all have the influence of a Margaret Mead, we still play a major role in supply versus demand. And let's face it: money is the one thing that the big corporations with little conscience pay attention to.
So, this is what you can do:
Support companies like Costco that have taken a stand against Roundup and other glyphosate-based herbicides

Don't support companies, such as Home Depot and Lowe's, that are dragging their feet and appear to be more interested in sales than in the health of their customers.
Buy local. Support your local farmers that are certified organic growers and those businesses that offer organic produce, meats, and products.
Make sure the food and drinks you consume are GMO Free.
Look for GMO Free
In 1983, Monsanto and four other groups began experimenting with genetically modified crops. The purpose was to create plants that were resistant to pests, disease, and glyphosate-based herbicides. Now known as Roundup Ready crops, the last 20 years have seen a massive increase in these biotech plants. In 1996, approximately 3.6 million acres of farmland was planted with genetically engineered crops. In 2001, that number had jumped to 88.2 million.19
Currently, the most common GMO crops are soybeans and corn. In fact, approximately 90 percent of these crops in the U.S. are GMO.20 If you eat processed foods, which often contain soy or corn oil, you've got close to a 75 percent chance that you are eating food that contains GMO crops.21
Initially, it was thought that creating plants that were resistant to pests would result in a reduction in the use of herbicides. In actuality, since GMO crops have become so widespread, the use of glyphosate has increased 15-fold on a global scale.22
[Free Resource: How To Never Eat A GMO Food Again]
Add Your Support To Awareness Organizations
One of the other important ways you can contribute to reducing the use of Roundup and other glyphosate-containing herbicides is to join or support groups that are voicing their concerns and taking a stand.
One of these groups is the Institute for Responsible Technology. Founded by Jeffrey Smith, it is a group that speaks out and educates others on the negative effects of GMOs and the close link between these modified crops and glyphosates.22
Another group is Pesticide Action Network (PAN) North America, a group that connects agriculture, consumer, labor, and environmental groups, challenging the global proliferation of pesticides.
Summary on Taking a Stand Against Roundup
Since the advent of GMO crops (known as Roundup Ready), the use of glyphosate-based herbicides has increased 15-fold on a global scale.

Glyphosate, found in Monsanto's Roundup as well as over 700 other herbicides, has been linked to cancer, Alzheimer's, liver and kidney disease, diabetes, heart disease, infertility, and gastrointestinal disorders.

In 2015, the World Health Organization classified glyphosate as a probable carcinogen.

 

In 2018 and 2019, juries awarded billions of dollars to individuals who have developed non-Hodgkin's lymphoma due to the use of Roundup and other glyphosate-based herbicides.

Several European nations are in the process of banning, or severely limiting, the use of glyphosate-based herbicides.

Cities across the U.S. are also banning this toxic chemical.

The University of California System, which includes 10 campuses, halted the use of glyphosate herbicides.

Costco is the first major retailer to stop the sale and pull glyphosate-based herbicides from their shelves.

There are several organizations that are taking a stand against this herbicide. These include the Institute for Responsible Technology and Pesticide Action Network of North America.

Individuals can make a difference by joining or supporting these types of organizations and spending their money at places such as Costco that are taking a stand against this toxic chemical. Other ways to support this movement include eating organic and supporting local organic farmers.
Read next: Your Child's Toxic Burden: What A Holistic Pediatrician Wants You To Know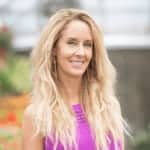 Robyn Openshaw, MSW, is the bestselling author of The Green Smoothies Diet, 12 Steps to Whole Foods, and 2017's #1 Amazon Bestseller and USA Today Bestseller, Vibe. Learn more about how to make the journey painless, from the nutrient-scarce Standard American Diet, to a whole-foods diet, in her free video masterclass 12 Steps to Whole Foods.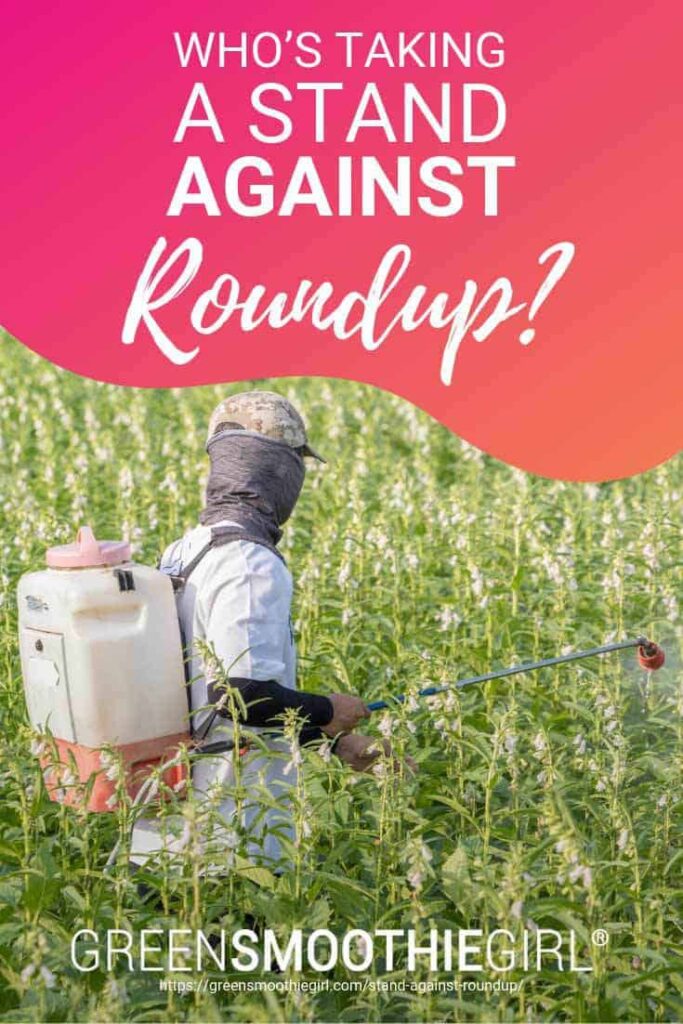 Resources
Monsanto's glyphosate now most heavily used weed-killer in history.

Science Daily. 02/2016.

https://www.sciencedaily.com/releases/2016/02/160202090536.htm

Samsel, Anthony et al.

Glyphosate, pathways to modern diseases IV: cancer and related pathologies.

Research Gate. 01/2015.

https://www.researchgate.net/publication/283490944_Glyphosate_pathways_to_modern_diseases_IV_cancer_and_related_pathologies

Samsel, Anthony et al.

Monsanto Roundup: The Impacts of Glyphosate Herbicide on Human Health. Pathways to Modern Disease.

Global Research. 07/2013.

https://www.globalresearch.ca/monsanto-roundup-the-impacts-of-glyphosate-herbicide-on-human-health-pathways-to-modern-diseases/5342520

15 Health Problems Linked to Monsanto's Roundup.

EcoWatch. 01/2015.

https://www.ecowatch.com/15-health-problems-linked-to-monsantos-roundup-1882002128.html

IARC Monograph on Glyphosate.

International Agency for Research on Cancer—World Health Organization.

https://www.iarc.fr/featured-news/media-centre-iarc-news-glyphosate/

Sullivan, Emily.

Groundskeeper Accepts Reduced $78 Million Award in Monsanto Cancer Suit.

National Public Radio. 11/2018.

https://www.npr.org/2018/11/01/662812333/groundskeeper-accepts-reduced-78-million-in-monsanto-cancer-suit

Cohen, Patricia.

$2 Billion Verdict Against Monsanto is Third to Find Roundup Caused Cancer.

The New York Times. 05/2019.

https://www.nytimes.com/2019/05/13/business/monsanto-roundup-cancer-verdict.html

Brueck, Hillary.

The EPA says a chemical in Monsanto's weed killer doesn't cause cancer—but there's compelling evidence the agency is wrong.

Business Insider.

https://www.businessinsider.com/glyphosate-cancer-dangers-roundup-epa-2019-5

Where is Glyphosate Banned?

Baum Hedlund Aristei Goldman—Consumer Attorneys. 03/2019.

https://www.baumhedlundlaw.com/toxic-tort-law/monsanto-roundup-lawsuit/where-is-glyphosate-banned/

France takes Roundup weed-killer off market after court ruling.

Phys Org. 01/2019.

https://phys.org/news/2019-01-france-roundup-weed-killer-court.html

Germany Seeking End Date for Glyphosate Use: Minister.

Reuters. 11/2018.

https://www.reuters.com/article/us-germany-glyphosate/germany-seeking-end-date-for-glyphosate-use-minister-idUSKCN1NB12F

Cactus Collaborates with Customers to Remove Glyphosate from Gardening.

Chronicle. LU. 10/2015.

https://chronicle.lu/category/shopping-1/13676-cactus-collaborates-with-customers-to-remove-glyphosate-from-gardening

Monsanto Papers / Secret Documents.

Baum Hedlund Aristei Goldman—Consumer Attorneys.

https://www.baumhedlundlaw.com/toxic-tort-law/monsanto-roundup-lawsuit/monsanto-secret-documents/

EPA says glyphosate is safe; Jury orders Monsanto to pay $2 billion to cancer couple.

GM Watch. 05/2019.

https://www.gmwatch.org/en/news/latest-news/18947-as-epa-insists-weedkiller-roundup-is-safe-jury-orders-monsanto-to-pay-2b-to-couple-wit

Gillam, Carey.

White House Has "Monsanto's Back on Pesticides," Newly Revealed Document Says.

USRTK. 05/2019.

https://usrtk.org/monsanto-roundup-trial-tacker/white-house-has-monsantos-back-on-pesticides-newly-revealed-document-says/

Latham, Jonathan PhD.

University of California System Halts Use of Glyphosate Herbicide.

Independent Science News. 05/2019.

https://www.independentsciencenews.org/news/university-of-california-system-halts-use-of-glyphosate-herbicide/

Auchmuty, Matthew.

Costco Stops Selling Roundup Weedkiller After Controversy.

Dolman Law. 04/2019.

https://www.dolmanlaw.com/costco-roundup-weedkiller-controversy/

DDT Regulatory History: A Brief Survey (to 1975).

EPA. 07/1975.

https://archive.epa.gov/epa/aboutepa/ddt-regulatory-history-brief-survey-1975.html

Ackerman, Jennifer.

Food: How Altered?

National Geographic.

https://www.nationalgeographic.com/environment/global-warming/food-how-altered/

Recent Trends in GE Adoption.

United States Department of Agriculture.

https://www.ers.usda.gov/data-products/adoption-of-genetically-engineered-crops-in-the-us/recent-trends-in-ge-adoption/

About Genetically Engineered Foods.

Center for Food Safety.

https://www.centerforfoodsafety.org/issues/311/ge-foods/about-ge-foods

Benbrook, Charles M.

Trends in Glyphosate Herbicide Use in the United States and Globally.

Environmental Sciences Europe. 02/2016.

https://www.ncbi.nlm.nih.gov/pmc/articles/PMC5044953/

IRT – Institute for Responsible Technology.

https://responsibletechnology.org/#
Disclaimer: This article may contain affiliate links, which allow you to support our mission without costing you extra.
Posted in: Detox, Eco Friendly Living, Gardening, Health Concerns