A Recipe from Dr. Michelle Jorgensen
I love working with Michelle Jorgensen and her enthusiastic employees as they shift to whole-foods habits on GreenSmoothieGirl Makeover. She makes foods for the whole office to improve their health, as well as for her own husband and four children. This week I was filming at her house, and I have to say, I have a great garden, but her garden kicks my garden's trash!
We swapped tastes of our uber-healthy treats (mine was Almond Joy Fudge from Chapter 4 in 12 Steps to Whole Foods). This was her creation, and if yo're anything like me, you're gonna love it!
Dr. Jorgensen's Power-Through-The-Day Bars
Ingredieents
2 cups unsweetened shredded coconut
2 cups chopped nuts (almonds, pecans, etc, or a combination)
2 cups chopped dates (you can buy chopped dates rolled in oat flour inexpensively in bulk at many health food stores)
1/2 cup flax seed
1/2 cup chia seed
1/2 cup raw cocoa, carob, or cacao powder
1/2 tsp Original Himalayan Crystal Salt or sea salt, divided
1 tsp vanilla
1 1/2 cups mini chocolate chips, naturally sweetened
1 pkg plain vegan gelatin
1/2 cup hot water
1/2 cup raw honey
1 tsp vanilla
Directions
Blend coconut, nuts, dates, and flax seeds each separately in a high powered blender until medium fine.
Mix blended ingredients with chia seed, cocoa powder, 1/4 t salt, vanilla, and chocolate chips in a large bowl and set aside.
Dissolve gelatin in the hot water let stand for five minutes. Add honey and remaining salt. Beat until fluffy (or mix in blender until frothy.)
Add the honey mixture to the mixture in the bowl and stir until everything is moistened. Press into a 9 x 13 pan with moistened hands.
Refrigerate for 1-2 hours, until set.
Cut into bars and keep in a container in the fridge or freezer.
Up next: Vibe Podcast, episode 53 — Healthy Mouth, Healthy Life with Dr. Michelle Jorgensen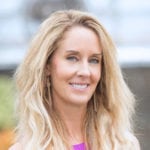 Robyn Openshaw, MSW, is the bestselling author of The Green Smoothies Diet, 12 Steps to Whole Foods, and 2017's #1 Amazon Bestseller and USA Today Bestseller, Vibe. Learn more about how to make the journey painless, from the nutrient-scarce Standard American Diet, to a whole-foods diet, in her free video masterclass 12 Steps to Whole Foods.
Posted in: Recipes