Mother's Day Blueberry Dessert
The more you eat raw food, the simpler it becomes. When I'm by myself, what I eat at home tends to be bare-bones, if I'm not in restaurants with friends. But when I have a Sunday dinner for my family, or a special occasion, I make it fancier. I'm not always the greatest at planning ahead, so sometimes I open the fridge and make something up, based on one ingredient I'd like to use.
Yesterday my two youngest kids made a lovely Mother's Day dinner. I had a quick brainstorm about how to make the two pints of blueberries (currently in season) in the fridge into a dessert. Everyone gobbled it up!
Mother's Day Blueberry Dessert
All ingredient amounts are approximate. Feel free to adjust as needed!
Ingredients
1/2 cup young Thai coconut meat
1/2 cup coconut water or coconut milk
1 tbsp lemon juice
2 tbsp agave
1/3 cup cashews
6 frozen strawberries
2 1/2 cups blueberries
Directions
Blend all ingredients other than blueberries into a cream.
Add to crystal glasses with blueberries, creating layers as you like.
Read next: 9 Ways to Get Kids to Drink Healthy Green Smoothies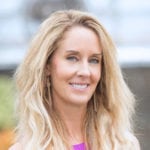 Robyn Openshaw, MSW, is the bestselling author of The Green Smoothies Diet, 12 Steps to Whole Foods, and 2017's #1 Amazon Bestseller and USA Today Bestseller, Vibe. Learn more about how to make the journey painless, from the nutrient-scarce Standard American Diet, to a whole-foods diet, in her free video masterclass 12 Steps to Whole Foods.
Posted in: Recipes