The Healthiest Shopping Cart in Costco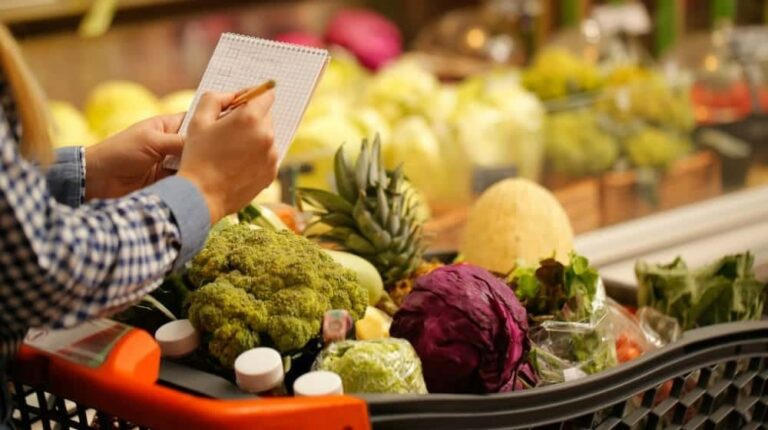 I like living healthy and sharing the experience with others. I was in Costco a few days ago and the lady behind me in line said, "That is the healthiest shopping cart I have ever seen!" I told her I write books teaching people how to eat whole foods and I have a site called GreenSmoothieGirl.com. I told her about GSG because she looked like a young mom. And you know how I feel about young moms–I see them as having tons of power to change the world, and I want to know them all! Before their kids are McD's addicts and so much harder to change.
In this article:
Living Healthy One Shopping Cart at a Time
Healthy Living Blog Offline
And it turns out her name is Marla and she is already a GSG reader. I don't know if the camouflage shorts I was wearing actually WORKED, or if it's the fact that my hair has morphed excessively blonde, that she didn't recognize me as GSG.
Hiding the Mountain Dew
That's one thing that isn't entirely "natural," my need to change my hair color. Also. I do weird things sometimes. A while back, I wanted to make a gift basket of "favorite things" for the guy I am dating. I would love to tell you that his favorite things are green smoothies and sprouted hummus with flax crackers and wheatgrass juice. But alas, I had to go to the grocery store and slink out of there . . . ducking my head, hoping not to be recognized . . . with a six-pack of MOUNTAIN DEW. Then I went somewhere else to find really good, made fresh daily, CHOCOLATE CHIP COOKIES. (He has been telling me that he could blackmail me with that info, should he ever need to – "GSG was seen buying Mt. Dew!", he guffaws. Might as well preempt that by coming out of the closet.)
I was also "in and out" of an In-N-Out Burger last night. This is because my children asked their father what he wanted for Father's Day, and he wanted a gift certificate and t-shirt from there. Even though I have never eaten their food, and I would not eat in that establishment unless I were completely without other options (notice I didn't say "wouldn't be caught dead"), I aim to please. He can eat what he wants. (Sure wish he wouldn't feed it to my kids, but again–no use fighting unwinnable battles.)
I also ate at Texas Roadhouse Grill last night. Okay, I ordered the vegetarian platter for both me and my son! But I'm just sayin'. I ate there. That's where my friends and sister-in-law wanted to eat after we watched Ten's baseball game.
Living a Healthy Lifestyle is a Choice
I seem to be rather cavalier with the nutrition of those close to me who are not my children. Here's why: people will eat right when they want to, and not a minute sooner. So I'm not going to expend my energy trying to change anyone else's diet or feeling frustrated about it.
He, Dixon, of the Mt. Dew, started drinking green smoothies even before he read my book. He said when I asked a couple weeks ago, on Day 17, that he notices no health benefits. (I told him that a green smoothie doesn't cancel out the deleterious effects of the Coke and Mt. Dew. And he is still making and drinking GS because he knows academically that they're good for him.)
No More Caffeine
A couple of other close friends, though, who have finally taken the plunge, told me this month they notice more energy and no need for caffeine, less than a week into the new habit.
Socially Maintaining a Healthier Lifestyle
It's philosophical for me: I won't wreck relationships over food! I was talking this week to a certain person who is a huge presence in raw food, on the internet. She and I bonded a while ago in our common mission and in our single-mom status. Sometimes we talk about world domination via raw food. I asked her what happened with the last guy and how it's going with the new.
She said, "Turns out the raw foodist had no personal ethics. Now I'm with a meat eater and I think I'll keep him."
Final Healthy Living Tips
True enough, that. Let's live our healthy life, speak up when it's appropriate, shut up when it's appropriate. In general, be as "normal" as possible while doing what's right.
What do you do to continuously improve your health and well-being? Mention them in the comments section below!
Up Next: How To Eat Healthy if You Have More Time Than Money (or More Money Than Time)
Editor's Note: This post was originally published on January 9, 2017, and has been updated for quality and relevancy.
Posted in: 12 Steps To Whole Food, Mind/Body Connection, Relationships, Whole Food