My Delicious and Healthy Thanksgiving Peanut Stew Recipe!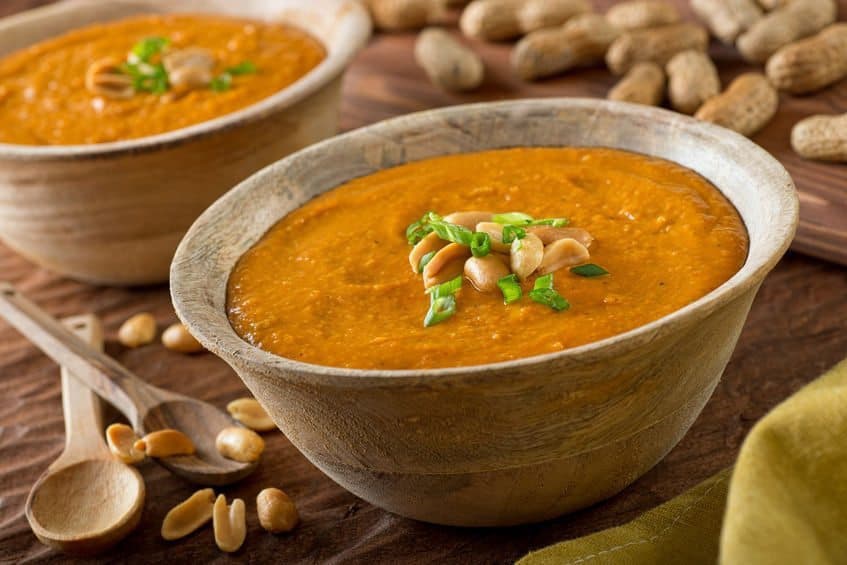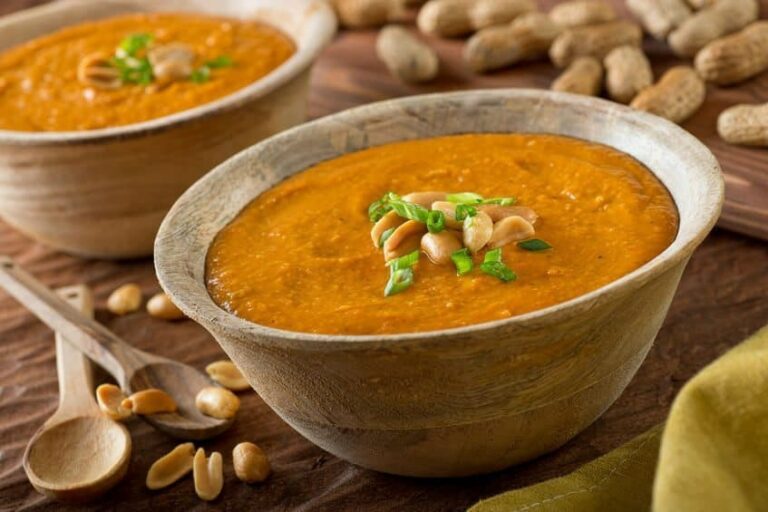 I've just got to share with you what I took to my large, extended-family Thanksgiving dinner. I've got 6 little brothers and 1 little sister, so there are a lot of mouths to feed!
This dish is a vegan African Thanksgiving Stew, and it's really delicious. I know that an African stew doesn't sound right for an American holiday, but everyone loved it at the TWO parties we took it to!
In this article:
African Peanut Stew Recipe
INGREDIENTS
2 tbsp coconut oil
3 cloves garlic, peeled and minced
2 inches ginger root, well scrubbed
2 large sweet potatoes, peeled and roughly cubed
1 medium sweet onion, chopped
2 tbsp cumin
¼ tsp cayenne pepper, to taste
1 (6oz.) can organic tomato paste
½ cup PBFit (dry peanut butter, 75% less fat)
4 cups vegetable broth
½ bunch (2-3 cups chopped) mustard greens (optional)
chopped green onions, garnish (optional)
roughly chopped peanuts, garnish (optional)
INSTRUCTIONS
Chop the ginger. In a large pot, saute the ginger and garlic in coconut oil for about two minutes, making sure not to burn. Add the sweet onion and sweet potato to the pot. Saute until the onion is soft. Add cumin and cayenne pepper. Stir.
In a separate bowl, stir together 1 cup of broth, and PBFit (dry peanut butter) and tomato paste until well blended.
Add remaining vegetable broth to the pot, as well as the tomato paste/PBFit mixture, dissolving it into the broth. Place a lid on the pot and turn the heat up to high. While the soup is coming up to a boil, prepare the optional ingredients. Rinse the mustard greens well, and chop them roughly.
When the soup comes to a boil, reduce heat and simmer for at least 15 minutes, stirring occasionally. Optionally, add mustard greens and cook another 10 minutes. Blend soup in a blender until smooth.
Garnish the soup with green onions and peanuts, and serve hot.
Health Benefits of Coconut Oil
I love adding coconut oil to my recipes and daily routine for a multitude of reasons, but one of the main reasons is because it fights bacteria, viruses, and fungi.
Coconut oil is antibacterial, antiviral, and antifungal. On more than one occasion, I've helped one of my kids quickly get rid of a fungal infection with simple topical application of this powerful oil.
What delicious, healthy recipes are you making for Thanksgiving? Tell us in the comments.

Read Next: Gratitude: The Magic Elixir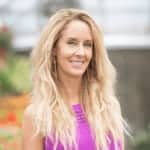 Robyn Openshaw, MSW, is the bestselling author of The Green Smoothies Diet, 12 Steps to Whole Foods, and 2017's #1 Amazon Bestseller and USA Today Bestseller, Vibe. Learn more about how to make the journey painless, from the nutrient-scarce Standard American Diet, to a whole-foods diet, in her free video masterclass 12 Steps to Whole Foods.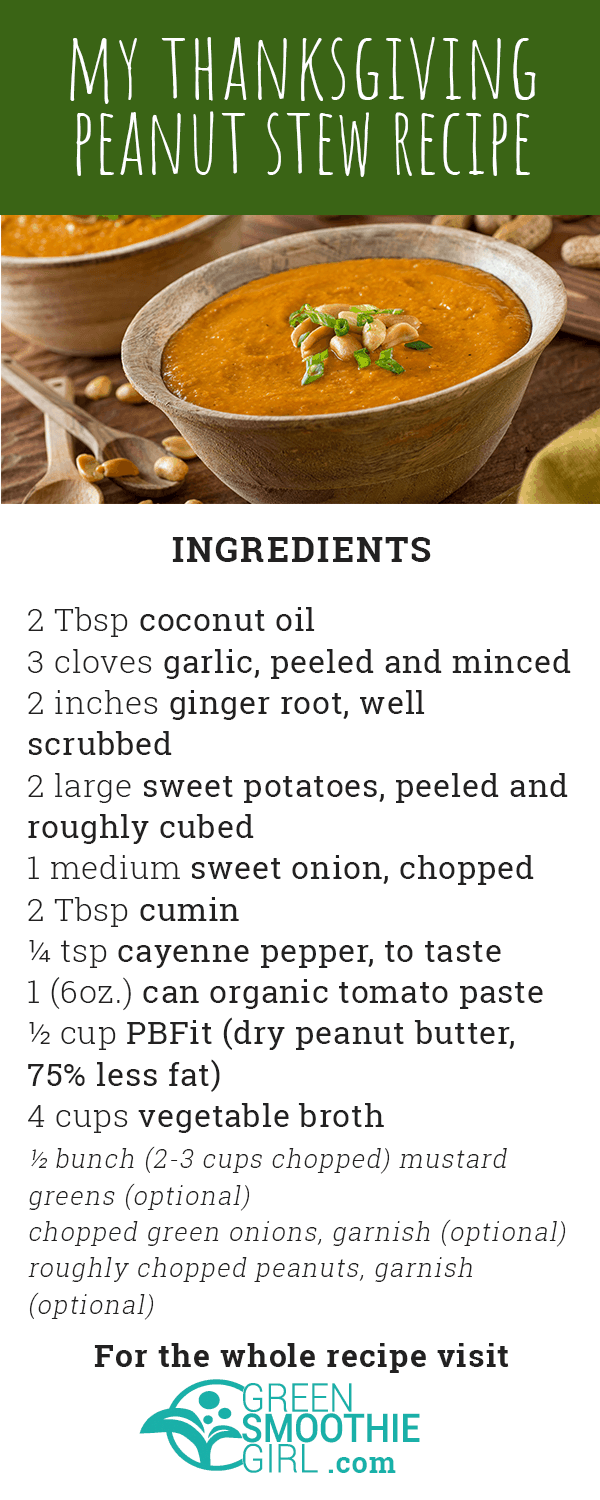 Disclosure: This post may contain affiliate links that help support the GSG mission without costing you extra. I recommend only companies and products that I use myself.
Posted in: Recipes