How Does Oil Pulling Work? Is It an Effective Detox Strategy, or a Bogus Fad?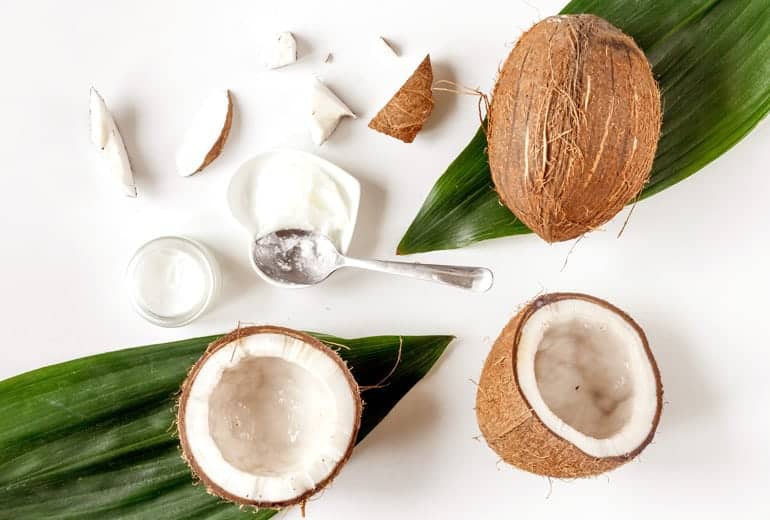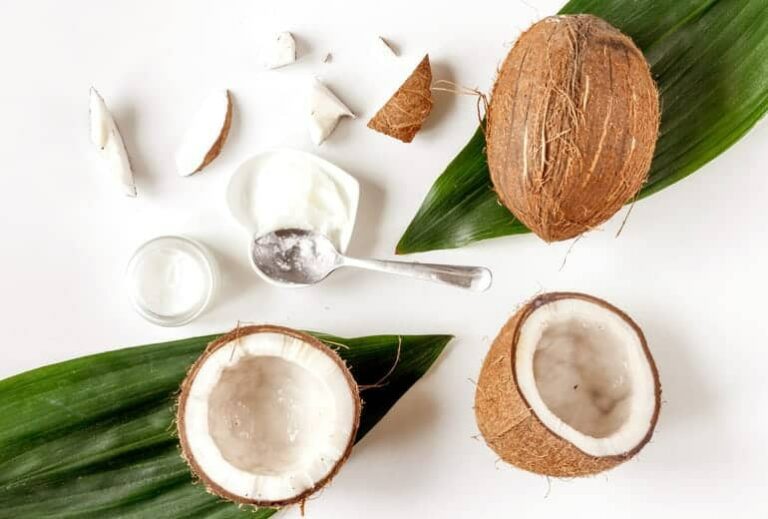 This post has been reviewed for accuracy by Dr. Michelle Jorgensen, DDS, FAGD, TNC, CNAS, biologic/holistic dentist, health and wellness provider, and medical adviser to GreenSmoothieGirl.com.
Are you looking for a way to freshen up your breath, prevent tooth decay, and eliminate bacteria and microbes in your mouth – all without using any toxic chemicals or dangerous ingredients? Then it might be time to try oil pulling!
In this post:
While oil pulling has many purposes in Eastern medicine, in the US, it's generally considered to be part of Complementary and Alternative Medicine – or CAM. As an alternative medicine practice, oil pulling has become a popular holistic option when it comes to oral care, offering benefits like giving you fresher breath and eliminating toxins from your mouth.
What Is Oil Pulling?
At its essence, oil pulling is simply swishing oil around in your mouth for an extended period of time. The oil is 'pulled' as you forcibly push it in between each of your teeth, around your gums, and under your tongue with your swishing action.
The idea behind how oil pulling works is that the oil attracts and then pulls out bacteria, viruses, fungi, and toxins. When you spit out the oil, the bad stuff exits your mouth right along with it.
(Check out my demonstration video at the end of this post!)
Oil pulling is an ancient Indian folk remedy that was traditionally used to treat a wide range of conditions and diseases. In Western cultures, it's primarily used as a holistic oral care practice – and that's where research has proven the benefits of pulling with oil. By adding oil pulling to your regular oral health routine, you may be able to1:
get rid of bad breath
inhibit the adhesion of plaque
How Does Oil Pulling Work?
The science behind oil pulling is fairly simple. You may remember from Biology 101 that bacteria and other microbes are single-cell organisms, which have fatty membranes as skin. When these fatty membranes come into contact with oil, they stick to it.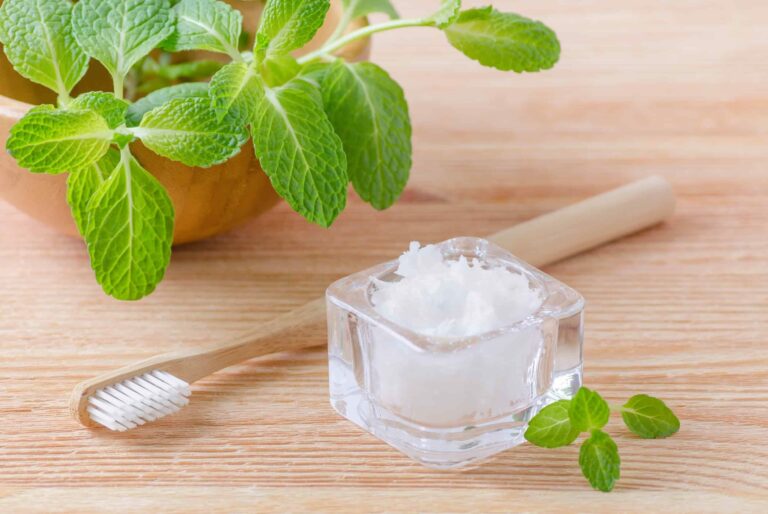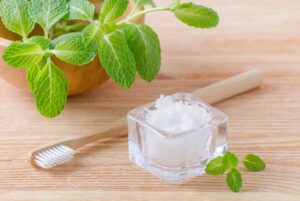 The swishing you do during oil pulling draws the oil through your teeth and around your gums. In the process, the oil attracts these bacteria, toxins, and microbes that are hiding in the crevices of your gums and in the microscopic tubules that run through your teeth. Those fatty membranes in the skin of the microbes stick to the oil, and the microbes are then are expelled from your body when you spit the oil into the trash, leaving your mouth detoxified.
[Related post: What Really Causes Gum Disease?]
How Do You Practice Oil Pulling?
To try oil pulling, you simply:
Swish 1 to 2 tablespoons of oil in your mouth for 10 to 20 minutes. If you're just starting out or your jaw aches, it's okay to swish for five to 10 minutes instead.
If you're doing oil pulling correctly, after about five minutes, the oil will turn a milky white color – which means it's working. There's no need to check; just keep swishing until your timer goes off.
After you've completed swishing, spit out the oil into a trashcan or paper towel (not down the drain; you want to avoid clogging your pipes).
Rinse your mouth thoroughly with saline or filtered water.
Lastly, brush your teeth as normal.
According to tradition,1 oil pulling should be completed before breakfast on an empty stomach, which is when your mouth is most full of colonies of bacteria and toxins. It's also suggested that you sit in an upright position with your chin raised.
You should be very careful not to accidentally breathe in the oil, which can cause choking. You can perform oil pulling as often as three times per day, but you should perform it at least three to five times per week to get the best benefits.
There are two important points to note about oil pulling:
Oil pulling is not recommended for children under the age of five, because they can breathe in the oil and choke on it. Children older than five years should use only 1 teaspoon of oil when practicing oil pulling.
Never swallow the oil you've swished while you're oil pulling. It will be full of toxins and bacteria – and the entire purpose of the practice is to remove those toxins from your body.
What Kind Of Oil Is Best For Oil Pulling?
While you can technically use any kind of oil that's safe to put in your mouth, using an organic, cold-pressed oil like sunflower oil, coconut oil, or sesame oil is recommended for oil pulling.1 When oil is cold-pressed, there are no trans-fats, which can increase your risk of coronary artery disease, so you also may want to use cold-pressed oil for oil pulling.
Sesame Oil For Oil Pulling
Traditionally, sesame oil has been used for oil pulling throughout history, and many people still prefer to pull with sesame oil today. Sesame oil has been shown to have properties that make it effective for:1
detoxification
stopping the oxidization that produces free radicals (as an antioxidant)
fighting bacteria as an antibiotic
eliminating fungal infections (thanks to the antifungal chlorosesamone found in sesame)
Sesame oil also includes polyunsaturated fatty acids, which reduce free radicals that can damage the mouth and "steal" lipids in the cell membranes, causing cell damage. By oil pulling with sesame oil, you can reduce the chances of getting gingivitis caused by plaque.
Coconut Oil For Oil Pulling
Because of its high lauric acid content, coconut oil is another great choice for oil pulling. It's estimated that approximately 50% of the fat in coconut oil is made up of lauric acid, which is an antimicrobial acid that can:1
cleanse
reduce inflammation
kill microorganisms (thanks to antimicrobial properties)
reduce the accumulation and adhesion of plaque
fight Streptococcus mutans, the bacteria considered to be the number-one culprit behind tooth decay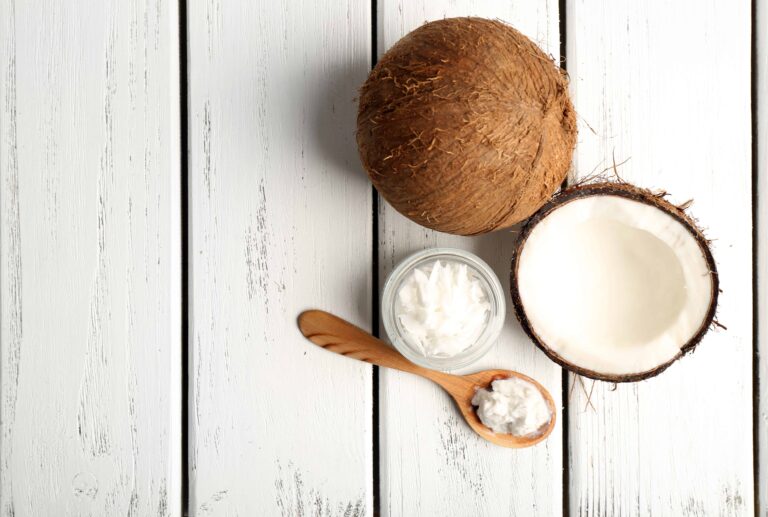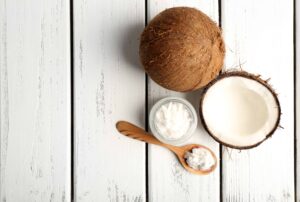 That means that oil pulling with coconut oil can keep your teeth and your mouth healthy in addition to removing toxins from your mouth.
Olive Oil For Oil Pulling
Olive oil also can be used for oil pulling and has some of the same benefits as coconut oil, including being:1
antioxidative
antimicrobial
It also helps to modulate the immune system. If you practice oil pulling with organic extra virgin olive oil, you also may get the added benefit of eliminating bad breath.
Sunflower Oil For Oil Pulling
Finally, sunflower oil is recommended for oil pulling because it can reduce plaque and the risk of gingivitis, making it a beneficial addition to your oral care routine.1
What Are The Benefits Of Oil Pulling?
Throughout history, oil pulling was thought to help with everything from aches and pains to chronic diseases. However, the research surrounding oil pulling primarily looks at the practice as part of a holistic oral care routine. In that sense, when it comes to making your mouth healthier, the benefits of oil pulling are overwhelming.
A study conducted on a group of adolescents age 16 to 18 found a significant reduction in plaque and gingival indices after just seven days of coconut oil pulling.2
A study of a group of people with mild to moderate plaque and gingivitis revealed that after 45 days of performing sesame oil pulling, there was a significant reduction in plaque and gingivitis, while the group that did not use oil pulling showed an increase.3
A control group that used sesame oil for oil pulling significantly reduced the amount of S. mutans in their plaque and saliva after two weeks.4 S. mutans is the bacteria responsible for tooth decay.
Oil pulling was found to be as effective as chlorhexidine, a commonly used pharmaceutical mouthrinse, at eliminating bad breath and the microorganisms responsible for causing halitosis.5

What Are The Ayurvedic Benefits Of Oil Pulling?
Oil pulling was first mentioned in Indian Ayurvedic texts written more than 2000 years ago and has long been considered an Indian folk remedy for conditions and diseases that extend well beyond the mouth. While Western medicine hasn't proven any of these benefits, there are benefits of oil pulling according to Ayurvedic medicine.
In Ayurvedic medicine, each organ is connected to a different section of the tongue. For instance, the back central part of your tongue corresponds with your intestines, with corresponding areas for your kidneys on either side. The tongue is the beginning of your digestive tract, which continues for roughly an additional 30 feet.
Because of this connection, Ayurvedic tradition teaches that the process of drawing toxins out of your mouth also detoxifies your whole body. This holistic health approach is very similar to other Eastern healing traditions like acupuncture. The idea that oil pulling can detoxify your body might sound like an outlandish claim, but there are millions of bacteria living in your mouth – and those bacteria have been associated with cardiovascular disease, diabetes, kidney disease, pneumonia, meningitis, arthritis and sinusitis, and more.
[Related post: What Really Causes Cavities, and What Can You Do to Prevent Them?]
Whether you practice Ayurvedic traditions and believe oil pulling can detoxify your body, or you simply want to use oil pulling as a way to holistically improve your oral health routine, removing harmful bacteria from your mouth through oil pulling is absolutely beneficial. Watch a demonstration of how to do oil pulling in this video, then start incorporating oil pulling into your oral care routine – and swish your way to a healthier smile.
Watch me demonstrate how to do oil pulling in this video:
Clearly, oil pulling can help with everything from tooth decay to bad breath – and with little to no risk! As mentioned, you should be very careful that you don't inhale the oil you swish, and you should never swallow the oil, which can be toxic. Otherwise, oil pulling is safe, healthy, and beneficial for oral care.
Read Next: Health Benefits of Red Light Therapy: Legit or Hype?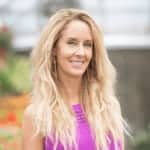 Robyn Openshaw, MSW, is the bestselling author of The Green Smoothies Diet, 12 Steps to Whole Foods, and 2017's #1 Amazon Bestseller and USA Today Bestseller, Vibe. Learn more about how to make the journey painless, from the nutrient-scarce Standard American Diet, to a whole-foods diet, in her free video masterclass 12 Steps to Whole Foods.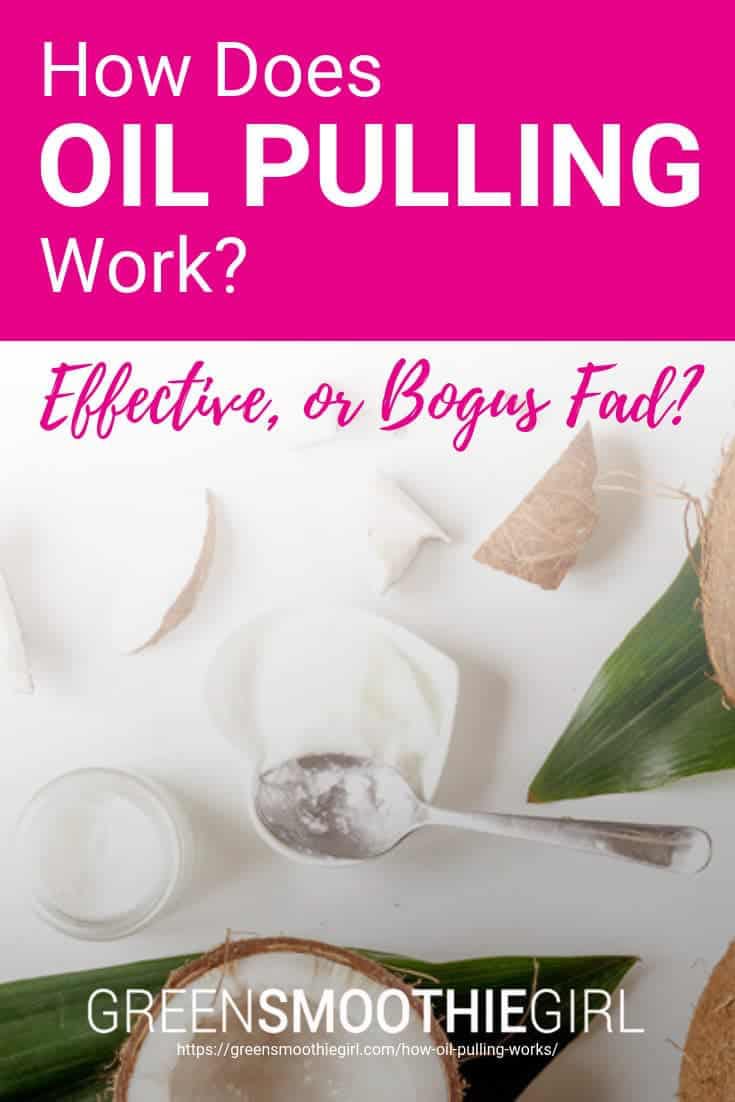 Sources
Vagish Kumar L.Shanbhag "Oil pulling for maintaining oral hygiene – A review." Journal of Traditional and Complementary Medicine Volume 7, Issue 1, January 2017, Pages 106-109
Peedikayil, Faizal C. et al. "Effect of coconut oil in plaque related gingivitis-A preliminary report." Nigerian Medical Journal. 03/2015.
Saravanan, Deepshika et al. "Effect of Oil Pulling with Sesame Oil on Plaque-induced Gingivitis: A Microbiological Study." J Orofac Res. 03/2013.
S Asokan1, et al. "Effect of oil pulling on Streptococcus mutans count in plaque and saliva using Dentocult SM Strip mutans test: A randomized, controlled, triple-blind study" Journal of Indian Society of Pedodontics and Preventative Dentistry. 2008 Volume 1 Pages 12-17.
Asokan Sharath, Kumar R Saravana, Emmadi Pamela, Raghuraman R, Sivakumar N "Effect of oil pulling on halitosis and microorganisms causing halitosis: A randomized controlled pilot trial" Journal of Indian Society of Pedodontics and Preventative Dentistry. 2011 Volume: 29 Issue Number 2, Page: 90-94
Disclosure: This post may contain affiliate links that help support the GSG mission without costing you extra. I recommend only companies and products that I use myself.
Posted in: Dental Health, Natural Remedies, Reviews