Honey is a subject of a lot of controversy. Friend or foe? Let me share whether I think you should buy it, or not.
Vegans don't like it, because a bee toils her whole life to make ¼ of a teaspoon!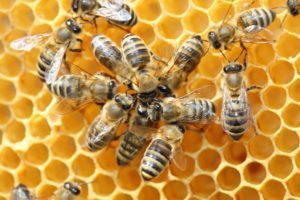 (I'm in awe. I think of this amazing effort, every time I eat it. I can't lie, I feel a little guilty.)
Luckily, our harvesting honey causes beekeepers to help bees proliferate, which the environment needs, plus it doesn't kill the bees. So I'm okay with it. I wouldn't want to EAT the bees. Einstein said that when the bees die, the human race will die.
So, beekeepers are doing us a huge service. And they wouldn't do it, if there were no market for honey! That's my reasoning for why buying raw honey does the environment and the economy a wonderful service, despite that some vegans won't eat honey on moral grounds.
But, what comes next is even more important!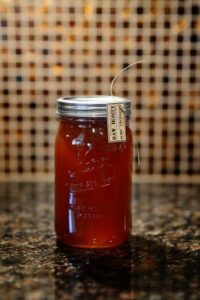 I want to share with you 4 reasons you absolutely want at least 5 pounds of raw honey in your pantry, plus 5 pounds for each person in your long-term food storage.
But, please don't buy honey unless it says it's RAW! I'm excited to be doing a giveaway on THURSDAY, from White Lake Farms' honey–to 3 randomly selected people who answer a question in the comments on this blog post.
The question to answer, with your name and hometown, below, is: what's the benefit of raw honey you're MOST excited about?
(While it's great if you answer on Facebook, we're drawing the winners from the blog, so answer here!)
We'll announce the 3 winners of FREE, RAW, HONEY shipped right to you on the Green Smoothie Girl Facebook page–also check out my Facebook Live Post about Honey while you're there!
If you buy heat-treated honey, you're losing out on the anti-allergy, immune-strengthening properties, which is my favorite thing about raw honey. I used to take awful steroidal inhalants for my really severe seasonal allergies, in my 20's—now I have no reaction to pollens or anything else, which is really exciting to me. So I love to share my experience, and hope it works for you.
Grab my 4 FAVORITE HONEY RECIPES, which I'll send to you in a pretty PDF, to your Inbox. And I'll also send you my demo video making my kids' favorite candy–all whole foods, has 3 ingredients and takes 5 minutes! We keep them in the freezer and who knows, maybe one a day keeps the allergies away!
I don't even trust some of the brands that say they're raw, because I can tell by looking at them that they're not! And watch out for "honey" that's really just honey-flavored corn syrup, which is a terrible substitute lacking any health benefit.
I love White Lake Farms honey—it's a family owned business that started as a family project with 3 hives. Now they have 1,000 hives, all here in my home state of Utah. (I love supporting local companies doing something good.)
I know that the honey is extracted at White Lake Farms and taken straight from the hive, with no heat, unfiltered, preserving all of these exciting benefits: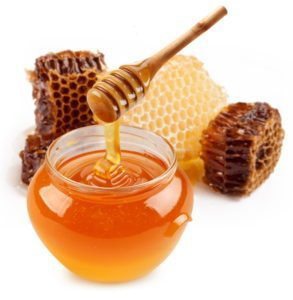 It lasts forever. No expiration date.
It's an amazing treatment for burns. Once I was at a friend's house and she asked me to make gravy in her blender. The lid blew off (it was boiling, duh, what was I thinking?) and the boiling, fatty beef broth was all over my arm. By the time I raced home, I had 3rd degree burns. I put raw honey all over my arm, wrapped it in Ace bandages, and a week later my skin was perfect, no scarring. WOW!
I credit eating raw honey with my seasonal allergies disappearing. I had read that it can act as a homeopathic, since many bees, pollinating many plants, contribute to a single jar of honey. So, I started eating almond-butter-and-honey sandwiches, or my #1 favorite way to use honey, a treat of really easy-to-make Halvah Candy.
Honey is high in minerals, as well as those immune-stimulating pollens that other sweeteners don't have.
So I've got some really great honey recipes for you, including that delicious favorite with just 3 ingredients. And honey lemonade. Oooh, and two of my favorite salad dressings, Honey Mustard Vinaigrette, and Honey Dressing.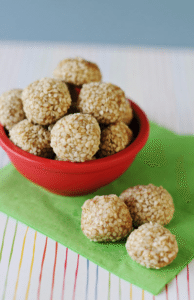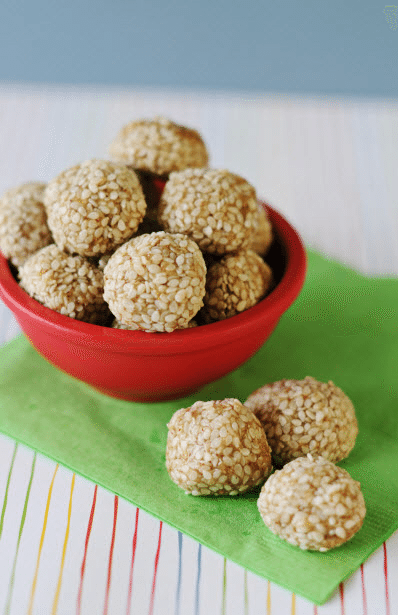 Grab your download here. I freeze Halvah Candy balls and eat one or two, a day, when I'm working at my computer. My kids love them, too. When we send you the printable recipes, I'll also send you a video of what my employees are calling "Retro Robyn" making the Halvah Candy! I think you'll get a kick out of the tutorial video I pulled from the archives, showing me when I still had all four kids at home, and made Halvah Candy every week!
If you don't win, here's the link to purchase truly raw, fabulous raw honey from the supplier we trust:
Don't forget to grab my favorite RAW honey recipes here, including easy, delicious Halvah Candy, fresh honey lemonade, and honey-mustard vinaigrette dressing! Let me know if you love these recipes!