999 Cheap Plant-Based Meals You Can Make in 15 Minutes
You Don't Need a Recipe For Healthy, Plant-Based Meals!
I'm about to tell you exactly how I eat.
Simply, inexpensively, and with endless variety. And then I have a free gift for you, so you can easily do the same!
Except for salad dressings, I use few recipes. (And even those, I take liberties with!) The first few years in your journey to a whole-foods, plant-based diet, you follow a lot of recipes. (Longtime raw foodies call this "transitional eating.")
It's normal. In fact, it's an important phase. It's instructive, as you experiment with whole foods and ingredients.
You spend a lot of time. Then eating starts to get much easier and simpler. You have many tricks up your sleeve. You are resourceful. Missing an ingredient or two is no problem.
The key to my method is, don't stress about it. You can't mess this up! Eating this way is cheap, and it's also a great way to use a hodgepodge of random plant foods or leftovers in your fridge.
Be inventive and never get stuck in a rut–anything in the produce section fits in this way of eating. I virtually never add salt (even sea salt) to my food. Many of these fillings and sauces have so much flavor, you won't miss added salt.
Simple Healthy Mealtime Prep: Mix and Match
Start with a base, add one or more toppings or fillings, and play with sauces or spices. I hope this helps you enjoy the magical world of eating greens, vegetables, fruits, legumes, whole grains, and nuts and seeds–the nutrient-dense plant kingdom of food!
BASE:
Bowl: brown or wild rice, quinoa, millet, lentils, split peas
Salad: romaine, spring greens, bean sprouts, or other sprouts
Wrap: sprouted grain tortilla, collard leaf, organic corn tortillas, nori (seaweed for sushi)
Noodles: spiralized yellow squash or zucchini, gluten-free whole-grain pasta, kelp noodles

FILLINGS / TOPPINGS:
Choose one or more of the following that you have on hand:
Lentils (with taco seasoning), any beans (seasoned however you like), or split peas (leftover split pea soup is good!)
Brown rice, wild rice, quinoa (seasoned however you like)
Hummus or baba ganoush (eggplant) spread
Sautéed vegetables (with fajita seasoning): think peppers, onions, tomatoes, parsnips, carrots, turnips
Raw vegetables: think jicama, tomatoes, any sprouts, matchstick carrots or other root vegetables, scallions
Olives of any kind, or olive tapenade
Tahini (sesame seed paste)
Avocados, sliced or mashed
Pumpkin, sunflower, or sesame seeds
Walnuts, pine nuts, sliced almonds, or chopped walnuts or pecans
SAUCES AND SPICES:
Any salad dressing at all from Chapter 3 of 12 Steps to Whole Foods! They all work! Mix and match, at will!
Salsa of any kind
Pesto sauce (see 12 Steps to Whole Foods recipe)
Mustard or Vegannaise
Sauces for Chinese, Thai, Mexican foods (avoid MSG, corn syrup, and other chemical ingredients–these are very inferior to all Chapter 3 dressings)
Have Indian, Italian, Thai, and Mexican organic spice blends on hand
Always have ginger, turmeric, chili pepper, cayenne, dried parsley, and garlic powder, too. (I avoid pepper, as it is a gastrointestinal irritant.)
A few dashes of whatever you feel like, to any of the above, and you've completely changed the flavor of the meal, plus added some nutrition!
You can toss into your fillings raw apple cider vinegar or miso (non-GMO) for flavoring.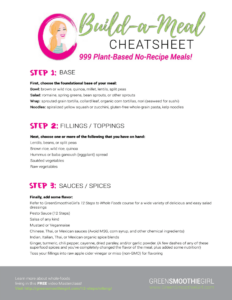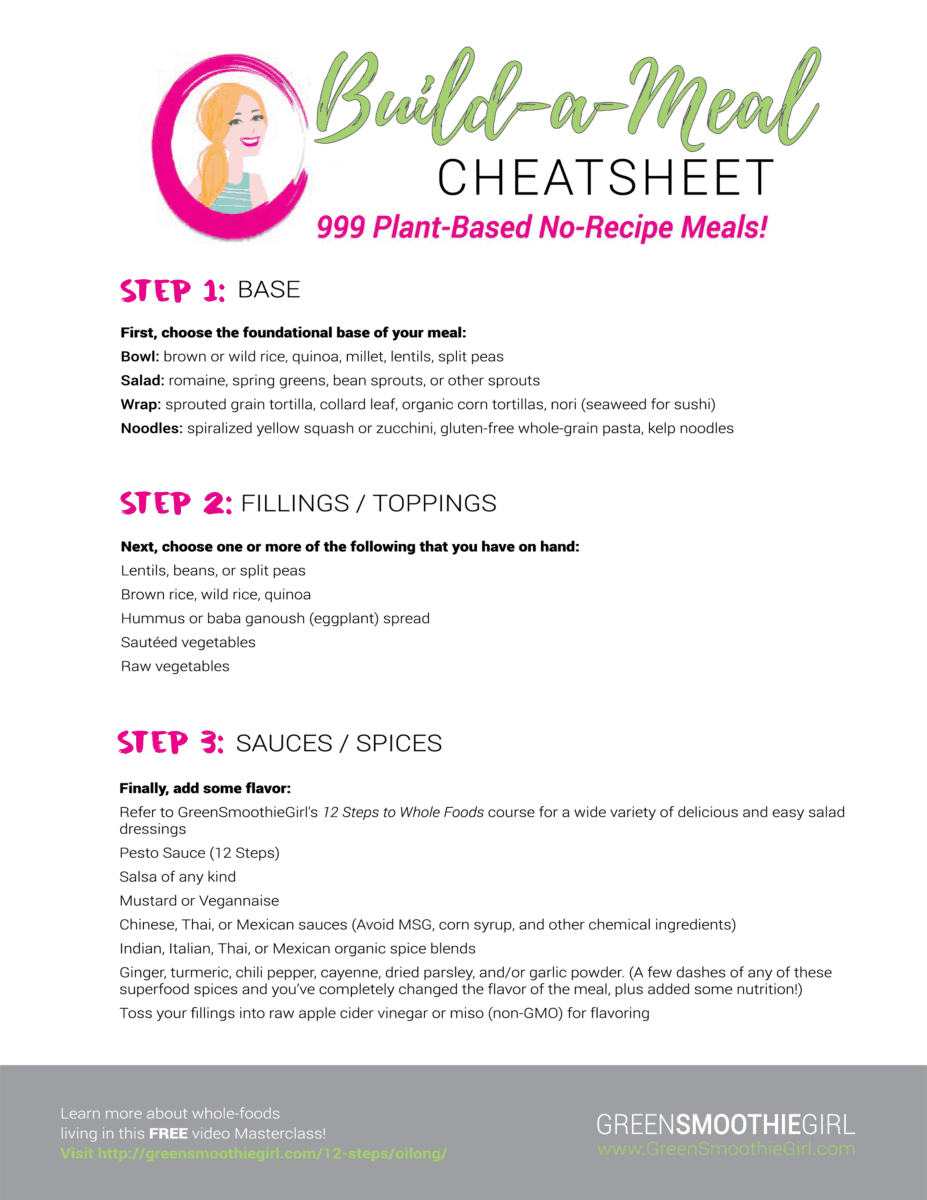 Now, for your GIFT!  I've created the "Build-A-Meal Cheatsheet" for you to print and tape up in your cupboard for reference at mealtime. It's an easy guide to show you how to use what you already have in your fridge and pantry, to make any number of healthy plant-based meals, with NO recipe!
[Don't want to print?  Let me do it for you!  This "cheatsheet" is now included in my Genius Guides, half off while supplies last–just $14.95!]
Posted in: 12 Steps To Whole Food, Recipes, Relationships, Whole Food
14 thoughts on "999 Cheap Plant-Based Meals You Can Make in 15 Minutes"
Leave a Comment