My Wholesome Granola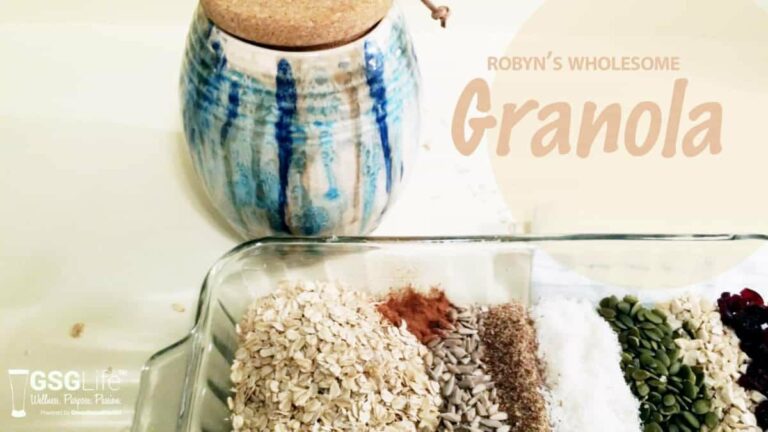 Try eating this granola every morning for one week and document what happens to your digestion. (I'll give you a hint: it will clean you out!) Full of fiber and Omega-3 fatty acids, this is whole-foods nutrition perfect for children and adults! Kids won't get hungry before lunch or nag for snacks. I double this recipe and make it in a big broiler pan with a lid, where I keep it until it's gone. To each bowl, add a heaping tablespoon of sprouted raw sunflower seeds and a tablespoon of sprouted alfalfa/clover seeds to provide live digestive enzymes.
Mix well:
4 C rolled oats (not instant oats, which are a processed food)
1 C raw wheat germ (found in bulk at the health food store, high in B vitamins)
1 C shredded coconut (found in bulk at the health food store—not the sugar kind)
1½ C nuts (walnuts, pecans, cashews, almonds, pumpkin seeds)
¼ C sunflower seeds
1/2 C dried fruit: cranberries, raisins, currants, or your choice
2 Tbsp. cinnamon
*not pictured: 1 C raw wheat germ
Heat on the stove until barely melted, stirring together:
½ C honey (raw)
½ C molasses or Grade B maple syrup
½ C water
½ C coconut oil
optional: 1 Tbsp. maple flavoring or vanilla
For more on coconut sugar and where to buy it, click here!
Pour the liquid ingredients into the dry ingredients and mix until distributed evenly (this takes a few minutes). Bake at 250°F stirring well every 20 minutes for 45-90 minutes, or until dry.
Keep in the pantry for up to 2 weeks in cooler weather, or in the fridge for up to six weeks in the summer months. Makes 11 cups. Serve the granola with nut or rice milk plus 2 Tbsp. sprouted raw sunflower and alfalfa seeds mixed in (see sprouting instructions below).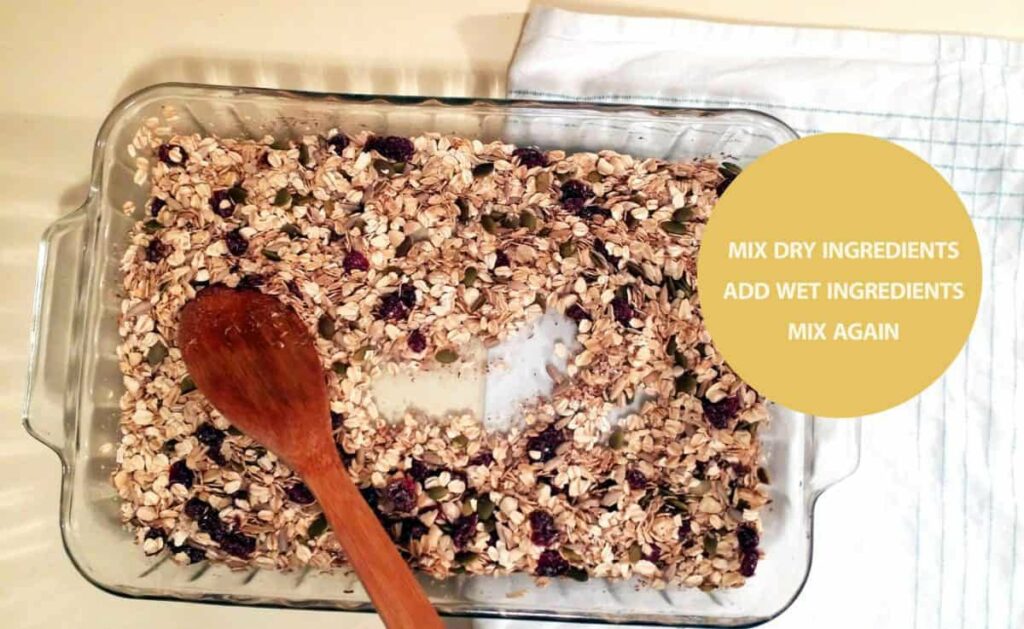 To sprout sunflower seeds: cover ½ pint of sunflower seeds with filtered water overnight, then drain in the morning. They are now a living food with vastly more enzymes and nutrients. You may also sprout raw almonds or pumpkin seeds to add to your granola for variety as you serve it.
Watch my video to see how I make it!
Posted in: 12 Steps To Whole Food, Recipes