Sweet Potato Black Bean Chili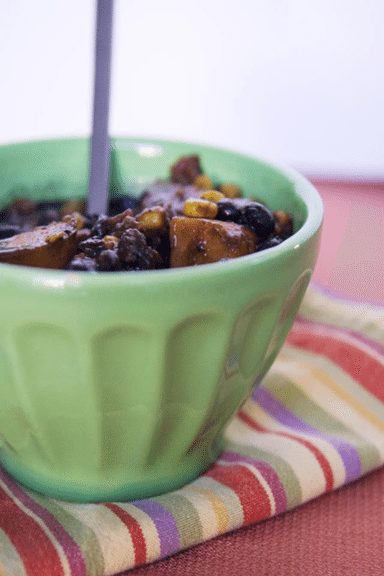 Here's a chili recipe that my family loves, and I hope it warms yours, too. It makes me happy to think that you might buy the inexpensive and healthy ingredients in this recipe and make and share it with your family or friends on a cold December night. I hope this is a wonderful winter holiday season for you and the people you love!
Sweet Potato Black Bean Chili
Serves 6-8
1 Tbsp. extra virgin olive oil
1 Tbsp. chili powder
1½ C filtered water
1½ tsp. coriander
1½ tsp. cumin
1 tsp. chipotle spice
1 tsp. sea salt
1 green pepper
1 medium onion
2 fresh tomatoes or 1 can tomatoes
2 cloves garlic
1 large sweet potato
2 C frozen or raw corn
2 cans black beans, drained and rinsed (even better: 4 C cooked black beans)
optional: ½ -1 jalapeño (seeded, if you don't want your chili spicy)
Chop the sweet potato into 1-inch cubes. Heat the oil in a medium sauce pan. Dice the onion, green pepper, garlic, and optional jalapeño. Add to the pan and cook until the onion is translucent.
Stir in the chili powder, cumin, chipotle, and coriander and cook for another minute. Stir in the sweet potato, then add the tomatoes, beans, corn, water, and salt. Bring the chili to a boil, then lower the heat and simmer for 40 min., or until the sweet potato is cooked through.
Adjust seasonings to taste. Garnish with avocado and yogurt (in place of sour cream).
Tip: If you think the chili will be too spicy for your taste, either omit the chipotle or add 2-3 Tbsp. no-corn-syrup ketchup to mellow out the flavors.
Happy Cooking!
Posted in: Recipes