Thai Sweet Potato Soup with Raw Honey to Fight Allergies
Summer is over, and fall is coming! Do you get hay fever? I don't, but I used to. Raw local honey was how I got rid of allergies, as the local pollens act as a homeopathic against pollen allergens. This recipe is a delicious, healthy way to get your raw honey in.
Don't wait till it gets cold–this soup is amazing in warm weather, too! I had some yesterday, with my green smoothie, even though it was 95 degrees outside and I was wearing shorts and a tank top. It was pure comfort food on a day when everything was going haywire. I'm not even a sweet potato fan or a soup fan, and I LOVE this recipe. Enjoy!
Thai Sweet Potato Soup
1 tbsp extra-virgin olive oil
1 large onion, chopped
1 medium red bell pepper, chopped
2 large carrots, chopped
1 tsp cayenne pepper
Ground black pepper, to taste
1 clove garlic, chopped
½ inch fresh ginger, minced (peeled)
1 large sweet potato, peeled and cubed
6 cups vegetable broth (low sodium)
1 14.5-oz can diced tomatoes with juice (no salt added)
2/3 cup Adams or other natural peanut butter (no rapeseed oil or sugar)
2 tsp raw honey
Directions
Heat oil in a large soup pot over medium high heat. Add onions, bell pepper, and carrots and cook for several minutes until vegetables are tender, stirring frequently.
Add spices, garlic, and ginger, for 30 seconds more.
Stir in sweet potato, broth, and tomatoes. Bring to a boil, then reduce heat and simmer 20 minutes or until potatoes are tender.
Puree the soup either with a hand-held blender or by pouring it into a blender in two batches. If you use the blender method, be sure to lift one corner of the lid or remove the vent and blend at a very low speed to avoid a vacuum-sealed explosion with very hot liquids.
When the soup is cooled down to a warm temperature, add peanut butter and honey. Stir well. Serve warm.
Read next: The Benefits of Raw Honey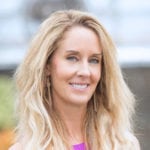 Robyn Openshaw, MSW, is the bestselling author of The Green Smoothies Diet, 12 Steps to Whole Foods, and 2017's #1 Amazon Bestseller and USA Today Bestseller, Vibe. Learn more about how to make the journey painless, from the nutrient-scarce Standard American Diet, to a whole-foods diet, in her free video masterclass 12 Steps to Whole Foods.
Posted in: Recipes