Leaps and Bounds: The Health Benefits of Rebounding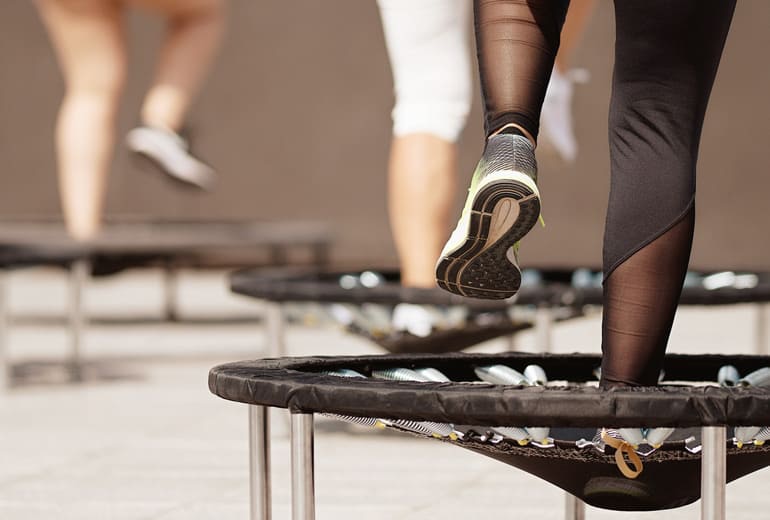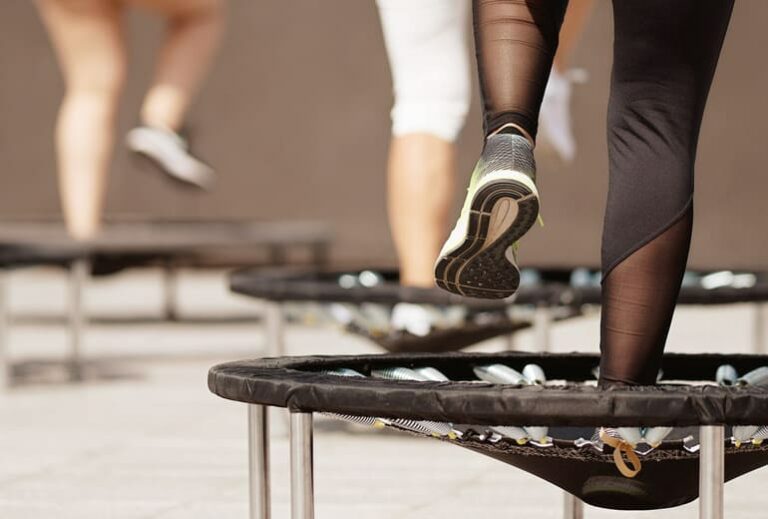 Does bouncing your way to better health sound fun? Thanks to rebounders, you actually can!
Mini-trampolines offer benefits that include everything from joint protection to detoxification, and fortunately, those benefits can be found at home! Rebounding as an exercise is extremely well-suited to working out in your most comfortable surroundings.
In this post:
Plus, using a rebounder can get your heart pumping and boost your immune system – all with an easy-to-do, fun fitness activity that may even take you back to the carefree days of your childhood.
What Is a Rebounder?
While you may not ever have heard the term "rebounder," you almost certainly have seen one: A rebounder is simply a small trampoline. It has a springy surface that's suspended above the ground, supported by a sturdy frame. Springs are either the standard metal coils, or specialized bungee cording.
Some rebounder models also include hand supports or handles that help you to steady yourself as you jump or bounce, and then "rebound" and stabilize yourself before bounding upward again.
Rebounders are resurging in popularity after a lull since the initial craze in the 80's. Besides home rebounder exercisers, they are often found in gyms, physical therapy centers, and even in specialized exercise classes called "urban rebounding."
Physical Benefits of Rebounding
Of course, bouncing up and down (and up and down and up and down) on a rebounder is a lot of fun – but there are actually physical benefits of using a mini-trampoline, too.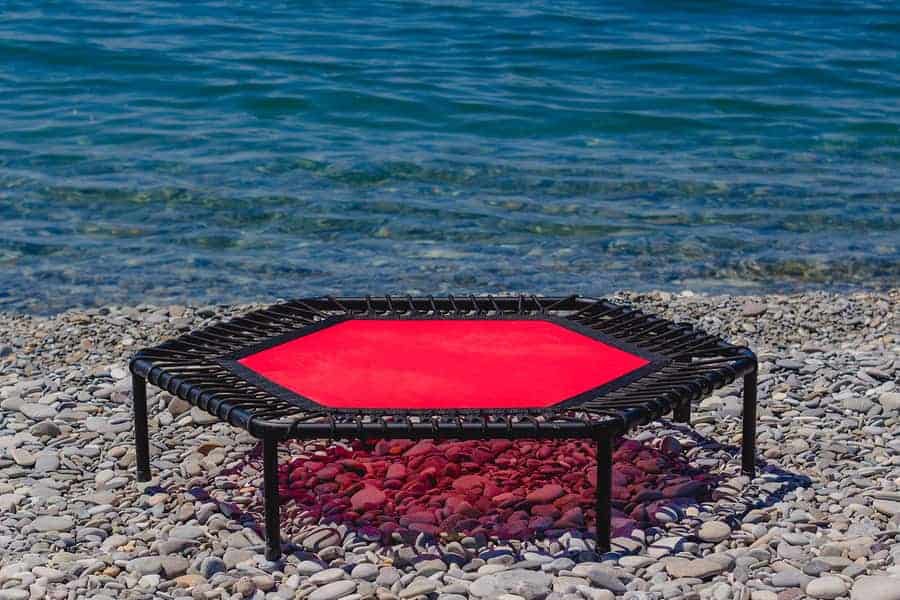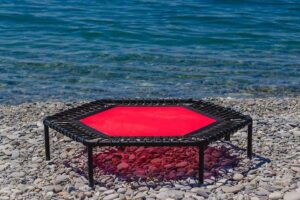 Many people have incorporated rebounding into their fitness routines because it's easier on the joints and the musculoskeletal system than exercising on a hard, unforgiving surface1 – and the physical benefits of rebounding don't stop there.
Health Benefits of Rebounding
Along with the physical benefits of rebounding , using a rebounder has a full range of other health benefits as well.

Finding The Right Rebounder For You
If you're eager to start reaping the benefits of rebounding on a regular basis, the first step is buying the right rebounder to suit your needs. It's important to choose a high-quality mini-trampoline rebounder; a cheap one can harm your nerves, tendons, and joints, which will defeat the purpose!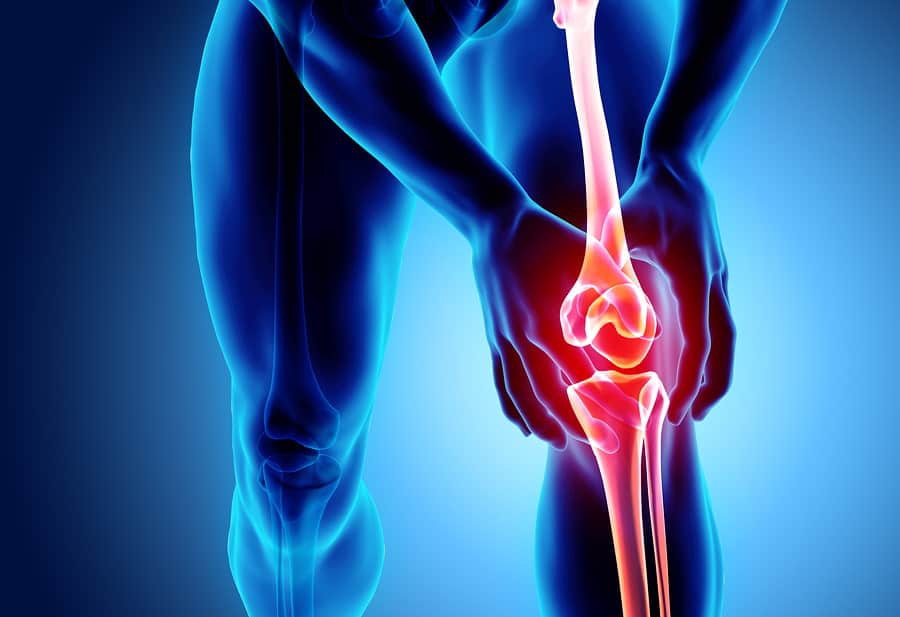 There are plenty of inexpensive rebounders  out there, but I find people who buy them end up stashing them in a corner and never getting to work. A few companies have studied how the health benefits are achieved and have created more sophisticated models that you'll actually love, because their superior products optimize the user experience. I have tried them all, and my favorite, far and away, is the Bellicon.
What To Look For In A Home Rebounder
A good quality rebounder has features like:
6 legs
a strong frame (rated for 400 lbs or more) that doesn't rock when you jump side-to-side
strong bungee cording that doesn't stretch out over time, or coil springs made of steel wire
UV-resistant mat
an optional stabilizing bar, which helps you steady yourself if necessary
If you're looking for a recommendation, check out these options from Bellicon. They have several different models, including one with a stabilizing bar and several options with fold-up legs – which make your rebounder easier to store.
The Bellicon uses bungees instead of wire springs, which is not only a completely different jumping experience, but also very quiet!
How To Use A Rebounder
Almost anyone can use a rebounder; however, as with any exercise program, you should start slowly and use caution. You may want to begin by gently bouncing until you improve your balance, especially if your rebounder doesn't have a stabilizing bar to hold onto.
According to Dr Robert O. Young, author of The pH Miracle for Weight Loss, 15-min. sessions on the rebounder are ideal. If you're competitive, or really motivated to clear some lymphatic blockages, you can do 2 or 3 sessions a day.
You can rebound while you're watching TV, or if you're a parent to small children, you can use your rebounder for exercise while your little ones are napping or watching a video.
To boost the benefits of exercising with a rebounder, give your muscles a better toning experience by isolating specific muscle groups while you jump. Research also shows that you can substantially improve the intensity of rebounding – resulting in better cardiovascular training – by holding handheld weights and pumping your arms as you jump.12
Exercises You Can Do On A Rebounder
There are a variety of exercises you can do on a rebounder. If you're new to rebounding, start with gentle bouncing or controlled jumping until you get the hang of it, and feel stable and balanced enough to try other exercises.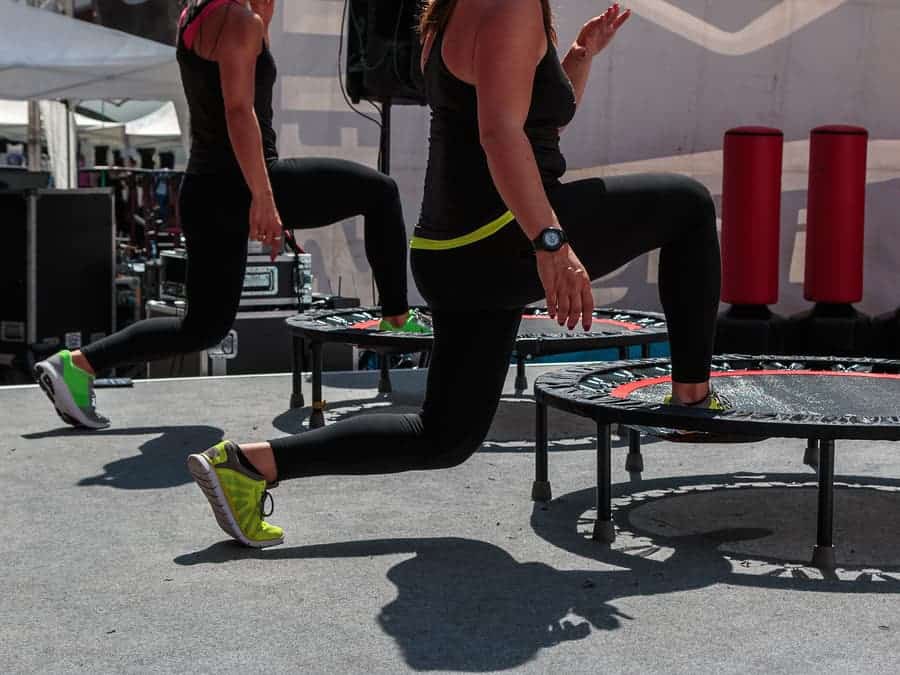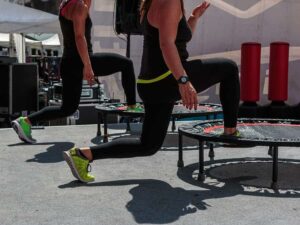 Once you get more skilled at rebounding, you can jump higher or flex your feet as you jump to help you work different muscles. Then, you can add moves like:
jumping jacks
core rotations (twisting your arms and legs in opposite directions with every jump)
high knee raises
ab rocks (rocking gently backward and forward in the sit-up position)
side leg kicks (kicking one leg out to the side with every jump)
back leg kicks (kicking one leg backward with every jump)
ski jumps (jumping side to side with feet together)
When you become a more advanced rebounder, you can add weights to your routine, which will help to increase the intensity of your workout. Simply jumping while holding hand weights will boost your cardio benefits - but you can also try strength training moves like bicep curls or arm raises.
No matter how you choose to use it, remember that to get the best physical and health benefits of using a rebounder, you'll need to use it consistently. The more you bounce, the more you'll build your muscles and strengthen your heart – and with every jump, you'll be boosting your immune system and improving your body's ability to detox. Talk about taking great leaps to improve your health!
READ NEXT: Health Benefits of Red Light Therapy: Legit or Hype?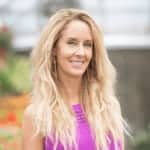 Robyn Openshaw, MSW, is the bestselling author of The Green Smoothies Diet, 12 Steps to Whole Foods, and 2017's #1 Amazon Bestseller and USA Today Bestseller, Vibe. Learn more about how to make the journey painless, from the nutrient-scarce Standard American Diet, to a whole-foods diet, in her free video masterclass 12 Steps to Whole Foods.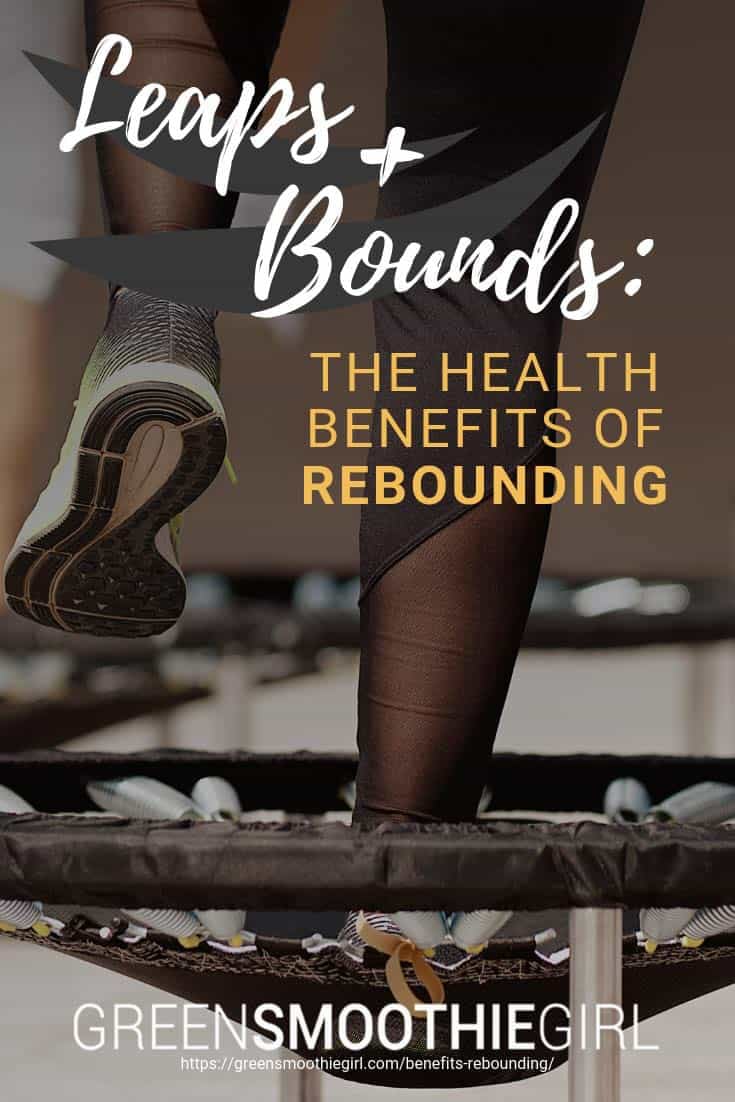 Sources
(1)(2)Bartlett Edin, Joan & Gerberich, Susan & Leon, Arthur & McNally, Carl & Serfass, Robert & Shaw, Gene & Moy, James & Casal, David. (1990). Analysis of the Training Effects of Minitrampoline Rebounding on Physical Fitness, Body Composition, and Blood Lipids. Journal of Cardiopulmonary Rehabilitation and Prevention.
(3) Cugisi, L. "Exercise Intensity and EnergyExpenditure During a Mini-Trampoline Exercise Intensity and Energy ExertionDuring a Minitrampoline Session in Overweight Women." Science & Sports Volume 32, Issue 1 , February 2017 , Pages e23-e28
(4) Ross J.A. (2017) Aerobic Dance and Cheerleading. In: Werd M., Knight E., Langer P. (eds) Athletic Footwear and Orthoses in Sports Medicine. Springer, Cham
(6) de Oliveira MR, da Silva RA, Dascal JB, Teixeira DC."Effect of different types of exercise on postural balance in elderly women: a randomized controlled trial." Arch Gerontol Geriatr. 2014 Nov-Dec;59(3):506-14.
(7) Kirstin Lane, 1 Dan Worsley2 and Don McKenzie1,3 "Exercise and the Lymphatic System Implications for Breast-Cancer Survivors" Sports Med 2005; 35 (6): 461-471
(8)Scrivens, Dave "Rebounding: Good for the Lymph System" Well Being Journal, Vol. 17, No. 3.
(9) Nehlsen-Cannarella SL , et al "The effects of moderate exercise training on immune response." Medicine and Science in Sports and Exercise [01 Jan 1991, 23(1):64-70]
(10)Zolaktaf V, Ghasemi GA, Sadeghi M. Effects of exercise rehab on male asthmatic patients: aerobic verses rebound training. Int J Prev Med. 2013;4(Suppl 1):S126-32.
(11) Nuhu, JM. "Influence of a mini-trampoline rebound exercise program on insulin resistance, lipid profile and central obesity in individuals with type 2 diabetes." The Journal of Sports Medicine and Physical Fitness [01 Mar 2017, 58(4):503-509]
(12) Smith, JF, et al. "Exercise intensity increased by addition of handheld weights to rebounding exercise." J Cardiopulm Rehabil. 1995 Jan-Feb;15(1):34-8.
Disclosure: This post may contain affiliate links that help support the GSG mission without costing you extra. I recommend only companies and products that I use myself.
Posted in: Exercise