Vegan "Sausage" Goulash
This healthy and completely plant-based Vegan Sausage recipe will wow your meat-eating friends with its delicious savoriness. And it's so easy!
To make it with me, check out my video below.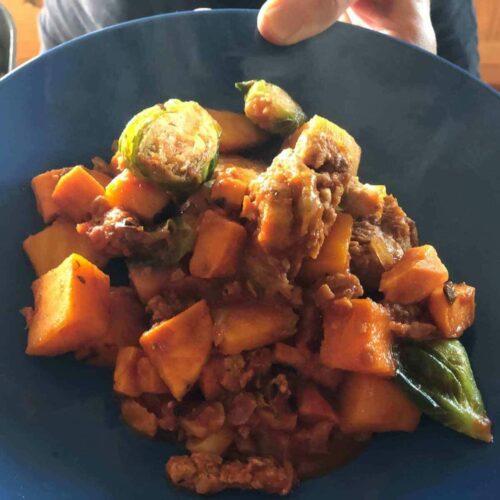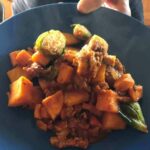 Vegan "Sausage" Goulash
Wow your meat-eating friends with this tasty goulash!
2

tbsp

olive oil

extra virgin

3-4

garlic cloves

chopped

2

cups

butternut squash

cubed

2

cups

Brussels sprouts

chopped

3

cups

sweet potatoes

cubed

1

package

Beyond Sausage

chopped

2

cans

marinara sauce
Saute the garlic in the oil in a large frying pan or skillet on medium heat

Add butternut squash, Brussels sprouts, and sweet potatoes to the pan. Stir to cover vegetables in the oil. Cover with a lid and stir intermittently for 5-6 minutes or until vegetables are tender.

Stir in Beyond Sausage and marinara sauce. Cover for 5 more minutes or until Beyond Sausage is cooked.
This savory recipe is simple and easy to make! If you or your loved ones want to go meat-free without sacrificing the taste you're used to, this Vegan Sausage recipe is perfect for you.
Related Recipe: Roasted Root Veggies
Related Vibe Podcast Episode: Ep. 169: How Health Problems A to Z Are Well Served By A Plant-Based Diet with Dr. Neal Barnard
Tags: beyond sausage recipes, brussels sprouts, butternut squash, garlic, sweet potatoes, vegan recipes
Categories: Main Dishes