My Famous Split Pea Soup | GreenSmoothieGirl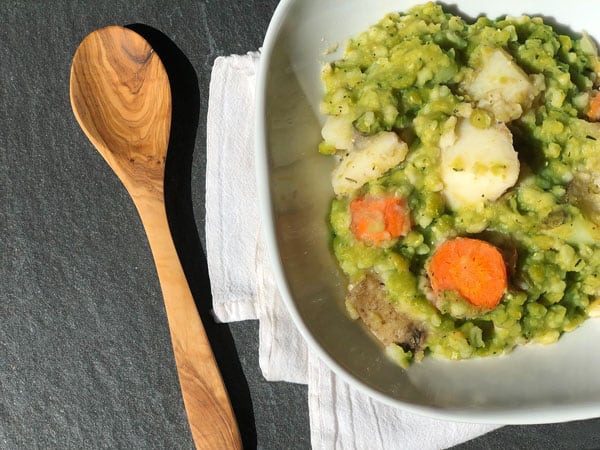 My Famous Split Pea Soup is warm, filling, and a soulful addition to any autumn meal (or any other time!). It combines a variety of spices and veggies with healthy brown rice, and is a hit at any dinner table. Make it for yourself, family, and friends to warm their hearts and bellies with this tasty soup.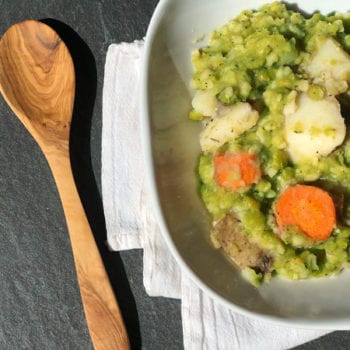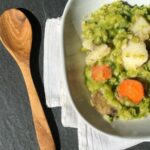 Split Pea Soup
My famous split pea soup! Even people who think they don't like split peas, love this soup. It's chock full of healthy whole plant foods including onions, carrots, potatoes, and more.
1 1/2

tsp

extra virgin olive oil

1

yellow onion, chopped

1 1/2

cloves

minced garlic

1

cup

dried split peas, rinsed

1/2

cup

brown rice, rinsed

7

cups

water

2

carrots, chopped

1 1/2

potatoes, diced

1

bay leaf

2

tbsp

dried basil

1 1/2

tsp

dried thyme

1/3

tsp

freshly ground black pepper

1

tbsp

sea salt
In a large pot over medium-high heat, sauté the onion and garlic in the oil until the onions are translucent.

Add the peas, rice, bay leaves, salt, and water. Bring to a boil and reduce heat to low. Simmer for 20 min., stirring occasionally.

Add the carrots, potatoes, basil, thyme, and pepper. Simmer for 30 min. until the vegetables are tender. Enjoy now or up to 1 week stored in the fridge.
Is there anything more comforting than a bowl of homemade soup? I've always found that this super simple and easy dish always creates an almost nostalgic feeling whenever I eat it.
My Famous Split Pea Soup warms you up with its delicious savory flavor. It's a great autumn meal, but I love it in the springtime too. The colors create such a great reflection of the variety of hues blooming to life outdoors. However, sometimes spring weather is finicky! You're ready to bask in the warm sunshine, but a sudden rain squall or snap freeze can turn your bones to ice. I'm always a bit disgruntled when that happens, but my delicious Split Pea Soup cheers me right up!
One of my favorite things about this soup is how nutritious it is! Did you know that split peas (and all other legumes!) help lower cholesterol and the risk of prediabetes? They also possess some anti-inflammatory effects. Potatoes contain enough potassium, fiber, and vitamin C to make them heart-healthy! Another heart-healthy ingredient in this dish is brown rice. Brown rice is packed full of healthy minerals, vitamins, and other favorable compounds. And of course you have the spices! The spices in the Split Pea Soup create the pizzazz and flavor. You can't go wrong with a classic combination of basil, thyme, freshly ground pepper, and sea salt!
[Related Recipe: Simply Elegant Raw Indian Carrot Coconut Soup]
Tags: basil, brown rice, garlic, gluten free, onion, potato, soup, split pea, split pea soup, sugar free, vegan, vegetarian
Categories: Lunches, Main Dishes, Soups