Sautéed Garlic Spinach | GreenSmoothieGirl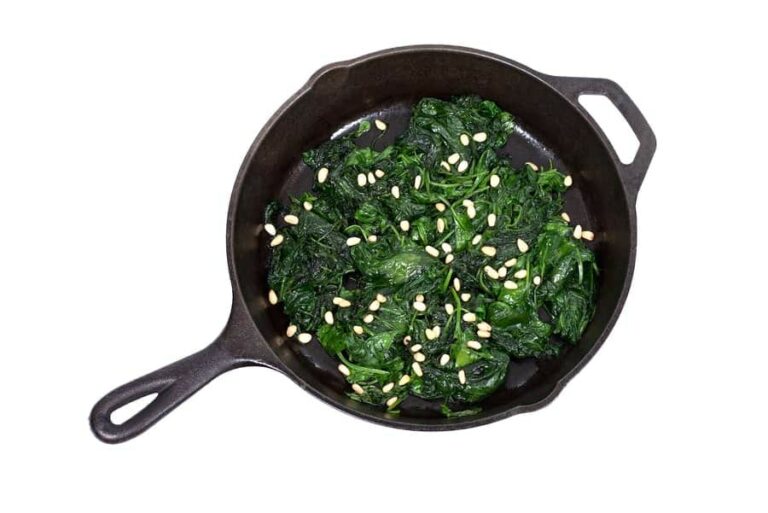 This healthy Sautéed Garlic Spinach is GreenSmoothieGirl Robyn Openshaw's favorite way to each spinach. As it's a vegan dish, this recipe uses olive oil and pine nuts for a warm flavor profile. Because of the basic ingredients, it's healthful, delicious, and satisfying!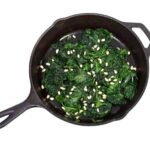 Sautéed Garlic Spinach
This is Robyn's favorite way to eat spinach.
2




lbs.




spinach leaves, coarsely chopped




(80% of Costco bag)

3




Tbsp.




extra virgin olive oil

10+




garlic cloves, coarsely chopped




(or you an use whole garlic cloves)

1/2




tsp.




sea salt

1




tsp.




freshly ground black pepper

1/2




C




pine nuts, toasted under broiler




(optional)

Parmesan cheese




(optional)

lemon wedges




(optional)
Sauté the garlic in olive oil for about 1 min. until garlic is clear.

Add the spinach and seasonings and sauté for 1-2 min. or until spinach is wilted.

Optionally, toss in pine nuts and sprinkle with Parmesan cheese.

Serve immediately with lemon wedges.
Spinach is the one of the ultimate "super foods." This means it's brimming with nutrients and is especially profitable for strength and health. According to a study done in Spain, pine nuts can reduce the risk of heart disease, and we all know that extra virgin olive oil is a great source of antioxidants and healthy fats. The lemons' high level of acidity mixed with the slightly lower acid from the spinach creates a fun savory taste.
This delectable recipe is more than just a side dish. A serving of Sautéed Garlic Spinach is bursting with warm, savory flavors! Only a couple of ingredients work together to create this easy but delicious dish. If you're running late and have no time to create an elaborate dinner, this recipe is a lifesaver! This simple and delicious recipe takes under ten minutes to make, but still has great nutritional value! The brilliance of this dish is in the simplicity of it.
[Related Recipe: Cheesy Kale/Collard Crisps]
[Related Podcast Episode: Ep. 140: Who's Really Telling the Truth About Nutrition? with Joel Kahn, M.D.]
Tags: garlic, olive oil, pine nuts, spinach, vegan
Categories: Sides