Tart Berry Blast Green Smoothie

This may be called the Tart Berry Blast Green Smoothie, but the cranberry juice and pomegranate in this smoothie lay the base for a vibrant red hue. You can intensify that by adding raspberries and strawberries to make "blood" for your little vampire! Or, you can go with blueberries for a more purple shade to serve as "brains" for your little zombie. For even more fun, make an extra batch to freeze in fun-shaped ice cubes molds (like eyeballs or hearts). Add them to the smoothie before serving, and watch your kids squeal with delight.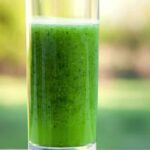 Tart Berry Blast
This smoothie is a delicious and fun drink to play with, especially around Halloween!
½




cup




cranberry juice

½




cup




ice

5




large leaves kale

2




cups




frozen mixed berries

1




orange




peeled

1




apple




cored

¼




cup




pomegranate seeds

2




tbs




sprouted ground flax (or TriOmega)
In high-speed blender, blend juice, ice and greens for 30 seconds. Add remaining ingredients and blend until smooth.
The Tart Berry Blast Green Smoothie has so many health benefits as well. Drinking a good dose of cranberry juice at the first signs of an infection can reduce symptoms. It can even bring the body back into balance in a short period of time. This is due, in part, to the tannin, or proanthocyanidin, that is found within cranberries and has the ability to reduce the colonization of E. coli. Add this to the benefits of getting all those leafy greens in; your kids (and you) will be both happy and healthy. Put in TriOmega to round it all out!
[Related Recipe: Kid's Power Bars]
[Related Post: 10 Easy Green Smoothie Recipes Kids Of All Ages Will Love]
[Related Post: Natural Treatments for Urinary Tract Infections (UTIs)]
Tags: berries, cranberry, kale, pomegranate, smoothie, vegan
Categories: Smoothies
No comments found, but you can be our first!