Hot Pink Breakfast Smoothie | GreenSmoothieGirl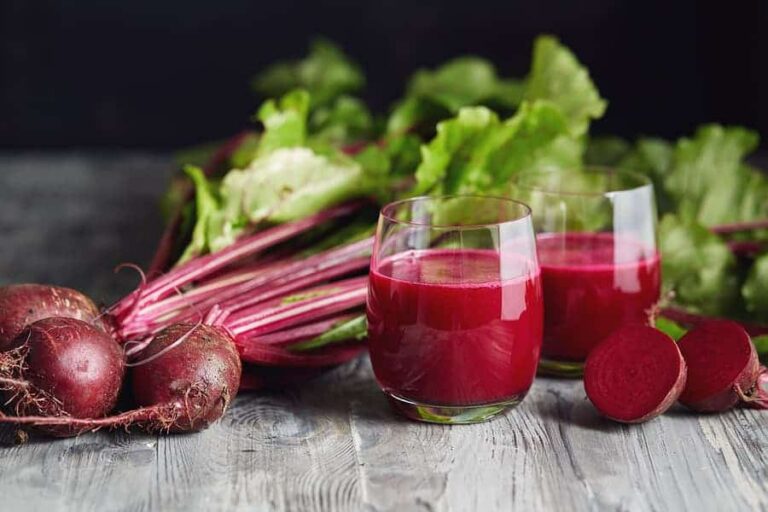 Ah, the Hot Pink Breakfast Smoothie… it's my most requested recipe, and it's not even green!
Yes, my favorite breakfast (which I've had several times a week for over 15 years), has raw carrots and beets in it — and you won't believe it because it's pure deliciousness. Every one of my four kiddos loves it!
My Hot Pink Breakfast Smoothie is loaded with root vegetables. Don't forget about those ROOT vegetables that have such great carotenoid antioxidants with many health benefits in your diet. A fun side effect is that they give you a slight wintertime "tan" if you eat enough of them! (Juice them. Or put a whole carrot and a chunk of a raw peeled beet in this, my favorite breakfast.)
And, coconut water has the perfect electrolyte balance for an athlete.
I've evolved this recipe to also cover probiotic needs, because I use water kefir grains to "ferment" the coconut water. You can buy it canned with no additives, and some brands are even organic. I get canned coconut water at Costco or the health food store (where they sometimes have case sales). Every day, I strain the coconut water "kefir" into my blender. And then I add another can to the jar of water kefir grains. (You can buy grains online or at many health food stores.)
Fermenting your coconut water is a very easy habit you can start to improve your digestive health and your immune function. I do not like "water kefir" because of the sugar. It is said that the sugar is "consumed" by the living organisms in the grains, but obviously this isn't true. Because, it tastes so sweet.
If you want, I'll send you even more recipes to keep exploring the delicious side of healthy, clean living (there's plenty more where this came from!)
Be sure to check out my Hot Pink Smoothie how-to video below!

Hot Pink Breakfast Smoothie
A probiotic breakfast smoothie that is as healthy as it is beautiful.
1 1/2

cup

coconut water

Optional: "ferment" it overnight on the counter with water kefir grains, strain, and replace with new coconut water for following morning

1/4

cup

raw unsalted cashews

2-4

large dates

pitted

1

whole

large carrot

cut in chunks

1

golf ball sized

raw beet

peeled

1-2

tsp

organic vanilla (optional)

12

whole

large strawberries (about 10 ounces, approximately 1 pint, 24 medium or 36 small strawberries)

or 12 ounces frozen blueberries
Blend all ingredients aside from berries in high-powered blender until smooth

Add berries, complete blending until smooth and enjoy

[Related Recipe: Chocolate Beet Cake and Frosting]
[Related Post: How to use Water Kefir Grains to Heal Your Gut]
Tags: beet, cashew, featured, gluten free, raw, sugar free, vegan
Categories: Breakfasts, Smoothies