Chocolate Pumpkin High-Protein Biscotti Recipe (Vegan or Bone Broth)
This crispy, chocolatey, delicious biscotti recipe is high in protein and a healthier treat you can enjoy along with a cup of Lifeboost Coffee (my favorite, healthiest, cleanest coffee to drink), or with another warm beverage. Dunk it in your cup and savor every bite!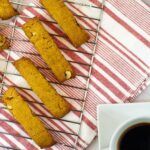 Chocolate Pumpkin High-Protein Biscotti Recipe (Vegan or Bone Broth)
1/2

cup

coconut oil

melted

1/2

cup

organic coconut sugar

1/2

cup

GreenSmoothieGirl Bone Broth Protein Chocolate Shake or GreenSmoothieGirl Superfood Protein Meal Chocolate

1/2

cup

pumpkin puree

1

tsp

vanilla extract

3/4

cup

gluten-free flour

1/2

cup

fine cornmeal

1 1/2

tsp

baking powder

1/4

tsp

Himalayan salt

1

tsp

orange zest

1/2

cup

slivered almonds
Combine coconut oil with organic coconut sugar in a large mixing bowl and whisk thoroughly to combine.

Add pumpkin puree and vanilla extract and whisk until completely combined.

Next add flour, cornmeal, chocolate protein powder, baking powder, salt, and orange zest. Stir until combined, but don't over-mix.

Add almonds and stir gently to evenly disperse.

Use a knife or spatula to divide the dough into two even sections (amount as original recipe is written // adjust if altering batch size). Then using damp hands, form the two portions into long, semi-skinny logs. Try and make them as uniform in size and shape as possible so they bake evenly.

Bake the loaves for 25-30 minutes, or until just slightly brown on the edges. Let them cool slightly on the baking sheet, then use a serrated knife (or pizza cutter) to gently slice into 3/4-inch pieces. Be very gentle when slicing, especially where the almonds are, as they can crumble easily.

Gently turn the biscotti on their sides and return to the oven to bake for another 20 minutes, gently flipping once at the halfway point (10 minutes), to ensure even baking.

Let cool briefly before enjoying.

Place on a parchment-lined baking sheet to dry until set, or put them in the freezer to set more quickly.

Store covered at room temperature for 3-4 days. Will keep well-sealed in the freezer for up to 1 month.
Biscotti is a classic Italian cookie perfect for dunking in coffee or other warm beverages. These twice-baked creations are crispy on the outside, with a wonderful touch of softness in the center.
Use the cleanest, healthiest, grass-fed GreenSmoothieGirl Bone Broth Protein in the Chocolate Shake flavor in your biscotti — it's delicious!
Are Biscotti Healthy?
In general, most biscotti recipes are made with less butter and sugar than most cookies. And this particular Chocolate Pumpkin High-Protein Biscotti recipe is made with healthy coconut oil.
Plus, it uses my favorite sweetener for baking, low-glycemic coconut sugar, which is rich in minerals and can be grown sustainably.
Not to mention, the addition of protein powder lowers the impact on your blood sugar, and makes these cookies more filling. And almonds are a healthy addition — for your heart, giving you energy, and more.
So, this recipe is a healthier treat, for sure!
How To Enjoy Biscotti
You could melt some dark chocolate and dip the finished biscotti in it, and let it cool and set before serving for a more indulgent treat.
Try these tasty biscotti cookies along with one of these 9 Bone Broth Beverages.
And, to make this a vegan biscotti recipe, be sure to use chocolate vegan protein powder, like the GreenSmoothieGirl Superfood Protein Meal in Chocolate.
These cookies stay fresh longer than other cookies, and they shouldn't break as easily.
I hope you enjoy this recipe!
—
Recipe adapted from Minimalist Baker
Tags: biscotti, chocolate, pumpkin
Categories: Desserts, Healthy Snacks