Ep.65: Be a Better Lover with Susan Bratton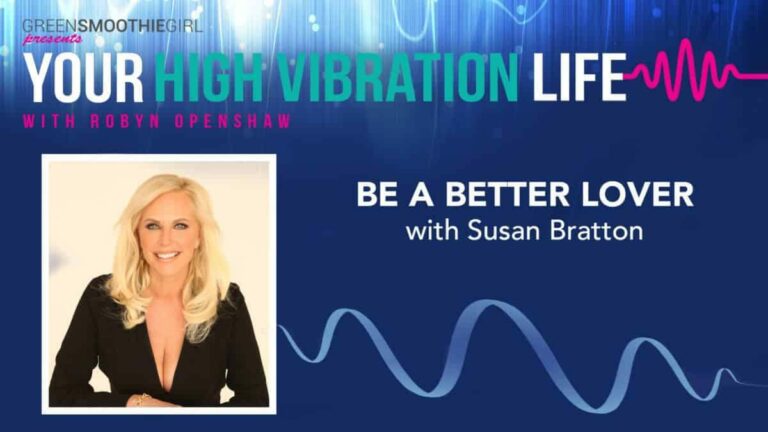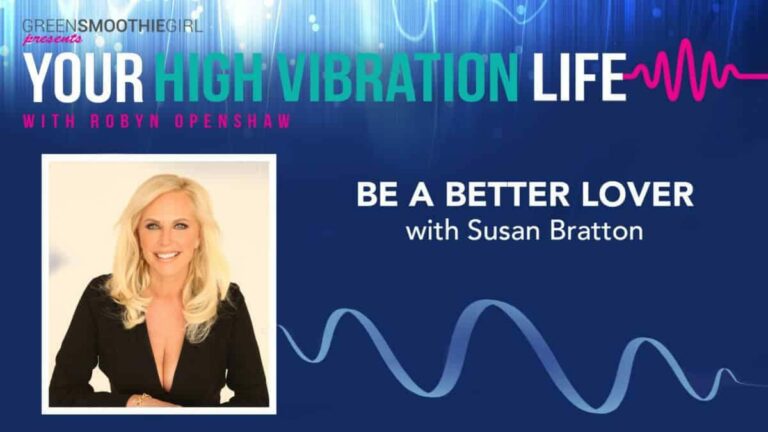 Podcast: Play in new window
Today, we have a really fun topic. Part of living a high vibration life includes, cultivating meaningful relationships. I've brought my friend Susan Bratton on the show, a trusted, hot sex advisor to millions.  Susan Bratton is a champion and advocate for all who desire passionate relationships. Considered the "Dear Abby of Hot Sex" to fans around the world, Susan's fresh approach and original sex techniques and communication skills help millions of people—of all ages and across the gender spectrum—transform sex into passion. She's written over 20 books and programs including, Sexual Soulmates, Relationship Magic, The Passion Patch, 30 Romance Tricks That Work Like Magic and Revive Her Drive.
Susan's straight-talking lovemaking advice is rooted in her personal experience of watching her marital intimacy wither as she and her husband pursued dynamic careers. When her relationship hit a crisis point, Susan made a fierce commitment to do whatever it took to keep her family together and revive the passion in her marriage.
Warning: This episode is explicit, not suitable for children.
LINKS AND RESOURCES:
Get your Sexual Soulmate Pact!
TRANSCRIPTION:
---
Robyn:                    Hey everyone, it's Robyn Obenshaw and welcome back to Your High Vibration Life. And, I have been living through the cold here in Utah. Always have to gut it out in the winter. There's not much snow here. Always have to do a little bit more to live a high vibration life in the winter when you live in a cold climate like I do.
And today, we have a really fun topic. You know that my former career is as a psychotherapist including, specialized in sex therapy. And so, I've brought my friend Susan Bratten on the show. She is a trusted, hot sex advisor to millions. She's the number one international best selling author of Sexual Soulmates.
And, she's created and published over 20 books and sex ed programs including, Relationship Magic. Revive Her Drive, Expand Her Orgasm Tonight. We're going to have some really interesting conversations today, about something that we don't talk about all that often. Earlier on, I did two episodes on sex early, in our first year. One of them was on sexual energetics. And, one of them was on Tantra.
And so, welcome to the show Susan.
Susan:                      Hi Robyn.
Robyn:                    So, tell me how you got started. How did you become trusted sex advisor to millions? How's that happen?
Susan:                      Well, my husband and I were married. We've been married now, 26 years but, we were married for a little over a decade and, our sexual relating had really just fallen off a cliff. Between having our daughter and two very busy careers. We looked from the outside, like the most successful, happy couple in the world but, inside the confines of our marriage it was nearly sexless and, we were very emotionally disconnected and kind of, living what I would consider to be more like a parallel lives shared in the same home that were just platonic. We had become friends.
My husband was extremely frustrated with me. I mean, he would beg me for sex. He would try to bargain. He would try to do chores. He would try to figure out what to do to motivate me to want to have sex with him.
And, I just wasn't feeling it. And, we decided like any bright, young, 30 something's, 40 something's I guess, we were by then that we would try to figure this out. We would try to revive our sex drive. My sex drive. We would try to turn our relationship back on again. Rekindle our sex life.
And so, we did all kinds of work. Of course, we read hundreds of books from Amazon and, we went to Tony Robbin's events and walked on fire and did Date with Destiny. We took Tantric lovemaking classes. We learned about orgasmic meditation. We would really just went to school on sex. And said, "What is it that we are doing wrong and how can we turn it around?" Because, I said to my husband. "You know, I could replace you but, I could never do better. You're a great guy. I feel like I'm a great woman. We're a good match. We just have this one thing in our marriage that isn't good. And, let's try to figure out how to get it back."
And, that was a big ask for me because, I had kind of, checked out of my sexuality. And so, that set us on the path of rekindling our relationship. Getting back together. Our sex got really hot. And it got so good that we said. "Why are all our friends getting divorced?" 99% of them because, of their lack of intimate connection. And, how can we help other people have this renaissance in their relationship that we've had just because, we went out and learned some things.
So, we started a company together. We'd always been … I always joke that Tim and I … My husband's name is Tim. I always joked that Tim and I … It's not Al Gore that started the Internet, it was us. And it wasn't us, alone. It was us and thousands and thousands of other people but, we were original dot comers, inventing the Internet. I mean, he and I both invented primary pieces of the Internet.
And so, we knew that it was really just a matter of education and teaching people what we like to call the little hinges that swing big doors. Little easy things that have a profound shift in getting you the connection and intimacy that you crave, that you dreamed of when you were a little kid. That you wanted in your relationship that somehow, for so many people, becomes elusive. And we started a company teaching hot sex techniques and bedroom communication skills.
And over a decade later, we've got hundreds and thousands of customers, many different programs and, I'd say every single day without fail, I get at least one email thanking me from someone who says that their life has been permanently made better by the work that we do.
So, it's extremely rewarding to be that person as well.
Robyn:                    Yeah, it's funny that you say that Al Gore needs to move out of the way and give you and Tim a little bit of credit. Cause, I don't say that I helped invent the Internet. I probably came along a little bit later but, you can be like the great, great Grandma. I always say, "I'm a great Grandma on the Internet" because, if you've been blogging for more than 10 years you know, there wasn't a word blogging much earlier than that.
And so, life on the Internet can change so very rapidly and, your career lit up as a result of being out there on the Inter webs. You had the audacity or the vision to realize that's how people want to learn this information. Partly, kind of, from the privacy of their own home.
Now, when I was … I worked with sexual abuse perpetrators in the prison. I worked with victims on the children's unit of the state hospital. I worked with couples and families. When we were going to talk about sex, I'd always warn people. "When we're talking about sex, we're not just talking about sex." If sex is wrong in the relationship, we're going to have to go a little bit deeper than that. Would you agree with that, or do you think that it's always about sex?
Susan:                      Yes. As a matter of fact, in my program Revive Her Drive, which is for mostly for married guys, or guys that have been in long-term relationships and their wife or girlfriend doesn't want to have as frequent sex as they do. I'd say to them. "The number one thing that you need to do is, stop asking for sex. And start romancing her again because, she needs to feel romanced."
But the second thing you need to do is, go through a process I call Relationship Magic, which is basically this little workbook. I've sold a quarter of a million of them, at least. It's like a $10 downloadable workbook that, teaches you how to understand what your top four relationship needs are. What you value and need most in a relationship and, what your partner does.
Because, what I find with men who come to me and ask me about this is that, for the most part she stopped having sex with you for two reasons. And, one of them is, you're not meeting her other relationship needs. So, before we deal with why she stopped having sex with you, which I hate to break it to you is probably because you're boring in bed. It's terrible to say that, but women need a lot of variety. We're estrogen driven. Where testosterone needs frequency, estrogen needs satisfaction.
And our guys, the only sex education is they get is, making stuff up themselves or, watching porn. And porn is the worst thing you can do to learn about sex. It's degrading to women. It's not the way we wanna be made love too. Like, sure everyone once in a while we want to act like a sexy porn star and dress up in our little stripper shoes and prance around the bedroom and be objectified by our partner. That's not bad. That's just not the steady diet of kind of, sex and emotional connection and bonding that women are looking for.
And so, it is really clearing the way by understanding where her needs are not getting met and, where your needs are not getting met at the fundamental level of your relationship. And then, you layer on, okay here's how you romance her. Reawaken her sensuality. Help give her the kinds of, orgasmic satisfaction that she requires. To actually want to be with you because, there's this thing called the Orgasm Gap, which is that, 90%, 95 even close to 100% of the time when a man has intercourse with a woman it is sexually satisfying for him. But when a woman has intercourse with a man, maybe half the time, some women can achieve satisfaction, have an orgasmic climax.
And so, because intercourse is considered like, the be all and end all of sex. It's easy for men, they want it over and over because, it always feels good. But, for women it doesn't. It's a lot of work for us to have that as the thing that guys want to do all the time.
And so, you know, just a lot of education that goes into it but generally, men want to please their woman. They want to do a good job they just don't know what to do. Because, we are inscrutable creatures to them.
Robyn:                    We are so complicated and we have a real struggle even explaining ourselves to men.
Susan:                      Yes. That's why this Relationship Magic workbook gives you a way to write the four things you need most so you can literally, I think my headline for the book for guys is, "The Checklist that Keeps Momma Happy". Guys, if you give them four things, they can do it. You know?
Robyn:                    You know, I read your Relationship Magic book, it was great. And, it's hard for me to imagine you and Tim in this sex drought because, the two of you … There's a lot of touch.
Susan:                      Yes.
Robyn:                    There's a lot of eye contact. There's a lot of expression of affection and I think, most people probably, are familiar with the love languages.
Do you and Tim share your love languages or the types that you're talking about in Relationship Magic or, do you just learn to meet each other where you wanted to be met?
Susan:                      No. So, the love languages to me, I want all five. There's no … I just want them all. So, I don't like that whole like, what's your love language? My love language is all five and any others you can think of, I like everything.
But, the relationship values piece of it was really a break through for Tim and I where, I did not understand … Like, he was always touching me. And I was like, "Why are you always gloaming onto me?" Like, "Why are you always handling me?" And we realized that's because that's what he wants. He wants to be touched affectionately, all the time. He wants me to sit on his lap. He wants me to stroke his hair. He wants me to kiss him on the lips. He wants me to grab his butt when he walks by. This makes him feel good. It's his number one relationship value. It's not just about, "I need regular sex." It's actually, "I need regular touch."
Where for me, I don't need so much. I'll come to him when I want it but, I don't need it like he does. And so, it's funny too because, I was talking my friends Mike and Rose and they do this weekly lover's summit on Sunday afternoons where they have this little checklist of things they go through. It's their second marriage and they don't want to screw it up. They go through things and each of them has one thing they work on. And, they're always working on one thing to make their partner happier. And, right now what Mike's working on is not looking at his phone when Rose is around. But, giving her attention because that's what women … They want that the most. It was just so funny that they were like the classic example of what men and women want out of their relationships.
And, what Rose is working on is, touching Mike every single day and giving him affection and, making sure that she consciously focuses on giving him affection. That's what I used to have to do but now, it's become second nature. Once, I learned that it was my husband's number one relationship value. I just started reminding myself to do it every day. Just like Rose is doing right now. It's quite interesting.
Robyn:                    It is interesting and, it doesn't seem like it should be hard to do. Once we realize that if they're giving us lots of it, it's because they're wanting it. They're wanting us to give them whatever that love language is. And, we shouldn't talk about love languages because, I know that you feel like, that we need to crack the code a little deeper than that.
It's funny …
Susan:                      It's fine. We're all good. It's all good.
Robyn:                    Yeah. You're adding something to the conversation as well as, so is Gary Chapman, I think is his name.
No, I just came back from a trip with my kids to Las Vegas. We went to a concert and we did some outlet mall shopping over the holidays and, I was listening to Esther Perel's book, "Mating in Captivity."
Susan:                      Yeah.
Robyn:                    In the car, not in front of the kids. Do not listen to this in front of the kids. But, it's actually not that bad and, one of my kids in the car was an adult but, she kinda, the whole premise of the book is that love and security and long-term relationships are almost, at odds with, passion and eroticism. And, I would imagine that a lot of women, men too, can relate to that.
Do you think that those two are mutually exclusive, Susan?
Susan:                      No. I think that's wrong. I don't agree with it. What I think happens is that, we start out with very little sexual knowledge, and we don't add anymore to it. And, we expect the tiny little few, fraction of the things that we understand about sexuality to carry us through one of the most important aspects of our whole life.
So, what I think is that, though I'm a vanguard. I'm an early pioneer in teaching sexy, sex ed. That's essentially what I do. I think that, there are more and more people coming to the fore now, who are out there teaching love making techniques. Pleasuring skills. Bedroom communication skills. Speaking of Esther Perel, it's funny because, she spoke at Dave Asprey's Bulletproof conference and, what she said was that … Her newest book is Infidelity and what she said was that … because, she's a psychologist. So, people come to her to get fixed. I'm not a psychologist. I'm not a therapist. What I am is, I teach hot sex skills. I teach you how to talk about sex and, I teach you how to do it.
Not me one-on-one of course, through my programs and the videos we've produced and the books we create and things like that. And what Esther said was that, by the time a couple ends up in her office. Like, on the therapist couch, is cause they have a problem and that, there are two main problems that couples have. One of them is, that they fight. They can't stop fighting. They're arguing. And the other problem is that, they've cheated and now, they want to try and repair their marriage.
And, it's quite interesting because, what Esther said was that, the people who fight is a very, very small minority. That the bulk of the people who seek her help, and of course, it's Esther Perel so, they seek her help about things like, cheating and infidelity and sexual issues. But, that's what it is. There's no conversation in the bedroom for people to understand what it is they want, or what it is they need. Or, how to ask for it. Or how to take it to the next level or surrender to each other's pleasure or whatever it might be. To let your partner know that you're totally bored with the way their making love with you and that's why you don't want to have sex with them anymore. You know, like, whatever it is. That honesty of communication and the ability to know what else there is that's available for you.
Lot of people don't ask for what they want because, they don't know what they want because, they don't even know what's available to them.
And so, this tiny little amount of knowledge to take you so far into such an important part of your world is, where I think there's a disconnect in marital relations.
Robyn:                    Well, you and Tim are definitely showing the way and an inspiration because, you have a child in her early 20's and you are still kicking it.
So, tell us a little about … You were talking about an orgasm gap and I know that, more than 60% of women either don't regularly don't have orgasms and a small but significant minority have never had an orgasm in their committed relationship.
So, talk a little bit about that. Cause one thing I like about your work is that, you also talk about the health issues. When I was selling my book, Vibe to publishers. I was pitching them on two different books and they didn't want the other one, which was The Amazing Sex Diet. And, my publisher and my agent said. "Well, actually women don't really … Their interest in sex is generally, lower in men." Which I think this is true when I was doing therapy 25 years ago.
But, I'll tell you what. I hear more and more and more of the opposite of that.
Susan:                      It's changing.
Robyn:                    I hear of women who want to have sex and their husband's testosterone is so low and I think, has a lot to do with our diet.
Susan:                      I agree.
Robyn:                    Talk about the orgasm gap and/or talk a little bit about some of the health issues that lead to some of these sexual issues that you help couples with.
Susan:                      Yeah. The biggest issues for … So, those are two very different questions. So, I'll take the orgasm gap first. The orgasm gap, how to close the orgasm gap and that is, essentially, understanding your anatomy and getting the proper stimulation to your genitals, to your breasts, to your lips. Also, feeling emotionally connected. Feeling safe and secure. Feeling that you're not going to get an STD or your not going to have an unwanted pregnancy. Feeling congruent with your lover. Not having any withholds or upsets that are preventing you from surrendering to your pleasure. All of those kinds of things are pretty fundamental things that, they're obstacles that need to be managed if they are in the way.
And then there's, the whole piece of it, which is just really understanding how to stay with enough feel and experience and get enough of the right stimulation that you can experience an orgasm. And, a big part of it is that, women have as much erectile tissue up inside our bodies as men do in their penis's. And most, of us, men and women included, everyone across the gender spectrum think the clitoris is that little, tiny nub that sticks out of our genitals. And for some women it doesn't even stick out at all. It's actually pretty covered by the clitoral hood and it's kind of, up, deep inside their tissue.
And, there's the clitoris is actually, it looks like a starfish. It has a little head. A little shaft like a penis and that, it has little arms called crura, and little legs called vestibular bulbs. And, the vestibular bulbs come down on each side of the opening of your vagina and, the little crura, they come down kind of, along your vaginal canal. They kind of, go along beside your G area. And your G spot of course, is up inside your vaginal wall, in your canal and the roof of your cave and that's also, erectile tissue. And then, there's another little sponge on the floor of your vaginal canal called your perineal sponge. That's erectile tissue. The lips of your opening of your vagina, not just the labia minora and majora. But the actual, opening of your vagina that is a sphincter. That's called your introitus, that's erectile tissue.
And so, and then you have erectile tissue in your breasts. In your nipples. In your neck. In your throat. In your lips. In your tongue. And so, you have all this erectile tissue, and if you are only touching the tip of your clitoris or your partner is only touching the tip of clitoris, or maybe not even doing that, not even giving you that stimulation. How the heck could you possibly have an orgasm?
So, that's a big piece of it. It's just actually, getting your lover to spend enough time where you feel totally relaxed and loved so that you can get that blood flow to the tissue so that, you feel the sensations. So that, you can have the orgasmic contraction.
But then of course, you get into the blocks to it, health wise. And those are, health, partner issues, and what I call abuse and repression. That's kind of, a big bucket of mental and physical issues too.
And so, with health. It's illness, depression, pain from or trauma from childbirth. So many women they have so much damage from childbirth. The nerves get damaged. Their pelvic muscle floor gets damaged. There's just a lot of issues with that. There's scarring. Cesarean section scarring. Fistulas from perineal tears from the baby's head coming out. There's just all these things that happen to our vulva, which is the technical word for your vagina because, the vagina's just the canal. I like to call it and most sexologists and people like us, we call it the vulva because, that's the whole system. That's all the components together.
Medication takes your sex drive down. You can be going through menopause and decide that you need to get bioidentical hormone replacement. You could have lubrication issues, you might try an oxytocin gel in your vagina or some, aloe vera gel. Obviously, using lubrication. There could be some vaginal rejuvenation. You might feel like your vaginal canal is too loose from childbirth and you want to tighten it up with FemiLift laser. You might want to try getting more sensation if you've been a horseback rider your whole life with an O-shot.
You kinda have to look at it like, okay. Of all this list of stuff that Susan just said. Where are my roadblocks? Do I have any physical issues? Do I have a drug that's lowering my libido? Am I just pissed at my partner? You gotta kind of get to the core of it because …
Robyn:                    Those are the health issues.
Susan:                      Yes.
Robyn:                    And, you've run through quite a lot of them. Some of them related to the transitions that we go through and you probably, if we kept going, would touch on menopause as well. But, the things that we go through in pregnancy and childbirth and recovery afterwards. But, we should just add to that. If you're listening to all those potential roadblocks and then, we should talk a minute about partner issues.
But, let's throw in there that, if it's bad for your cardiovascular health, your ability to enjoy your sexual relationship is entirely related to your cardiovascular health. So, if your eating fried foods, and you're eating processed foods, it's absolutely going to have an effect, on your overall energy as well as, even your ability to orgasm.
Susan:                      Agreed Robyn. As a matter of fact, I've been seeing more and more that, there's becoming an awareness that a man's erectile dysfunction, his ability to gain or maintain an erection, is an early warning sign of cardiac stroke, circulatory issues, arterial plaque because, the veins in the penis … When your veins fill up with plaque from eating fried food, processed food, convenience food, junk food, fast food, anything that's not whole food. Then your blood vessels and veins, your circulatory systems fills up with arterial plaque. And if your teeth are not in good shape, if you don't have good dental care. The bacteria add too your plaque and so, everyone's aware that … Or, people are beginning to be aware that, the lack of ability to gain an erection is an early warning sign for men, for arterial sclerosis. But, the same should be said for women.
Just because you can't see the erection as visibly. If you as a woman, get out a mirror and look at yourself before a genital massage and after a genital massage. You can actually see that your clitoris will get erect. You can feel the clitoral shaft between your fingers. You should try that. Try to feel it yourself. Try to massage your own vulva or have your partner do it if you have one. And almost, look at it before and after. Take a selfie of your own vulva before and after you give it a good massage and bring blood into the area. And you will see that you very much, get the same kind of an erection as a man does.
And so, Robyn's exactly right. It's what goes in is the outcome you have, as far as your food.
Robyn:                    Yeah, I love how you've touched on so many different aspects of our sexual health and there's really no difference between our sexual health and our overall health. And, there's really no difference between our sexual health and our emotional health. They bleed into each other.
Susan:                      Yes.
Robyn:                    And, I'm glad we're going to touch on partner issues and on, abuse and repression because, they affect so many women. And I just want to pause for a quick second and say, if your feeling dirty from hearing this conversation, that's a really good clue too. That's a really good thing to look at. Why is that?
Because our sexual health and our sexual relationship are so foundational. In fact, I saw in the notes about your career, Susan. Let's back up for a quick second. You're talking about a study, about the fact that the two leading factors of happiness are quality sleep and quality sex.
Do you want to talk about that for a minute?
Susan:                      Well, more and more you're seeing research that says that what makes a difference in a person's life that creates a truly rewarding and valuable life, is in big part, their connection to themselves and other through their sexuality. And, if you read Doctor Lindsey Berkson's book, Sexy Brain. She cites many studies in that book that talk about frequency of sex, even up to three times a week being the most beneficial.
Like, if you're having sex twice a week and you can get to three times a week, there's apparently this like, massive uptick in trajectory of health. And, if you have the ability, if you're in a safe, fluid bonded monogamous relationship and you have birth control taking care of. For example, I do not recommend the birth control pill. If you're on it, I'd seriously recommend reconsidering it. But, either taking your temperature on a daily basis and measuring your cycle.
Or, using a non-medicated IUD so you don't have to worry about sex and being able to actually have the man's ejaculate go inside you. It has all kinds of, benefits for you. The man and the woman and, believe me. I support everyone across the gender spectrum and, everyone's expression of their gender, fully. I want you to know that no matter how you show up in life and whatever gender you are, either in your life or every day as it evolves. Is good with me. And, we're gonna see more and more of gender fluidity just come to the fore.
But, if you can somehow, if you are a heterosexual woman and you have the ability to have your partner's semen inside you, take it. Because, it's good for you. It lowers your depression. It increases your satisfaction. It increases your cognitive function, your memory. Having orgasms yourself. Increases your circulatory capability. It actually gives you an intensely … Like, high intensity interval training for your circulation system. You get orgasmic pulses of your circulation system that keep you healthier, but it gives you the two good estrogens. It gives you testosterone, which lowers your anxiety as a woman.
You know how guys, even though they don't know and I'm sorry if you're a man listening but, we all know this is how you guys are. You know how guys are like, really confident and really sure. Even when they don't know what they're doing? Where women, if we don't know what we're doing we're like. "Well, I'm not really sure what I'm doing." That's testosterone. It's not even their fault, they're just wired that way.
And so, when you get a little shot of testosterone and his seminal fluid, your vagina that is like a vaginal sponge up in there and it actually, sucks it in and you get a hit of testosterone, which lowers your anxiety. Lowers your depression. Increases your confidence and increases your vitality.
And so, what this is all coming back to really, is what you said Robyn, which is. That your vitality and your sex life are one and the same. If you feel vital, you'll most likely, unless we get to this third thing as well, this sexual abuse, repression and body image, and that's a big one for women. If you feel vital, it's likely that you'll feel sexy.
And so, sex is good for you. The more you have, the better you get. The more you want, the healthier you are. There's so many reasons for trying to remove the road blocks to what's keeping you from having sex so that you can have more sex and be more vital and, have that high vibration frequency.
Robyn:                    Yeah. I'm loving that you talked about why … You can call it vitamin O and you can totally steal this little tip to start talking to your partner about vitamin O. It's great for code around the kids. But, why orgasm is actually good for your health. You covered that really, really well. But you also talked about why, not using a condom is good for your physical health as well. And, we could do this whole entire episode just about the physical health aspects of, a good sex life and more often rather than, less often.
Susan:                      If you look at a bell curve, there are men for whom, ejaculating depletes them, lowers their energy. Makes them depressed, even makes them cry. But, that's maybe one to three percent of men. There are also, one to three percent of men who are just not interested in sex.
But, for most men who … Let's just say, you're listening to this and your a woman and your partner doesn't want to have sex with you and you're like. "I'm the one that wants to have sex. That's why I'm listening Robyn and Susan. Maybe they're going to tell me something that makes my husband have sex with me again." And, I do have a lot of information on my website about how to revive his sex drive.
But, there are certain percentages of people for whom, an orgasm actually, makes them cry or makes them sad but, it's a very small percentage.
Robyn:                    So, we've talked a lot about health ramifications. You also mentioned, partner issues being another big issue for women in their sexual relationships.
Susan:                      Yeah.
Robyn:                    And, I want to talk about that. These are hard one's to talk about. And, they feel insurmountable and they feel hard to talk about.
Let's talk about partner issues and then, we'll talk about your third category of abuse and repression, which gets in the way of so many couples have a good sexual relation.
But, let's talk about partner issues.
Susan:                      If you're not attracted to your partner, you have to look at whether that is a physical issue or, it's an emotional issue where they're not meeting your needs, or both.
If they're not meeting your needs. You need to figure out how to explain to them exactly what you need and to figure out how to help them meet those needs of yours. And if they can't, then maybe they're the wrong partner and that's a decision that you need to make.
The first step is, telling them what to do in a really clear way because, they can't guess what the heck you want. The second thing is, if you're physically not attracted to him or her, if your partner is a woman. What is it about them? Is it a grooming issue? Is it that they need to tone up and get in better shape? How can you support them in becoming someone who is more attractive to you? Instead of giving up on them, working with them.
If it's just, what my husband and I went through, which is we got bored with each other. He didn't get bored with me, I got bored with him. And if, he was sitting right here, I would say that in front of him. I'm not telling you something that he doesn't already know was the experience. And that's because of that orgasm gap where, every time he made love to me, it felt great for him and he had an orgasm. But every time I … I did not have a vaginal orgasm. An orgasm from intercourse until I was 45 years old and I used orgasmic cross-training to finally get myself there. Got a piece on my website about that as well.
The URL for my website is, personallifemedia.com, and almost everything I'm talking about. There's a search box at the top right of it and, you can just go there and search on a keyword, and you'll get 10 articles I've written about it because, I've written thousands of things about everything that I'm talking about here, for over a decade.
Robyn:                    Kay. So, personallifemedia.com. You can search on 'orgasmic cross-training'.
Susan:                      Yes, exactly.
Robyn:                    Okay.
Susan:                      And that'll teach you how to bridge that orgasm gap. I've got all that stuff on there.
Robyn:                    Did you just say that you didn't have an orgasm until you were 45?
Susan:                      From intercourse. From lovemaking. From coitus. But, I did have them from self-stimulation. I did have them from a vibrator. I would, once in a while have it from oral sex.
Now, I mean, that's the thing. If you're like, oral. I don't even like oral sex. I gotta tell yah. You don't like oral sex cause you haven't had good oral sex. You don't like intercourse cause you haven't had good intercourse. That's because, our guys are like the blind leading the blind. They don't know what to do.
So, it's up to us to teach them what we need. And, here's the other thing. As a woman, you are different every moment of every day. That's your hormonal cycling. Where he, as a man. Is very steady state. He's very simple. He wants frequency of intercourse. And, he wants a lot of affection and he wants to be appreciated for the things he does to help out.
For you. You're so different all the time because, of your hormonal cycling that, you just have to become a good communicator with your partner to say, "Today, I want you to hold me and really love me. And, I want you to stroke my hair. And, I need a back rub cause I hurt my back picking that box up. And, can you rub my right big toe cause it's bugging me? And then, can you just hold me for a while? And can you just kiss me really softly? I want everything so soft today. Just soft, soft, soft." And then, on the next day your like. "Honey, I'm putting on my stripper shoes and my lingerie and I'm going to get on top of you and I'm going to ride you and I'm going to try out this new vibrator." Or, whatever it is.
You gotta tell him what you want and he will want to give it to you. That is pretty much how the bulk of guys are. And, if he doesn't want to give it to you. It's that he's afraid. He doesn't know what to do. Or, there's some reason why he is … Here's what's interesting. If you look at why men don't want to have sex and this is going to be a hard thing to hear. Because, this is the same thing I hate to tell guys. "You are boring her to death in the bedroom." That's what guys have to hear. That's like, "[00:36:11]. I thought I was such a stud. The testosterone had me believing I'm such a stud."
Robyn:                    Well, if you listen to guys, especially in the singles world. They seem to think that it's all about how long they last. And, the things they talk about have so little to do with what women care about.
I think a few of your books go more too … We'll want to wrap up and I want to get to the sexual abuse and repression, because you have great stuff on that. But, which of your body of work will help people with, not attracted to my partner, because oh wow, I've hear this so much. And like you've alluded to, sex problems are usually communication problems and, those are the hardest ones to navigate.
So, Relationship Magic has some stuff in there about it. Which are the other ones?
Susan:                      So, what I want to tell you is, what it is what women don't want to hear. What women don't want to hear about why their guy doesn't want to have sex with them is because, he's not attracted to you right now. He's not attracted to you anymore. Men are very visual and really, the biggest thing. Women if you take 100 men and women who are currently … The man doesn't want to have sex with the wife. And, you ask her what the reason is and you ask him what the reason is. She'll guess correctly, every single time for all of the reasons except, that she's no longer attracted to him.
So, if your guy is not attracted to you or, he's not wanting to have sex with you and you want to have sex with him. On my website, look up Revive His Drive. And, it'll give you the research study that gives you the list of all of the reasons why men don't want to have sex with their partners. You can look through that list. And then, you can ask him. I'm guessing it's either, this or this. And, have them tell you and then you'll know. "Okay, I'm not attracted to him. Oh, that's the problem." They're never going to tell you that. They're just going to stop having sex with you.
Now, that may not be your issue. I don't want to scare you. Believe me, I don't want you to feel any worse about sex than … I want women to feel better and more empowered. But, it is always nice to know what the real reasons are if in fact, that's your issue.
Robyn:                    Well, and I love that it's a nice, safe anonymous place that we can go for information what you've been doing on the Internet now for, a decade and a half, which is like I said, great, great Grandma on the Internet.
So, let's don't neglect. Let's talk about body image issues that women have. Feeling inadequate. Repression and, what do we do about it?
Susan:                      Alright. So, first of all. Let's do body image. You think you look worse than you do. It's a byproduct of estrogen, weirdly enough. Estrogen makes you unsettled about how you look and I actually don't know what the biological etymology of that is, I should look that up. I've never thought about it before but, I'd like to figure that out.
So, know that you don't look as bad as you think you do. Number one.
Number two, you have to get familiar with your own anatomy. Get a mirror. Get a flashlight, start looking down there. Touching everything. Get used to it. Looking at it at different times. So, you feel like you have a little more control and certainty over how you look, how you smell, et cetera. Don't be afraid to do it. Just, go in the bathroom, lock the door. Squat down over the mirror and take a look. It took me until I was 44 to do that.
That alone will make a big difference when you start to see how beautiful your genitals are. And, the more you look at them. The more you get conditioned to them and, you begin to like them and then, you get to love them.
So, I think that's very important also. The only kinds of genitals that you see in porn are little girl's genitals. And that's not how the rest of us look, darling. We all have different kind … There's a Native American female anatomy type model called Quodoushka, that says there are nine different types of vulva's. Some have floppy lips and, some have little lips. And some have big things and some have little things. It's all normal. And men like the way they all look. There are very few men that have a specific type of vulva. They're just so happy to be near one, that they just love them all.
The next thing is that, if there's a part of your body that you're uncomfortable with, cover it up with lingerie. Put on an orange light bulb in your bedroom. Find workarounds and compromises, that still allow you to have pleasure. Stop denying yourself the pleasure. Don't let Madison Avenue with all of their ads and all of the things that … We're drawn to beauty. We all like to see a pretty woman. There's nothing wrong with that. It just doesn't mean that we all need to be perfect. And men don't even notice our flaws. Generally, men when they look at us, they see only pretty stuff. They don't notice cellulite. They don't notice wrinkles. They don't notice flops. They're just happy to be with us.
So, we put a lot of unnecessary pressure on ourself that could be alleviated with a bit of a rigorous mind. Every time you start going down the rat hole of self-hatred or, feeling embarrassed about how you look. Just change the radio station to K-Love and, start to talk about the things that you love about yourself. Because if you don't have control over your own mind and your own thinking. You're doing yourself a great disservice.
So, enjoy what you have. It's not going to get better. You're going to die. Your life on this planet is very short. So just, enjoy what you have. If you lose your health, you will be really mad at yourself that you didn't take advantage of what you had when you were healthy. And, you can have sex till the day you die. Many people are doing that with great … You get better and better at sex as you get older. It's wisdom. And learning. And understanding.
And so, wherever you are right now. You can just keep getting better. So that's what I would say about body image.
And as far as sexual abuse. You see all the stuff that's happening in the news now. That's the tip of the ice berg. You know that, we women, so many of us have been abused over and over in a myriad of ways. It is unfortunately, the plight of the animal that is human being on this earth at this time in our consciousness. It is getting better. We are all sisters and brothers in helping eradicate sexual abuse and harassment and shame and repression. But, we have to deal with what is. And, if you have been abused, then you have to get support to find your way through it. You have to begin to forgive your transgressor. And, you have to begin to forget it and heal and move on and reclaim your sexual vitality.
Reclaim your body and reclaim it for yourself and your own good. Because, if you let it continue to control you. Then, it wins and you lose. So, whether that means going to see a psychologist or a sex therapist or talking to your best friend. Or just having that conversation, or just listening to this podcast and saying. "Every time, whatever the effect was that comes up for me, comes up. I'm going to notice it. I'm going to acknowledge it. I'm going to let it go. I'm going to move into my sexual vitality in that moment. It will no longer control me. I will release it."
I don't know if that's gonna work for everybody but, it can go a long way for a lot of people just, be given permission and structure about how to get through things and, forgiveness is a big, big part of sexual healing.
Robyn:                    No. I love how bold you are in talking about these topics that so few of us talk about. I did go teach 400 men in a religious environment, how to talk to your kids about sex. And how to confront issues of sexual abuse to keep your kids safe. And, I'll tell you, there were some raised eyebrows because I said at the very beginning of it. I said. "Here's the deal guys. I'm the only woman in this room and, we're just gonna get really comfortable with this whole subject by my saying. Penis, vagina, clitoris, and orgasm, a lot. I'm going to say these words a whole bunch of times." And a whole bunch of old guys, especially the ones over 50, I was probably 30 when I taught this class. They're eyebrows were right up there with their receding hairlines and, I was just like.
"So, that's what you're going to do when you talk to your kids. You're gonna use these words if you're not comfortable with it. If you're me and you're standing up here and you're really uncomfortable saying penis and vagina a bunch of times. Then you just do it. Just do it anyway and act like your not uncomfortable with it. Because when you talk to your kids about it."
When we talk to them about sex and we don't use anatomically correct terms or we look at the floor or we turn red. We are telling them, "I'm embarrassed about this and you should be too." And, I like how bold you are and I absolutely agree with everything you said about body image.
The skinny women have body image issues too.
Susan:                      I know.
Robyn:                    Women are not … It's not because you have an extra 10 pounds or an extra 50 pounds, that you have body image issues. You have body image issues cause you're woman of 2018.
Susan:                      Yes. It's estrogen, weirdly. It's our hormones.
Robyn:                    Yeah.
Susan:                      It's the weirdest thing.
Robyn:                    And, you're so exactly right. As I look back when I was 19. I was so insecure and I was so unhappy with my body and I look back at it now, and I was like. "Dude, I had it going on."
Susan:                      I know. Isn't that crazy?
Robyn:                    Yes. And you know what? Yes. When I'm 70, I'm going to look back to when I was 50 and say the same thing.
Susan:                      Yes.
Robyn:                    And so, I love that you said, just lean into it. You're only getting older. And so, enjoy it. Don't ice this part of your life and cover it up and refuse to look at it and continue to be satisfied with this lackluster situation or this stalemate between you and your partner that you're not talking about. I love how open you've been. I know that your content has lots more. We've barely touched the surface of a lot of different issues. I do hope that you ladies realize that men go blind when they're having sex. They aren't looking at the cellulite on your thighs. They're not. They don't even see it.
Men look at the whole. Talk to them. Ask them questions. I used to do this when I was teaching at the University, I would say. "Can women be too thin?" The whole class raised their hand. "Are you looking at a body part?" No. This is how men look at women. They're looking at the whole effect. If they're in the bedroom with you and they want your clothes off. They already bought in. They're already in.
Susan:                      Don't throw it at them.
Robyn:                    Yeah. So, they're not scrutinizing you and breaking it down by body part. They like the overall effect, or they wouldn't be there. And, if we just can realize that the eyes we see ourselves through, those need healing. But, the eyes that our partners sees us with. They're already all in.
And, nothing is a bigger turnoff than a woman whose like. "Oh, don't look." Or, talking about the insecurities. Like, just fake it until you make it and you will achieve that confidence.
So, I love the whole topic that you've covered.
Talk about where we can learn more. You've given us some great little nuggets about specific subjects but, talk about the free gift that you have for my listeners. And, where they can learn more about you.
Susan:                      I have a free gift that's really going to help you with the following. And that is that, I would like you to begin as a beginner with your partner in your sex life. I'd like you to learn some new things together that you don't know. I'd like you to have what I call, erotic play dates. Maybe the play date is that, he learns how to give you a truly sensual massage that completely relaxes you. Because, relaxation is the first step in arousal.
So, where men are trying to get you to have an orgasm right away, as fast as possible so they can do their job, cause that's how their oriented. Testosterone is like a straight ahead kind of a thing. You on the other hand, are estrogen. You are a windy little brook. A babbling little brook that's ever changing and you need to have your whole body sensually massaged in a way that gets you to slow down. Get out of the stress of the day. Drop into your physical. Connect with your partner. Remember how much they love you and, teach him how to make your whole body feel so relaxed and turned on.
And so, maybe you do some kind of a sensual massage. Or maybe, you learn how … Learn 10 new techniques to pleasure his penis with your hands. Something that, you could definitely learn more about I'm sure. And so, you can have these erotic play dates. You just lock the door. Make sure everything is quiet. You've got something to look forward … Schedule it, so you're looking forward to it. And then, give each other feedback during the experience.
And this is where couples really struggle. They end up having affairs and cheating or, not having sex because they don't like to communicate feedback. So, what I'm giving you is gift. It's called The Sexual Soulmate Pact. And that's at, sexualsoulmatepact.com. Just type in sexualsoulmatepact.com and you will get it. It's an excerpt from my number one best selling book, "Sexual Soulmates". It's one of the six essentials for connected sex.
It's essentially, a little technique that gives you a two word phrase that you can use that will actually, ignite more passionate lovemaking between you and your partner. It is a way for a partner to receive your feedback without feeling their ego being bruised and even getting them to the point where they're hungry for your feedback and you feel super comfortable giving them lots of feedback. So much so, that it becomes a joy and the thing that makes you better in bed together. Thereby, opening up your new sex life to a whole nother level because, your getting the satisfaction and the stroking and the touching and the connection that you need. The time to get engorged and turned on that you need to live into your sexual potential.
So, that's the Sexual Soulmate Pact. It's one technique for you in the bedroom.
Robyn:                    I love it. And, thank you so much for being so real and open and honest. And obviously, passionate about your subject.
Susan:                      Yes.
Robyn:                    I just really, have enjoyed talking to you today. So, thank you so much for being with us today, Susan Bratten.
Susan:                      Robyn, thank you so much for having me. I love the work you do in the world. I'm so behind all of the nutrition work that you do and, I loved Vibe. What a great book you wrote. There was so much in it and, I really appreciated all of the thought that you brought to having that level of vitality and I know you stand for so many people and wanting them to have a really vital life.
So, thank you for the opportunity to connect with you because, I really adore you. Admire you, like you very much and, am a big supporter.