Roasted Red Pepper Soup | GreenSmoothieGirl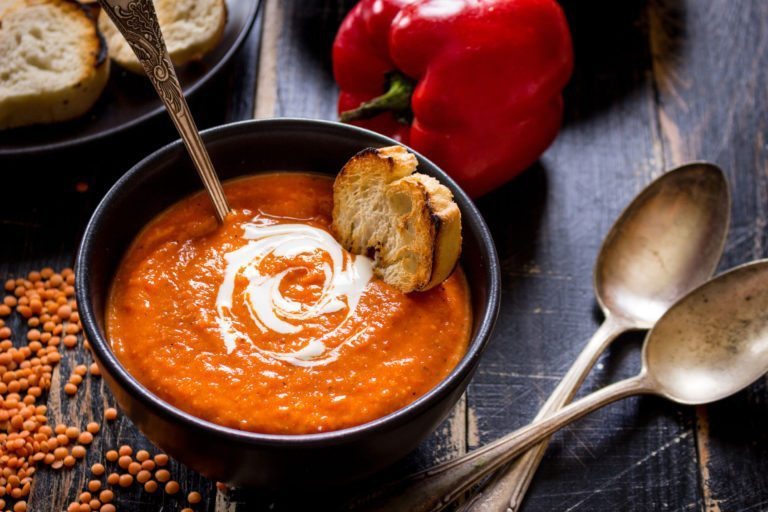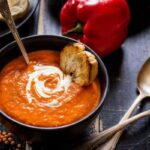 Roasted Red Pepper Soup
A creamy, filling soup with a bit of a spicy kick
1

red bell pepper

1

8oz jar

sun dried tomatoes packed in oil

4

cups

vegetable stock

2

minced garlic cloves

2

roma tomatoes

1/2

onion, cut in large chunks

1

tsp

raw honey

1

tsp

sea salt

1/4

tsp

freshly ground black pepper
Using heat-safe tongs, roast the red pepper over a gas burner flame until it is evenly blistered with black spots (or you can place the pepper on a sheet pan and broil, rotating, until evenly blistered). Place the pepper in a bowl, cover with foil, and allow to steam for 10 minutes.

Meanwhile, drain the sun dried tomatoes from the jar, reserving the oil. Pour 1 cup of the stock into a high powered blender and add the garlic, tomatoes, onion, and drained sun-dried tomatoes.

Once the pepper is done steaming and has cooled enough to handle, peel off the blistered pepper skin. Cut the pepper open and scrape out the seeds and remove the stem. Add the pepper to the blender with the other ingredients, cover, and puree until smooth.

Heat 2 tablespoons of the reserved tomato oil in a large pot set over medium heat. Once hot, carefully pour in the soup. Cook, stirring constantly, until it begins to darken in color, about 3 minutes.

Stir in the remaining stock and allow the mixture to come to a boil while continually stirring. Turn the heat down to simmer and cook, stirring occasionally, for 10 minutes or until the onion has lost its raw taste.

Season with the honey, salt, and pepper. Taste and add additional seasoning as needed.
Tags: garlic, gluten free, onion, sugar free, tomato, vegan
Categories: Soups