Ep. 244: 7 Things I Would Demand In Writing If Hospitalized + What You Need to Know About IVM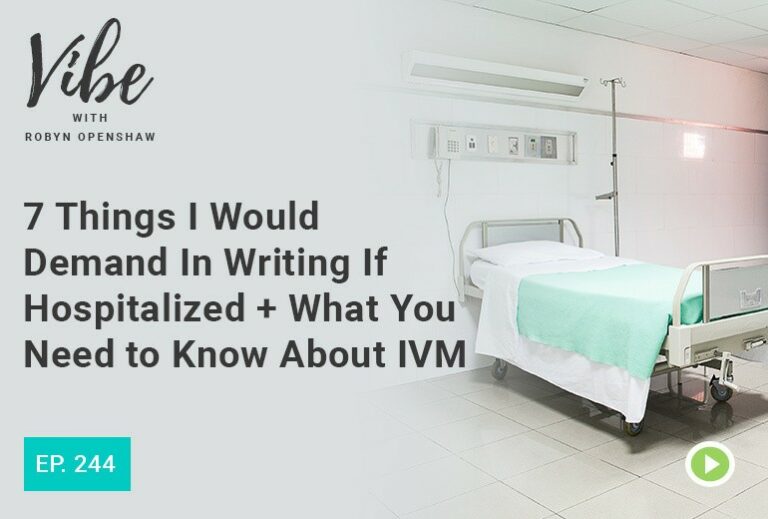 Podcast: Play in new window
So, this drug that has wiped covid out in many parts of the world, it came from a natural compound. So what was that compound? Can you buy it in the form of a natural supplement? Also, why does an anti-parasite drug work astonishingly well against a virus? Why I wouldn't take IVM if they "bring it back" later, for a million bucks.
And, 7 things I wrote up, to demand, when I got covid, that you could write your own version up and print out, in case you're ever hospitalized (and why).

LINKS AND RESOURCES:
VIDEO VERSION OF THIS PODCAST HERE
Our First Hand ICU Story – What is ACTUALLY Killing People In The Hospital
Robyn's 7 Directives for Inpatient Hospitalization (this is not medical advice, this is simply Robyn's request per her research):
No vent under any circumstances. If you're so sure I'm going to die, get my family's permission and crank up the fentanyl. Supplemental O2, yes!
No remdesivir under any circumstances.
Please give me ivermectin. (If you won't, my family has it and will supply it.)
Please give me an IV bag of Vitamin C every day. (Yes, it does work, 100's of published studies on high efficacy against infection.)
No liquid steroids, only inhaled budesonide (steroid) if you feel it's needed.
No antibiotics, unless you can prove a bacterial infection to my family.
Please keep me sitting up, active and walking around. (One of the reasons I do not want a vent–when you're immobile you're almost guaranteed to get pneumonia and hospital-acquired infections.) If your staff is too busy to do it, please let my family do it. #1 predictor of covid hospitalization/death is inactivity/sedentary lifestyle.