Ep. 172: Nurse Tom Helps Cancer Patients at Hippocrates Institute with Tom Fisher | Vibe Podcast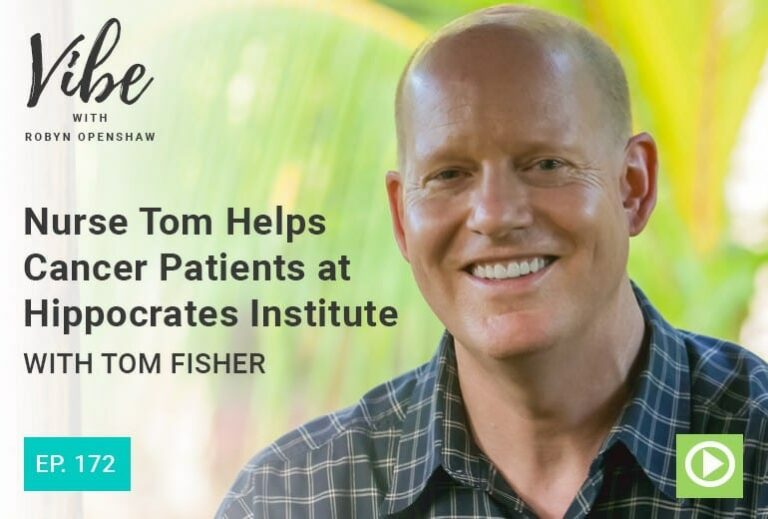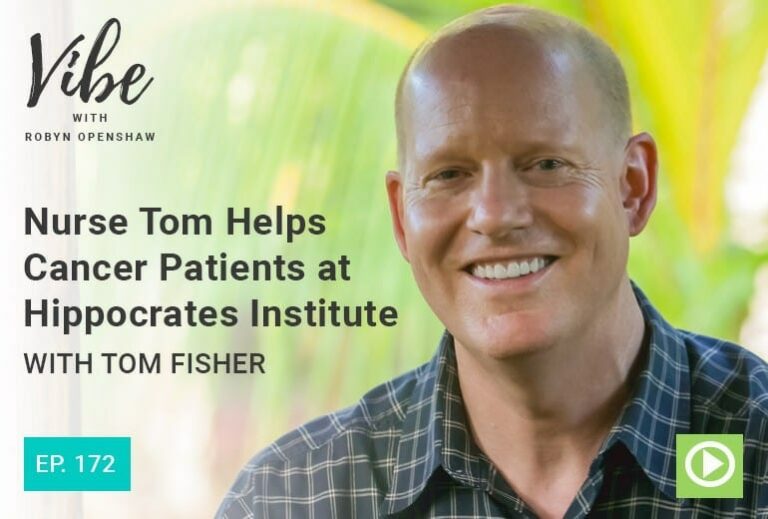 Podcast: Play in new window
Tom Fisher is a nurse at one of my favorite "alternative" clinics around the world–Hippocrates Institute in South Florida. I ask him questions about his own cancer diagnosis 20 years ago, and what they do at Hippocrates to help cancer patients who want more than just chemo/radiation OR something totally different.
LINKS AND RESOURCES:
Check out Hippocrates Institute
---
EPISODE HIGHLIGHTS WITH TOM FISHER:
---
TRANSCRIPT:
This transcript has been edited for clarity.
Robyn: Hey everyone, it's Robyn Openshaw. Welcome back to the Vibe show.
Today I'm going to talk to someone from a place I really love. I recommend the Swiss Mountain Clinic if you have an ill family member. You can always go find that on the Green Smoothie Girl page.
I love Swiss Mountain Clinic. I [would] send my own family member there. I would get on the plane myself and just go check in for a couple of months if I found myself with a serious diagnosis.
Swiss Mountain Clinic is in the southern part of Switzerland right near the Italian border. If you go for a hike right outside the front door, you'll be saying, "Buongiorno," to everyone. Italian is the language spoken in that quarter of Switzerland.
[I] toured all over the world studying nontoxic cancer treatment, and I ended up learning a lot more than I bargained for.
My other favorite place in the United States is in the south of Florida in a beautiful place called Hippocrates Health Institute.
This guy, named Tom Fisher, that I'm interviewing today is a registered nurse there. He's a certified health educator.
Hippocrates has been around for decades, and they have certifications of their education programs. You can go there for the Living Light Institute. You can learn all about raw plant-based lifestyle for healing.
It really is the way to go if you're ill. [The] very first thing I would do if I became ill is just do 100% raw with lots of juicing.
Tom has studied around the world with a lot of different integrative practitioners and researchers. He's studied with the Paracelsus Leadership. The two Paracelsus clinics in Switzerland [are] very famous. One of them is now the Swiss Mountain Clinic that I take people to.
When people say, "I can't travel," I always tell him [to] go to Hippocrates Institute. It's not cheap, but you can go for a seminar. They do different kinds of seminars there. You can just go check in and be a patient there for a few weeks.
Tom has a really interesting experience in that he was diagnosed with cancer over 20 years ago. He had a very dire prognosis.
We'll have him tell us about it, but obviously 20 years later he's doing really well and [is] really passionate about what he does because of his own personal experience.
He has spent 14,000 clinical hours working one on one with people all over the globe who come to Hippocrates. Welcome to the Vibe show, nurse Tom.
Tom Fisher: Thank you. Thank you very, very much. Glad to be here.
Robyn: I think it was your sister that reached out to me who follows me online and says, "You really should interview my brother." Every couple of years someone brings nurse Tom up to me.
I want to ask about how you ended up being director of clinical education at Hippocrates. I don't know if you know this, but I went all over the world studying nontoxic alternatives to cancer treatment.
I don't know if you've encountered any of my content on that. [I went to] 20 different clinics. I don't think you and I met.
Tom Fisher: I'm sure we met in person when you were around here. I've met so many people. Maybe. It's hard to say.
Robyn: I've stayed at Hippocrates twice, and I've done a couple of speaking tours with your boss, Brian Clement.
When people come to me and say, "What do you think of this clinic? What do you think of that clinic?" I don't go online and dis any clinics that I didn't think too highly of, but I did go to some clinics I did not think too highly of.
I'm known for taking people every summer to my favorite of the 20 clinics. [I] have developed a long and deep relationship with the Swiss Mountain Clinic. It used to be one of the Paracelsus Clinics.
Tom Fisher: Oh yeah, yeah, yeah. Like Dr. Rao. Yup.
Robyn: Yeah. Dr. Ross sold it to one of his proteges, Dr. Petra Weichel ,and her husband I want to say 10 years ago.
If people are like, "I don't want to travel," or "I can't travel," or whatever, I always say my second choice is a Hippocrates Health Institute.
Second choice is still really, really good because I was evaluating all these clinics from a lot of different angles including the depth and the breadth of the treatments possible there.
It's my favorite of any place I went in North America hands down. Not cheap, but it's right up there with Swiss Mountain Clinic for being beautiful and a very well-cultivated healing environment there.
Let's hear a little bit about your story. First, I'd love to know how is Hippocrates doing? Tell me what's happened there in the last five years since I was there last.
Newer and Better Therapies at Hippocrates Health Institute
Tom Fisher: Doing good. One of the things that we're always trying to do is to look at newer and better therapies to support the guests that come here.
We're using newer electromagnetic therapies that we didn't have in the past. For example, there's one called coMra, which uses ultrasound laser magnetism led light therapy. It has a whole app, so you can work on specific health conditions to support people.
Liquivida has partnered with us. They're an IV therapy who outsourced medical. They can do various therapies and treatments. Some of the newer things that they're doing are things like peptide therapy.
Peptides are basically signaling molecules that help your body do things to help support if there's more help needed. For example, insulin is a peptide which will help our sugar to get into the cells.
[At Liquivida], they can use peptides for your immune system, for the neurological system. We're doing things like hormonal therapies to support various IV therapies and different mind/body therapies than we've had in the past.
They're always looking at things and ways to help really support the healing process in a quicker way.
Robyn: You came in contact with Hippocrates when you were a cancer patient. Tell us a little bit about your own cancer story. Like how long ago it was, what kind of cancer, what stage?
Tom Fisher: Yeah, absolutely. Back in 1999, I was diagnosed with stage four cancer. I was a young guy; I was 29. I figured I'm healthy. I was a former collegiate athlete, strong.
My diet was awful — standard American diet. [I had] stress, and I believe I had some toxic exposures as well from past work that I did.
Robyn: Tell us a little bit about what your diet was.
Tom Fisher: My diet was consistently large amounts of meat animal proteins, chicken, some fish. I would have carbohydrates in the way of chips and crackers and lots of desserts and candy and soda as well as alcohol.
Really a recipe for disaster. But that was largely what I was consuming for many years. It led to that situation. I did do some conventional therapies.
[I] did about six months' worth of chemo, which knocked cancer back a bit, but I wasn't out of the woods. I had to really learn on my own that it was either learn or die.
I did a tremendous amount of research — like yourself — and looking [at] what I can do to support myself and ways of diet, mind/body work, supplements, and lifestyle.
[I] continue to still learn and grow [by] learning from various integrative doctors. It's been an interesting journey, but it led me to Hippocrates.
I originally found a lecture. It was teaching how to do the raw living foods over the course of a weekend. The keynote speaker was Brian Clement, our director.
Essentially it made sense to me that there [are] foods and things that can help support your immune system. A lot of people have used it [to] help them get well. There is good research behind a lot of the nutrients.
I started [to] incorporate those foods into my life, and I started to feel better. I started getting my energy back. Even my memory was affected by the chemo. I had the "chemo brain," and hard time remembering anything.
Before I did anything with Hippocrates, I was given about a 40% chance of living five years. That was a big motivator. When I started changing my lifestyle, my diet, it started helping a lot.
Then I came to Hippocrates and did their program. I also did the health educator program. [I] literally quit my job to do that.
I was working as a nurse in a medical surgical oncology unit, and I didn't really feel I was helping those people the way that I needed to. I left that. I did the training [at Hippocrates], and not long after that I got the job here. I've been here for 10 years.
For me, it's been rewarding because I've seen people with all kinds of health conditions recover that wouldn't have recovered in the hospital from what I saw in practice there. For myself now over 20 years, fully recovered from stage four cancer to the bone.
Robyn: Congratulations on that. It's really exciting and really inspiring. I'm sure that you enjoy telling that story to people who are facing the big C diagnosis. There's not a whole lot that's more terrifying, and you're 20 years past it.
The diet at Hippocrates is very austere. Not a lot of people are going to do that. Not a lot of people faced with very poor odds are going to eat sprouts, greens, totally alkaline, no cooked food.
I'm a believer. I got my own health back. [I was] not eating quite that extreme, but I've eaten 60 to 80% raw, 95% or more plant based for 20,25 years now.
Now that you're well and your risk of cancer is about the same as everybody else out there — 20 years past it — how close do you stay to it? When you're not at the clinic eating at the buffet, what are you 60 to 80% raw? 95%?Are you totally vegan?
Tom Fisher: Yeah, vegan. I try to do at least 80 to 90% raw food in my diet. I do a little bit of cooked because my wife is an amazing raw food and vegan chef. I will have some of those things that are cooked. [I'm] very healthful though.
I still use various supplements to support myself. I try to maintain things using meditation as well as exercise, especially aerobically, and just continue to cleanse with saunas and other techniques that I've used periodically.
Robyn: Okay. What do you think your exposures were? What do you think your risk factors were? You said you're eating the worst of the bad in terms of standard American diet. You didn't mention any vegetables or fruits or legumes in there.
Tom Fisher: They were very few and far between back then.
Robyn: Did you have some toxic exposures that you think predisposed you? Comment a little bit on what kind of exposures you see since you're dealing with cancer patients in your work every day.
Tom Fisher: Yeah, yeah. Some of the research that's out there shows environmental toxins [are], in some cases, about 70, 80% of the reason for a lot of the cancers out there.
When I was a younger man working summers for college, I would work for our township. I would work in a couple areas of the township.
I would work in landscaping where I was probably exposed to some of the chemicals they may have used, possibly even Roundup.
I also worked in recycling and refuse where I was one of the guys on the back of the truck. Let me tell you, you're exposed to a lot of stuff there. All we'd wear were shorts and a t-shirt, gloves, maybe sunglasses.
I would come home, and I would blow my nose after a day of work like that. It would be black in my nose. I would use a Q-tip in my ear and it would be black. You can imagine how much you're breathing in throughout a 6, 8 hour day.
We were doing some really nasty stuff. I think that along with foods that are fairly toxic as well as lots of sugar which would be feeding that condition and stress were big factors for myself.
Robyn: Why do you think so many more people are getting cancer? What is it? One in two men and more than one in three women. [Cancer is the] second leading cause of death. What do you think has changed?
Toxic Environments Lead to Cancer
Tom Fisher: A few things. One, I mentioned, is the toxicities in the environment. I think unfortunately a lot of people, if they're not using some type of water filtration are really setting themselves up for higher levels of toxins.
Excess fluorides, chloramines, pesticides, and other [toxins] can get passed through our municipal water systems. Air has become more so of an issue in certain areas than others. That's another factor.
Even in our foods [there are toxins]. For example, fish, through bioaccumulation, heavy metals and other toxins can build up in them. When we're consuming them on a long term basis, these will build up and weaken our immune system.
The other thing that a lot of people don't think about — and you probably know about it — is that dental health plays a big factor in cancer.
For example, a root canal, in many cases, can go bad over time. Meaning they can become an infection. That infection can go systemic in the body and affect our immune system in not a great way.
Beyond that, teeth have what they call dental meridians. In Chinese medicine we have different meridians that will affect the body energetically. Each tooth affects different organs and systems.
With some of the people that I've studied, if there's a root canal and a cancer, that meridian will normally be going directly to where that cancer is.
The other thing is unresolved emotional conflicts or stress are very biggies. The mind-body, in my opinion, is more important than the food.
Biofilms are an issue. Biofilms are a waste product of cancer and other pathogens, bacteria, viruses. They build up in the body, and they can cover or protect cancer cells.
The immune system doesn't know it's there. Until we clean up that waste, it's harder to get rid of more of the cancer cells. There's a few factors I think that can become real issues for people.
Robyn: What kinds of therapies do you use at the clinic? You can talk about cancer, but you're welcome to go outside of cancer because that's not necessarily everybody's diagnosis.
There are people there for a wide variety of, of illnesses. They all come from a toxic, anaerobic, acidic [environments] that was fed by all those things that you said, stress, a lousy diet, and the chemical exposures.
You can talk specifically about cancer or mention some other things. What are the therapies that you think are the most exciting and the most needle movers of what you do at Hippocrates?
Mind-Body Therapies at Hippocrates Health Institute
Tom Fisher: We have a few different mind-body therapies. We use one more specifically for cancer which is called One Brain. They call it an applied kinesiology. They're essentially testing the body musculature based upon questions.
These questions are going into regression therapy. I can't tell you how many people I've had in consults that said, "Wow, I had an amazing breakthrough. I learned that this situation in my life was really affecting me. I didn't even realize it because it was when I was 10," or something like that.
I found that [this therapy is] really effective, even beyond cancer. It's helpful for really anyone that has any condition.
The other thing that I like a lot more specifically for cancer — but can be helpful for other conditions — is some of the IV therapies.
Specifically, the vitamin C [IV therapy]. A lot of people may not realize that vitamin C at lower levels of milligrams is more of an antioxidant and protects free radical damage in the body that can age us quickly or damage DNA.
At high levels in IV, for example 50 grams or more, then it becomes a pro-oxidant. Pro-oxidants are anticancer. Chemotherapy's a pro-oxidant.
What's interesting is cancer cells really love sugar as we know. In a lot of the research uptake at least three times or more than a healthy cell. When we take in that vitamin C, the body sees it as sugar.
It goes into the cell and turns into hydrogen peroxide. Normal cells have catalysts, enzymes, that get rid of that excess hydrogen peroxide, but not cancerous cells.
It helps to destroy the cell, helps with pain, [and] helps with the immune system as well. A lot of times we'll follow that up with hyperbaric oxygen, which allows the nutrient to get deeper into the cell. Our hyperbaric is a little bit different.
We put a QRS machine in. A QRS Machine is an electromagnetic machine that opens up the microcirculation and allows the body detoxify better. They get a dual benefit doing that. That really is an excellent therapy. I like it a lot.
Detoxification becomes important. I mentioned so many factors of environmental exposure. We use infrared saunas.
Infrared saunas are much better than a regular sauna to get toxins out of the fat, allows us to get rid of heavy metals and other waste and toxins.
We also utilize colon hydrotherapy, which helps us to eliminate from the large intestine waste and backup wastes.
A lot of the people that I've studied with in integrative medicine feel that even healthy people have about 10 pounds of fermenting waste in the gut. When we can start to eliminate that, we support more optimal health.
Robyn: 10 pounds. 10 pounds of fermenting, uneliminated garbage in your GI tract. Is there any evidence of that? That is a lot.
Tom Fisher: Yeah, it's a lot. A part of that is because of undigested food. The undigested foods come from poor food choices, (kind of like I used to [eat]) or bad food combining. It basically ferments and rots in the small intestine.
We start getting nutritional deficiencies from that because we're not getting the nutrients. That's why people like to keep eating and eating. They eat more and more, and they get heavier and heavier, but they're malnourished. They're not getting the minerals and things.
Linus Pauling is one of the top integrative doctors, well known vitamin C therapy and extending people's lives with that. He found that deficiencies of minerals are the root cause of all chronic disease.
Minerals become a real problem. An acidic diet will use more minerals. It will use up the calcium first and then it starts using other minerals and weakens the structure, the body. It's kind of an interesting thing that these factors can play a part.
There's some of the things that I like in the speeding up healing. They're really focusing on [energy medicine] more so to get people to start using these devices more often and get that good therapeutic effect from it.
Robyn: There's so many people who claim they have the original rife device. Do you want to talk a little bit about that? I love [energy medicine]. I wrote a book called Vibe all about vibrational frequency. [I] did a really deep dive to write that book into all things energetic.
You mentioned earlier that you think that our response to stressors or some metaphysical things are even more important than what we eat. I have slowly arrived at that same conclusion. I believe that too.
I think that [individuals] become "victimy" and do not forgive. [They] react as if everything's a big thing and can't recognize the small things from the big things [as] a response to stressors in their life.
I think they might be putting themselves at more risk than people who eat garbage food. I don't think I could prove that. I don't know if anybody can, but I think there's more and more of us coming to that conclusion.
What do you think works in the world of energy medicine? It's a big, wild, wild West right now with people saying, "I'm an energy healer." "Well, what are your credentials?" They don't have any. What would you have people do who really want to explore energy medicine?
Hippocrates and Healing Devices
Tom Fisher: Different devices work better for different conditions. For example, we have a device here called H-wave. H-wave is a medical device which is pulsed electromagnetic therapy.
Where it really shines is in conditions of pain in things like neuropathy and helping with circulation and lymph movement as well. A lot of times with an illness, most people's lymphatics are unfortunately stagnant.
When we're looking at conditions specific then I'd look at more of something like that coMra device I mentioned, which uses that ultrasound, laser magnetism, led light therapy.
We can work on things like migraines. We can work on pain. We can work on organs and systems to support them. It helps to stimulate the mitochondria (the energy powerhouse in the cell) to help support that healing process.
If we want something that's more reducing stress or supporting sleep, then we use a device called NuCalm. Through Harvard research they found in about seven minutes, it takes us from a sympathetic — or stress state — to parasympathetic.
We heal in the parasympathetic state. A half an hour of that therapy on the body is like two hours of restful sleep.
I can't tell you how many people I see every week that say, "I don't sleep well. I haven't slept well in years." That becomes a real problem because they're not getting that restful sleep to help them heal.
Different ones will work better for different things. You mentioned rife as well. What he did was he found certain frequencies that work with different organ systems, even parasites, and things like that.
I think those types of things can be effective. It depends on the certain machine that it is. In some cases the practitioner — how well trained they are.
Robyn: Okay. I have to ask you about wheat grass because it's such a big part of the treatment there. You go to these little huts — if it's still the same way it was last time — and you can just make your own. You're supposed to do — I don't know what the recommendation is — a few shots a day.
I have to tell you; I'll eat just about anything. I'll drink just about anything if it's good for me. How things taste is not my barometer for whether I'll eat it or not. I have a hard time with wheat grass juice. Not everybody does.
My youngest son, who's super picky eater, likes the taste of it. Tell everybody why you think wheat grass juice has been so important as part of the protocol for everyone who goes to Hippocrates and what's so amazing about it. What did Ann Wigmore discover with it? Tell us that story.
Founding the Hippocrates Health Institution
Tom Fisher: Anne was more instinctual. She's our founder. She helped to heal her own cancer using whole foods, raw foods, and supplements.
The original way that she found that wheat grass was something that we would want to use is she would use animals. She used different forms of grasses, and she would watch where would they go most often to eat.
Animals are instinctual, and they know normally what's going to be best. Anne was like, "Wow, this is amazing. This looks like it could be something to consider."
She found a gentleman that read the Essene Scrolls. Essentially, [the scrolls] stated the words of Jesus [and] showed in their religious writings that they use grasses such as wheat grass to help people's health.
She felt this was a revelation and like, "I'm really in the right direction with this." Then we brought in Victor Kulvinskas, who was also one of the founders. He did more of the research on the wheat grass. They found that it is a true superfood.
It [has] a complete protein [and has] all the amino acids that we need with that. It has vitamins A, D, E, and K as well as the a B complex, not necessarily enough B12 if we're on a vegan diet.
It also has very good levels of chlorophyll. Chlorophyll is what is helping to alkalize us. Chlorophyll is also antifungal, antibacterial, and anti-inflammatory, and even from some of the research anticancer. We like that wheat grass a lot. It also has phytonutrients.
Phytonutrients are essentially non-nutritive substances. They do good things like lower our bad cholesterol, the LDL cholesterol.
Wheat grass, we don't only just use it orally. We'll use it topically as well as a poultice for people. If they have different skin conditions.
We'll use it in scalp massages for people to help cleanse their scalp and to help with hair and hair growth. We use it as an implant or rectally to support because we'll absorb it more systemically.
We use it a lot of different ways to really support the body. We've seen nice results with it. It's definitely been one of the things we've loved. We continue to find new things that are excellent as well.
Robyn: Well, it's so nice to connect with you since I missed meeting you in person when I went to Hippocrates. Tell everyone about your book, what it's about, and where they can follow you.
Tom Fisher: I'm having a website that's going up really soon, and that's called Nurse Tom Beat Cancer. I am working on a book. That one's not fully out yet, but the book should be called Living Raw Solutions.
I'm going to have different types of health conditions that people can support themselves in a natural way. If people want to connect with me, they can reach me at my email. That's tfisher@hippocratesinst.dotorg.
Robyn: Hippocrates Institute, but short — Hippocratesinst.org. [Laughter] Thank you for your great work that you do there. I've heard good things about you over the years, and thank you for sharing your inspiring story with us.
Tom Fisher: Absolutely. Absolutely.
[Related Vibe Podcast Episode: Ep. 116: Redefining Healing, Parenting, and Living Life on Your Own Path with Carol Lourie]