Ep.108: Life Lessons from the Loma Linda Blue Zone and Seventh Day Adventists Interview with Dr. Alan and Amy Beth Hopkins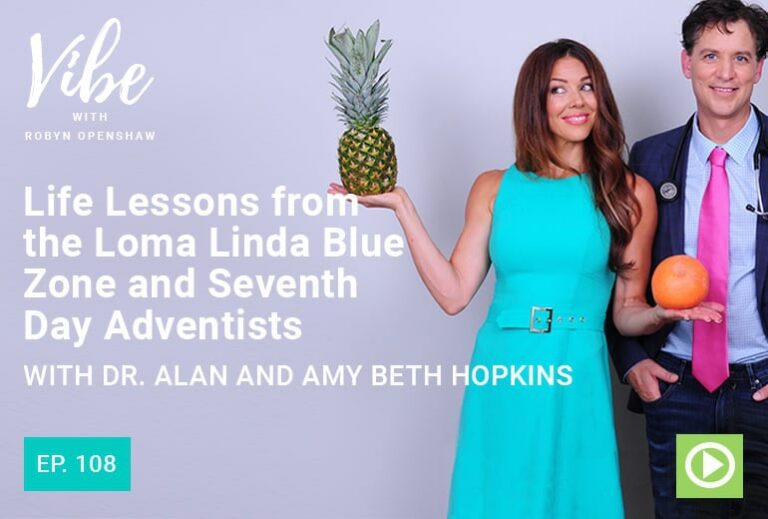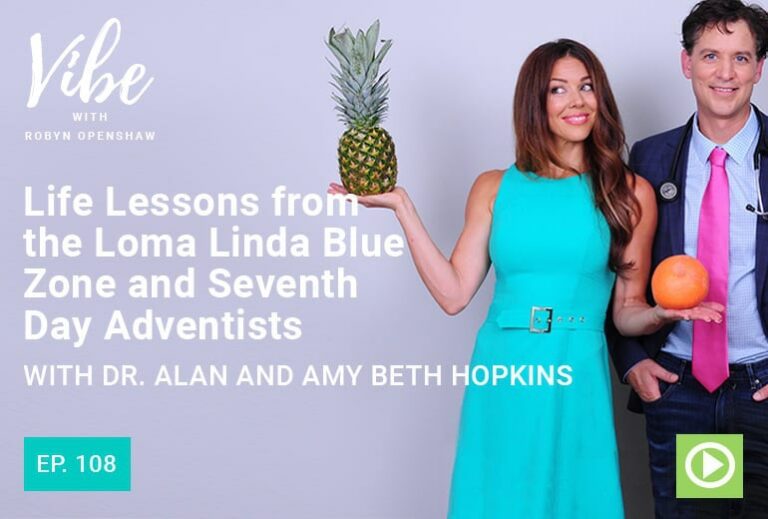 Podcast: Play in new window
Today we have the great pleasure of talking with a fun couple Dr. Alan Hopkins and his wife Amy Beth. In connection with our "Learn from our Elders" series, although Alan and Amy Beth are not Elders themselves, they both grew up in the Loma Linda Seventh Day Adventists community which is the only North America Blue Zone. And they have a lot to share with us about what it was like living there and how it has shaped their own lives and helped them live and become as they are now. They share some great insights and lessons on love, and community and health, taking care of our minds and bodies and how to age well, that we can all benefit from.
Dr. Alan Hopkins has extensive experience in emergency medicine, endocrinology, disease prevention and anti-aging medicine. He is the current owner and medical director of Texas Metabolic Centers in both Austin and Fort Worth. He is also the current medical director for the biotechnology firm Prism Health Dx and was the former medical director of the Pre-Diabetes Centers. Amy Beth has her Masters of Physical Therapy degree and Bachelors in Health Science. Owning and operating personal therapy clinics for over 16 years has given her a unique perspective on healing and the challenges of living a balanced life. She has extensive specialized training in sports therapy, myofascial release, women's health and manual therapy giving her some real specialized and practical experience in healing our bodies. She's worked as a personal trainer, fitness model and spokesperson for Feminine Fitness.
LINKS AND RESOURCES:
Connect with Dr. Alan and Amy Beth here: CLICK HERE
Find out about getting your own lab work done: CLICK HERE
---
TRANSCRIPT:
Robyn:
Hi there, and Welcome back to the Vibe show. This is Robyn Openshaw. I am your host, and today we are talking to two people, a husband and a wife who were raised in Loma Linda, California. Now, if that doesn't mean anything to you, Loma Linda is where the one and only Blue Zone is in North America. Why would Loma Linda, California have 20 times more centenarians, people who live to be 100, then the general population in North America?
Well, it's because of the Seventh Day Adventist religion. The vast majority of the Seventh Day Adventists are vegetarian or they eat very, very little animal protein. They believe in eating whole foods. They believe in natural medicine. They don't drink alcohol. Really the only thing that they drink is water. And so with these lifestyle issues and several generations of Seventh Day Adventists having grown up in the Loma Linda area, we now have a centenarian population in the United States to study, which I think is pretty exciting.
Well, Dr. Alan Hopkins MD and his wife, Amy Beth, who has a master's degree in physical therapy, are my friends. I've been in a mastermind with them the past year. They are absolutely amazing human beings. They radiate love and high vibrations. Amy Beth recently had a book club in Austin where they live and she and her friends and some of her followers read my book "VIBE" and discussed it. I wish I could've hopped on a plane and gone to be with them, but let me tell you just a little bit about them before we dive into the episode today.
Dr. Alan Hopkins is a graduate of Loma Linda University School of medicine where he was elected into the prestigious Alpha Omega Alpha Medical Honor Society for leadership and academic excellence. He is board certified in emergency medicine and he completed and A4M fellowship in anti-aging medicine. So he has a lot of experience in endocrinology, disease prevention and lab medicine. He's currently the medical director for Texas metabolic centers and he's an assistant clinical professor in the Department of surgery and perioperative care at Dell Medical School at the University of Texas at Austin.
So Dr. Hopkins, even though he is well inside standard of care medicine, has a huge interest in functional medicine and in promoting wellness as well. He's worked really closely with the American Diabetes Association and leaders in diabetes centers all over. And he really believes that when patients understand their medical care and can access it on their own terms, they become a motivated participant in their health.
Amy Beth, like I said, has a Master's of Physical Therapy and a Bachelor's in Health Science from Loma Linda University as well, and she's the founder of "Health and Bliss for Life", which is an online platform for aging well. She definitely looks the part. She has been a model, a fitness model, and a spokesperson for Feminine Fitness. She's a program developer for physical therapy programs. She's a health entrepreneur and she is constantly studying the human potential movement. She works with transformational coaches and trainers and I find her to be just an absolute breath of fresh air.
So I'm excited to introduce them to you. So, Dr. Alan Hopkins and Amy Beth Hopkins. Welcome to the Vibe Show.
Amy Beth:
Thanks. We're so happy to be here. We're big fans. Robyn Openshaw.
Dr. Alan:
Yes. Very big fans.
Amy Beth:
It's kinda like we got to show up on Oprah, sort of.
Robyn:
Yeah, it's so not like that, but thank you. That's very sweet of you. I'm hoping when I grow up to have all the wisdom, uh, in my entire life that Oprah has in her little pinky. But thank you for the compliment.
Amy Beth:
Well, you're well on your way, I think
Robyn:
Working on it. But that brings us to where you come from. You guys are Rock Stars in my mind. One of the things that blew me away when I met you, oh, I don't know, a year or so ago is that you're Blue Zoners. So if you don't know what that is, you haven't been listening to the Vibe show, because I talk about it constantly and we're doing this "Learn from Our Elders" series. And just for the record you cannot see these people, you cannot see the Hopkins' but, they are not old. They're quite young. Like in their forties, they are parents of some young children.
But the reason I am having them on the show is I want them to talk about what they see in this community because they were raised in the Loma Linda Blue Zone and anywhere in North America, anywhere in the Western world, anywhere in the first world. This is a category of people, the Seventh Day Adventists who live to be 100 and older at at least 20 times the rate of the rest of America.
So Amy Beth, tell us a little bit about that.
Amy Beth:
Being in Loma Linda, I don't know if you've ever seen the movie "Cocoon". It's an old eighties movie about these older people that find the fountain of youth. And they're you know, jumping off of diving boards and dancing and all that sort of thing. And I remember, because I went to physical therapy school in Loma Linda, so I moved there from Texas and Oklahoma, and I called my parents and I was like, I feel like I'm in the middle of the movie "Cocoon" because when I would go out jogging, um, there would be someone in their seventies, literally jogging next to me or with their towel headed towards the pool to swim a few laps. It was a real active elderly community and just a real privilege to be a part of it and to really have those people in your life giving you guidance and wisdom. And I would say a lot of our professors were elderly professors.
Robyn:
They didn't retire at 65?
Amy Beth:
They didn't retire at 65, absolutely not. I remember, um, Dr. Hershey, I would give a shout out to him who taught Neuro Anatomy, he would talk about his wife, she did pass before, but he would talk so lovingly about his wife and the hypothalamus and "Chanel Number Five" being right next to the olfactory center. I just remember he was so cute and he was probably in his late seventies, early eighties, reflecting on that and teaching us Neuro Anatomy, so that was pretty normal.
Dr. Alan:
Yeah, I'd say there was a little bit of a downside to having so many people that did so well at an advanced age, and that is younger people like myself would go to the gym and we would get under there and try to bench press and we'd feel pretty good about what we were lifting, than an 80 year old guy would roll right in there and just easily pick up and do what we did. I mean, you know, it was amazing actually. Yeah. Surgeons were operating well into their eighties, some in their nineties doing general surgery very competently. So it, you know, at the time it was normal for us so we didn't really think a whole lot about it until we began to realize, oh my gosh, you know, these people are super highly functional relative to other people that we know.
Robyn:
Fascinating. What is socializing like in the Seventh Day Adventist community? Is it a really tight knit community? What's different there?
Amy Beth:
It's very tight knit. And it's very much, I guess the word now is tribal, but we didn't know that word back then. It's just a very community driven lifestyle. So Friday nights, um, it's kind of a sanctuary of time, they call it from Friday night to Saturday night. So typically everyone lays down their work on Friday, even the grocery store closes around three in the afternoon to prepare for the Sabbath. And Friday night people get together and they gather, um, you know, for dinner to socialize or fellowship and it's ritual. It's definitely a value that's built into your upbringing.
Dr. Alan:
Oh yeah, for sure. And there's no partying that's really going on, right? So most Adventist's don't drink at all, and they don't smoke. So socially it's very much centered around relationships and family, not so much social habits.
Amy Beth:
And I will say too that being a student in that environment, Alan used to put his books down on Friday and so did I, and it really, it was really just a nice value to hold because I think we were both really Type A personalities and if we didn't have that, um, mandate that we felt like came from a higher place, we may not have put the books down for 24 hours. But we did.
Dr. Alan:
Yeah. Mentally recharged.
Amy Beth:
Yeah. Mentally recharge.
Robyn:
So they have a party on Friday night and I would imagine there's no alcohol served. Is that a ban in the religion or just kind of a tradition that nobody else is doing it?
Amy Beth:
I would say it's highly suggested that they just don't, they just don't drink.
Dr. Alan:
I mean, if you're using alcohol, you're generally shunned. I mean, you know, nobody smokes. And I would say 99 percent of people don't use alcohol at least openly. Um, and, and they really believe it's a tenet of health actually taking care of your body as if it's the temple of God, not allowing anything in it that's going to change your ability to think your way through problems. And really the inhibition caused by alcohol is really sort of taught to us that it really depresses our frontal lobe. We tend to make decisions that we may not otherwise make. And so the idea is really preserving your body, your body's a temple and needs to be taken care of. And these are tenets of health that they really talk about.
Robyn:
Yeah. So it's, it's interesting to me that most of the longest living people on the planet, if not all, are people of faith they have. They kind of come together around some principles and I think one of the two of you is more religious and the other one's a little more spiritual. You can comment on that if you want. I'm curious, did you keep some of the Seventh Day Adventist stuff? Did you keep all of it? Are you raising your children as Adventists? Tell us a little bit more, whatever you feel comfortable telling us.
Amy Beth:
Yeah, I mean I would say that, um, the beautiful thing that being raised Seventh Day Adventist gave us and gave me in particular was um, being okay being different because. growing up Seventh Day Adventists, we were different. People sometimes thought we were in a cult. So you just kind of learn that whatever is in your heart, whatever you need to follow that you live in your own truth, like really centered in your own truth. So that was one thing that I think kind of gave me that courage to maybe pursue my own path, which was a little more individual than just Seventh Day Adventist. Um, so I would say we are raising our kids with those same core values, but not exactly in the same exact way that we were raised.
Dr. Alan:
Yeah, I mean I think one of the huge advantages to being raised in a community like this is it does give you a lot of emphasis on values and individual strength. And you know, being different, I mean, just the fact that I didn't drink alcohol for you know, forever, well, never. I've never had alcohol. And even now people meet me and they think I'm either an alcoholic or I'm an extreme weirdo. And I think that, you know, in the Adventist community, it's just normal. So it's like, you know, the Adventist community is very small and very tight knit and so it would be considered very normal to not be a drinker, you know, it'd be, well of course you're not a drinker, you know, we don't drink, right. So, um, and that's sort of the same way with smoking and you know, drugs and, you know, all the sort of social habits.
Now here's one that's a little bit weird dancing. Okay? So this is why, this is why I'm a terrible dancer. So Robyn, if you've ever seen me dance, uh, I, you know, I try, but in general, you know, Adventists don't believe in dancing either. They don't believe in adornment, like wearing, you know, big rings and these kinds of things. This is more of sort of what's been in the past and I think it's become more maybe socially acceptable now. There may be a little more modern Day Adventists where they do, you know, do some of that stuff. But it is kind of a little bit restrictive.
And I think for our kids, you know, we decided we wanted them to not quite be so restrictive in things that we thought really didn't matter in their spiritual journey. Um, you know, for us, dancing, moving your body, that's, you know, that's not the same thing as, as you know, how smoking could potentially harm your body. It's actually, you know, it's good exercise. So I mean I think there's a lot of, you know, things that we talk about. We're not just sort of following blindly. We'd like to sort of think about, you know, the tenets of health and really why did we think how things were so important and why have they stuck with us and that's what it's given us.
Amy Beth:
And a super big love for people. I mean, you know, we grew up very socialized so I think, you know, we just fell in love with being around people.
Dr. Alan:
Right. And the friends that you make in these tight knit communities you keep for life. You know, today if I hadn't maybe talked to somebody in five, ten years, I pick up the phone and call them because I went to school with them and within a few minutes, we're just right back there, we're lifelong friends. And many of my friends, uh, from that time of my life are still very close friends nowadays. And I think that's a pretty standard thing in our Adventist communities.
Robyn:
Interesting. How is the divorce rate in the Adventist community?
Amy Beth:
You know, that's a really great question. And at one time I knew that. And I feel they did a study, Gosh, back when I was in high school, "Value Genesis", it was called. And I feel like the divorce rate was about 10 percent better than the general population, if I remember correctly. But I don't have any current stats on that. It's been a while since I graduated.
Robyn:
Well, I've already learned some interesting things. I thought I knew a little bit about Seventh Day Adventists. Didn't know about the adornment. And I didn't know that Alan has never had alcohol in all his years. I do know about you, Amy Beth, that you've never eaten an animal product.
Amy Beth:
Oh, well actually I became a vegetarian at the age of 10. It was because of a baptismal study and my parents were not vegetarian at the time. And I came home from the study and said, mom, you know, they were teaching me that my body is a temple and that this would be the best way to treat it. And I have never had meat since that day, that I'm aware of.
Robyn:
That's an important qualifier because, uh, my daughter who has been a vegetarian since she was 11, says the same thing because I think she's like accidentally taken a mouthful of something before she learned what it was, and she said, what is this strange stuff in my mouth?
Amy Beth:
Funny. My sisters were very ornery, so if they had an opportunity to feed me meat and then hide and laugh, they probably would have done it.
Robyn:
My only sister was a vegetarian long before I was and she's not now, but when she was a very young adult, she was a vegetarian and she was kind of like a PETA, like the whole political thing. She had a bumper sticker on her car that said: "Meat is Murder" and my then husband just had a heyday with that, giving her heck about it until she like cried.
So, uh, but, how do you feel about the plant based diet? You know, that I'm a big advocate of it. I eat a plant based diet myself. I think it's just absolutely turned my health around. I don't think that you have to eat an exclusively plant based diet to be healthy. I think there's more than one path. But I do think that most of us don't get enough plants in their diet. Where do you two stand on that?
Amy Beth:
Yeah, I mean I think what's interesting about all of the Blue Zones and the things that they have in common is the plant based diet. And that even if they do eat meat, that it's more like a condiment and not the main portion of their meal. You know, I think that the plant based diet is the one thing that we can point to in terms of actual literature out there about what is working because we can study these Blue Zone populations and the proof is in the pudding right there.
Dr. Alan:
That's right. You know, we talk about the five key areas of aging and every single one of those areas, a plant based diet can dramatically improve. So if I go through those briefly, inflammation is a key area of aging. In fact, it's one of the hot topics right now in anti-aging medicine because we do believe that inflammation is at the core of most chronic diseases. If not all chronic disease. And a plant based diet can help reverse inflammation for sure. And then of course cholesterol or blood vessel health. The other pillar of aging. You know, if you do eat a plant based diet your cholesterol numbers will drop significantly, and we do see this when we run lab tests on people.
And then if we talk about hormones, another pillar of aging. Your hormones can improve. Think about Hashimoto's thyroid disease, the autoimmune attack on your thyroid. You know, one of the key things there is when a person is diagnosed with that, if they are hoping to reverse it, which about 10 to 20 percent of people, will ultimately reverse and go back to normal. A plant based diet is a really good strategy because it's quite anti-inflammatory.
Robyn:
You know, I want to interrupt you Alan, because you're telling us that a plant based diet is key at reversing inflammation. It's key in blood vessel health. We've heard these same things from people all the way from Caldwell Esselstyn to Joel Furhman to Michael Greger on this show. And now you're telling me that a plant based diet is key in thyroid health. And I want to point out that I've reviewed, the book's coming out from two of my colleagues, I won't mention who they are because I actually think very highly of them and I believe that they want to help people. But in both of their books, I read this quote or paraphrase, "I have never met anyone who reversed thyroid disease with a Vegan Diet".  And I've gone to both of them and said, "You actually do, you know me."
And I've been in remission from Hashimoto's Thyroiditis for 16 years now and have no discernible antibodies year after year after year after year. And that's how I did it. So I want to point that out that you know, the key here is eating whole foods, mostly plants. Whether you eat mostly plants or all plants. I really don't care. And you could probably get away with it. But notice that Dr. Hopkins is saying a plant based diet. He didn't say Vegan because maybe there's some play there. I don't know. I'll throw that back to you and you can comment on that. And did you know that, that some of our colleagues say that you got to eat meat in order to have a healthy thyroid? Does that make sense to you?
Dr. Alan:
You know, um, I didn't know that, and uh, it doesn't make sense in my experience and from what I've seen. And certainly there's a lot of good solid research around plant based diets and how a lot of these phytonutrients that we're taking in with plant based diets are helpful. But it's really the anti-inflammatory effect that I think is really particularly helpful. We really do now understand that inflammation is such a huge driver for chronic disease. And we're all not eating enough plants that help us lower the inflammation.
Um, there were two other pillars of aging that I wanted to also talk about relative to a plant based diet. The other one is insulin dynamics or blood sugar. You know, this is a key area of aging when people's blood sugar start increasing can actually increase your risk for cancers and heart disease and so on. And so eating a plant based diet can dramatically lower your insulin levels as well. And then finally of course, is the nutrients, that's a big pillar of aging. People aren't getting in the proper nutrients, it can really screw up their metabolism. And again, a plant based diet is one of the best things for this.
So plant based Diet has a lot of benefits, certainly in the Adventist community I think that they've shown with more people living over the age of 100 than anywhere else in North America that there are some, there's got to be something to that as well because we all have to eat.
Amy Beth:
Yeah. And I would also say, Robyn, you kind of said it, that yeah, there's a little bit of play there. Plant based, has some wiggle room. And the programs that we teach and we have online, we kind of give people that option. Like if you're going have meat, this is the best meat to have and this is where you want to have smaller portions, here are some things you can do instead. So you know, we try not to be so hard-nosed that it makes it impossible for people. Because not everybody's in the same place. And it's really about being as healthy as you possibly can be, not being a perfectionist.
Dr. Alan:
Yeah. I would think, my comment on this would be, most practitioners would agree that not enough people are eating enough plants. Uh, and what I'm talking about, I'm referring to vegetables and whole foods. We're just not eating as much. And that's why our diet is so pro-inflammatory now. And a lot of people believe this is why along with toxins in the environment and so on, we're seeing more autoimmune diseases than we've seen before. So it really is a tsunami of inflammatory disease that I feel like we've put on ourselves by eating so much pro-inflammatory food.
Robyn:
Very well said. You went to school to study emergency medicine and then you went back and you got more certification in anti-aging medicine. And I'd love it if you talked a little about that. I know you've covered the five pillars very well, but your background coming from Loma Linda had a big role in that. Right? And you also believe in getting lab work. Tell us about that.
Dr. Alan:
What I really liked about Loma Linda is that they really taught you whole person care. So it wasn't, you know, John, the guy in the back with colon cancer. It was, you know, John, he's an engineer, he's married, he has three children, you know, he lives over in Yucaipa and uh, he just happens to have the unfortunate diagnosis of colon cancer. How are we going to best take care of him? So, you know, seeing that and being exposed to it day after day at Loma Linda, we really learned about whole person care. It wasn't about disease care, it was about actually taking care of that person.
And so I think that that, although in emergency medicine we only have five minutes to develop a rapport and sort of figure out problems and sometimes we don't have much time because people are actively dying. You know, I wasn't able, I don't think to practice that as much as I wanted to. But when I turned 40 I had this epiphany. I'm getting older and it's harder to keep on muscle and it's much easier to put on belly fat. And, you know, I'm more fatigued and tired and having trouble sleeping. What's going on? And so I wanted to, and by the way, this entire time, over 20 years of practicing medicine in the emergency room, I was seeing more diabetes than I'd ever seen before, diagnosing more cancer out of the ER than ever, and seeing more inflammatory disease.
So all these things were happening and I was just saying, you know, what is going on? Is there something else? Is there some other way that I can help? Is there a way that we can intervene in disease? And do disease interception before people get to the end of the road when they see me? And so from that I just, I went and did an anti-aging fellowship and just learned a lot about nutrition. You know, we're not taught much nutrition in medical school. Even at Loma Linda, I feel like we could have been taught a lot more. Um, maybe they're doing better these days. But in general, most physicians don't know a whole lot about nutrition.
And so our interventions with patients, just come down to, hey, you know, lose some weight and exercise. And patients are looking at us going, well doc, you're like 20, 30 pounds overweight, what are you, what are you talking about? Uh, how do I do that? And then, you know, we as doctors may not exactly know. So there's just not enough emphasis on that I think in general. And uh, and even at Loma Linda. So I believe strongly in disease interception and a person taking control of their own health and not just relying on their doctor to fix them.
And so from that we actually started an online lab company were a person can go and they can get direct access to advanced lab testing. And so for example, you know, Robyn, you had thyroid disease. Well, just as an example, most doctors will only check a TSH for thyroid, the thyroid stimulating hormone, that's all they do. If it's normal, they say you're fine. Well, there is a test called thyroid peroxidase antibodies. And if those are positive that means you have Hashimoto's disease. Japanese guy who in 1912 came up with this Hashimoto's disease name. But if those antibodies are positive, we see that usually years before we see all the problems with the thyroid happening.
So wouldn't it be nice to intercept the disease ahead of time? Uh, and then, you know, like in your example you went completely plant based diet, were able to reverse it. And wouldn't it be nice to know that it was coming. And so that's the whole idea behind taking charge of your health and being able to get access to some of the testing now without necessarily having to go through your own doctor to order the test. And so, that's something that Amy Beth and I are very passionate about. We set up a company that allows people to do that.
Amy Beth:
There's something particularly motivating about seeing your numbers. I don't know what it is, but it does for me and it really lets me target and hone in on the particular habits that I need to improve. And I think personally for me, a few years back, I just had kind of a breakdown and was living a very stressful existence quite honestly. And I thought it was normal. At the time, I was running two hospitals and had four physical therapy clinics and three children and trying to keep up and I just wasn't doing it. And when I saw my cortisol results, it kind of gave me permission to say, you know, that stress, you feel it's biological, it's real. And just seeing those numbers on paper just gives you, at least me, it gave me the permission to make real changes in my life.
Dr. Alan:
Yeah, I mean when it comes to testing, we only believe in people getting testing if they're willing to do something about it. It's a technology that you can use and it's readily available to you to now get it on your own. But if you're not gonna do anything about it and you're not motivated. Don't, don't waste your time doing it. But if you are motivated and you really want to know the answers, it's a great tool.
Robyn:
Yeah. I love it and I think that we're going to see a lot more telemedicine and we're going to see a lot more gifted functional medicine practitioners like the two of you being able to guide people wherever they are based on lab work and of course patient history and all of that. But we're going to see more access to really good holistic or functional medical care because of great lab work.
And I agree with you, I never actually thought of it that way, Amy Beth, but especially for the competitive, those of us who are like always trying to gun for the A's in school. It's like if I see a bio-marker that's out of line, I'm super motivated to make some changes.
Amy Beth:
I know. It is. I'm the same way. Yep.
Robyn:
Well, I think you are both doing such great work in the world. Tell my listeners where they can learn more about you and your work. I know that you have a free gift for them related to your personal jam in medicine, which is about helping people age better. Tell us where they can find you and where they can find your lab work as well.
Amy Beth:
Yeah, there's a couple of places. Um, our lab work website is called: yourlabwork.com. Um, so the lab work is there. But we do have a special discount code coupon and also a beginner's guide to aging well where we outline these five pillars of health that we've talked about today along with the bio-markers in each category that we feel like are the key bio-markers to watch. So it's an age well, I guess, lab panel, and we take a deep dive into that. And the beginner's guide to aging well and then kind of point you to um, nutritional intervention that can be taken in each specific category to up-level your health. And that is on: healthandblissforlife.com.
Robyn:
Love it. Well, thank you both so much for being with us today. Alan, will you share with us just a little bit of inspiration for anybody who wants to slow down the aging process? We see it all around us. We see some pretty bad aging everywhere. We've talked a lot about diet. What else can people be doing?
Dr. Alan:
Yeah, well I think the first thing is people need to know that it is possible for each one of us to slow down the aging process. And no one answer is right for everyone. There's a lot of people out there with a lot of books and information and they want you to do it their way. It's a very individual path. But here's the thing, is that you can, you can do it and so it starts very simply by taking a look and then taking the time to invest in your health. For me, and at least in my practice, what I do and what most of my patients do is they do a comprehensive blood analysis every single year and they focus in on those areas that they need improvement. So they don't waste time on areas that you know, they don't need improvement on, they get to focus in.
So Amy Beth is a perfect example because you know, Robyn, you know Amy Beth is unbelievably healthy. I mean she's just optimally healthy. She's great. But in running the tests on her, we found multiple areas, not, you know, not a tremendous amount, but multiple areas that need to be optimized. That actually gave her an enormous amount of energy once they were fixed. So she had more energy. She could give more. She could enjoy her life more.
There's people out there that are really hurting and they're having such a difficult time. They're having trouble moving their weight and they can't get any energy at all. Those people are going to need a lot more intervention. So I would just encourage people to, don't be discouraged, to realize that there are answers out there and if you're willing to take the time and you want to look around, you're going to be able to find those answers for yourself.
Robyn:
Well, thank you both for being with us. Thanks for teaching us about the Seventh Day Adventist culture and what the Blue Zone community here in the United States looks like. And thank you for the great work you're doing in the world.
Amy Beth:
Thank you, Robyn. We really appreciate the work you're doing too, and how grounded you are in the science that's out there. You're definitely one of our go to people.