Ep. 175: I'm Cultivating the Contentment Vibe. Are You? with Robyn Openshaw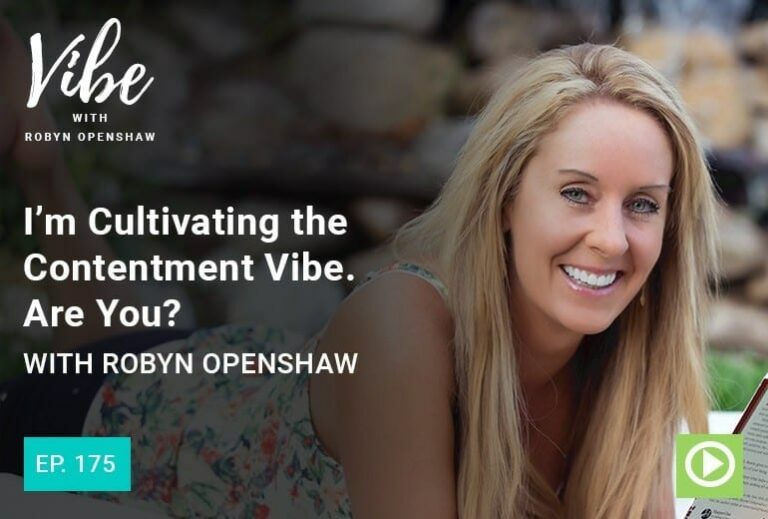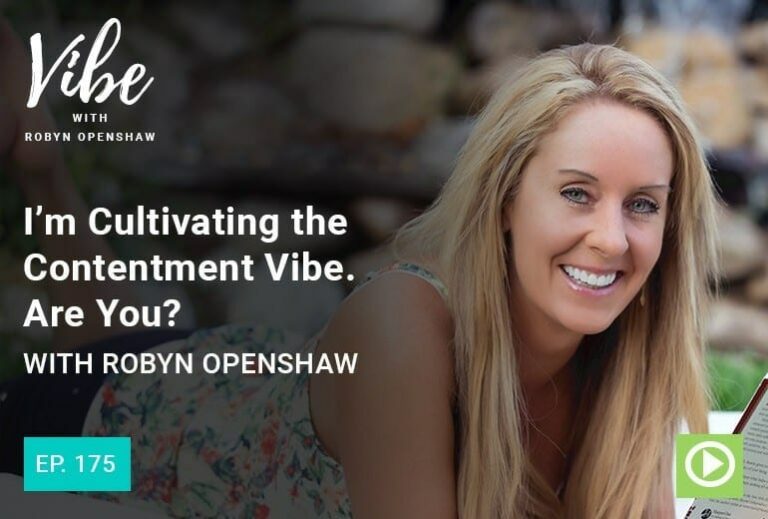 Podcast: Play in new window
I'm giving you a tour of the house I bought 6 months ago. Because in it, there's a metaphor, that I find really useful and I hope you do, too. Can you be happy and peaceful, even when circumstances are not what you would choose? Learn how to cultivate the Contentment Vibe!
LINKS AND RESOURCES:
Check out the video tour of Robyn's house
---
EPISODE HIGHLIGHTS:
---
TRANSCRIPT:
This transcript has been edited for clarity.
Robyn: Welcome back, everyone. This is Robyn Openshaw. Welcome to the Vibe show.
Today's going to be a personal episode. I want to tell you about my house. This is the house that I bought six months ago in Park City, Utah.
I've moved five times in the last seven years. At one point in that seven years, I even built a house that I never moved into. I'm not even counting [that house].
That's a long story why I built a house that I didn't ever move into. If you count that, it's six homes in seven years, but I just lived in five of the six.
I kept moving to a home that didn't work because of one of my children's needs. For instance, I moved out of my son's school boundaries when he was 14. He ended up in tears and said he hated being away from his friends.
I sold that place and bought a different house. Another example is that I lived in the condo, here in Park City, that I had bought. After a year, I decided that living with a really aggressive HOA wasn't for me.
I decided that even though I loved my house down in Orem, Utah, the county that I'd raised my kids in wasn't the right cultural fit for me long term in my new life circumstances.
Underlying Issues with Contentment
All this moving has made me wonder; Do I have a problem with not being content where I am? I wanted to share with you a little reflection on all that because moving into this house has made me really reflect on that quality of mind, that feeling that you have, which is a very peaceful, wonderful vibration.
That feeling of being content. I think that contentment is a place that not very many of us live in, or maybe just too few of us.
I think that a lot of things about our culture sort of predispose us to want something more or want something different all the time.
If we were too content, we probably wouldn't do very well in our careers or we wouldn't save money for the future or we would accept really bad behavior from an intimate partner, that kind of thing. It's not like striving or making changes is categorically a bad thing.
If you're like me, you find it easy to be dissatisfied with life — at least in the 40 years at the beginning of my life, I did a lot of that.
If [you're like me] you just want to make sure that you don't get stuck in that pattern of always fantasizing about how "I'd be happy if this were different or if that were different."
For me, it's a real possibility. I think I'm a born critic, and if I didn't take some major steps, I would always be measuring myself and my life and other people against a yard stick where everything falls short.
That matters because then I'm seeing failure everywhere and I'm not happy. It's on my mind because [in] this house I bought six months ago, I have never been happier in a home than I am here. I've been asking myself why that is.
I took some little videos and photos of the inside of this house (I'm going to see if Sue can pull down the whole tour that I did), right out on the sidewalk, walking up to the house with the crazy stuff on the outside of the house, and walking through most of it. I forgot to show a couple of parts. I forgot to show the dining room for instance.
I'll see if she can get that off Facebook and show you a little tour. That'll be in the show notes if you want to see what I'm talking about.
Striving Toward Perfection Affects Your Contentment Vibe
Just to give you a sense of how I used to be always striving, always looking to the future for my happiness, always wanting something different or better, 20 years ago I spent a year pouring over home designs, going to home shows and meeting with builders.
Over time that year I bought the perfect lot and I designed my perfect dream home with an architect. For months before I even hired the builder, I considered every corner of every room. I designed the perfect house for my family.
It was on half an acre with plenty of room for fruit trees and 10 raised garden beds. I even had three big giant compost piles that I had in different stages of composting.
I raised my kids in [that house] for 12 years, and I did love that home. I just drove by last year and I noticed that it was for sale again.
It's on a cul de sac in the lovely little town of Linden, Utah — a quiet street, hardly any traffic, great schools within walking distance.
The house was just exactly what I wanted it to be, down to every detail. I hope you don't mind if I tell you about [the house I live in now] in some detail. There's a point to this.
I bought the house from the original owner who had designed and built it himself 17 years ago. He was some kind of craftsman.
I think [he was] a carpenter or something like that because all the doors seem to be handmade and they're not a standard size. =He was in his seventies. He's retired and his wife still works. They moved to Tucson.
Even though he never discussed it in the sale or negotiated with us, he left us two snowblowers, a perfectly good lawn mower, his Bowflex down in the little fitness room, and a bunch of other cool stuff that they didn't need an Arizona — or maybe they just didn't want to move it.
I have to tell you how quirky this place is. It's ranch style. It's 4,000 square feet. These kind of homes — ranch style in that mid-range, not super small, but not very big — are not easy to find in Park City.
I said ranch-style because I grew up in the East coast, but people out here in Utah called them ramblers. It's four bedrooms and four bathrooms. It's bigger than a starter home, but it's a lot smaller than the mansions that are all over this town.
This town has a lot of wealthy people who spend half the year here and a lot of other time in their homes in [other states]. Like half of my tennis team is women who live half the year in Florida, California or Texas for some reason.
[In] a ranch style house, there's no upstairs. There's a basement, but besides that, everything you really need is on the main floor. You've got a master bedroom suite, an office, a kitchen, living room, and the laundry room on the main.
These kinds of homes are in really high demand nationwide [and] here too because retirees want to buy these kinds of homes so that they have everything they need on the main floor.
When it starts to get hard to climb stairs, they don't have to. Anything that's down in the basement, they don't have to get to it [and] be running up and down the stairs like we do when we're younger. In the basement you put your guests rooms if your adult kids or grandkids come home to stay for awhile.
Because this just-big-enough house size with the ranch style layout is so rare, I spent a year with my realtor sending me listings. I had to jump on this house.
I was in a bidding war the second business day that this home was on the market. He had sent me the listing. I saw that it just listed that day. I said, "Get me in today, please," and then I was in a bidding war the very next day.
The Quirky House Tour
Let me tell you just how weird this house is. When we came to look at it, they didn't want us to go in the master bedroom suite first. I started heading in there, and they're like, "Wait, wait."
I think the reason they didn't want me to go in there is that there's two very weird things in there. It has 17 year old ugly gray tile in the master bathroom, but that's not even one of the two weird things.
One of them is that there's a giant bathtub that you have to step really big over the side of the tub to get into it. It's a big master bedroom.
There's no door on the toilet room. I'm not including that in the two weird things either. I'm just telling you the more minor weird things.
You have to step over to get in this giant bathtub, but there's no shower. There's only the bathtub with the shower curtain. The tub is too big to fill, and there doesn't seem to be a faucet to fill it.
I've never figured out how you would even fill that tub if you wanted to take a really big bathtub soak. There's no faucet for water to come out in the tub. As far as I can tell, you can only use this giant tub to shower in. I don't get it. I have no idea why he made it that way.
Luckily, if I want to take a bath, there's a guest bathroom almost right next to it — next to the office. It has a regular sized tub shower combo. I use that a lot.
While the bathroom and the master bedroom are nice and big, the closet — oh my goodness. It's probably the big liability of the house for resale value. It's long and skinny.
Only a bachelor would put this closet in a master bedroom, and that's what this guy was when he built it. He married his wife in middle age. I think he was probably my age or so when he married her.
This closet is too small. No woman would ever put a closet like that in there. I mean it could be worse. At least it's a walk in closet.
I've adapted to that since I moved in here because some of the things I've changed. I've had two construction projects since I moved in the last six months.
The closet — I just don't really see a way to change it or to make that bigger without a huge tearing out of the whole master bedroom suite.
Clothes that I don't often wear, like formal or seasonal things, I leave them in a downstairs closet, and I'll just rotate them up and down for the seasons.
The huge laundry room [is] on the main floor. It's nice to have a nice big laundry room, right? It had a door on it that said in giant letters "Pantry," but when you walk in, it's just a laundry room — a huge laundry room, buy there's no pantry.
Who builds a 4,000 square foot home with no pantry at all? There wasn't anything I could do about the small skinny closet in the master bedroom.
With this laundry room issue, I tore out part of the laundry room and I made a nice sized pantry. The laundry room that's remaining is still huge, so it's all good.
Really [the house] is just weird. The first thing you'll notice if you pull up to it is that it has bears hanging off rafters on the front. There's some wood beams all over the front of the house and there are bears hanging from the beams. There's baby bears.
There's this big carved adult wooden bear standing sentinel in front of the door. You could put a flag in his paw for the 4th of July, or you could dress him up for whatever holiday. There's also this really ugly carved wood moose in front of my office window.
Now, 20% of you would think "How cute! There are bears all over this house." There's four of them on the front of the house alone. You might think, That's so Park City." It is, it is. This is not the only house that there are bears.
There's a well-known house here in Park City where there's a giant bear skiing off the roof. [Park City] being a ski town and a town with a lot of wildlife, it's not entirely unheard of.
80% of you will say, "Wow, that's cheesy. Get rid of the bears right now." How do I know that? Because I posted this little video tour (which we'll try to put in the show notes for you) on Facebook.
I asked people what they thought, and it was about four to one anti bears. Well now on the inside of the house there's even more bears.
There's this solemn looking bear standing there holding toilet papers out to you in the master bedroom. He's just holding his paws out and between his paws is the toilet paper roll. I know I could get rid of him, but the strange thing is I just, I can't make myself do it.
He was here before me, and that just seems rude. They've almost like developed a personality for me. I've left him there, and I've slowly gotten used to him. There's also a mirror in the master bedroom with a bear draped over the top of it. I'll put a picture in the show notes.
If you go down to the basement, there's an entire room of this house dedicated to this big fancy pool table, and I don't really play pool. I haven't played a single game of pool since I moved in. Also down in that pool room there's a wet bar, which is another thing I'd never put in my house.
There's a little fitness room down in there too that I love. It's probably the thing I'm currently most excited about because it took me six months to save up and buy the equipment that's in there.
I've never had a space just for exercise in my house. I've always had to drive to the gym or ride a stationary bike that I kept in my master bedroom.
The walls of this little fitness room — you can see it in the video — are bead board painted turquoise, and then there's mirrors above the bead board on both sides of the room. The crown molding is painted a salmon color. The room is turquoise and salmon. Yup.
Not colors I would really choose; I'm not changing it. It does make for a cheery space to work out in. I think you want your space to exercise to be fun and light and colorful. There is the fitness room.
My sauna is down there [in the basement]. You already know how I feel about my infrared sauna. Then there's this big giant heavy door. This door is enormous. It looks medieval.
When I have people over to the house and they want the tour, I take them up to it and I say, "What do you think this is?" The thing that most people say is, "Is that a torture chamber?"
Behind that door [is an in-home theater room]. I'm not much of a TV or movie watcher. I can go weeks without watching TV, sometimes months. A theater room is definitely not something I would put in a house that I was designing.
[The room] is basically a bunker. It's designed to look like the Park City silver mine –which is the origins of this town. The walls in the theater look like they're cut out of stone, and the border of the room is a foot of pebbled rocks.
There's dynamite stapled to the fake mine rock-looking walls. There's lanterns hanging from the beams overhead. There's also framed photos of all these celebrities who visited Park City over the years.
There was even a hard hat and a pickax [belonging to] the oldest living silver miner from Park City. Those were planted in that border of small rocks around the edges of the theater.
The owner did ask me if he could take the pickax with him because of its sentimental value to him. I said of course.
There's no central heat in there, but there's a space heater. The space heater works fine. After five minutes it gets warm in there.
Here's probably the strangest thing in there. There's seating in there for five. The three person sofa at the back of the room — there are arm armrests in that couch between each of the three seats.
The guy who designed and build this house, he must not have cared at all about cuddling. You literally cannot cuddle watching a movie. Two people cannot fit in one seat, even if they're very small. It just doesn't work.
You have to stay in your own seat. You can't even lean over and put your head on your guy's shoulder. It's literally like a birth control couch.
You do have a drink holder in the armrests between each of the three seats. You can drink a beer, but for that privilege you give up all of the ability to love up on your somebody [while] watching a romantic comedy.
There's one full basement bathroom for anybody who's staying in one of the two guest bedrooms down there, but there's no shower in it. There's this huge clawfoot bathtub up on a low platform.
It's beautifully tiled and the clawfoot tub is really cool. There is a little handheld that you could do a handheld shower. I don't think most guests would want to do that.
It takes up a huge amount of space. It's beautiful, [but] again, not what I would do. I would put a tub shower in there, or at least just a shower, not just a tub for the two guest rooms on the other side of the basement.
There was a really basic large craft room down there. We did tear that out and the full bathroom with an actual shower down there is almost done. I'll take a little video and put it in the show notes.
It was supposed to be done in time for my high school reunion, but that did not happen. Partly because we were waiting for the permit on building the bathroom and then set backs in getting it finished.
If you've read my book Vibe, I've decided in the last 10 years to be happy regardless of my circumstances. I didn't freak out when the bathroom that I had done everything in my power to finish before my high school reunion didn't get done as the contractor had promised.
I always remind myself, "This is a first world problem. This isn't a real problem." I just let it go. We had fun anyway, and everybody just took turns using the upstairs shower when I had 10 people staying here.
[We] just rolled with the punches. Since I learned how to roll with the punches in the last 10, 15 years, I've been a happier person.
Next to that new bathroom that isn't quite done, there's some kind of like hieroglyphic or a giant bug. Maybe I'll put a photo of it or a little video in the show notes.
I have no way of explaining why you would want to paint this giant prehistoric-looking creepy insect kind of thing right as you walk into the craft room. Just sharing this as yet another example of how this house is not what I would've done.
The back of the house has the most amazing view. There's a nice long deck to enjoy the view. Down below is the fifth to the ninth fairway of the Jeremy Ranch Golf and Country Club. There are streams and little ponds down below.
For some reason the original owner I bought it from thought it was a good idea to block the biggest wall in the living room, which is the main view out of the back of the house with a giant fireplace.
If it were me, again, I would have put that fireplace on the sidewall. If it were on that sidewall, it wouldn't block the view. On the other side of that is inside the master bedroom. You could have had a nice fireplace in there, but that's not what he did.
Instead he put a giant impediment to the view of with this amazing view lot. Like I said, the back deck is really great. The view is spectacular. I can also walk out of my master bedroom onto that deck.
I've got that beautiful view out the bay window of my master bedroom. I can leave that door open at night in Park City in the summer and [it] never gets blazing hot. It's about eight or 10 degrees cooler than down in the Salt Lake City Valley. Just a beautiful view to wake up to.
Downstairs, below that deck, there's a hot tub. I've got a little video to show you of that. The guy who sold me the house said that he would go down there every morning naked and get in the hot tub with his coffee.
Nobody on either side of the house or behind it can see you back there because you're way up above, which is pretty cool.
There's a view of the golf course and the mountains behind it for miles. Nobody can see you unless maybe they were really nosy and had binoculars way across the valley.
Listen, this house is great. It's the exact size I wanted. I was kind of pinched in the condo before, mostly because I have so much of all four of my kids' stuff that I have to keep toting around from house to house.
They visit sometimes. One of my children has lived with me off and on over half of the last year and a half.
There's too small and there's also too big, and I didn't want a too big house any more than a too small house. I don't, and I never will want a status house. Here in Park City there's a lot of 8,000 square foot mansions with 30 foot vaulted ceilings. They're very beautiful.
I did the dream home. I had that. I lived in it for 12 years, and I enjoyed designing and building it. I loved raising my kids in that house.
It was not a status house. I didn't build it for impressing my neighbors. But, but it was pretty big. It was 7,000 square feet.
I love that the office [of my new house] is on the main floor and it's looking at my very small front yard. Having an office on the main floor was something that I realized that I really liked. I had to go down to a very cold basement in that condo [to the office].
Let me say one more thing. I can't forget the three car garage. I feel so grateful for it because I missed it in the condo. I'd always had a three car garage for many years before I bought this house, which is nice to have when you have teenagers and young adults learning how to drive.
In the condo, only one car fit in the garage because all the way around the garage was shelving [for] all my kids' stuff in boxes and their sports stuff. Of course we have storage stuff,
The HOA was writing me a threatening email about once a month for having my daughter's car or John's car in the parking stalls next to the condo. We were always getting in trouble for that.
I'm so glad to have a garage. I can fit my college kids' stored stuff in and our ski stuff, which is pretty mandatory in the ski town. Two cars fit in there, and I feel grateful for that every day.
One of the most important requirements when I was looking for my forever house (I feel like this one is it) I didn't want to have a steep driveway because there's so much snow here. You could end up being housebound. I can't get out to go play tennis or whatever.
There are probably 10 or more days in a year where we have to shovel twice in a single day. I didn't want a steep driveway, and I didn't want to live on a really steep road. Those were deal breakers.
I told my real estate agent, "This driveway isn't too bad." You dropped down into it for maybe 10 feet and then it flattens out, and you can just drive right into the garage. That drop down helps the house feel really quiet and secluded. You can hardly see it from the street.
My point of all this is, I kind of told you the good and the bad and the ugly, but there's just not much about this house that I would have chosen.
I really don't like gray tile. I don't even like the color gray in general, in decorating or in clothes. It's pretty rare that you'll find me wearing something gray. I like warm tones like beige and brown.
There's just so much gray in this house — fireplaces, the tile, the theater room; it's like a cave made of gray rock. One fun thing is that John's dad was a miner, and he worked here in Park City in the silver mine 50 years ago.
I don't hate the theater or anything else about the house, really. I don't even hate the bears. It's quirky in a way that doesn't really represent me and I wouldn't have chosen.
The Life Metaphor in the Contentment Vibe
Hopefully you're seeing the life metaphor coming here because I love this house so much. I'm so happy. I'm so content here. What I've learned is that something doesn't have to be perfect to be amazing. I can adapt myself to the circumstance rather than standing back and judging the circumstances.
I want to tell you this story because thinking about this house and how deeply happy I am here is representative of what I want to say about the vibration of contentment. It is a choice. It is cultivated.
I don't love this house because I spent months picking out every detail and improving everything about it. This house predates me. It has its own personality.
I thought that I would take the bears down and change quite a few things. I don't feel to change that much about it. I mean, I did rip the teal green carpet out of the dining room and the lavender carpet in a guest room that was in the basement, but I'm leaving the bears and the gray tile.
I just decided to adapt to the small closet. I see [this house] as a learning opportunity. To me it feels like adapting to this house is part of my practice in contentment, which is an important thing to me at this stage of my life.
I got really tired of trying to make everything perfect in my life and spending too much energy on striving. I like to work, but now I work whenever I work, instead of 70 hours a week. I did that for literally decades.
[Now I get to] really rest and enjoy and relax and breathe in this home. Gray colors everywhere and the big fireplace blocking the view.
I just want to enjoy time with my family and my friends and my love. I want to create memories. I want to just be rather than always doing. I've really learned the important lesson that I don't need fanciness or lots of material things around me to be happy.
I'm super happy to have a roof over both of our cars. How exciting is that? Unlike the home I grew up in in Nebraska, I'm grateful to have enough money to heat the house. I'm ecstatic about that.
I was really happy in the condo even if I didn't choose to stay there. That year that we lived in the condo is one of the happiest years of my life.
Cultivating the Contentment Vibe at a Young Age
One thing I learned from the way that I was raised — I want to tell you a little about that too — is that I can be very happy with very little. Some of the best years of my life were years I had next to nothing.
My clothes were secondhand, and I had to budget very carefully to get through the month. I skipped a lot of meals like in my college years. In the first 18 years of my life, dinner six nights a week was something made of beans and a tossed salad on Sunday.
Growing up, there was some ground beef in the dinner. It was our big splurge. The only time we ate an animal product was on Sunday night and it was never chicken or steak or anything like that. I've never had steak in my life. [It was] just too expensive with a family of 10.
I definitely see the value in the way I was raised. I mean, we ate like that because it was cheap. It's cheap to eat salad and beans.
Now that I've spent years learning about nutrition, I feel really grateful for hovering very near the poverty line, if not below it as I was growing up based on the size of our family.
I ate cheap foods. It turned out to be really healthy foods. There's so many great silver linings in that cloud. Even if I was too embarrassed to invite anyone over to share a meal.
One time right after I got married ( I was 20 when I got married), we spent the summer there in Northern Virginia where I grew up. That's where I went to high school. I remember one time my mom just impromptu invited the missionaries over to eat dinner with us.
They'd come to our door and my mom's like, "Why don't you stay for dinner?" My new husband was mortified, and he whispered to me, "She's not really going to invite them to dinner, is she?" I was like, "What? Why? Why is that? Why is that bad?"
Dinner was boiled potatoes and honeydew melon slices. You might be saying, "Yeah, but what else?? No, that was dinner. Boiled potatoes and honeydew melon slices was dinner. That's the kind of dinner I grew up with.
I was 20 years old, and I had no idea that wasn't a normal meal that you serve to guests. In addition to the fact that we had no meat because meat is expensive relative to what we ate, I was also raised not having the money for new clothes.
We went to garage sales on Saturday mornings in the summer. My mother called it garage saling, and we would look at the newspaper the night before in the classifieds. We would circle all the garage sales that looked like we might like their secondhand stuff.
Back in the day when people read newspapers and classifieds were where you learned about stuff, sometimes it would have really long detailed classified ads. If they spent more for a 10 or 15 line ad, you knew that there was probably going to be a really good garage sale.
We would map out our route around town to get the best ones all picked out. My mom was usually looking for antiques because she would buy them and spend weeks restoring them in the garage by hand and then selling them.
I was looking for preteen clothes. I wanted to go to the garage sales where they advertised having my size. That might be between girls size 10 to juniors size four or six.
In the years that I was buying my clothes in this way, we'd be out in front of their house at 6:00 AM sharp waiting for them to open the garage door. We would wait outside to be the very first ones in the best garage sale that we had found so that we could get the best pickings.
My mom felt that after the first two hours of a garage sale, you might as well not even go because all the good stuff would be gone. I would be in the back of my mom's old station wagon just hiding out.
When we got there I would scout the place out to get the lay of the land and try to assess before I got out of the car whether or not the people having a garage sale might have a child in my grade.
I would be rummaging through the used clothes piled up on tables in their garage marked 25 cents — or a really nice item might be a dollar. Keep in mind that my mother would not buy it for me unless I asked to use their bathroom in the house to try the clothes on.
My fear was always that one of my classmates would come out of the house and see me picking through their old dresses and jeans. I feared every year that someone would walk into school and point at what I was wearing and say, "Hey, that's mine. That's my old shirt."
For a few years of our garage saling adventures, worrying about one of my classmates walking out of the house into the garage sale while I considered buying their used shirt wasn't my only fear.
I had something else to worry about and that is the ignition on my mother's station wagon. I don't know why, but when my mother would turn the key to turn the car off, the car would just keep like idling only it would splutter and rev.
This would make my mom really mad because she couldn't get out and walk away with the car making all kinds of loud, clunky noises that it really shouldn't have made given the fact that she had clearly turned it off.
My mother would just sit there in the driver's seat and swear at the car. My mom didn't care at all what people thought of her, the swearing or the negotiating with people at the garage sale.
I've seen her spend 10 minutes negotiating over less than a dollar to get a better deal on whatever it was that she wanted of their stuff.
The whole station wagon debacle would happen with our windows rolled down. We didn't own a car with air conditioning and it was summer.
Back in elementary school and junior high school, I lived in Nebraska. It's super hot and humid in the summers. [Withe the] windows down, the cars making all kinds of crazy noises and my mother is loudly swearing.
She would just hiss, "Dammit" under her breath over and over again. Sometimes she'd say other words that I won't repeat.
I pretty much didn't own any new articles of clothing until I was old enough to get work release from high school at the age of 15 and start working to earn my own money. That is when I started buying my own new clothes.
My parents had bought a home during the Carter administration when we moved to Washington D.C. My father was a defense intelligence agent in the Pentagon.
At the time interest rates were 18%. With Northern Virginia, which is an expensive place to live, they wanted to prioritize the good schools. They wanted us to live in Northern Virginia rather than Southern Maryland.
When we moved there at the beginning of my sophomore year of high school, it was so expensive to own a home. It was taking over half of my father's salary. He had eight children, some of them teenagers. There just wasn't money for much else.
To my parents' credit, I don't remember them ever saying that we were poor. I don't remember them ever saying, "We don't have the money for that." We just lived really frugally.
A Life Lesson in Contentment
What I gained from that upbringing was to be content with what I have. Do I buy clothes at yard sales now? No. In fact, my guts clench up when I see a yard sale. I feel triggered. I almost feel a panic attack.
Do I drive an old beater station wagon? No. From the military commissary, [we received] a super bitter orange or grapefruit juice. That was the best thing we were served many days.
Did I ration it and stand guard over the ration food to make sure nobody takes more than their share like happened every morning of my childhood? No.
Do I put the thermostat on 60 degrees in a cold Nebraska winter and tell everyone that it's their patriotic duty to use a minimum of fuel to economize in the fuel crisis, which really meant "I don't want to pay the heat bill"? I don't do that.
To this day, I feel endless gratitude. I honestly think about this all the time, even at the age of 53. I remember to feel really grateful that I do not have to wear a parka and gloves inside my own house because heat is too expensive.
Yes, I did do that for entire winters. These are relics of my childhood I wasn't super excited to repeat, but they started me on a path to becoming very resilient, very conscious of my own use of energy, my own carbon footprint.
I just figured out in the upbringing that I had that I don't need much. You don't ask for attention when you're one of eight children. I've noticed that I don't need much relative to a lot of the people around me. My childhood of having just enough to eat that I wasn't severely underweight.
I was pretty severely underweight but not malnourished. Having just enough helped me realize that I don't need as much as I might think I do to be happy.
I'm going to do a podcast episode soon on this show, about the day that 400 pharma trolls (people who attack anybody who criticizes a pharmaceutical product) attacked me on every platform on the internet, every place that we work. We are an internet company, and they attacked us everywhere.
I remember one of those trolls during the troll-mageddon was on my YouTube videos calling me privileged and basically saying, "No one should listen to her because she's so privileged."
Now a little bit about how I was raised, and you can decide for yourself if I was raised with privilege. I don't need fancy things or spending a lot of money.
I don't need very many specific circumstances in order to be happy. Being warm really helps and not being hungry for more than a day really helps.
I read this story recently of a man who owned $4 million in property and fancy toys and luxury cars. He also had $5 million in debt, and his business was failing.
He went out of his mansion and he shot the horses in the barn, and he shot the dogs, and he burned the house down with his wife, his daughter, and himself inside.
He had just told a friend of his, shortly before the fire, he said, "I'd rather die than give up the standard of living if they're going to come repossess my house and my fleet of luxury cars, [I'd rather die]."
He and his wife had twin Rolls-Royces, I think. I guess he felt I'm too ashamed, or "I don't really know who I am without all these trappings of success that are my family's face to the world. I'd just rather die."
That too makes me think about the vibration of contentment. I'm not saying that we have to live in poverty where we don't use the central heat that's in our home. Contentment really is happiness.
I still had more than most of the people in the world, even though I just described an upbringing to you that you probably are surprised to hear about. I still wasn't poor by most of the world's standards.
I didn't come from privilege that people during troll-mageddon were assuming. It's not even that I need to defend myself. I didn't even answer the people on YouTube saying that I'm the face of privilege.
Knowing the Truth and Being Content
I know the truth. I know that I came from almost nothing. I know that I received $0 in help going to college and grad school from my parents or anyone else. I also didn't apply for any government grants. Okay? No criticism of anybody who did.
I'm so very grateful to know that the stuff and things that I may ever own doesn't make me and isn't the source of my happiness.
As a parent, I don't have that sense of "I want to give my kids everything I didn't have" that I often hear people my age say when they're talking about how they wanted their parenting to be different.
I hear that verbalized a lot. What I want to give my kids, even though they did grow up in a house that did not require a parka and gloves indoor in the winters, is that resilience and resourcefulness that I'm probably more grateful for than any other characteristics that I have.
I talk about that in episode 40 where I interviewed my brother Rob. Yes, that's right, Rob and Robyn. Our birthdays are the same week too.
He's the middle of my six brothers, and he told some really cool stories about our parents who helped us with nothing and gave us nothing. If you haven't heard that, make sure you go listen to episode 40. It's one of my favorites.
Getting really clear on what I don't need to be content also causes me to reflect on what I do need. What are the bare necessities that I need to feel content?
I could get really anxious and be dissatisfied with my adult children's choices. I'm just in a place where I'm so glad they're healthy and happy and they're turning out to be kind and service oriented.
Emma has two volunteer jobs currently, and that makes me really happy. I'm so grateful that they love each other and they enjoy each other's company. I'm happy. I'm content with their issues relative to what their issues could be.
Obviously, I can't talk about the things that I've had to let go of when it comes to what I wanted raising kids. I'll tell you one. I wanted some little piano prodigies and straight A students. I wanted a neat kid who keeps her room color coded and organized.
If I'm being honest, that is what I used to want. That is what I used to think I was going to raise my kids to be. I didn't get any of that in my four kids.
A Lesson in Non-Attachment
I've let go of so much in order to be happy — let go of expectations, let go of my attachment to outcomes. I think those kids are pretty cool, pretty great, even if they're nothing like the kids I intended to raise.
Remember Buddhism isn't a religion. Just think of it as a philosophy — things to think about, principles to consider guiding your life. They don't compete with Christianity. They don't compete with the philosophy of Jesus, for instance.
A major tenant of Buddhism that monks practice is non-attachment. Can you feel complete and grounded? Can you be a loving person without this specific person's presence in your life or that person's love or presence in your life?
I'm not saying to cut yourself off from people you love. The exercise is valuable in becoming more present and more grounded and more content.
Think of people you're really "attached" to. Can you love? Can you feel calm and peaceful and happy without the love or the presence of a certain person in your life?
I'm not saying that you wouldn't be sad if you lost someone close to you. I'm saying, what if you can love that person better? What if you'll feel more loved by them if you don't need them? If you let go of needing them? It's just a question for you to think about. It's not a statement that I'm making here.
I dated a guy for a couple of years, and he's probably one of the most quality guys I've ever dated. He was about six years older than me.
At the end of that time — he didn't really explain it–, but he met someone else, and he married her really quickly. A few years later, we had a very long conversation on the phone.
He told me that he thinks about me every day and then I'm the one who got away and the one he has a lot of regrets about. We kind of talked it out, not in any kind of inappropriate way. He was married to who is still his wife.
He said, "I didn't go the distance with you because I didn't feel like you needed me." I remember telling him, "You're right. I didn't need you, but wouldn't it be nice to have someone choose to be with you? I was choosing to be with you every day even though I didn't need you."
He was kind of shocked by that because he's very successful. He's like six foot four tall, dark and handsome, very successful.
I think he was just used to being needed. He was used to women who needed his credit cards and needed him to provide. I pointed out to him that it's pretty great to come together as equals and not need.
I honestly think that I've embraced everything I write about in my last book publication. The book is called Vibe. It's published by Simon and Schuster in 2017.
It's really everything I've learned about how to be healthy and happy that go beyond the physical practices or the nutrition stuff that I've written a lot of other books about like drinking a quarter green smoothie a day or detoxing twice a year or eating a whole food, plant based diet.
Those are discoveries of mine that I've also written about extensively. This book, Vibe, was much more metaphysical.
When I was researching vibrational frequencies that led to this podcast as well as that book, I think that my practice in letting go or of non-attachment is a lot of why my current relationship work so well. I absolutely love and adore my partner, but I don't need him.
By that I don't mean I don't need him to help pay the bills around here. For sure. That's nice that I was blessed to be able to get an education. I've worked my whole life and I work full time [so] I could pay my own bills. That's not what I mean though.
It's nice to know that I can be financially self-sufficient, but what I mean is I don't need him to be with me to be happy. I think that is when you've achieved that sort of Nirvana that Buddhist monks are going for.
I think that people think that monks not getting married means they do not love. I don't think that's the point. I also don't think that's necessarily true. I think that you can love without need.
I've told John a few times since we've been together, "I don't need you if you left. Of course I'd be sad depending on the circumstances. Maybe I'd even feel hurt or angry for a short time.
"I would know that I would be happy again and probably quite soon because I was happy before I met you. I also experienced you to be a happy and self-contained person who doesn't need me either.
"[That] is a big part of why our relationship is peaceful and without anxiety and fun and just good. We don't need each other to be happy."
This decreases all that anxiety that so many relationships have. We've all known a couple who's constantly watching each other or one of them is watching the other, usually based on some past experience with either each other or a previous partner.
Think about somebody who's been in a marriage with an unfaithful partner. They're often asking that partner or their next one lots of details about their schedule and comings and goings.
Then they become a little bit cynical and very vigilant as if policing another person will make them more loyal to you — as if vigilance will keep you from having any kind of loss in your future life.
This kind of behavior we see in those who've been betrayed [is] maybe sort of the polar opposite of non-attachment. I don't think it's a happy state.
This week I inventoried all the things that I think I need. Then I went through it and I evaluated each one. How many of these things do I need?
It was amazing how few things I really do need. I decided what I do need is calm periods every day, whether that's achieved by calming techniques when I'm stressed, maybe meditation, or yoga.
I've learned that I don't need any specific person, but I do need to be around positive people. There's an energy exchange. I think that most of us do need being around people who listen to us and care for us.
Of course, I need food and air. We could debate this one, but it feels like I need sunshine. I really think I need sunshine. It was interesting to eliminate 90% of my perceived needs. It was a good exercise that I did this week. [I] highly recommend it.
I really have had to learn to cultivate a mentality of letting go of my death grip on every outcome, letting go of someone else, having to be a specific way to meet my needs in relationship. This has been super useful to me in parenting.
Back to the original house metaphor. I don't want you to think that I'm saying this house is lousy and I've learned how to be peaceful in this lousy house. That'd be ridiculous. It's a lovely house.
I do realize that, and I'm not trying to say I don't need any material possessions or that I'm ready to go to living in a hut in the woods. That's not my point.
I know that I'm very, very blessed even with the strange things in my house. [I am] falling in love with this house, even with all of its quirks and strangeness.
I walk through it now and I say to myself, "I love this weird steamer in the counter in the kitchen. I love those hanging lights over the Island in the kitchen. I love that view out that window."
I'm determined to never lose my sense of wonder about the view as an exercise in gratitude. You really do have to practice it. It's a discipline no different than lifting weights or doing your cardiovascular exercises.
Gratitude, Happiness, and the Contentment Vibe
Gratitude is a practice and one way to do that is every time we have a house guest and they're oohing and aahing over the view out the back of the house, I joined them in that and I try to look through their eyes and see it for the first time.
Picking a house that's weird and not what I would've done, but perfect in its own way [has made me happier]. A perfect place to be. Happy is symbolic of how I am in general. Accepting what is.
I'm using this experience of finally landing in the home I want to stay in forever — no more moving — as a way to practice acceptance, letting go, the desire to control everything and adapting my mindset.
This is my conclusion. Happiness is a result of choices I make. I get to decide how much time I spend in dissatisfaction or being critical of people around me or the imperfect circumstances I'm in, or how much money I made this month, or whether I reached a goal or fell short of it.
I hope that this conversation has been useful to you in some way. I'm going to talk more about cultivating that even high strong vibration that you can feel in your body, that state of contentment next time. Tune in then, and I'll see you back here in a week.
[Related Vibe Podcast Episode: Ep. 40: Raising Resilient and Resourceful Children with Rob Openshaw]