What
people

are saying
Thank you so much green smoothies!
I have hyperthyroid (Graves Disease) and have been on Propyl-Thyracil (PTU) for the past 15 years. During this time, doctors and specialists have urged me to go on radioactive iodine, and some of them have even ridiculed me for wanting to consider alternative methods.
I knew instinctively that an answer lay for me in something else besides pills. But I was told that they knew of nothing else and that the iodine treatment was pretty standard. (Well, not for me, thank you very much!) I have searched and searched for years. I even went off PTU for three months thinking that I could use positive thinking and visualization to heal myself…but to no avail.
So when I came across green smoothies in about June 2008, I knew that it was more like a liquid salad, full of nutrition and basic goodness. So together with beginning a high raw foodstyle, I was able to decrease my PTU intake every 3 months since then, when having an appointment with my endocrinologist to check out blood work. I had been on three PTUs per day.
So after the first three months, I decreased it to two, thinking that there would be some changes to my blood work results. Since there was none, again after three months, I decreased it to one PTU per day. Again no changes in T4, Free T3, and sTSH results. My last appointment with the endocrinologist was in January 2009. Again no changes.
She was delighted and suggested that I come off PTU completely. I almost fell off my chair that a doctor would suggest no pills. Of my own choice, and with her approval, I asked if I should consider half a PTU per day until my next appointment. She agreed. To date, I feel fine with no increased palpitation and an abundance of energy. Thank you so much green smoothies, and most of all, thank you to Robyn for her relentless pursuit of research.
*results may vary
— Hal Walter, Ontario, Canada
Clearer, Softer Skin, More Energy, Lost 10 lbs—EVERYONE Should Do This!
I would totally recommend to others! I have clearer skin and softer skin, my hubby noticed that right away. Skin issues on my elbows are gone completely! I also am putting coconut oil every night on skin spots and doTERRA Clear Skin. Rotating them and it's working great. No more expensive prescription creams and lotions. No nausea or upset stomach. No gurgling stomach or pains.
Food tastes better and more enjoyable. Never thought I would love a sweet potato/or even regular one with only Flax Oil and green onion/chives. Delish! It's fun to just eat food now to see what it REALLY tastes like without salt, butter, etc. Hair is growing super fast and my nails are hard for the first time in a long time. Joint pain almost gone except for one shoulder, but again, only a matter of time eating like this and it will be gone too. Passed gallstones and sludge during oil therapy. And menstrual cycle so much easier, less cramps and NO cravings (still don't have cravings for junk which is still shocking to me) and PMS was lighter and easier.
I did it for immune reasons for skin and Lyme toxins, but a perk was losing approx 10 pounds. Energy coming back to take longer walk/hikes with no pain or struggling to breathe! I also feel happier and have a better outlook on my health. I finally have hope and actually believe things are going to get better and better, something no doctor in 8 years could do for me, but green smoothies and detox foods did!!! EVERYONE should do this!
*results may vary
— Jennifer P., Brecksville, Ohio
Husband-and-wife Team Down 32 lbs—Loving It!
I highly recommend this Detox! We are pretty clean eaters anyway, but we learned a LOT and are inspired and motivated to clean up even more. We were never hungry the entire 26 days, and only experienced a few cravings, which I'm proud to say we did not cave into!
Improved sleep and energy were apparent in just the first few days. The constant increase of energy was the best part! I lost 11 pounds and 16.25 inches overall. I'm right back to where I feel my best! My husband lost 21 pounds and 29 inches! We are loving it!
Reading the manual before we began was very important. It helped us be organized and aware of what each phase was intended to accomplish. Organization and preparation are essential! We set aside a specific time each evening to read/listen to the GSG daily emails. Every single one offered valuable information. The whole process was extremely educational and worthwhile.
Thanks, Robyn!
*results may vary
— Lori H., Centerville, Ut
"I Wish All My Patients Were as Proactive as You!" 15 Lbs. Lost!
Good news! I completed the 26-day detox and I feel totally renewed!
I came to the detox program for health reasons. I was attempting to get myself out of bed and couldn't because I was full of excruciating pain in my lower back and some joints. My blood report said I have parasites in the red blood cells, low vitamin C, possible thyroid problem, fungus, protein swimming in the blood, inflammation, and the list went on. I was in shock. How did this happen?
And yet I didn't care about that stuff because my main focus was to get rid of the excruciating pain so I wouldn't need assistance getting out of bed, help to the toilet, help putting my shoes on, or someone to fetch things for me.
I went to the Internet for answers and found the GreenSmoothieGirl website. While reading the detox web page, words popped out to me like body's oxygen supply, immune system, pH, acidic, and the gut. These were the same words my doctor used when talking to me about my health. I had my doubts so I prayed about it and my answer was, "Allow food to be your medicine."
I bought the program two days before the detox started. The fourth day, I wanted to quit. In tears, I informed my husband of my decision because I didn't like experiencing detox symptoms. He encouraged me to stick with it. Headaches, flu-like symptoms, coughing. On the fifth day, I was scared, so my husband took me to see the doctor. My doctor, knowing my health history, was excited to find out that I was putting forth effort to change my health. He said, "I wish all my patients were as proactive as you." Even my doctor encouraged me to continue with the detox program!
Then on the sixth day, the pain that had wrecked my life for months was gone! Hallelujah! The pain was no longer in my body. It was GONE. As I continued through the detox, I felt my body experiencing peace, calm and happiness. I feel so blessed to have the pain gone.
My husband has noticed how soft my skin has become—and I lost 15 pounds! I feel highly motivated to share the good news of my victory over pain to others. This detox program made a believer out of me. The Full-Support Detox Membership I purchased was worth every penny, as it taught me of a world I didn't even know existed, through daily emails, conference calls, and videos.
*results may vary
— Suzanne F., Meridian, Idaho
Changed my diet and the way I think about food
You may struggle a couple of times, but just know you WILL feel amazing after you follow the detox to the end. I'm now hitting all new fitness goals and lost 25 permanent, non-water pounds and counting. Totally changed my diet and the way I think about food.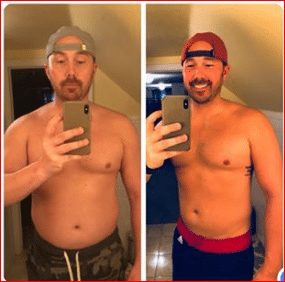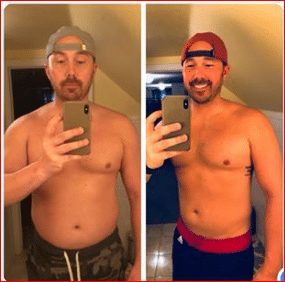 — Josh Willet, Kansas
This is the healthful FAST FOOD!
This is the healthful FAST FOOD! My health has changed for the better! I now have a desire to do, and to live! Thanks to green smoothies!
— Dallas J.
Surprised With Our Results!
My husband was my detox buddy for this (our first) 26 day detox. I shopped & he helped with the food prep. We both had detox cleansing symptoms of headache, fatigue, achy joints, gas & bloating which lasted at least a week into the program. For years my husband has been on blood pressure meds (even on the meds his BP was 150/96). After the first week, he was still feeling very tired and weak. He was hydrated, resting as needed, eating plenty, taking lots of cinnamon. When he took his BP it was 103/57!
The doc took him off all meds after that first week of detox. He donated blood at the end of our detox. His iron level rocked (proves no need for red meat!) and BP 120/72!!!
We were surprised that we were never hungry and generally had no cravings. Having no salt was the hardest to adjust to (harder than no caffeine). We did the skin brushing, oil pulling, infrared sauna, exercises. While we read a lot about the coffee enemas, we did not try them this first detox. I really appreciated the shopping lists & menu plans which totally simplified the detox. Also, the daily emails & video supports were very beneficial to keep us understanding the process, as well as promote motivation to persevere.
In addition, he dropped a total of 22 lbs while I dropped 11 lbs. We feel great with improved energy and the desire to continue a cleaner lifestyle in all aspects of our life. We have been walking testimonials as others have observed the positive changes in us, both physically as well as mentally/emotionally. We would do this detox again.
*results may vary
— Maureen P., Sonora, CA
Cellulite Gone! 7 lbs. Lost!
I am a 55-year-old female who began the detox at the weight of 126 lbs. I have been vegetarian for a few years and eat a pretty clean diet. I don't drink alcohol, the only caffeine I drink is in green tea, and I don't eat sugar.
However, over my lifetime I have been exposed to environmental toxins as well as pharmaceutical concoctions involving dentistry and Graves' disease. I had been recommended by a shamanic healer about a year ago to cleanse every organ in my body. I did a series of colonics along with a parasite cleanse but I stopped there. Most cleanse programs on the market detox independent organs and most of them seem to be a kit.
They hardly recommend to even alter your diet. These detoxes never seemed right to me so I was at that crossroads of what to do. I stumbled across GSG and looked into the protocol. It seemed perfect for me.
The timing was right and then I got the brainstorm to enlist my 21-year-old college daughter to join me. I always worry about the genetics of her generation being weaker due to all the FDA-approved food, cleaning supplies and personal products they are exposed to. Plus, I felt it would be a great bonding experience for the two of us. She jumped on board with me immediately.
We spoke every day: she lives in New Orleans and I live in Jackson, MS, and we text messaged each other support when we felt weak. We listened to the group phone calls. We both would share what insight we gained either from the GSG daily emails, the forums or the online talks and chats. We shared with each other our experiences with the recipes.
She came home for a visit prior to Phase Two and we both cooked the recipes for each of us and went to the grocery store together. She would email me the grocery list for each phase to make it easier for me. Prior to the GSG Detox, my daughter was always tired. The first day on the program she could not believe her energy level and how she would jump out of bed and get things done.
I felt a surge in not only energy, but also in inner joy. Don't get me wrong: I struggled with the first day, just being hungry in the middle of the night, the second day of the watermelon cleanse, and then the after-effects of the olive oil and lemon juice liver detox day.
But it was all worth every second. I love how my clothes fit me; I feel more peaceful. Oh yeah, and this is huge: since I was 5 years old, I remember having cellulite on my thighs. I remember sitting on the front porch swing of our home and looking down at my legs wondering what those puckers were in my skin. About 10 days into the GSG program, I was blow drying my hair, with my head bent over and looked at my legs. Now, I practice yoga 6 days a week so I am in that position a lot and I know how my legs look. Well, that morning they looked different, in a good way—they weren't as saggy. I pushed the skin together to see if the cellulite was still there. It wasn't. I pushed my skin together over all the parts of my body that had cellulite previously, and it was gone! The cellulite never really bothered me that much but I sure do like it not being there. I can only attribute it to being the fact that the toxins that were stored in my fat cells were pushed out!
I have recommended the GSG Detox to anyone who will listen to me. I am actually sad that today is the last day. I am excited to incorporate the recipes that we used in the detox program into my everyday life and I ordered the GSG Menu Planner to keep me on the straight and narrow! All I can say is, thank you, Robyn, and your colleagues, for all your hard work in developing this program! It was easy to follow, well planned out, and your program incorporates cutting-edge knowledge in the healing field.
*results may vary
— Tamar S., Jackson, Mississippi
Thank you Robyn!
My husband and I began with the green smoothies with Robyn in February 2008. Within three months my husband lost 60 lbs and I have kept off 20 and am at my normal weight…which is what I have averaged since high school.* I am 5'4" and 108. I am 41 and have two children under the age of 5. My husband can now sleep through the night (he used to toss and turn). I sleep soundly. I close my eyes and it is morning! My husband no longer needs Prilosec. My children, 2 1/2 and 5, drink green smoothies and they have not been sick in a year. My son goes to a special needs school and I have noticed that his behavior is much better. He also has an amazing creative streak in the past 6 months.
Thank you Robyn!
— Tonya Carney
Thanks so much for helping to change the quality of my life!
I have endometriosis and ovarian cysts and have suffered with cramping, heavy menstruation, and low back pain for 20+ years. I have had numerous surgeries to help correct and alleviate the problem with no success. I finally reached the point that my doctors determined a hysterectomy would be my next surgery. I am in my early thirties and was not ready for that so I spent a lot of time researching nutritional options. I discovered green smoothies and they have helped tremendously (I have been drinking them for a year now).
My cycles have improved dramatically and the majority of the time I feel like a normal person. That has never been the case because of this constant pain that was always with me. Thanks for all of the info on your site. As I have changed my eating habits I have also discovered trigger foods that cause ovarian pain, spotting, and bleeding. I am grieving the loss of chocolate but the smoothies have almost taken any cravings for sweets away. Once again thanks so much for helping to change the quality of my life.
*results may vary
— Becky Flannery, Sandy, Utah
Eliminated Sugar Cravings, More In Tune—and 13 Lbs Lost!
First off, I will say that I have never participated in a detox of any kind before; my initial motivation was purely to address weight loss (I started ~35 lbs. above my ideal weight). My husband decided to jump on board in support of my efforts—though in his case he was hoping to discover some possible food sensitivities and reduce his cholesterol. We both lost about the same amount of weight, 13-15 lbs.
The biggest surprise for both of us was discovering that our desire for sugar was virtually eliminated from the start. Great news! When we were feeling tempted through the 26 days, there was not usually a fat-laden, high-sugar item involved. We were also fascinated to learn to tune in to the signals that our bodies send out regarding hunger and satiation…all things we previously ignored. It was empowering to learn that we could survive on so little food and (for the most part) feel fairly satisfied.
We were grateful to have participated in the full support option because we frequently turned to the forum to seek answers to our questions—from other participants, through Robyn's videos, while listening to the expert lectures, or catching the live phone calls. These are all fantastic tools to offer accountability and help built general knowledge about health and natural wellness.
It was so great to learn new practices that are now part of my daily routine (dry brushing, oil pulling, jumping on the rebounder, etc.). I can't neglect to mention the liberating feeling just knowing that we completed the 26 day detox in 26 days with NO CHEATS! Nice! Even today (Day 27), I have not struggled with giving into the temptation that some foods often present—that's huge for me and helped me stay the course!
Unfortunately, we didn't experience the boost of energy that many others did. In fact, we found ourselves to be more exhausted than usual. Perhaps that is because there was just so much going on inside our bodies—lots of toxins being released and systems being repaired: W-O-N-D-E-R-F-U-L!!! Despite that sluggishness we battled all month long, we would recommend this program to others—and will likely schedule another detox when it is most convenient based on our family's schedule.
Above all, we are both grateful for Robyn and her staff. We so appreciate all of the hard work that went into putting this program together and then launching it successfully. Way to go!
*results may vary
— Susan I., San Antonio, Texas
Using green smoothies as a means to improve overall health.
I have enjoyed physical changes in my body. I have enjoyed some weight loss, great digestion, and increased desire to reduce cooked and processed foods. I have talked to others about using the green smoothies as a means to improve their overall health.
*results may vary
— C. Brown