Sprouted Buckwheat Granola | GreenSmoothieGirl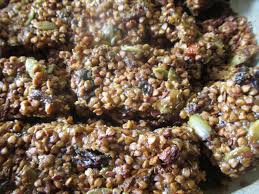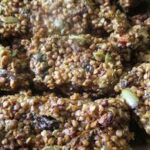 Sprouted Buckwheat Granola
This gluten free granola is full of delicious sprouted nutrition to fuel your day, for breakfast or snacking!
4

cups

buckwheat groats rinsed, soaked overnight

or soaked 15 minutes and sprouted 24 hours

2

cups

raw seeds, soaked overnight

e.g. sunflower, pumpkin

2-3

cups

raw nuts, soaked overnight

e.g. almonds and pecans

3

tbsp

cinnamon

1/3

cup

raw honey, softened

1

tbsp

coconut oil

2

cups

dried fruit

e.g. raisins and goji berries
Optional: briefly pulse the larger nuts in a food processor (I leave them whole)

In a large bowl, mix buckwheat, seeds, nuts, cinnamon, honey and coconut oil.

Spread on dehydrator trays with mesh, teflex, or fruit leather sheets. Dehydrate at your preferred temp for 6-8 hours, mix, continue dehydrating until crunchy.

Mix in dry fruit and store in a sealed container at room temp or in the fridge.
Tags: buckwheat, cinnamon, dehydrated, gluten free, granola, honey, raw, sprouted
Categories: Breakfasts, Healthy Snacks