Morning Mojito Smoothie | GreenSmoothieGirl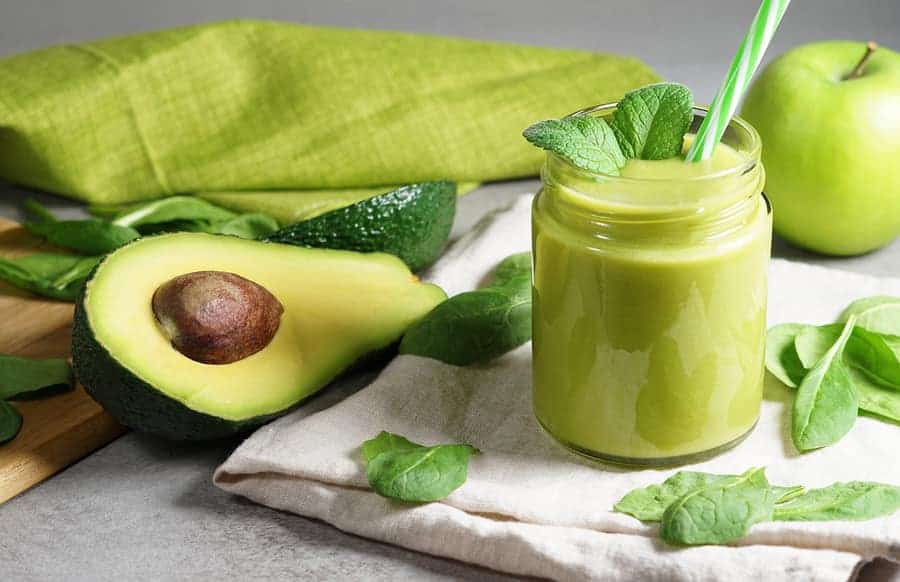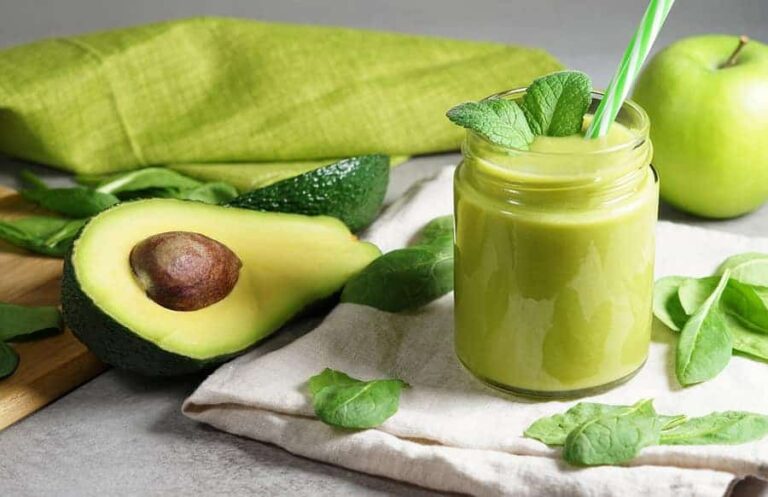 There are few things in life as refreshing as a mojito… a Morning Mojito Smoothie, that is. Wake up with a nutritious blend of fresh summer herbs, crisp vegetables, and sweet fruits all blended into one classy breakfast smoothie. It's an energy tonic you won't want to miss out on.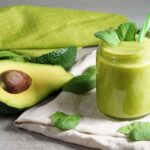 Morning Mojito Smoothie
Fresh herbs and peach for summer feelings all year round
1

peach

1

apple

1/2

avocado

3-4

large

kale leaves

a few

mint leaves

1 1/2

cups

water

or cooled nettle tea

4

ice cubes
This potassium-rich recipe is great if you're not that into bananas in your smoothie. The apple supplies you with the vital mineral, and the avocado gives that creamy texture so inherently delicious in a fresh smoothie. It also brings plenty of fiber to your morning glass, which is so important for your gut health. And at the same time, it's easy for your gut to digest.
Another awesome ingredient that aids your digestion is the peach. They only have 58 calories, but two grams of fiber: insoluble and soluble. What does that mean?
Insoluble fiber is the kind that your body doesn't digest into food for your cells, but does help bulk up your stool and moves it through your gut easily. Soluble fiber does get digested, turning into nutritious food for your gut bacteria. Those bacteria then use this to make food for your gut cells! These are called "short-chain fatty acids." Some examples are acetate, propionate, and butyrate. These short-chain fatty acids help reduce your body's inflammation, and improve your gut health when it comes to disorders like Crohn's disease, irritable bowel syndrome (IBS) and ulceritive colitis.
And we can't forget the mint! What would any type of mojito be without those bright little leaves?
Mint, or the menthol in mint, relaxes stomach muscles. This is why a cup of peppermint tea is so soothing for an upset stomach, or nausea. It also moves gas through your tract, which relieves that uncomfortable bloating pain. Add that to its nutrients, and you'd be amazed at how big a punch such little leaves can have.
Who knew a Morning Mojito Smoothie could be so dang good?! Share the recipe, and be the popular one at the next girl's (or guy's) night.
[Related Recipe: Sprouted Quinoa Salad]
[Related Article: Natural Treatments for Urinary Tract Infections (UTIs)]
Tags: gluten free, mojito, organic, raw, smoothie, vegan
Categories: Breakfasts, Smoothies