Lentil-Stuffed Peppers | GreenSmoothieGirl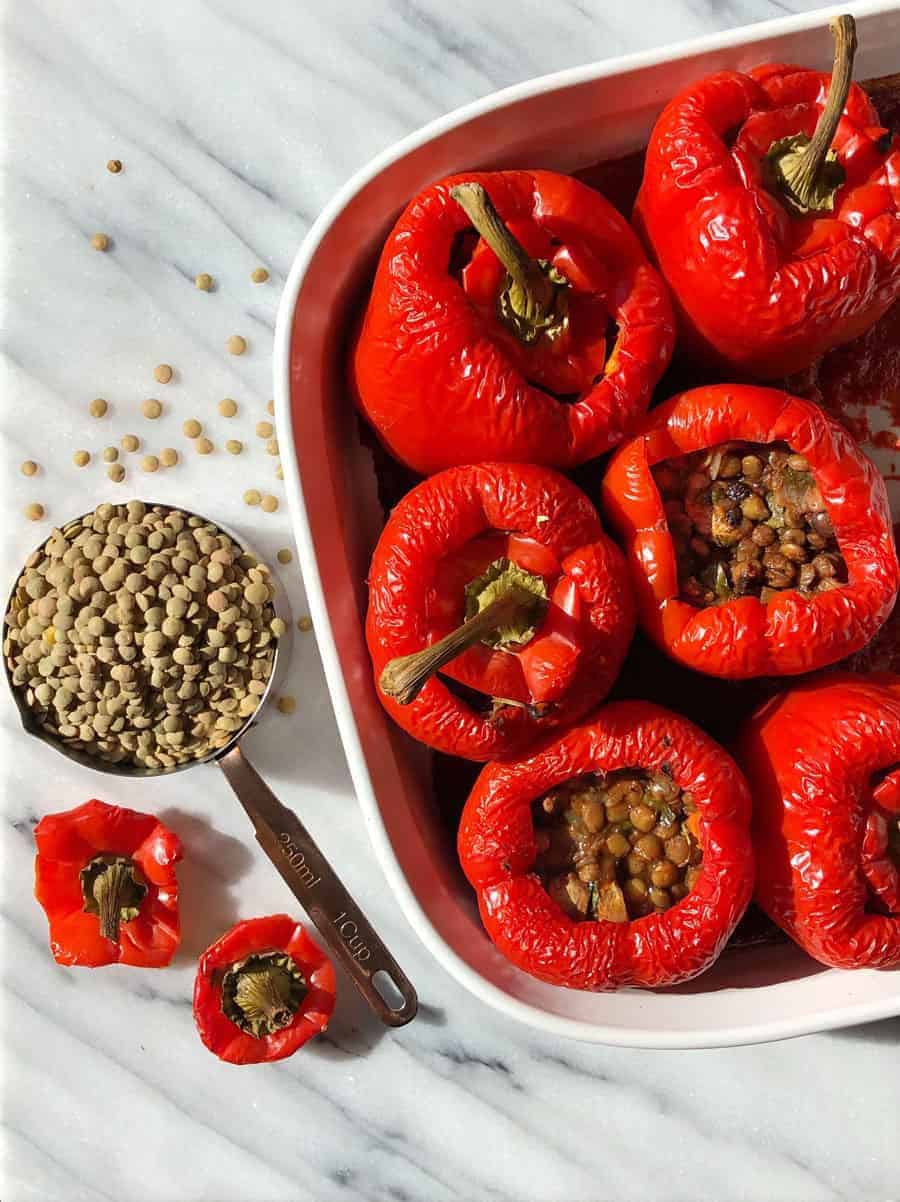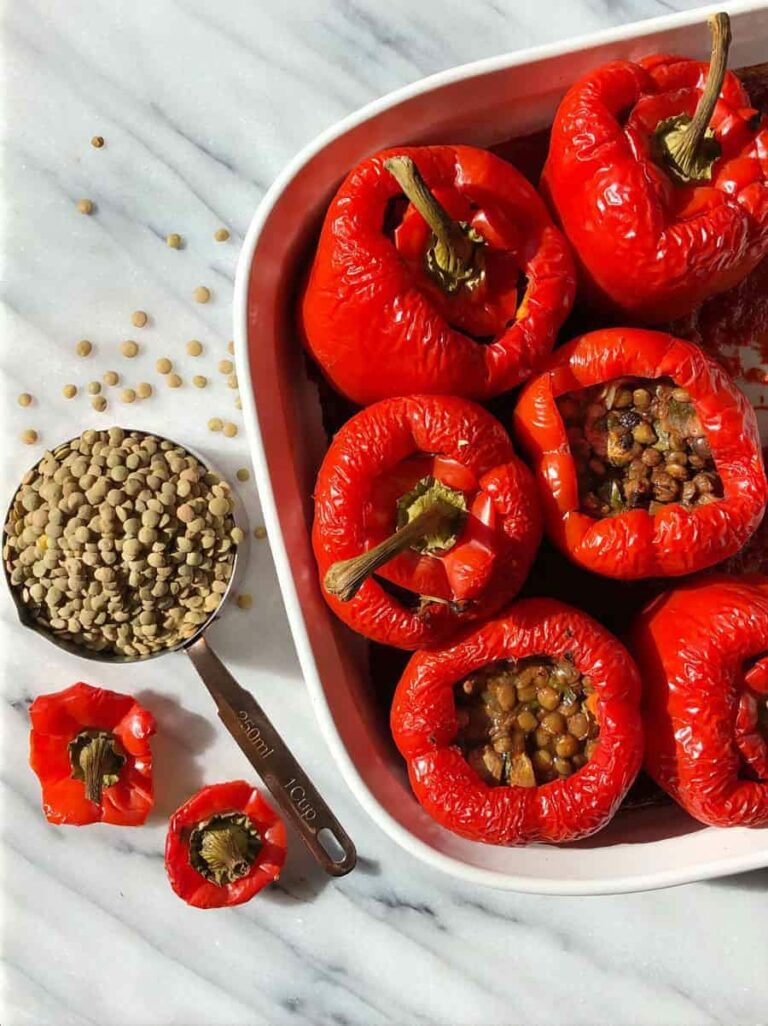 Get ready for one of my favorite recipes of all time: Lentil-Stuffed Peppers. In fact, it's such a favorite that I've included it in my cookbook, Robyn's Healthy Family Favorites! It's part of my quick and easy collection of some household staples I've added to my family's meal repertoire.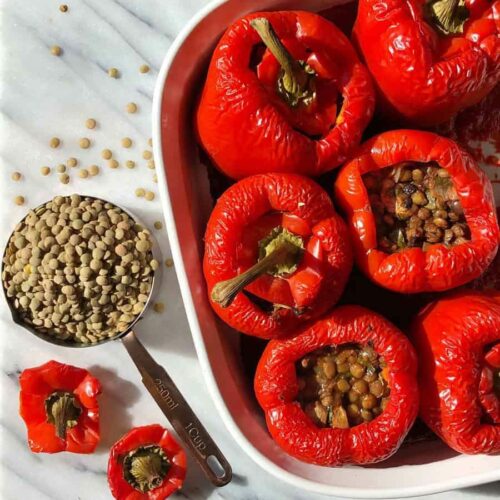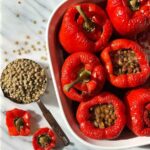 Lentil-Stuffed Peppers
One of Robyn's favorite family recipes, this delicious dinner can easily be made into a vegan version.
6 large or 8 small

red or green bell peppers

2

tbsp

extra virgin olive oil

1

large onion

chopped

3

cloves

garlic

chopped

1

cup

dry lentils

washed

1

14-16oz can

vegetable broth

1/2

cup

fresh parsley

chopped

8

oz. pkg.

mushrooms

chopped

1

cup

walnuts

chopped

1

piece

whole-grain bread

diced and air-dried for 24 hours

2

tbsp

Bragg Liquid Amino

1

tsp

paprika

1

tsp

sea salt

1/4

tsp

freshly ground pepper

1

14-16 oz. can

crushed tomatoes

1

8 oz. can

tomato sauce

1

tbsp

red wine vinegar

1

tbsp

maple syrup

1

cup

pepper jack cheese

optional

2

beaten eggs

optional
Preheat oven to 350 degrees.

Heat the oil and sauté the onions and 2 cloves of garlic for one minute.

Add the lentils and broth, reduce the heat, cover, simmer for 45 minutes or until the lentils are tender.

Wash the peppers well and slice off the tops, setting them aside. Remove the seeds.

Remove the lentil mixture from the heat and stir in all other ingredients except for the peppers, crushed tomatoes, and optional cheese.

Stuff the peppers with the lentil mixture, put optional cubed cheese on top. Cover each pepper with its top.

Pour the can of crushed tomatoes into a 9"x11" baking dish.

Place the peppers in the dish, cover them with unbleached parchment paper then tin foil. Bake for one hour.

Serve with tomato sauce spooned over each serving.
There are many reasons I love lentils. A blanket statement is that "they're good for you" (just like all the things I have in Robyn's Healthy Family Favorites!), but I'd like to get into a few here. That way, you'll know just how well you're feeding your body and your family when you start cooking this health-boosting legume.
Lentils have 18 grams of protein per cooked cup. That's amazing! That's as much as an entire can of chickpeas. My Lentil-Stuffed Pepper recipe uses that exact amount in each serving.
They also have 6.6 milligrams of iron in the same cup, about one-third of what you need for the entire day. In one cup! Iron is that important element that keeps oxygen pumping throughout your body. Lentils are also the perfect vegan solution for calcium, with 38 grams per cup, and four times more fiber than a cup of kale! They also have polyphenols to fight cancer, improve cardiovascular health and diabetes prevention, folic acid to help pregnancies, hair growth, and stroke reduction, and magnesium for sleep and stress levels (71 mg per cup).
Pretty incredible, right?
And, legumes are so incredibly cheap! They're usually about ten cents per serving, and they make for great food storage at home because of how well they keep for so long. Which means you can have Lentil-Stuffed Peppers anytime you want for cheaper than many other healthy food options.
[Related Recipe: Lentil Tacos]
[Related Article: you've doubled your fiber with GS? double it again with LENTILS!]

Tags: lentils, organic, peppers, vegetarian
Categories: Main Dishes