Indian Green or Yellow Dahl | GreenSmoothieGirl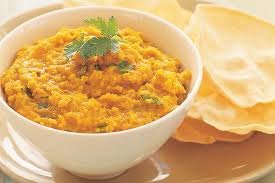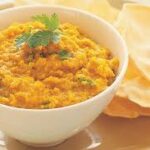 Indian Green or Yellow Dahl
This easy and filling meal contains both a grain and legume for a perfect protein-filled dinner
2

cups

split peas or yellow lentils

1 1/2

cups

brown rice

water

6

cloves

garlic

1

tsp

kelp granules

optional

1

tsp

salt

for rice

1 1/2

tsp

salt

for peas/lentils

1

tsp

red pepper flakes

1

tsp

turmeric

2

tsp

cumin

1

cup

chopped cilantro
In separate saucepans, rinse split peas and brown rice well. Cover each with fresh water and allow to soak several hours. Drain well.

Add 3 cups water and 1 tsp. salt to the rice, and 4 cups water to the split peas, bring each to a boil, and reduce heat for 45 mins.

Add all seasonings except cilantro to peas/lentils, and mash with a spoon. Serve dahl over brown rice and sprinkle liberally with cilantro.
Tags: brown rice, cilantro, cumin, garlic, gluten free, indian, kelp, sugar free, turmeric, vegan
Categories: Main Dishes