Immune-Fuel Hot LemonAid | GreenSmoothieGirl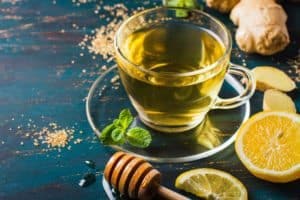 With this Immune-Fuel Hot LemonAid recipe, I'm going to share with you a really practical recipe my grandma taught me (we called her "mums") that I think will help you. It has helped at least three Romney generations kill viruses that antibiotics won't touch. Also, it has helped us avoid antibiotics for bacterial infections. (When I was young, we called it Mums' Magical Antiviral Hot LemonAid!)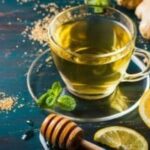 Immune-Fuel Hot LemonAid
Fabulous immune-boosting hot drink featuring water, raw honey, raw apple cider vinegar, garlic, ginger, and cayenne pepper.
4

cups

hot water

not boiling

1/2

cup

fresh lemon juice

2

tbsp

raw honey

raw is important

1/2

piece

peeled and chopped fresh ginger root

1/4

cup

raw apple cider vinegar

raw is important

cayenne pepper to taste

hotter the better

2

cloves

fresh garlic (optional)
Blend all ingredients for 30-60 seconds, until smooth, in a high-speed blender. Drink 1/4 cup at the first sign of illness, and another 1/4 cup every 2 hours or as desired.

Do not re-heat Elixir after you make the batch; enzymes and immune-stimulating properties will be damaged.

Drink it cold or at room temperature after your first serving. It will last 1 week in the fridge but can be frozen! Dilute as needed if the taste is too strong.
Ingredients:
Let's get to the actual ingredients in this magic Immune-Fuel Hot LemonAid elixir and why each one is so important and beneficial to your health!
Ginger:

Ginger is antiviral, anti-inflammatory, antifungal, and antimicrobial. And, it protects your liver against oxidative stress. Recent studies have found that it inhibits cancer growth and protects DNA. Bonus: it's also soothing to your stomach when you're not feeling well.

Lemon:

Lemon juice hydrates and alkalizes the body. This neutralizes the acidic condition you find yourself in when the body begins to produce mucous, which often stagnates and becomes thick. This is an acidic condition that allows viral or bacterial cells to flourish. It's also a highly bioavailable source of Vitamin C, which is part of why it's effective against cold and flu germs.

Apple Cider Vinegar:

Apple cider vinegar, which must be raw, is detoxifying in dozens of different ways. It is one of the most studied healing substances in the history of nutrition research. Its malic acid is antiviral. Also, it has an alkalizing effect, which optimizes the many parts of your immune regulation. The Bragg brand is very high integrity.

Honey:

Raw honey is a very effective antiviral and antibacterial. It makes your lemonAid taste lovely, and it keeps your blood sugar stable when you have a sore throat, or headache, and don't feel like eating. Plus, the bee pollen in raw honey boosts your overall immunity. (This benefit is not found in heat-treated honey.)

Cayenne Pepper:

Cayenne is an amplifier of natural medicines and substances, and dilates blood vessels. This allows more throughput in cleansing processes. Buy it organic, and in potent strength, if you can. Over 3,000 published studies have shown how powerful the medicinal effect of its capsaicin is. It creates heat, cleans the respiratory system, and prevents infection from spreading.

Garlic:

Garlic is well known to stimulate immune cells and is often called a "natural antibiotic." Unlike drugs, it doesn't kill the good bacteria in your gut. It has also been proven effective against viruses (again, unlike drug antibiotics, which work only against bacteria). This is an optional ingredient, as it will make your elixir very strong-tasting, but it is incredibly beneficial.
Related Content:
[Related Recipe: Honey Lemonade]
[Related Article: Mums' Magical Antiviral Hot LemonAid Tonic]
Tags: apple cider vinegar, cayenne, ginger, gluten free, health drink, honey, lemon, natural remedy, organic, remedy, vegan