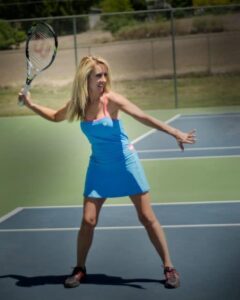 Welcome to GreenSmoothieGirl.com!
What I teach isn't a "diet." It's a whole-foods lifestyle you will never want to quit. And the results just might blow your mind!
My research says most people who follow what I teach have better digestion and elimination, lose weight, and have more energy.
You're likely to notice your craving for bad food decrease, your desire to exercise increase, your emotional stability improve, your skin and hair look prettier, and your sex drive increase!
I once weighed over 200 pounds and had more than 20 diagnosed, chronic health problems.
At 25 years old, I was having mini-strokes and migraines; slept 10 hours a day but was always tired; took heavy drugs to manage my anxiety and depression; and couldn't run a city block.
Twenty years later, I eat MORE food but enjoy it more. I lost 70 lbs. and achieved my ideal weight long ago. I'm a competitive athlete, and I sleep 5-6 hours at night and feel happy and rested every day. I have no health conditions and take no drugs.
Here's my story that led me to envision this mission, author my books, create and support this site, and do whatever I can to help you on the journey: Read my story.
I used to have people call or show up on my porch constantly. Or call me, stop me at the grocery store. Begging for help. They'd seen the dramatic results in my family when we shifted to a whole-foods diet. My peers, even in their 30's and 40's, carry around heavy disease diagnoses. They've lost their vitality. They break my heart.
Everywhere I travel, I meet people who have been brainwashed by food cults. Low fat! Low carb! Dieting, food combining, blood type, Atkins, Zone, Paleo! Nobody knows how to eat anymore. We are more confused about food than any other subject. And, we're the first generations in history who can't look to our mothers to teach us how to cook. Our mothers were raised in the drive-thru, too!
This site is an outgrowth of that need. As my work has grown in a quantum way, with almost 100,000 new visitors a month to this site, and speaking in 50 cities a year, I have learned two interesting facts about people:
You want to eat right.
You do not know how.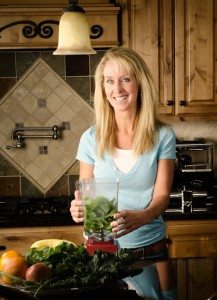 Learning this about you, that you're well intentioned but have been educated falsely in the modern world, turned a light bulb on in my brain.
"How can people not know?" I wondered, at first. "Our ancestors have eaten whole and raw foods I teach about for thousands of years. There's nothing proprietary about teaching that!"
But it's true. We're so far off track, with the Standard American Diet, and the corporations that fuel it ruling the world, we've literally lost a whole body of knowledge.
What I've done isn't hard–but no one else has done it! I've made eating whole foods simple, easy, inexpensive, and delicious. No extreme positions. I don't talk about vegetarianism, veganism, raw foodism, or any other -ism. I'm just interested in teaching you practical ways to eat more plants. Ways that "stick" in a busy lifestyle.
You already know you need to eat better. You know that greens, vegetables, and fruits need to be a big part of that. But you don't see yourself becoming a 100% raw foodist. That's okay here.
I straddle the Standard American Diet world and the earthy-crunchy world. I'd like to reach out a helping hand to those stuck in the S.A.D. I'm a regular soccer-mom-next-door. I wear mascara and nail polish. I go to the neighborhood BBQ, family party, church social. I don't want to spend the day in the kitchen any more than you do.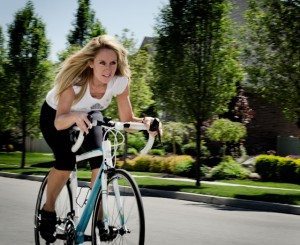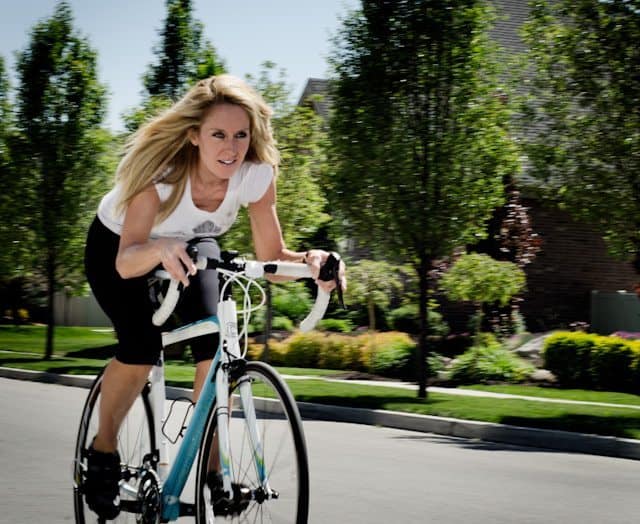 I don't look, act, or talk like those on the fringe. My only interest is in helping you eat affordable raw food that actually tastes delicious and doesn't take half the day to make. Whether you're single, have a family, or are retired empty-nesters.
You can do it. Anyone can. That's my point: you can do it your way, within your lifestyle. A normal lifestyle.
I teach you to eat 60-80% raw, 95% plant-based diet, in delicious ways that won't take all day. I teach cooked, whole foods to make up the difference, keeping animal products under 5% as supported by a massive body of research. I also help you use alkaline water to reverse the effects of so many acids in the modern diet and lifestyle. I believe this diet is both do-able, forever, and sufficient for a long, vibrantly healthy life. (I'd make a few exceptions: for instance, a cancer patient, who may want to undertake a 100% raw food diet.)
My greatest passion is teaching young mothers, who have tremendous influence on the next generation. That youngest generation is truly suffering in America and hurtling toward a health catastrophe. We have been degenerating our DNA, for three generations eating processed foods, and we have to turn things around NOW.
As GreenSmoothieGirl.com went up, hundreds visited the site daily with no advertising whatsoever. To this day, we have spent $0.00 on marketing and advertising, and no one has that in their job description here, either.
12 Steps to Whole Foods
Readers said, please teach us how you did it. I developed the course 12 Steps to Whole Foods: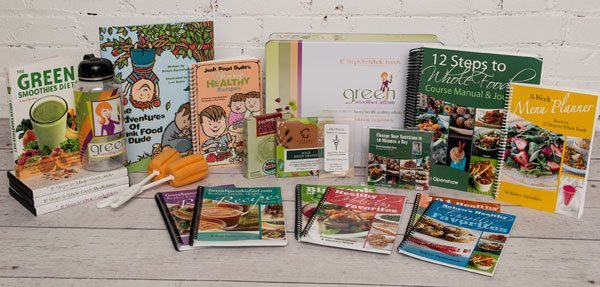 I hope you enjoy it: it's everything I learned over 16 years condensed to give you only best practices, rather than a bunch of time and money wasters, in achieving excellent nutrition. Just what you really need to know, and over 1,000 great recipes in the Premium Course.
Habits that heal your gut. Habits that massively improve your intake of bioavailable minerals. Habits that put your nutrient dense foods through the roof, bumping out high-calorie, low-nutrition foods.
If you want an experiment in whole foods, we've developed a Menu Planner, with recipes from 12 Steps to Whole Foods, menu plans, and shopping lists. It cost my readers who tested it about $100/week for a family of four.
Check out how you're doing, nutritionally, on the GreenSmoothieGirl nutrition quiz. If you're not where you want to be—don't get offended—make change, instead!
GreenSmoothieGirl Detox
To undertake the GreenSmoothieGirl Detox, 26 days to easy weight loss, and clean up your body, spirit, and mind, using the most evidence-based detoxification practices—with menu plans, shopping lists, recipes, calls with experts, and lots of support and excitement—join us HERE.
Books & Videos
A year after putting this site up, I was commissioned by Ulysses Press to write The Green Smoothies Diet, my bestseller. It is at Amazon and booksellers everywhere, about the hows and whys of a 10-minute habit that will change your life, with 50 recipes. In the book, I review my research on the health benefits (and challenges) experienced by green smoothie drinkers, and I answer frequently asked questions. Only on GreenSmoothieGirl.com do you get an autographed copy:
Readers said, please do some videos! Since people are visually oriented and love cooking demos, I have done lots of videos.
I know my readers are frustrated by so much competing information about nutrition in the world today. Much of it is false, confusing, and serving to push us further into obesity and illness. I have (nearly obsessively) studied to what I believe is the bottom of many of these issues. I have two resources to suggest for you.
One is to obtain my free 12 Nutrition Myths report about things you've been taught by the media (pushed by huge industries with a profit motive) that are patently false.
Two is to check out which nutrition books are most important to read. Many just say the same things you already know. Some aren't written well, make unsupported claims, or have false or outdated information. Many are too influenced by an industry with a profit motive. These are my favorites.
Other resources on this site you may be interested in:
My blog, where I write almost every day, briefly, on a nutrition topic I think you'll be interested in.
These are my favorite things and products, that I highly recommend you own for a whole-foods lifestyle:
Dehydrator, blender, coconut oil, salt, green drink, rebounder, and ionizers.
Here are some short articles I wrote on a variety of subjects my readers often ask about.
My recipe collections, including The Big Book of Green Smoothies (230 recipes).
Here's what lots and lots of regular green smoothie drinkers have told me about what the habit has done for their health, their families, their appearance, and so much more.
If you've been drinking green smoothies for a month or more, please participate in this easy questionnaire to be part of my ongoing research on health benefits of this important habit.
When you start toting your green smoothie around, people will ask you, "WHAT THE DEVIL IS THAT?" We've designed a green smoothie bottle to hold a full quart a day—that's your challenge from me, which is 12 servings of raw greens and fruit in your day! It says right on the jug what's in a green smoothie! Use it to stylishly make, transport, and drink your green smoothie, and tell people about it—and it comes with two sponge brushes, for cleaning, one for work and one for home, FREE.
I offer nutrition group buys to save you money storing cases of raw agave, truly raw almonds directly from the California ranch, the best green drink on the market, and more items, a few times a year. If you're local (Wasatch Front, Utah area), subscribe to GreenSmoothieGirl newsletter for notification of the next Group Buy. If you're not local, we do at least the almond buy nationally each year, so join the free GreenSmoothieGirl.com newsletter for a notification.
That's an overview of this site. I'm told regularly that readers fall into the site and lose track of time. More content is coming ALL THE TIME—I have big plans—so I hope you'll be back soon!
I very much hope that you find love, hope, encouragement, nurturing, and tons of useful information here.
—"GreenSmoothieGirl" Robyn Openshaw