Premium Course (includes over 1,000 recipes)
$384.95
(for products sold individually or valued at $520, you save $135)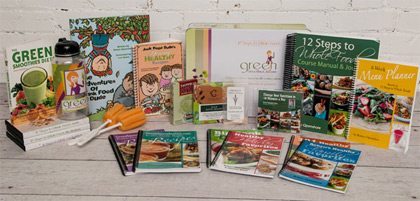 Course Manual and Journal (full color, photos, indexed, nearly 400 pages) ($109.95 value)
53 DVD demos by Robyn ($60 value)
Complete set of audio files for each step ($30 value)
Meditation CD (meditations for each step, to change beliefs about self and food) ($30 value)
8-week Meal Planner and Shopping Guide ($28 value)
3 printed recipe books ($50.85 value):

Big Book of Green Smoothies
Readers' Favorites, Volume I
Readers' Favorites, Volume II

2 children's books ($34.90 value):

The Adventures of Junk Food Dude (storybook and learning tool)

Junk Food Dude's Yummy Healthy Recipes (full-color photos of every recipe

A copy of the bestselling The Green Smoothies Diet ($14.95 value)
How to Eat Right in the Real World book ($19.95 value)
How to Raise Healthy Eaters book ($19.95 value)
4 Collections of recipes on CD ($61.80 value)
Voucher for a free Sourdough Starter Kit ($25 value)
Voucher for a free Live Kefir Grains Kit ($25 value)
Voucher for a free Vegetable Starter Kit ($27 value)
DVD of Robyn's free introductory class ($15 value)
Green Smoothie Bottle (10.95 value)
What Is 12 Steps to Whole Foods?
Green smoothies are a great first step, what we call the "gateway drug" here at GreenSmoothieGirl. But the true game-changer is 12 Steps to Whole Foods. It's Robyn's life's work, a compendium of best practices in nutrition. The Premium Course has over 1,000 recipes. But more than that, it boils down all the controversies in nutrition to explanations, steps, and guidance. You'll get time- and money-saving tips. The Course or Premium Course have DVDs, CDs, meditations, and much more. The Premium Course has every one of Robyn's information products and books (saving you $135), plus a GreenSmoothieGirl bottle  to make sure you get your quart a day.
Learn How to Eat
The 12 Steps program doesn't focus on the DON'Ts. You already know that white flour, white sugar, and other processed foods are bad for you. You probably know that cutting back dairy and meat, replacing them with legumes and whole grains, would help your health. (If you don't know about these things, you should go read my nutrition myths).
What the course does is teach you the DO's. How you can have a positive experience with whole foods. Robyn doesn't beat people up about their food choices—she nurtures them into a healthier and happier place.
The 12 Steps:
Bye-Bye, Stimulants—Hello Green Smoothies
Making Salad the Star
Dressing Up Your Salad
Avoiding Bad Fats, Enjoying Good Fats
Reaping a Gardener's Rewards
Making Plant-Based Main Dishes
Sprouting and Dehydrating
Preserving Raw Foods with Natural Probiotics
Replacing White Flour with Whole Grains
Starting Your Morning Off Right
Creating Delicious Whole-Food Treats
Achieving an Alkaline Inner Terrain
$197.95
(for products sold individually or valued at $246, you save $48)
Course Manual and Journal (full color, photos, indexed, over 300 pages) ($109.95 value)
28 DVD demos by Robyn ($30 value)
Complete set of audio files for each step ($30 value)
4 recipe books on CD (PDF files) ($61.80 value):

Healthy Holiday Favorites
101 Healthy Lunch Ideas
Robyn's Healthy Family Favorites
Big Book of Green Smoothies

A copy of the bestselling The Green Smoothies Diet ($14.95 value)
$109.95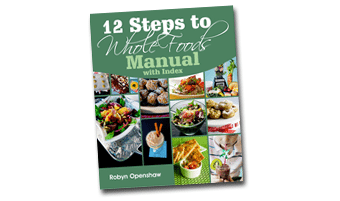 While the 12 Steps Standard Course and 12 Steps Premium Course are the best way to dive into the program, some people are willing to live without the DVDs, CDs, journal, recipe collections, and book (The Green Smoothies Diet) so this is the printed manual only.
A life change anyone can make!
In the course of a year, you can adopt the habits that took the author 16 years to learn, experiment with, and adopt into daily practice–for optimal weight, health, and energy! The focus of this course is on natural, unrefined and unprocessed foods, with a strong emphasis on plant foods, 60-80 percent raw.
You'll learn lots of new and exciting ways to use foods that have nourished mankind for thousands of years, especially before there was a McDonald's on every corner! Those foods include, in this order:
Greens
Vegetables
Fruits
Legumes
Whole grains
Nuts
Seeds
Small amounts of unrefined oils, sweeteners, and seasonings
The course includes well over 550 recipes and everything you need to know, to enjoy a lifestyle eating the world's most nutritious foods–easily, inexpensively, and deliciously. It's a life change anyone can make!
You want to eat right but…
You're sick and tired of being sick and tired. You know that you should "eat healthy," but with so many voices out there, what does "eating healthy" even mean?
Every day you have new resolve to eat right, but with a fast-food joint on every corner, and that darn vending machine at work, the day gets away from you. A Diet Coke, Doritos, apple fritters, Big Macs… they're fast, easy, and cheap. But you know your body and mind are paying the price.
It's time to right the course. Robyn Openshaw has sifted through the vast body of dietary counsel competing for your attention. What is truly worth your time and energy is presented, in a way anyone can follow, in the course 12 Steps to Whole Foods.
Each chapter has tips on saving money and time!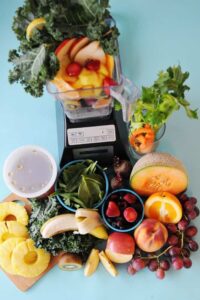 In addition to a digest of the very best practices in nutrition, Robyn has developed over 175 recipes so you can replace your low-nutrition family favorites with high-nutrition, new favorites. Anyone can do the 12 Steps program, and each chapter has tips on saving money and time. The manual is fully indexed so you can easily look up recipes that use ingredients you have on hand.
A whole-foods lifestyle doesn't have to be expensive. And you don't have to be a slave to the kitchen. Robyn shows you how each minute spent in the kitchen, though, yields two minutes of increased energy and vitality! Each step has time- and money-saving tips.
Testimonials
The 12 Steps to Whole Foods program has helped thousands of people. Read a few people's experiences on our testimonials page.